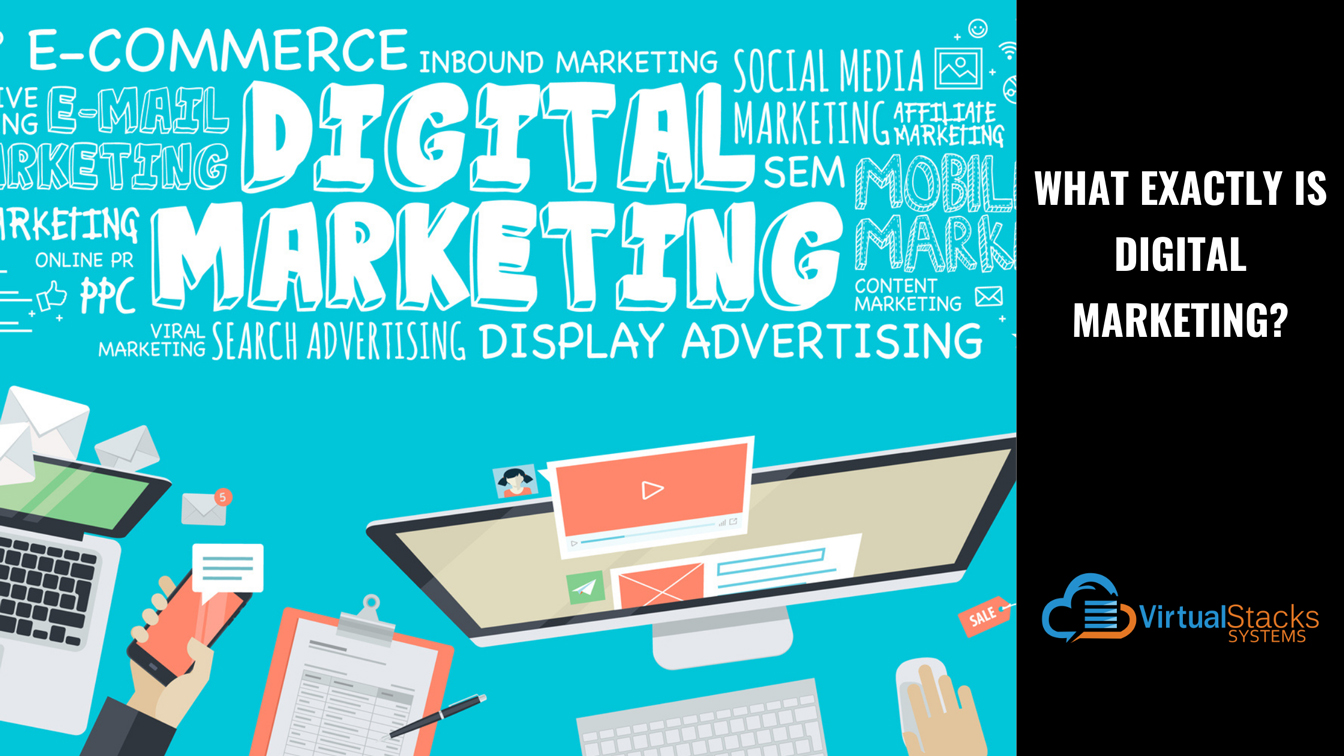 19 Mar

What Exactly Is Digital Marketing?

Sometimes, we assume that people who are outside of our industry know more about what we do than they actually do. As a business owner, you may have had this experience yourself. The benefits of what your goods or services offer are obvious to you, but perhaps not so much to members of your target audience. In the case of our industry – digital marketing – professionals learn early on that while we're familiar with its fundamentals and moving parts, most of our potential customers are not.

While our humble blog dedicates itself to educating the owners and decision-makers of small-to-medium-size businesses about specific digital marketing topics, it occurs to us that we've never taken the time to address exactly what digital marketing itself is – and how all of its moving parts work together. Today, we make amends!
A Brief Definition of Digital Marketing
Digital marketing encompasses all marketing efforts that use the internet or an electronic device. Businesses utilize such digital channels as search engines, social media, email and other websites to connect with current and prospective customers.
Unlike traditional marketing – which is static and "one-way" – digital marketing is a dynamic process. In other words, potential customers can't interact with a business through a print ad or billboard – but digital marketing provides an opportunity for two-way communication. This allows members of your target audience to engage with your business on a more immediate, personal level, developing a relationship that results in your target audience members becoming your loyal customers.
According to Sanjay Dholakia – former chief marketing officer at Marketo – "Digital is at the core of everything in marketing today – it has gone from 'one of the things marketing does' to 'THE thing that marketing does.'"
Digital Marketing Channels
To make digital marketing effective, you need to choose the right channels and understand how to use them to connect with your target audience. Because a business's website is the core of its digital presence, we'll start there.
Website — As we often say, your website doesn't just represent your business, it is your business. A good website generates leads and sales through on-point search engine optimization (SEO) practices, content marketing, email campaigns and pay-per-click (PPC) campaigns. It should be central to your digital marketing strategy, as it is undoubtedly the most powerful marketing channel. Your website needs to be mobile-responsive, fast and easy to navigate.
Content Marketing — Content marketing is a broad marketing strategy that helps you reach audiences through generated content. You can post your content on your website and promote it through social media, SEO, email marketing, and/or PPC campaigns. Infographics, blogs, online courses, eBooks, podcasts, and webinars are some of the most popular methods through which you can use content marketing.
Pay-Per-Click — PPC is a form of online paid advertising. You can reach many people online through paid advertising on various digital platforms. From Google to LinkedIn, Facebook, Instagram, Twitter and more, you can run your ads on these digital platforms to connect with your audience. PPC campaigns allow you to target customers based on their age, gender, interest or location. Examples of popular PPC channels include Google Ads and Facebook Ads.
Social Media — Social media marketing campaigns help you create brand awareness and build social trust. You can use social media marketing to generate leads, as an option for direct sales (such as through Facebook and Instagram), to establish your brand authority and to grow customer loyalty through engagement.
Email — Email marketing remains near the top of the digital marketing channels that bring the best results. Email marketing allows you to connect with your existing and potential customers who have an interest in your product or services. You can use other digital marketing channels – such as your website or social media accounts – to add new contacts to your email lists and then use email marketing to convert those leads into customers.
SMS/Text — SMS –or text message marketing – helps you quickly connect with customers about your latest sales or promotions. Of course, recipients will need to opt-in before receiving messages and be given the ability to opt-out at any time. Our blog post – "Be Direct With SMS Marketing" – provides an in-depth look at strategies.
Video — Video is becoming one of the most effective digital marketing methods today. Not only is YouTube the number two search engine on the internet, but social media platforms like Facebook, Instagram and TikTok all have made a strong push into video. To make your video marketing campaign effective, you'll need to combine it with your existing social media marketing, content marketing and SEO campaigns.
Affiliate Marketing — Affiliate marketing is still an effective method of influencer marketing. It works by compensating industry-relevant influencers who include links to your products or services on your website, or who promote them on other channels like social media. One of the most popular affiliate marketing programs are Amazon's affiliate links. Our blog post – "Is Affiliate Marketing Right for Your Business?" – covers this topic in-depth.
Why Your Business Needs Digital Marketing
We've defined digital marketing and looked at some of the most popular digital marketing channels, but are you still wondering if it's the right move for your business? A small business needs digital marketing just as much as a large enterprise in order to bring in new customers, improve sales and form lasting customer relationships. Here are some benefits to consider.
It gives direction to your goals — Without a robust digital marketing strategy, it is difficult to have well-defined goals, both for your marketing and your business. When you have a strategy, you know what you want to achieve from your online campaign. Developing a digital marketing strategy makes your goals more easily attainable and trackable.
It helps you know your audience —Digital marketing allows you to learn more in detail about your target market, your competitors and how they are both using online channels. There are many tools that can help you research your target audiences online for digital marketing, including Google Trends – which provides an instant snapshot of consumer social media and search behavior, as well as the latest news and opinions from your industry.
It gives you a competitive advantage — It is difficult to stay ahead of your competitors without a digital marketing strategy because you'll always be playing catch-up. An as-needed approach to digital marketing won't produce positive results, either. A digital marketing strategy helps your efforts stay focused and always one step ahead.
It improves target audience segmentation — If you want to engage with your existing and potential customers effectively, you need to target them properly. Creating a digital marketing strategy will help you target specific audiences – including their stages in the buyer's journey — as well as how to connect with different audiences in different marketing channels.
It provides clear analytics data — Digital marketing strategies that include collecting customer feedback and combining it with user behaviors gathered through tools like Google Analytics or social media insights help give a fuller understanding of your audience. When you know exactly what they like, don't like and how they interact with your content, you can create better content and marketing campaigns to reach them.
It allows you to integrate — There are countless opportunities to integrate your digital marketing channels for cohesive and effective campaigns. You can also integrate your traditional and digital marketing strategies to create a strong brand voice and achieve a boost in your sales and conversions.
It makes budgeting easier — It's impossible to start a digital marketing strategy without first setting a clear budget and allocating the necessary resources. Since you can directly track your performance and results with digital marketing, you can make quick, decisive adjustments to your budget as needed.
It reduces duplication — Through integration and the ability to easily repurpose online content, your digital marketing strategy will eliminate the extra time and resources that would have been necessary to duplicate your content and marketing campaigns.
It keeps you alert — Because the online world is constantly changing, your digital marketing strategy will always be changing, too. This helps you stay on top of the latest trends and consumer behaviors.
It improves optimization — Along with keeping you alert, a smart digital marketing strategy should always leave room for continuous optimization and improvement. This means you will always be putting your best foot forward to connect with your audience and see positive ROI for your marketing campaigns.
The Take-Home Message and Our Blatant Self-Promotion
Now that you know what digital marketing is – and what it can do for your business – our team at Virtual Stacks Systems welcomes the opportunity to help you create a plan targeted to meet your marketing goals. Every business is unique, and so are our solutions! We offer experienced website design and redesign, SEO marketing,  social media marketing,  PPC advertising, review management services and much more!
Contact us today to get started!