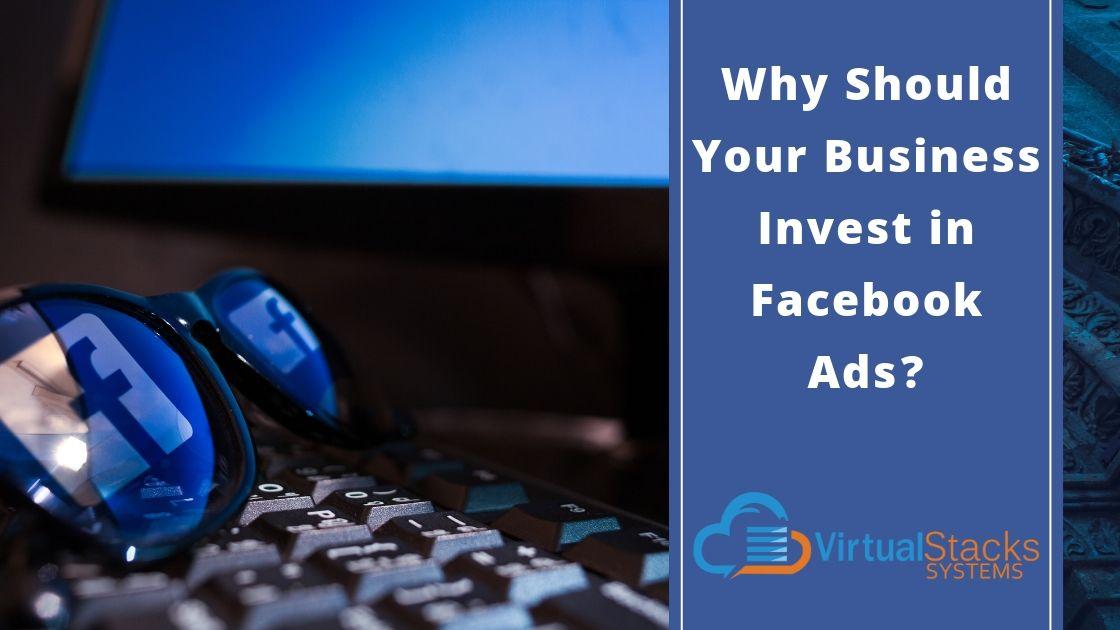 02 Aug

Why Should Your Business Invest in Facebook Ads?

It isn't often that we begin a blog post by immediately answering the question posed in the headline, but there are so many reasons why your business needs to invest in Facebook ads that we're just going to dive into them. Even if you've tried Facebook ads but they didn't deliver the results you expected, you perhaps didn't know the best practices and strategy to use for success. Leave your misconceptions at the door, and learn the facts!
First and foremost – Facebook organic reach is dead
Dead. As in really, most sincerely dead.
"If you have a business page, what you may not realize is that less than 0.5 percent of your fans, on average, will actually see your updates," writes Larry Kim, CEO of MobileMonkey for Inc. magazine. "For years, Facebook has been reducing the visibility of business pages in people's news feeds, frustrating business owners everywhere."
Facebook changed its Newsfeed algorithm in early 2018, giving content from brands and publishers lesser priority than content from groups and friends. This has had the effect of reducing the organic reach of Facebook business pages to almost zero. Business pages can no longer expect to reach their audiences with new Facebook posts alone. So the old tagline, "Like us on Facebook" is now the equivalent to talking to an empty auditorium.
Ironically, Facebook ads can amplify the reach of your content – so that by using ads, you'll actually get more organic reach for your content! As we noted in our June 17, 2019 blog post, "Why Does Your Small Business Need Social Media?" – organic and paid social media work best when implemented together.
Let the data speak for itself – Facebook is too big for any business to ignore
According to AdEspresso by Hootsuite, 57% of consumers say that social media influences their shopping. Of that number, 44% said that Facebook was the most influential of all social media platforms. That's right – Facebook directly influences buying decisions!
Additional impressive statistics follow:
The average American spends about 58 minutes a day just on Facebook.

There are over 60 million active Facebook business pages.

78% of American consumers have discovered retail products to buy on Facebook.

38% of American moms are more likely to purchase brands that other women "Like" on Facebook.

Over two billion people can be reached through Facebook ads.
Facebook ads let you precisely target your audience
As covered in our July 11, 2019 blog post – "Does Facebook Make an Impact on My Business?" – Facebook ads allow you to target consumers by such metrics as age, gender, location, interests, occupation, income – and many more – as well as behaviors, such as brand preferences, historical shopping behaviors, etc.
Notes AdEspresso, "With the targeting options available to you as an advertiser and the influence Facebook has on consumer behavior, Facebook is the perfect channel for reaching your ideal audience.
"You can create a compelling video ad that millennial dog owners can't resist watching, or an immersive canvas ad for senior citizen dog owners that explain every detail and benefit of your dog food product, for example."
Facebook ads let you target your marketing objectives
There are two types of Facebook ads:
Engagement ads – This type engages your audience by encouraging them to take action and interact with your post. The focus is to get information out about your business, and grow your audience.
Direct response ads – The goal of this type of ad is to drive leads and sales. These ads will have an offer and a call-to-action (CTA) to "sign up," "call now," "contact us," "click here," etc. You can run a website click campaign to target your audience and send them to your website. While it is possible to somewhat increase your website traffic through multiple sources, the granular precision and cost-effectiveness of Facebook advertising can produce a high ROI.
Track your ads and measure results easily
Facebook ads eliminate the guesswork with measurable results. You will be able to see the number of impressions, clicks and conversions you receive. Install the Facebook pixel on your website to track activity. The pixel is a piece of HTML code for your website that allows you to measure, optimize and build audiences for your ad campaigns. It will track how your ads affect customer behavior, and retarget ads accordingly.
In Facebook's own words, the pixel makes it possible for you to do the following:
Measure cross-device conversions.

Understand how your cross-device ads help influence conversions.

Optimize delivery to people likely to take action.

Ensure your ads are shown to the people most likely to take action.

Create custom audiences from website visitors –

Dynamic ads

help you automatically show website visitors the products they viewed on your website or related ones.
Facebook ads let you remarket
Remarketing will show your ads to people after they've visited your website (thanks to the pixel), used your mobile app or given you their email address – even if they didn't buy from you. People will see the ads when they visit or shop on other websites, use social media, watch videos, use other social media, watch videos, use other mobile apps or search on Google.
As Kim notes, social remarketing can, on average, boost engagement rates by three times and increase conversion rates by two times.
Facebook ads are economical, and provide an ROI that beats all other advertising platforms
Buying TV, radio and outdoor (billboard) advertising is extremely costly, and there's little guarantee you're reaching the right audience. You can advertise on a cable TV channel targeting the 18-34 male demographic, but it's still a very broad audience that encompasses the fraction of consumers who are actually interested in buying what you're selling.
Spending $50 will typically get your message in front of 5,000 to 10,000 precisely targeted people who are in the market for your products or services. And unlike other forms of advertising, you can look at your Facebook ad campaign in real time and make adjustments immediately to fine-tune the results.
Does the 20% text rule still apply for Facebook ads?
Those with experience in creating Facebook ads may recall the rule that advertisers were allowed to cover their ad images with no more than 20% text. To determine this, Facebook provided a tool that divided ad images with a 25-rectangle grid. An ad in which text took up more than 20% of the rectangles wouldn't be allowed to run.
While that rule (and tool) has changed, Ted Vrountas reporting for Instapage makes the following observation, which basically comes down to the less text, the better.
"Under Facebook's new guidelines, an ad won't be outright rejected if it contains more than 20% text, but it will have its reach limited – in some cases significantly." Instead of using a 'run or reject' system, Facebook now uses the following image text ratings: Okay (ad will run normally), Low (ad's reach may be slightly lower), Medium (ad's reach may be much lower) and High (ad may not run).
Ready to get started?
Step-by-step instructions for creating Facebook business ads are available on Facebook, as well as AdEspresso by Hootsuite, which also incorporates a helpful tutorial. However, as the latter resource notes, your Facebook ad creatives and copywriting are among the top ad elements that decide whether your ad campaign succeeds. "If a Facebook user is scrolling through Facebook and your ad doesn't catch their eye, they won't click on it, end up on your website and they definitely won't end up converting."
So while our answer to our question provides many compelling reasons why your business should invest in Facebook ads, your business still needs solid graphic and website design, copywriting, social media and marketing skills to achieve optimum Facebook ad success. Our Virtual Stacks Systems team has the experience and talent in all areas of digital marketing to create a winning campaign. Contact us to learn more and get started!