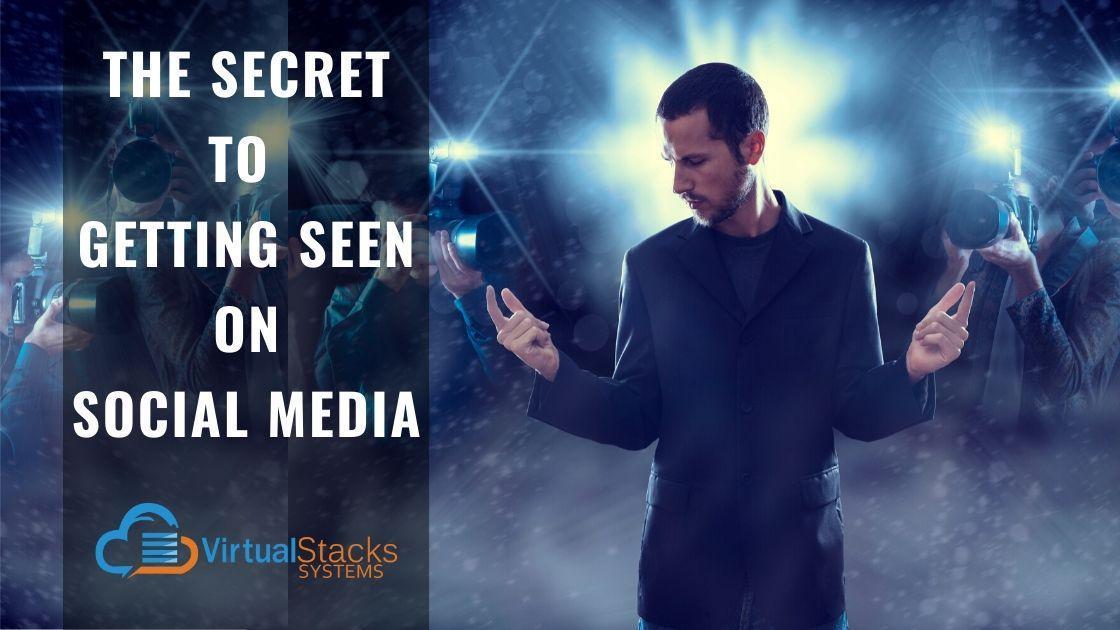 22 Jun

The Secret to Getting Seen on Social Media

So you're making regular posts on your social media platforms, each carefully chosen to reach the target demographic of your business. And the quality of your posts is high – relevant topics and messages, well-written, with no typos and the right hashtags – as well as attractive graphics. But if you don't have video in the mix, you may be missing out on a great opportunity to increase the engagement that can cultivate new customers and keep existing ones loyal.

Not long ago, YouTube was synonymous with online video. However, there were drawbacks for small-to-medium size businesses. Many found that creating YouTube videos was time-consuming – as well as the responsibility of maintaining a YouTube channel and providing it with video content on a regular basis. Abandoned business channels are all too easy to find, with their telltale years-old last posting.

The landscape has significantly changed recently, opening today's opportunities. Video creation is now more nimble thanks to sophisticated smartphones with high-quality video recording capability, user-friendly editing apps and the expansion of Instagram as a highly videocentric platform. Not to mention Instagram's owner – Facebook – as a go-to platform for sharing video messages and promotions about companies of all sizes.

With video easy to shoot and post, watchable, interesting video social media posts are possible for everyone to create. We'll look at the types of video content to help you determine which would be best for your business and target market, as well as tips and tricks for success. If you're still wondering if video social posts are worth your time, keep reading!
Who watches this anyway?
Practically everybody! According to Roman Daneghyan, CMO of Renderforest, branded video content viewership has increased by 258% on Facebook, with social media videos across all platforms generating up to 1,200% more shares than texts and images combined.
"If you're wondering why Facebook & Instagram copied Snapchat with the 'stories' feature, the answer is now obvious – the reach of video content is incredible, and they didn't want to miss out on all that traffic," Daneghyan writes. In addition, he cites a study by HubSpot revealing that 54% of consumers want to see more video content from the brands they follow.
In his article for Later, content marketing strategist Benjamin Chacon notes that an estimated 85% of businesses plan to use video as a marketing tool in 2020 — which includes video on Instagram. One big reason, writes Chacon, is that Instagram has made video marketing especially accessible for small businesses, thanks to Instagram Stories, IGTV, Instagram Live, and more. Chacon's article provides an excellent step-by-step DIY guide for video posting on Instagram, so it's recommended reading if you want to get started!
The types of content you can do
Speaking of getting started, Daneghyan advises first determining your overall marketing objective, and how you're going to achieve it. "Creating unique, refreshing and engaging video content comes easy if the objective is clear," he says. "That video can be a simple brand message, product reveal, customer review, or anything else that may help your potential customers."
The good people at video content creator Biteable and inbound marketing specialist Dominique Jackson writing for SproutSocial provide helpful info about the types of video content you can create. By the way, Jackson's article also offers great step-by-step instructions for creating marketing videos for posting on Instagram. Consider this another addition to your toolkit! Some of these categories represent our own humble recommendations.
Announcements/reveals/sneak peeks – Making a big announcement? It will have an even bigger impact if you post a video of you or your company spokesperson sharing the good news. You can also make "teaser" videos that hint at your news to build anticipation.
Behind the scenes – Everyone wants to see the inner workings of a business or brand. Jackson recommends showing off how you make your products, what a day at your office is like, or a backstage look at a company event (his article was written pre-pandemic). "Giving an inside look helps our audience feel more connected to your brand and gives you the transparency that consumers crave," Jackson writes.
Demo videos – Videos of you demonstrating how your product works, how you perform your job, etc., builds your credibility to your target audience. Closely related are feature/product videos. According to a study by Social Media Today, 78% of people said that their buying decisions have been influenced by brands' social media posts. Video is an effective way to highlight a product or demonstrate a particular feature. Notes Biteable, "An informal social media post can seem more authentic than an ad, and encourage people to click 'buy.'"
Events – Most events are currently on-hold, but eventually your business will again host an industry or consumer event – or you'll attend a trade show. Posting videos of such occasions will help audience members better connect with your enterprise.
How-to videos/tutorials – "Here's where video marketing and content marketing meet," says Jackson. "Content marketing is all about giving out value to your audience. What better way to add value than to create a short video showcasing how to solve a common problem or just teaching people how to do something new … Go dynamic by using the power of video. Since Instagram videos are bite-sized, people are much more likely to watch them."
Live videos – Most social media platforms offer native live streaming features. This is an exciting way to make your brand more transparent while boosting engagement and nurturing a connection with your audience members.
Q and A – Depending upon your business, using video to answer common questions can be quick and effective. Stay with one question/answer per video to keep viewers' attention.
Insider's insight – Do you have an opinion or industry insight on a new technology or trend and how it may affect members of your target demographic? Brief videos presenting your perspective can help establish you as a thought leader and/or industry expert.
Tips and tricks for success
Once you've decided on the right type of video for your social media marketing needs, making sure your video is watchable is essential! Jackson and Biteable share the following tips for creating lively, engaging video content.
Get their attention – Your video has to grab the attention of viewers within the first few seconds, or they'll keep scrolling. Start with a moving image or an eye-catching title card.
Have a clear intention – Your video should entertain, educate or inspire viewers. Have one clear focus.
Don't require sound – Most videos on social media are automatically muted unless the viewer chooses to turn on the sound. If your message can't be conveyed through visuals alone, add captions.
Let them loop – Videos on Instagram loop automatically, as well as short videos on Facebook and Twitter. Taking this into account while you create videos will create a smoother viewing experience for your audience.
Keep them short – Brevity is the soul of wit – and also effective social media videos! Biteable recommends two to three minutes maximum on Facebook and Twitter, but we recommend less. Instagram's limit is one minute.
Upload natively – Biteable offers this valuable tip: "With Instagram, you don't really have a choice, but on Facebook and Twitter you can either share a link to a video hosted on another suit (usually YouTube) or you can upload a video file directly, which is called a 'native' video. Facebook's algorithm prioritizes native video, meaning your video is more likely to be seen in users' feeds if it's uploaded natively." Good to know!
The only thing you have to fear is fear of missing out (FOMO)
Hopefully, our humble blog post has introduced you to the great marketing potential of video social media posts, and given you the confidence to attempt them yourself. Yes, we actually said that! Today's technology makes it easier than ever to create videos to build your brand, so go out and enjoy exploring the possibilities! Virtual Stacks Systems is here to help you with your overall social media marketing strategy. Just contact us!