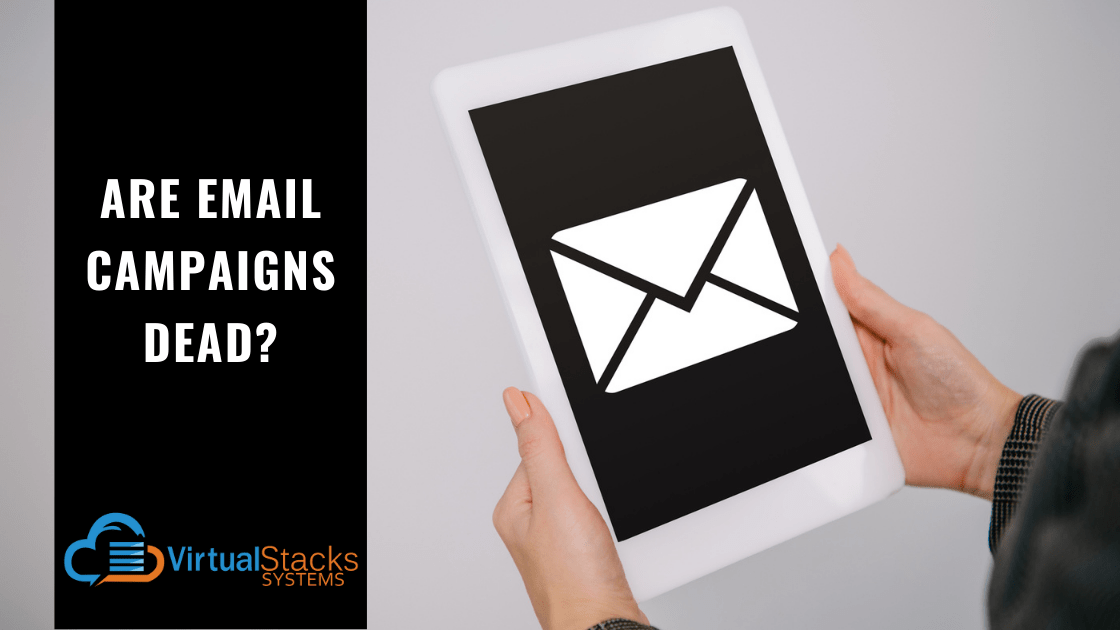 18 Sep

Are Email Campaigns Dead?

Every now and then, some would-be visionary points at a lot of shiny objects like artificial intelligence (AI), Instagram influencers – and probably soon, neural implants – as the future of digital marketing. As far as they're concerned, email is as antiquated as landline phones. Don't get us wrong – we're enthusiastic about new technologies and innovative ways to communicate. But as we noted in our blog post – "Nine Tips for an Effective Email Marketing Campaign" – If email had died when the self-proclaimed digital pundits said it did, we must be witnessing a zombie apocalypse. So, spoiler alert: No!
Does email still matter?
We're in good company in our assessment. Jeff Keleher, writer and editor for Brafton, makes the following observation:
"It turns out reports of email marketing's death have been greatly exaggerated. Email marketing is more vital than ever, giving brands a direct way to segment, engage, nurture and convert leads … If you play the channel's strengths (automation, segmentation, direct communication) and meticulously craft every campaign and email to engage your audience, email marketing will deliver enormous ROI."
HubSpot staff writer Caroline Forsey, agrees, noting that "… email generates $38 for every $1 spent, which is an astounding 3,800% ROI, making it one of the most effective options available."
Forsey continues with an extensive list of email marketing facts and statistics. Here is a brief selection:
59% of respondents say marketing emails influence their purchase decisions.

73% of millennials prefer communications from businesses to come via email.

78% of marketers

have seen an increase in email engagement over the last 12 months.

81% of B2B marketers

say their most used form of content marketing is email newsletters.

80% of business professionals

believe that email marketing increases customer retention.
Succeeding with email marketing
As awesome as the statistics make it sound, achieving success in email marketing requires following best practices and formulating a solid strategy. Here are the fundamental elements:
Have a clear-cut objective – Know what you want your email campaign to accomplish. Do you want qualified leads in your conversion funnel? Additional business from existing customers? Additional information from recipients so you can fine-tune future messages and offers? You'll need to craft the message accordingly.
Give your audience something they value and make relevant offers – Users who opt in your email list expect to receive something they consider worthwhile in return – such as an informative newsletter, whitepaper or, for consumers, offers and promotions that reflect their previous purchases and activities with your brand.
Have a strong call-to-action (CTA) – Obviously, you want your recipients to do something after they've read your email. Be sure to make that clear, and make it easy for people to do so. Avoid a hard-sell, but be direct about the next action that's expected. CTA buttons should be in a highly visible place and designed to stand out.
Have a good subject line – It doesn't matter how sharp and compelling your content is if the subject line gets your carefully crafted email sent directly into the spam folder. The second worst-case scenario is that the recipient will just decide it isn't worth opening. Be upfront about the subject of your email (don't make a sales pitch seem like the recipient has won a prize) and avoid words that are likely to trigger the spam filter (like "prize").
Segment your subscriber list – Know the demographic group you want to reach, and target your subscriber list accordingly. As Keleher writes, "Not all newsletter subscribers are interested in the same information or sit at the same stage in the buyer journey. Email marketing needs to be far more precise to reach your target audience with the right message at the right time."
Keleher notes that breaking down email lists into different prospect categories is a proven strategy, as segmented emails consistently produce better engagement metrics than general email lists. He cites that open rates for segmented campaigns are 14% higher and click-through rates a whopping 101% higher than those of broad outreach emails.
Mistakes to avoid
Although that statistic mentioned earlier about 99% of consumers checking their email every day is impressive, it doesn't mean that those consumers are going to open every email. In fact, many are destined for the recipient's spam folder. Our blog post – "How to Avoid Email Marketing Mistakes" – covers such no-no's as the following:
Ignoring legalities – The CAN-SPAM Act, The European Union (EU) General Data Protection Regulation (GDPR) and the recently enacted  California Consumer Privacy Act (CCPA) all exist to protect consumer privacy, data and rights.
The CAN-SPAM Act

establishes requirements for commercial messages, gives recipients the right to have you stop emailing them and spells out tough penalties for violations.

The GDPR was enacted to protect the personal data of EU residents and affects any business that has customers located in the EU. There is no restriction based on location, company size or scope of business, meaning any entity with an internet presence could be affected.

The CCPA went into effect on January 1, 2020. While it may not be applicable to most small-to-medium-size businesses, all email campaigns go back to your website, which should be compliant to be on the safe side.
Buying email lists – As tempting as it may be to gain instant access to thousands of email addresses at once, this is a deadly online marketing sin that could cost you in terms of fines and penalties as well as reputation. HubSpot's Corey Wainwright provides the following reasons you should never purchase an email list:
You'll violate the rules of consent under GDPR.

Reputable email marketing services don't let you send emails to lists you've bought.

Good email address lists aren't for sale.

People on a purchased or rented list don't actually know you.

You'll harm your email deliverability and IP reputation.

You can come across as annoying.

Your email service provider can penalize you.
Not optimizing your emails for mobile – Although the vast majority of people read their email on smartphones, there remain holdouts who still think in terms of desktop display. Because email campaigns typically are crafted on desktop computers, too many people don't consider how it will display on a small smartphone screen.
As HubSpot's Kayla Carmicheal writes, "Emails that aren't mobile-friendly are probably raising your bounce rate exponentially due to poor user experience. Because it's so easy to click away from something that's unappealing, emails optimized for mobile should be an important step in the design process … If the template being used interrupts comprehension or is just plain ugly on mobile, it might be a good idea to switch to something else."
Poor design – Just as people expect websites to be well-designed, attractive and user-friendly, they expect the emails they receive to be likewise. As Carmichael sums up the situation, "An email with long paragraphs, the same-old template and a CTA that hasn't changed in years are … less than exciting, and probably leave readers clicking out of that email in favor of something that is."
Not paying attention to quality control – No matter what you're selling, a poorly written email with (or even without) typos won't impress anyone. This is a prime pitfall of DIY email campaigns. An effective email campaign reflects professional writing skills and conveys your brand voice consistently, campaign to campaign.
Ignoring metrics – Tracking metrics is essential to learning how your email campaigns perform. Metrics collect data on who's opening (or not opening) your emails, how they're interacting with them and for how long. Check out your click-through rates, open rates, forwards and unsubscribes. This will inform you of what's working and not working in your messaging and/or targeting, and how to fine-tune it to improve performance.
The take-home message and our blatant self-promotion
Email campaigns are alive and well, but require a good deal of planning and strategic execution to provide healthy results for your business. Virtual Stacks Systems provides comprehensive digital marketing and email hosting solutions for organizations of all sizes. Contact us to learn how a highly targeted, robust email campaign can help meet your goals.