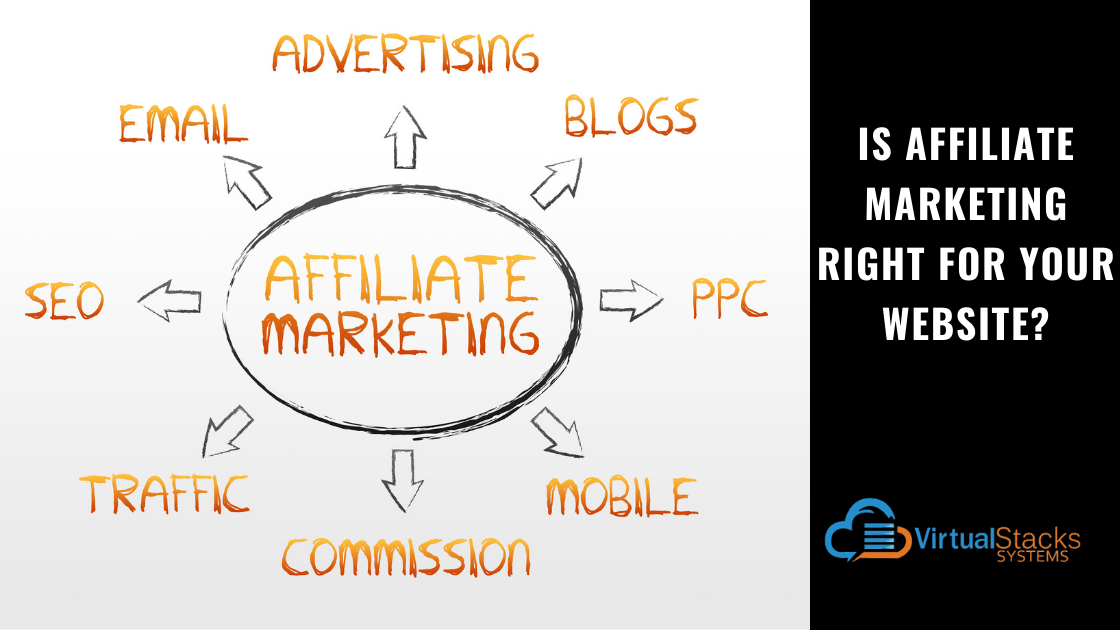 03 Oct

Is Affiliate Marketing Right for Your Website?

An increasing number of websites are expanding their income stream through affiliate marketing. According to Supermetrics, 81% of business brands rely on affiliate marketing to build their clientele. And according to Statista, the U.S. affiliate marketing spend is due to reach 8.2 billion U.S. dollars by 2022, up from 5.4 billion in 2017.

If you're considering taking the plunge into affiliate marketing, be sure that you educate yourself about every aspect of this industry, then weigh the pros and cons before signing on. You won't get rich quickly (if at all), and you need to be careful that you don't damage your brand's credibility. That being said, affiliate marketing can be beneficial when your expectations are realistic and you integrate it into your website wisely. We provide this basic guide to help you make an informed decision.
What is affiliate marketing?
Simply stated by Si Quan Ong of Ahrefs, "Affiliate marketing is when you promote other companies' products. When someone buys through your affiliate link, you get a commission. As an affiliate, you're a salesperson for the company. You help to make a sale, the company rewards you."
Keep those last two sentences in mind. We'll return to them later.
Affiliate links are most commonly found in blogs on fashion, beauty, fitness, health, family, gaming, pop culture, entertainment and general lifestyle topics. For example, a beauty blog post on the topic of exfoliating sensitive skin may include links to specific products for this need. On a daily basis, you doubtlessly come across many other such links over a wide range of subjects and brands.
Websites that include affiliate links are required by the Federal Trade Commission (FTC) to disclose this fact, and post the disclaimer in a conspicuous place that readers will readily see. A typical disclaimer may read as follows:
"This post may contain affiliate links. If you click through my referral link, at no additional cost to you, I may earn a small commission if you make a purchase."
Will your readers welcome affiliate links?
For the categories mentioned above, readers not only tend to accept affiliate links, but actually expect and welcome them to learn about new products. It's a win-win situation if you were going to write about or recommend a certain product anyway, but can earn a commission when a reader makes a purchase through the link.
Of course, you need to be sure that the merchant's product is actually of interest to your audience, and is high-quality – not to mention that the merchant is reputable and follows ethical business practices. We'll delve further into credibility issues, but suffice to say that linking to shoddy products and shady businesses will quickly damage your reputation and ability to not only generate income from affiliate marketing, but from your primary business, as well.
How can you find affiliate programs?
If your interest in affiliate marketing has already been raised, you're most likely aware of Amazon's affiliate program. Just click the link (no, we won't get paid) to learn the details and sign up. Amazon does review applications to make sure the applicant meets its criteria, however, so acceptance into the program isn't automatic.
Numerous other merchants offer affiliate programs, as well. Or you can sign up with a network that acts as a matchmaker for websites (known as "publishers") looking to market products. According to business.com, major names include Admitad, CJ Affiliate (formerly Commission Junction), Awin and Rakuten. To get the most out of the relationship if you go this route, business.com recommends keeping in touch with the account manager you'll be assigned. "… they can increase your commission if you are sending great traffic. They could also give you an exclusivity deal and bump up your pay more."
Does your website keep up with SEO and contain quality content?
The affiliate marketing experts agree that up-to-date search engine optimization (SEO) and high-quality content are essential for success. If your website is low in the search engine results pages (SERPs) and has poor content, it isn't likely to attract visitors to click on those links in the first place. Our blog posts – "How SEO Can Help Your Business Grow" – and "What is Quality Content?" – cover these issues in detail.
Ong emphasizes the importance of affiliate links fitting into the content seamlessly. He gives the example of entrepreneur Tim Ferriss, who interviewed more than 100 famous people and asked them which purchase of $100 or less has most positively impacted their life in the last six months (or recent memory). Ferriss then published their answers in a blog post, and included affiliate links to the products mentioned. The blog post was very well-received by his audience, and presumably earned Ferriss some nice commissions.
Can affiliate marketing harm your credibility?
There are two types of credibility involved. If your website is a blog in one of the previously mentioned fields (fashion, beauty, fitness, health, gaming, etc.), it is essential that the affiliate program you're involved with has a good reputation, and offers your readers products they consider worthwhile. Otherwise, you risk losing the audience you've so carefully built up.
The second type involves the nature of your enterprise. If your website is set up and presented as a news source, or in an industry that practices what was known in journalism as "separation of church and state" – that is, straightforward, factual content versus advertising – you could compromise your business's credibility.
Remember those two sentences from the quote from Ong we asked you to keep in mind? "As an affiliate, you're a salesperson for the company. You help to make a sale, the company rewards you." If your business is in an industry in which this practice is frowned upon, affiliate marketing may not be an option that inspires confidence among members of your target audience. You could come across as desperate to earn revenue (and by extension, not successful in your business), or ethically challenged – or both.
Just to make it clear: Virtual Stacks Systems does not participate in affiliate marketing. We are aware of some digital marketing agencies that do – and they provide the appropriate disclaimer at the beginning of each blog post. As a global company that also provides a suite of cloud computing and hosting solutions, it is not an appropriate fit for our business model. Each business must do what its leadership determines is within its best interest, as long as its decisions are ethical.
A first-hand perspective about affiliate marketing and review sites
Affiliate marketing has the strong potential to open a can of worms for review websites. Long-time reviewer Alex Rowe offers his perspective on the credibility problem it can present in his blog post – "Affiliate Links Are Ruining Gadget Reviews."
"When a critic posts an affiliate link for a product they're reviewing, they're now earning money directly from the sales of the thing you're supposed to trust them to evaluate. That's a big, obvious ethical issue."
Should this situation apply to your review site, do some soul-searching and evaluate your relationship to your affiliate program and your audience. Avoid using language that could mislead your readers – for example, an offer to find them the best price on the product being reviewed, using the affiliate link. Being upfront is the best policy. Just because you're reviewing the product doesn't necessarily mean you're going to give it five stars no matter what. If you really think it's great, your audience will know your enthusiasm is sincere. Again, it just isn't worth losing their trust over a review that heaps praise upon a bad product. Once they leave, they'll never return – and they'll trash your reputation all over social media.
The take-home message and our blatant self-promotion
Ultimately, the decision is yours to make. If after further research you move ahead, keep in mind all that's required to be successful. Our team at Virtual Stacks Systems can definitely help you with a website that people will want to visit and explore – as well as expert SEO and engaging content. Contact us to learn more and get started!