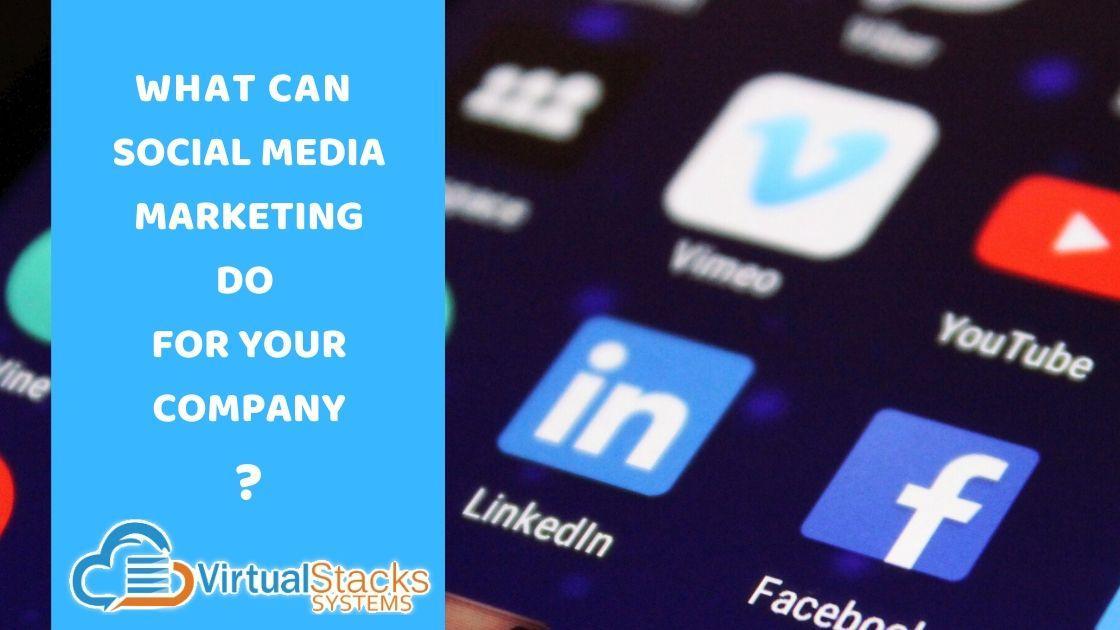 01 Nov

What Can Social Media Marketing Do For Your Company ?

Even if you're active on your personal social media accounts, using social media for your business is a completely different endeavor, requiring a very different approach. So whether you're starting from scratch or you're looking at the disappointing results your current social media efforts are getting, social media marketing can help your company get noticed. Read on to learn how!
An overview of social media marketing
As defined by Buffer, "Social media marketing is the use of social media platforms to connect with your audience to build your brand, increase sales, and drive website traffic. This involves publishing great content on your social media profiles, listening to and engaging your followers, analyzing your results, and running social media advertisements."
Sounds easy, right? Many business owners have made the same assumption, only to find that their social media accounts attract few followers and even fewer engagements with their social media posts. That's because there is a difference between approaching social media without a plan, and integrating social media into a comprehensive marketing plan. As we often note, if you don't know where you're going, any road will take you there.
Since we're using well-known sayings, another applies: "A journey of a thousand miles begins with a single step." That step is the link between social media marketing and search engine optimization (SEO). As Search Engine Land observes, the two are very closely related.
"Social media often feeds into the discovery of new content such as news stories, and 'discovery' is a search activity. Social media can also help build links that in turn support into SEO efforts. Many people also perform searches at social media sites to find social media content. Social connections may also impact the relevancy of some search results, either within a social media network or at a 'mainstream' search engine."
Simply stated, good social media content – especially social posts that link to your website – effectively drives traffic to your website, which helps boost your site's ranking on search engine results pages (SERPs). Social posts that highlight your company's services and promote new blog posts (You do have a blog, right?) should provide a link to the corresponding web page.
What can social media marketing do for your business?
In addition to improving SEO and driving website traffic, effective social media marketing can create a brand identity, increase awareness of your brand among members of your target market, generate engagement for your brand, create a community of enthusiasts for your brand and provide customer support. For small- to medium-size businesses, it also can raise your profile in your actual local community – more on that later!
Which brings us to the next step on our journey. As Wordstream advises, your goals and type of business should inform and drive your social media strategy. Basic questions to ask yourself include the following:
What are you hoping to achieve through social media marketing?

Who is your target audience?

Where do members of your target audience gather in the "real" world, and how do they use social media?

What message do you want to send to your audience with social media marketing?
How to choose the best social media platforms for marketing – a brief introduction
Once you've determined your goals and the buyer persona(s) of your target audience, you'll be ready to choose the right social media platforms for reaching them. Read our blog post next week on how to choose the best social media platforms for marketing, which will take an in-depth look at the major social media platforms, their demographics and how to reach them. In the meantime, here's an overview.
Facebook – Still the world's leading social media platform, Facebook is ideal for business-to-consumer (B2C) companies. However, social posts alone won't significantly move the needle. Our August 2, 2019 blog post – "Why Should Your Business Invest in Facebook Ads?" – covers the limitations of organic reach in making Facebook an effective platform in achieving your marketing goals.
YouTube – Owned by Google, YouTube is also a search engine in its own right. Ideal if your company has products, services or processes that you can feature. Also keep in mind the possibilities for explainer videos, demo videos, etc. If you do choose YouTube, your efforts will be more successful if you start your own channel and post on a regular basis.
Twitter – With posts limited to a maximum of 280 characters, Twitter is best suited for brief messages that engage viewers rather than sell to them. It is not recommended for luxury brands or services, such as high-end interior design firms.
Instagram – Owned by Facebook, Instagram has a young, visually oriented demographic. As covered in our January 11, 2019 blog post – "Is Instagram Right for Your Business?" – Instagram is better for B2C brands targeted to younger millennials and Generation Z – as well as brands that are photogenic. Advertising will also allow you to extend your reach beyond organic.
LinkedIn – Still the button-down platform for business professionals, LinkedIn is ideal for business-to-business (B2B) brands, offering several options for advertising.
Pinterest – Although associated with a female demographic, 50% of new signups are men. This can be a good choice for businesses selling crafting items, reasonably priced home décor items and furniture, food (such as candy and packaged cookies), etc. Not especially effective for companies selling high-ticket items. Your photos may get a lot of pins from those who like the pretty pictures, but the pinners are not likely to convert to buyers.
Snapchat and TikTok – We'll look at each platform separately next week, but suffice to say for now that they're for the young. Snapchat is the most used platform among 12-to-24 year-olds. TikTok is more than a sharing platform for short videos – it's part of Generation Z culture. Currently, established brands don't have a big presence. Yet many TikTok users are becoming entrepreneurs, using it to launch their own brands of clothing and other merchandise.
Word of warning: Members of the TikTok community know their own kind, and will call out businesses they consider tone-deaf and out-of-touch. You do not want the insult, "OK boomer" hurled at you!
The small business advantage
While owners of small- to medium-size businesses may feel concerned that they won't be able to achieve successful results because they lack the budget of larger businesses, they actually have some advantages. As Duct Tape Marketing points out, social media success does not depend on the number of followers you have, it depends on customer engagement.
"Small businesses tend to be more community and individual focused. Many small businesses choose to be heavily involved in their communities, which leads to a connection with customers. They also enjoy the benefits of joining the chamber of commerce in their community by connecting and sometimes partnering on marketing campaigns with other local businesses.
"When using social media, small businesses can connect with their customers online. Small businesses are more likely to respond to their customers than large businesses. As a small business, you can easily handle the influx of comments from customers, so make sure you reply quickly."
Why you should partner with an agency that understands you
Our target market at Virtual Stacks Systems is small- to medium-size businesses. That's why our blog posts address the challenges such enterprises face. Many digital marketing agency blogs feature posts with examples and advice more applicable to large businesses and corporations. We don't want our readers saying to themselves, "Yeah, I could do that too, if I had a million-dollar marketing budget!" We want you to say, "That sounds like an agency that can help my business!"
If this is what you're saying to yourself right now, take the next step in your social media marketing journey and give us a call! In addition to social media marketing, we offer PPC advertising, website design and redesign, SEO marketing, review management services, social media marketing, video production and much more! There's a place for you at our conference room table!