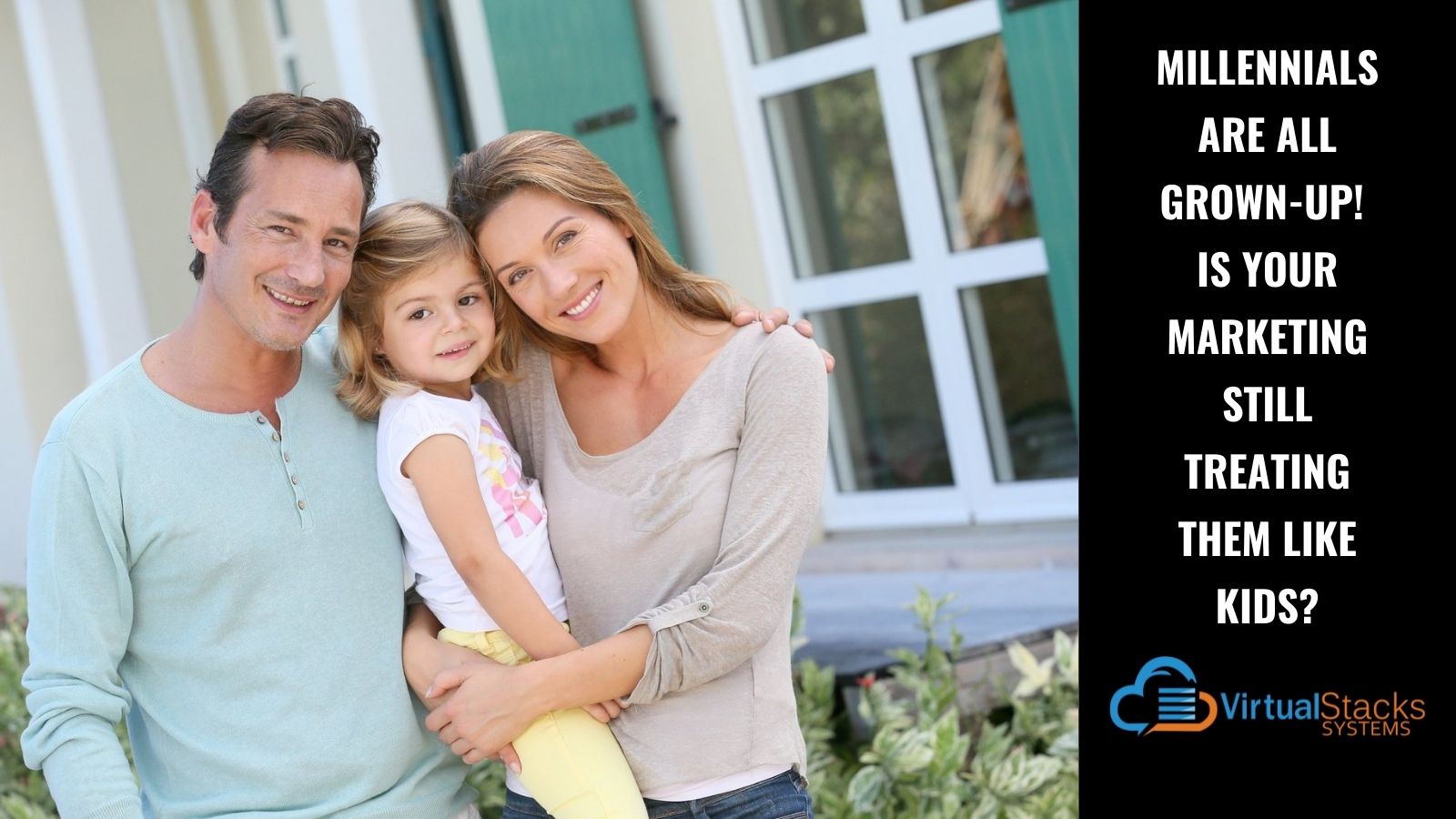 04 Feb

Millennials Are All Grown-up! Is Your Marketing Still Treating Them Like Kids?

If you're still thinking of millennials as selfie-taking, avocado-toast-loving young whippersnappers, consider this your wake-up call! Members of the generation born between 1981 and 1996 are adults, the eldest of which have entered middle age. Now the largest generation in the United States, millennials are parents, employees, bosses and holders of elective office. They may even be your target market – but you won't have a good chance of earning their business if you're clinging to dated stereotypes! Recognizing how millennials have grown and changed can help your enterprise successfully engage them at their current point in life.

Here's why this is important. Just as young people tend to see anyone over age 40 as hopelessly old, so do (ahem) mature individuals look upon members of succeeding generations as kids. For example, you may have been hearing that all the "kids" today are using TicTok, and think that you should incorporate TicTok videos in your marketing. But if your target market is millennials, you'd be off-base – as this short-form video platform is far more popular among members of Generation Z, born from 1997 to 2012.

Or, you may still be thinking of millennials as their younger selves – or at least, stereotypes such as not being able to save for a down payment on a house because they're blowing their money on expensive lunches, like avocado sandwiches. While this inaccurate image was spread by the media, millennials are carrying their generation's positive core values with them into mid-adulthood.
What Do Millennials Value?
Writing for Mention, content marketing consultant Kevin Payne notes, "Millennials prefer more collaboration between themselves and colleagues than their Gen Z counterparts." In the workplace, they continue to favor teamwork, input from coworkers and open office plans. Other values Payne identifies include sustainability, environmentalism and social justice. They also seek convenience and ways to streamline processes.
According to Frida Ekholm – social media manager at Cure Media – "A typical trait of the millennial generation is that they are quite unique when it comes to integrating personal values with their shopping behaviours. They are often involved and have a clear perception when it comes to political, social and environmental questions. This is later shown in the way they let their opinion affect what brands they chose to engage with or not. If their opinion doesn't conform with a company – they often look to other companies.
"They definitely prioritise brands whose values and beliefs align with their own. This is also why brands need to have a meaningful purpose, and be more than just companies. Not only are millennials looking for the cheapest or best product, but instead, they are looking for companies that align with their beliefs and values."
What Does This Mean For Businesses Seeking To Connect With Millennials?
First, traditional forms of advertising are going to fall short. As Caleb Shepherd writes for BKA Content, "Millennial marketing is not like traditional advertising. This makes sense, as each generation has different needs and desires. Along with this, new technology being developed changes the way marketers reach their audience. Millennials have grown up learning how to use and manage digital means of communication. More and more companies are focusing their efforts on the digital sphere and content marketing because these are effective ways to speak to their audience."
In other words, forget the direct mailers and print ads. Email marketing, online ads and social media will be more effective in reaching your millennial market. As Ekholm writes, "This means that a social media presence is no longer a nice-to-have, but a necessity. It's important to meet millennials where they live and breathe, and that is on social media. The social platforms are today's shopping window for this generation and where they seek inspiration, research products and get to know brands. Here you can tell your story and create a community around your brand and your products."
Ekholm lists the most popular social platform among millennials ages 26-35 as follows:
Facebook 78%

YouTube 77%

Instagram 63%

Twitter 48%
Keep in mind that because of the age range of millennials, you need to avoid the tendency to consider them all the same. Younger members may still be in college or just starting their career, while those born in the early '80s are likely to be paying a mortgage, dealing with the responsibilities (and expenses) that children involve, etc.
How To Market To Millennials
Now, let's walk back to the millennial spirit of community and cooperation. For this reason, they want messaging that's authentic. "Millennials listen to peer-to-peer communication and seek a meaningful context in marketing," Ekholm writes. "As a brand, building relationships and a strong community is the key."
In other words, forget the hard-sell and heavy-handed promotion. Focusing on how your business can meet their needs while showing you care about the issues they care about is essential.
Getting involved with your community is an ideal way to establish good will and make that all-important emotional connection. There are plenty of local worthy causes and organizations that your business can help support. Sponsor an event for or volunteer at your town's food pantry, soup kitchen, animal shelter, etc. Participate in holiday toy drives, school supply drives or whatever cause or causes are practical for your business – that is, within the capabilities of your employees. Volunteer work is a true win-win situation in which your business gets interesting, engaging content to post on its social media platforms while making a positive difference and building trust among members of your target market.
"On top of helping people in need and being a way to market to millennials, supporting causes in your community is also a great team-building tool," writes Shepherd. "Giving back is not only good for business but good for your business."
On the sustainability front, promote any recycling program or protocol your business uses in your social media posts. Same for donations to conservation or environmental organizations. Again, they make for interesting posts while promoting your commitment!
Of course, you need more than good deeds and community involvement to engage millennials on a long-term basis. Here are other important tactics and best practices:
Provide content your target audience will find useful – This means writing blog posts on topics that answer questions people typically have about your product, service or establishment; explaining processes in plain language; giving your insider's perspective – basically, any information that educates and empowers your audience to make good buying decisions. The same goes for social media posts – including YouTube videos.
But keep content brief – This is the generation that was the first to lose patience with long, wordy explanations, descriptions, etc. To avoid the "TL;DR" (too long; didn't read) reaction, get their attention by breaking down information into bullet points, using snappy headings with "action words" and including interesting, relevant photos and original graphics.
Make sure your website and online store (if applicable) use mobile-first design – Most people of all generations use their smartphone to shop online, and won't wait for a site that's slow to load or not designed to display well on a mobile device. Our blog post – "What You Need to Know About Mobile-First Web Design" – covers this topic in detail.
If your business is e-commerce, look into social commerce – Instagram and Facebook offer business owners the opportunity to sell goods directly on the social platform to visitors as they browse. In keeping with the strong preference for convenience among millennial consumers, purchasing an item at the time they see it – rather than having to go to your website or a third-party site – is the ultimate in ease.
The Take-Home Message and Our Blatant Self-Promotion
No matter what their generation, everybody wants to do business with a company or enterprise that they feel understands their needs and meets them with a quality product or service at a fair market price. Our blog posts highlighting Baby Boomers and Generation X provide insights on members of these generations, for those interested. If your enterprise is geared toward millennial consumers, staying aware of their concerns, values and interests – as well as their unique position at this point in time – will help you gain their business and keep their loyalty.
To be truly effective, generational marketing can't be left to chance. As you've learned, creating the right messaging and getting it across through social media channels and blog posts takes time, effort and expertise. Just as your customers depend upon your business to deliver a great experience, you can depend upon our experienced digital marketing team at Virtual Stacks Systems to make sure your messaging is always on point and reaching the right audience.
Our full-service digital marketing agency does it all – including experienced website design, website redesign, SEO services, social media marketing, email marketing and much more! Contact us today to learn what we can do for you. We're ready to be your partner in success!