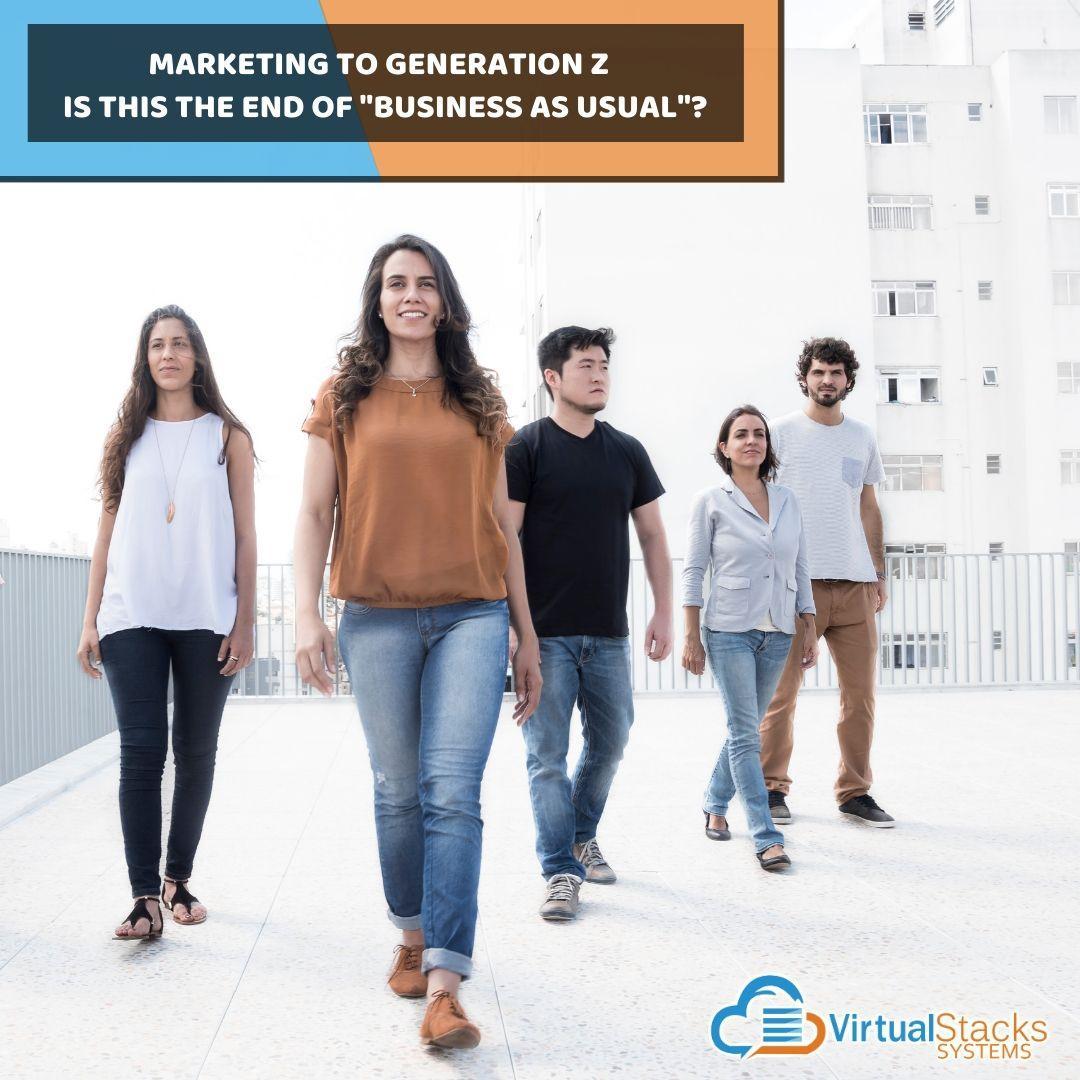 05 Dec

Marketing to Generation Z – Is this is End of Business as Usual?

With the insult "OK boomer" resonating throughout the internet, the depth charge dropped by the over two billion members of Generation Z has done more than rudely remind baby boomers of their own mortality. It has announced that Gen Z is here, and business as usual is over. If you own a business – and you probably do, since you're reading this – here's what you need to do to adapt or die!

Obviously, this dire declaration doesn't apply if your target audience consists solely of boomers or the neglected members of Generation X. Even the older members of the much-maligned millennials are at the threshold of middle age. Just don't make the mistake of thinking of Generation Z simply as a continuation of millennial values, buying preferences, likes and dislikes. With buying power of $44 billion and representing 40% of American consumers, it is essential for brands that want to connect with those born between the years 1995 to 2010 (or 2014, according to some sources) to learn who they are.
Meet Generation Z – digital natives who connect and care
So let's start with Generation Z values and attributes. We turned to entrepreneur Dr. Morissa Schwartz, who gave us an exclusive interview. Named by one publication as The Voice of Generation Z, Dr. Schwartz is a long-time friend of our humble blog, having provided her valuable insights for our October 5, 2018 blog post – "Move Over Kim Kardashian – Here Comes the Micro-Influencer." She is a best-selling author and founder of GenZ Publishing – which publishes works by young authors – digital entrepreneur, motivational speaker and performer. And, by the way, holder of the Guinness World Record title for creating the longest chain of handmade bracelets.
"Generation Z is the most accepting generation in history," Dr. Schwartz says. "They encourage individualism and respect others' differences. I thank technology for this. Because this generation is constantly connected with people from around the world on their mobile devices, they have a greater perspective of the world and those in it."
As a publisher of Generation Z literature, Dr. Schwartz has noticed certain themes and attitudes consistent among her authors.
"Gen Z is not afraid to talk about issues. They are brave. Many of the books we have published tackle a form of adversity and how someone fought to overcome it, whether because of sexuality, race, gender, background, etc. Gen Z fights for what is right and just."
Others in the marketing industry confirm Dr. Schwartz's experiences and observations. Writing for Hootsuite, Dara Fontein characterizes Generation Z as valuing individual expression, personal privacy, diversity and equality – as well as being willing to support and pay more for products or services that are produced in an ethical, sustainable way.
In his article for Inc., millennial and Generation Z speaker Ryan Jenkins shared the highlights of his podcast with Generation Z marketing experts Jeff Fromm and Angie Read – authors of Marketing to Gen Z: The Rules for reaching This Vast – and Very Different – Generation of Influencers. The authors listed the words that best describe Generation Z as fiscally responsible, independent, focused, determined, hard-working, competitive and entrepreneurial. They value human equality, family, individuality, personal success, financial security and authenticity/transparency.
Astute readers can see how marketing to Generation Z gets complicated. Even the phrase "marketing to" is a big red flag that failure lies ahead should you embark upon that course. In Jenkins' words, "Don't market to them; market with them." Born digital, Generation Z can see through traditional marketing tactics. They resent attempts at being manipulated. Members of this generation are more successful in marketing among each other than being marketed to by their elders, who came of age in very different eras.
According to Source Furniture's Jennifer Bello for Forbes, "Gen Z is a generation full of innovation, technology and digital developments, and those aspects must be included and implemented in new and re-invented practices to continue capturing and cultivating their attention. The ideologies of this generation are global and tightly linked to worldwide social tendencies and political movements across the planet; thus, brands need to become more than participants. They need to be the influencers and market authorities in their fields, ready to step up and take the spotlight with every relevant topic at hand. The key is to get their attention."
Influencer marketing and Generation Z
The word "influencer" has a specific meaning in this new marketing era. Influencer marketing is the successful combination of celebrity endorsements and content-driven campaigns. The definition of "celebrity" doesn't only apply to the show-biz variety. It can be anyone who is considered influential in a particular endeavor and has a strong social media following. Influencers engage with their followers on social media, building connections based on trust and accessibility – which makes them attractive to the brands and businesses targeting that specific buyer demographic.
Influencers are vital to connecting with Generation Z – a fact which Sprint's #LiveUnlimted campaign has used with great success. As reported by George Beall for TNW, Sprint formed Candybar – a team of Generation Z and millennial experts who run Sprint's youth marketing. One major difference from previous marketing tactics has been Sprint's use of influencers instead of actor portrayals. Beall writes:
"Young people enjoy seeing influencers and consuming content from influencers, so this marketing approach offers a better and more natural communication pattern for Gen Z than previous marketing tactics. Furthermore, Sprint has leveraged a unique group of influencers to develop a well-rounded team to drive brand awareness and brand loyalty. For their most recent video, they integrated Lele Pons, Prince Royce, Bradley Martyn, Rachel Cook, and Gerard Adams."
Back to Dr. Schwartz, who is also well-known as a micro-influencer – that is, an influencer who has 10,000 to 30,000 followers. Her clients include music artists, as well as consumer electronics, pet product and beauty product brands – which she promotes through videos and social media posts. Asked how she sees her role as an influencer, Dr. Schwartz says, "As an influencer, you want to consistently create great content that will encourage others and have a positive impact on the world. I love my audience. They are nothing but positive. I post content that I like, and when they respond well, it brings me such joy!"
The role of influencers meshes with the relationship that Generation Z members have with each other – and the communities they form and actively participate in online. More than any previous generation, they do not distinguish between friends they know solely online and those they know in "real life." As revealed in a survey conducted by McKinsey & Company:
"They continually flow between communities that promote their causes by exploiting the high level of mobilization technology makes possible. Gen Zers value online communities because they allow people of different economic circumstances to connect and mobilize around causes and interests. (Sixty-six percent of the Gen Zers in our survey believe that communities are created by causes and interests, not by economic backgrounds or educational levels. That percentage is well above the corresponding one for millennials, Gen Xers, and baby boomers.) "
TikTok takes over the world
The leading social media platform facilitating this flow is TikTok. As covered in our November 8, 2019 blog post – "How to Choose the Right Social Media Platforms for Your Business" – TikTok is one of the fastest-growing social media platforms in the world. Numbering 500 million active users, this mobile video platform allows users to create and share short videos with music, filters and other features.
Available for downloading from the App Store, Google Play and Amazon Appstore, TikTok's mission is "to capture and present the world's creativity, knowledge, and precious life moments, directly from the mobile phone. TikTok enables everyone to be a creator, and encourages users to share their passion and creative expression through their videos." 
TikTok is a Generation Z phenomenon, although a growing number of adults are using the app. Still, keep in mind that the "OK boomer" meme exploded into the national consciousness mainly through TikTok. If your brand does tone-deaf videos or ads, expect to be publicly called out. Think of parents who try to be "cool," and you get the idea. This platform is for companies not only targeting this demographic, but preferably also consisting of members of this demographic – by Generation Z, for Generation Z.
For those wanting to take a deep dive into the ingredients for TikTok's phenomenal success, Matt Schlicht's post on Medium provides an immersive experience that includes tips on creating content.
Generation Z – vive la difference
Unlike some of their predecessors, Generation Z isn't interested in designer labels, getting the most toys or impressing others. Expressing themselves, being authentic, committed to their causes and working hard to achieve their goals are their defining traits. Just as they accept themselves and others, brands that treat members of Generation Z accordingly will earn their respect, trust and loyalty along with their business.
Now for our blatant self-promotion
Unlike many other marketing agencies, Virtual Stacks Systems was born digital, as well. We also have the advantage of an innovative, experienced team that knows how to reach multi-generational audiences. We provide comprehensive social media marketing services, as well as PPC advertising, website design and redesign, SEO marketing, review management services, social media marketing, video production and much more! Contact us to get started.