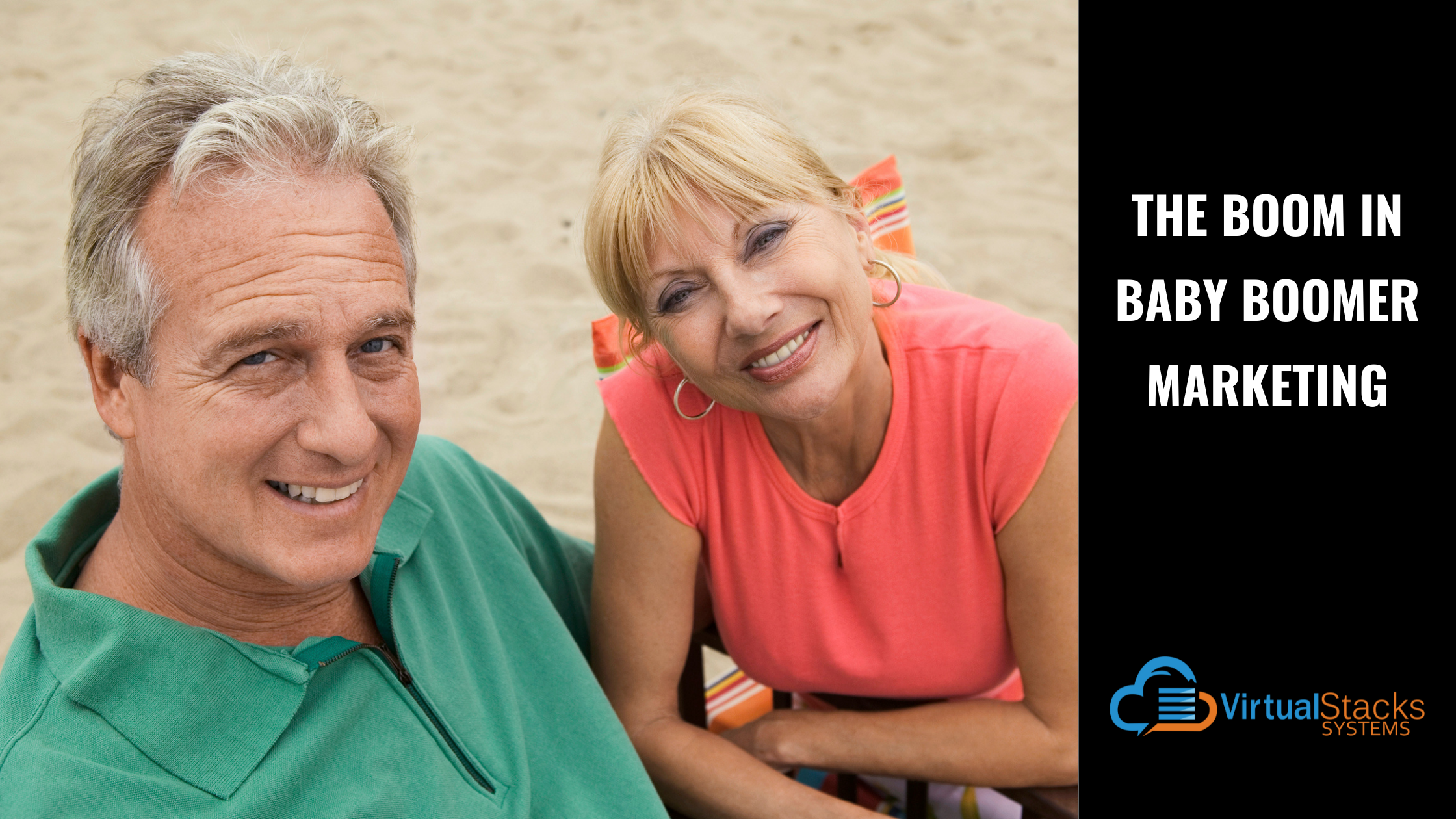 22 Oct

The Boom in Baby Boomer Marketing

They're numerous, they're affluent and they're ready to do business with you – but only if you approach them in the right way! Baby boomers – members of the generation born between 1946 and 1964 – have more buying power than younger generations. According to eMarketer, the average Boomer's household income is $8k more than that of the average millennial, and four times higher than that of the average Gen Zer. If you sell goods and/or services to boomers, optimizing your marketing to resonate with them is essential to earning their trust and their business – and so is avoiding the pitfalls.
Boomers Redefine Aging – Avoid the Stereotypes
Let's start with the pitfalls. Don't use the words "old" or "elderly" to refer to boomers. According to MayeCreate Design, "Not only is it disrespectful, but it also disregards the way this generation is redefining what growing old and retiring means. This generation isn't looking forward to retirement so they can sit at home all day and watch TV; this is the generation that's going to retire and enjoy life by taking up adventurous hobbies like scuba diving, traveling, and skydiving! So when marketing to these people, don't assume their age will hold them back."
Savvy brands and organizations are already up-to-speed on new-age aging. TV commercials now feature people over age 65 running marathons, taking on challenges, launching a new business and otherwise living their best life.
To reach boomers, Danielle Wiley – founder and CEO of Sway Group – recommends respecting their individuality and interests. They are interested in products and services that improve their health, overall quality of life and keep them independent. "They're often searching for information on travel, healthcare, entertainment, hobbies, and family. Acknowledge their desire to support an active, healthy lifestyle, and avoid messaging that depicts them as elderly or feeble."
To which we add, also steer clear of the "spry," "feisty" or "cute" stereotypes – many boomers consider such attitudes condescending, which is not the message you want your business to convey. Another controversy we've seen emerge is the common use of the word "granny" to refer to any woman over age 50.
Yet, this presents the danger of a double-pitfall. Depict (or address) boomers as physically frail and fearful or sweet-and-adorable, and you'll lose potential customers. However, representing them as imitation young people is just as ill-advised. Taking boomer icon Jamie Lee Curtis as an example, members – especially females – of this generation don't necessarily feel the need to color their hair or undergo cosmetic procedures. Health and fitness are higher priorities. If your business does offer aesthetic services, there are many boomer women receptive to appearing as young as they feel – and ways to appeal to this market, of course. Overall, treat boomers as adults with valuable life experience, and you can't go wrong!
Practice Generational Marketing for Best Engagement
Generational marketing refers to strategies used to reach members of a specific generation based upon the values, experiences and attitudes common among its members. As MayeCreate Design observes, "… boomers are considered the 'me' generation, with people born at this time characterized by their self-centered, self-fulfillment, individualist attitudes. They were the first TV generation, as well as the first generation where divorce was socially tolerated."
Our blog post – "How to Reach Each Generation Through Social Media Marketing" – covers which social media platforms appeal the most to each generation. Facebook is the prevailing social media platform for boomers, followed by YouTube and engagement with favorite blogs. According to Sprout Social, baby boomers share a preference for more established platforms, particularly Facebook. The number of boomers on the platform nearly doubled from 2012 to 2019, signaling a growing acclimation toward digital life.
According to Ethan Giffin writing for BigCommerce, "Baby boomers use Facebook far more than any other social media platform. Many in this demographic use the platform to keep in touch with friends, family and loved ones and to stay informed. As a result, marketers have significant potential to meet boomers where they socialize.
"With organic Facebook reach hovering somewhere between two and four percent, many brands struggle to gain impressions and engagement on the platform. As a result, Facebook advertisements have become a mainstay to reach new and existing customers.
"If you're launching a Facebook ad campaign, you can use segments and advanced targeting to identify boomer prospects. For example, factors including age, gender, geographic location, device and interests help narrow who sees your ad. Using this approach, brands can ensure their messages reach the right users with the right messages."
Noting that baby boomers have more disposable income than any other demographic group, Jon Bingham – Marketing Director at BKA Content – has the following observation. "Still, with retirement saving and adult children to think about, they may need to be more selective how they spend their money, which means your content marketing has to work twice as hard to convince them that what you're selling is worth it.
"Marketing to baby boomers includes focusing on how your product or service offering can make their lives better, more fulfilling or easier, and highlight the value that they receive when they choose to spend their hard-earned and hard-saved money on your services."
If content marketing is a new term to you, it's the link between businesses and potential customers. "The articles, social media posts and landing pages you create inform, persuade and build brand image," Bingham writes. "The content you create should be catchy and informative, while personally reaching your target market. When marketing to baby boomers, you can use content marketing to help them realize how [your] services can help them."
Boomers Buy Online – What E-commerce Websites Need to Do to Accommodate Them
Another passé stereotype is that baby boomers are uncomfortable making online purchases. However accurate it may have once been has pretty much dissolved during the COVID-19 pandemic, when shopping online became necessary for many. Bingham offers the following recommendations to providing an easy, comfortable user experience for them on your e-commerce website:
Make fonts a comfortable size for reading

Keep CTAs simple

Use bullet points, headers and shorter paragraphs

Utilize white space

Stick to one or two fonts

Include images, videos and infographics
Also, keep visual contrast in mind, as it's important to readability. Use dark typography on light backgrounds – preferably white. Giffin recommends that buttons on your website be at least 44 pixels high to accommodate finger sizes on mobile devices.
The checkout process itself should have as few steps as possible. A confusing or unnecessarily complicated checkout process on your website can lead to customers of any generation changing their mind about purchases, leading to the dreaded abandoned shopping cart phenomenon.
The Take-Home Message and Our Blatant Self-Promotion
As we always say, practice the Golden Rule in your marketing and treat your customers the way that you want to be treated. Knowing who the members of your target audience are, understanding the experiences that make them unique and respecting them at every point of contact with your business will go far, regardless of their age or station in life.
If baby boomers are your primary target demographic or part of your market reach, Virtual Stacks Systems can help you reach them! Our innovative, experienced team knows how to engage with multi-generational audiences. We provide comprehensive social media marketing services, as well as PPC advertising, website design and redesign, SEO marketing, review management services and much more! Contact us to get started.