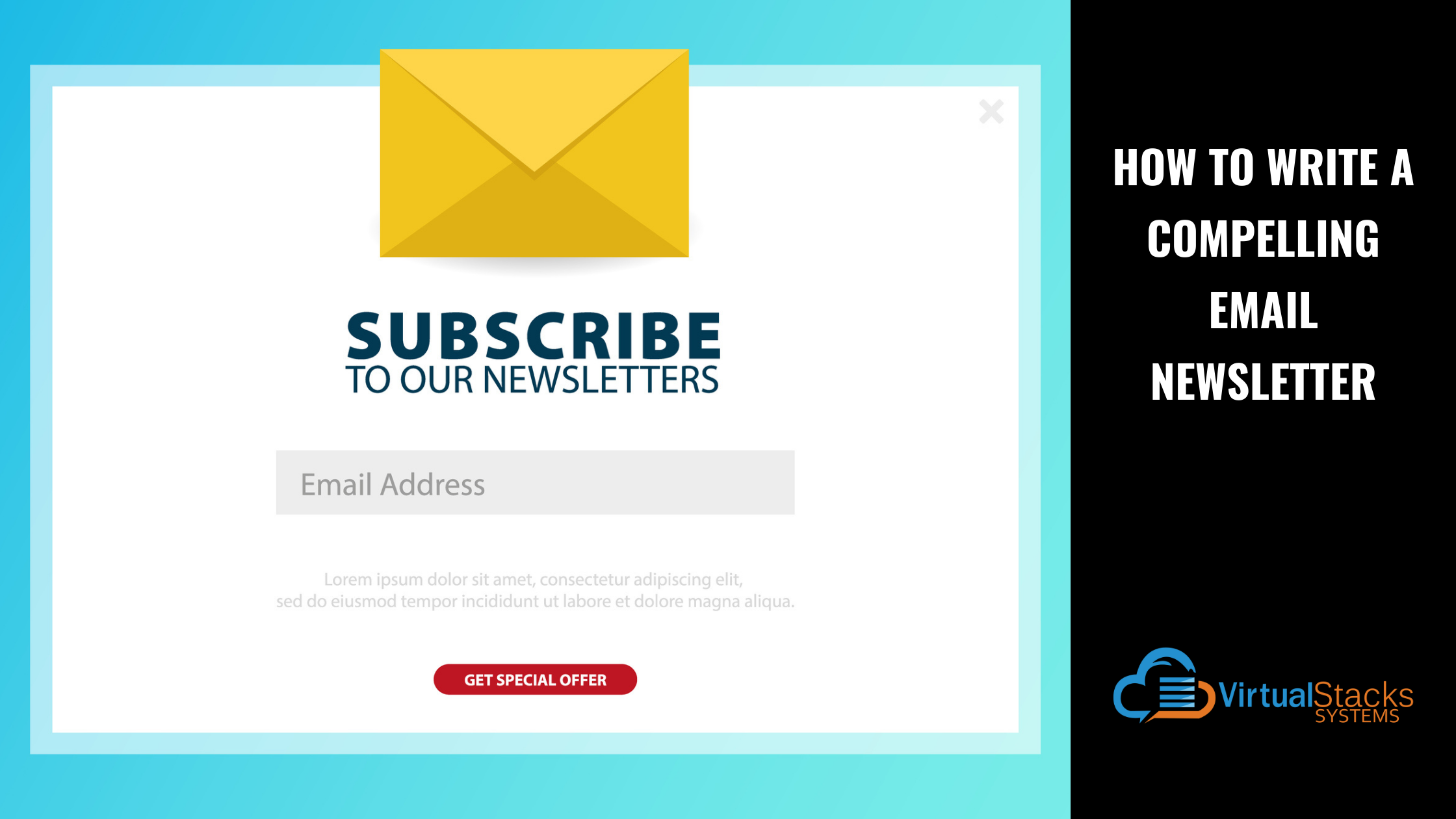 10 Jun

How to Write a Compelling Email Newsletter

If you've been thinking about starting an email newsletter as a marketing tool to increase engagement with your customers and prospects, you're sure to have some questions – for example, what are the advantages of a newsletter? Can it really help my business get more leads and help keep me top-of-mind with existing customers? What should it look like, and what the heck should I write about? How do I get people to open it and read it?

All excellent questions, all of which our humble blog post will answer – and then some! And if you already produce an email newsletter but realize there's room for improvement, this blog post is for you, as well!
What are the Advantages of an Email Newsletter?
An email newsletter helps strengthen your relationship with your current customers and gives them new reasons to visit your website and do business with you. A good, effective newsletter will also attract new subscribers, thereby broadening your customer base.
Our blog post – "Are Email Campaigns Dead?" – reveals that email marketing is very much alive and well, making a newsletter a valuable part of your efforts. HubSpot staff writer Caroline Forsey notes that "… email generates $38 for every $1 spent, which is an astounding 3,800% ROI, making it one of the most effective options available."
 Forsey continues with an extensive list of email marketing facts and statistics. Here is a brief selection: 
59% of respondents say marketing emails influence their purchase decisions.

73% of millennials prefer communications from businesses to come via email.

78% of marketers

have seen an increase in email engagement over the last 12 months.

81% of B2B marketers

say their most used form of content marketing is email newsletters.

80% of business professionals

believe that email marketing increases customer retention.
 Writing for Human, web content writer Evelyn Bai lists the following benefits of an email newsletter:
Increases website traffic

Increases website traffic

Expands social media engagement

Builds brand loyalty

Increases sales

Establishes thought leadership

Boosts webinar and event attendance
Why Your Email Newsletter Needs a Strategy
As wonderful as all this sounds, you need a strategy for your newsletter to have its intended effect. In her article for HubSpot, Ginny Mineo recommends examining your business goals. Is the purpose of the newsletter to increase the number of leads? Produce better quality leads to speak with salespeople? Close more deals? Retain more customers? The answer will help to shape the newsletter's focus and content.
What Kind of Content Should Your Email Newsletter Contain?
Forgive us for this bit of digital marketing speak. In plain language, here's what the heck you should write about. First, though, here's what to not write about. A newsletter isn't the place for hard-sell copy or bragging about how great your business is. A newsletter should be all about your customers and information they'll find useful. As Mineo breaks it down, "Balance your newsletter content to be 90% educational and 10% promotional … focus on sending your subscribers educational, relevant, timely information."
Because you're busy running your business, you probably don't have a lot of time to brainstorm story ideas. Visible Links Pro founder Michael Usiagwu was kind enough to come up with the following list to get you started.
Welcome series

Company news

Industry news

Holidays and observances

Employee or customer spotlight

Guest or influencer highlights

Open positions for hire

Product or service guides

Special offers and discounts

Product reviews

FAQs/advice column 

Survey, poll, or feedback

Blog posts

Resource roundup

Behind-the-scenes content

A message from the CEO, owner, or president

Testimonials and case studies

User-generated content 

Thank you to customers

New releases and product updates

Thought leadership

Send birthday wishes

Share favorite books/movies/songs relevant to your audience
Why You Should Sign on With an Email Automation Platform
Budget-minded business owners may be tempted to create a plain-text newsletter, but we recommend using an email automation platform, such as Constant Contact, Emma or Mailchimp. These platforms have tiered pricing plans, so they aren't free (unlike a plain-text newsletter), but they allow you to create an attractive, professional-looking newsletter that's more likely to be read by your subscribers – and more likely to get new people to sign up. Their newsletter templates are intuitive, which means that even those with no layout or editing experience can quickly catch on.
Such platforms allow you to preview newsletters as both desktop and mobile versions. This is important because you want to be sure your newsletter is mobile-friendly. As most people now access web-based material on their smartphone rather than desktop computer, a newsletter that doesn't display well on mobile devices is counterproductive.
Keep in mind that people are constantly bombarded with slick, professionally produced marketing materials – including email newsletters – which means their expectations are high. A quality newsletter improves your brand image and credibility. Email newsletters that look homemade and amateurish won't drive traffic to your website or attract new subscribers – and, in fact, could very well have people choose to opt out and unsubscribe. In short, trying to save money by taking the DIY route could wind up costing you opportunities and business!
Another advantage of signing up with an automation platform is that each platform provides such valuable metrics as open rates and click rates – which can help you measure the success of each mailing. This allows you to make adjustments in order to improve performance. For example, you may find that a greater percentage of recipients clicked on one article or offer than another, thereby indicating that you should provide similar content in your next newsletter.
Make Sure Your Email Newsletter Gets Read – Pay Attention to the Subject Line
Unfortunately, you can have a highly informative, beautiful, perfect newsletter, but if the subject line is bad – or worse, spammy – it will go unread or straight into the spam folder. Usiagwu observes that in the case of newsletters, subject lines act as headlines.
"Your newsletter's subject line needs to be interesting, eye-catching, and able to raise the curiosity of your subscribers so much so that they click your newsletter and start to read. Remember that there are limits on the characters subscribers can see before their mail app truncates the text. So make sure that you front-load the part of your subject line that will grab their interest."
As for those spam trigger words to avoid, here is a list, courtesy of Autopilot. There are far too many to list here, but the top offenders include "act now," "deal" and "special promotion." You get the idea.
The Take-Home Message and Our Blatant Self-Promotion
A well-crafted email newsletter can greatly benefit your business and support its marketing goals. As for creating that quality content, strong writing skills are necessary to deliver the right messaging in a way that will reach your target audience and reinforce your brand identity.
That's where our Virtual Stacks Systems team comes in! Our content writers can handle any topic and write in your brand voice. We have experience in creating and sending email newsletters, working closely with our clients at every step! Contact us to learn more, and get started!