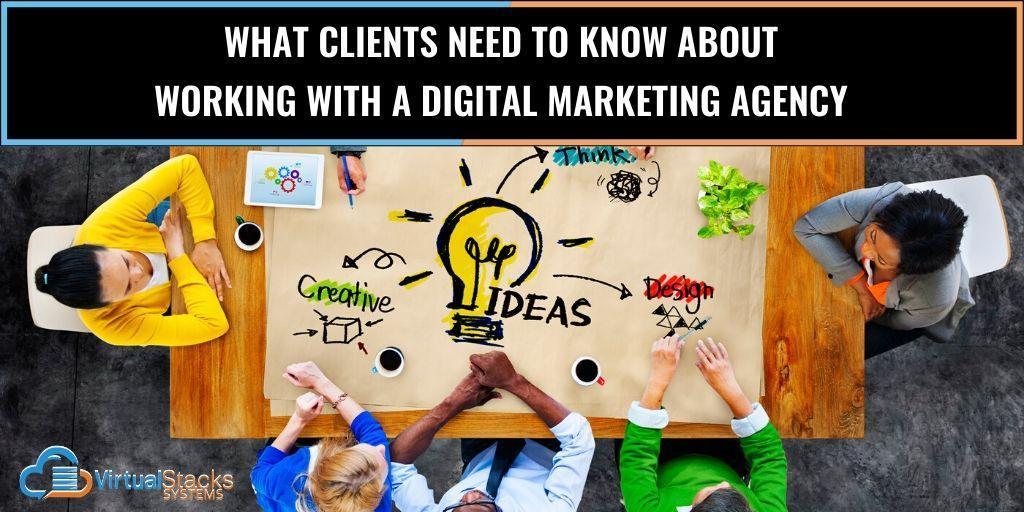 10 Jan

What Clients Need to Know About Working with a Digital Marketing Agency

There are many blog posts about what you need to know about hiring a digital marketing agency. However, very few provide a guide about what you need to know after you've made your decision – or, if you're still looking, about what you can expect once you sign on. Every agency has high expectations for each client it signs, and is dedicated to help your business achieve its goals. However, here is what you need to know in order to enjoy a successful, long-term working relationship with your digital marketing agency.
Knowledge is power
As we often note on our humble blog, we don't expect you to be a digital marketing expert. That's what we're here for! But the more you can educate yourself about the basics, the better prepared you'll be to ask knowledgeable questions during your search for a digital marketing agency. Plus, you'll be familiar with fundamental aspects of website development, SEO and social media, which will go a long way in having a productive discovery meeting with the agency you do hire.
So where can you start? You've already found a great resource! Although we refer to our blog as "humble," our posts provide valuable information on every aspect of digital marketing. Observations are culled from industry news sources, industry professionals and thought leaders – as well as the experiences of our own team.
Not that we're trying to help our competitors, but every agency has a blog – which means it's also a good way of researching agencies as well as learning about online marketing. If you like the way an agency's blog covers topics, it could be a good fit for your business.
Once you sign with an agency, read its blog on a regular basis. There's always something new to learn – from how Google's ever-changing algorithms affect SEO strategy to the impact the new California Consumer Privacy Act (CCPA) may have on your website. So don't be a stranger!
What to expect during the discovery meeting
Be prepared for the discovery meeting, which is also known as the kick-off meeting. This is when you'll meet all of the agency team members who will work on your account. If it is to be by phone, take the call in your office, or in a room that's free of distractions. You need to have a clear, productive conversation with your agency's team members. Calling on your mobile phone while driving isn't only dangerous (as well as illegal in many states), it's counterproductive to the purpose. You can't focus on the road and discuss your goals in detail at the same time.
Make sure that everyone who has a say in your account is on the call – and ideally, in the same room. Patching in remote stakeholders has a negative effect on sound quality, and is not conducive to good communication. Sometimes, however, this can't be avoided – we understand that a phone call is much cheaper than a plane ticket!
The discovery meeting will start by recapping the services covered in your contract. This will ensure that everyone on each team – client and agency – are literally on the same page regarding scope of work and deliverables. The agency team members will then ask specific questions about your marketing goals. Typical questions can include the following:
Who is your target audience?

What do you want to achieve – increased leads and conversions? Increased participation or membership? Increased brand awareness?

Who are your competitors? The answer to this question can be revealing. We once asked this of the owner of an independent local business selling a category of home improvement products offered by the big-box home improvement centers. The owner named the big-box centers. Actually, this store's competitors were comparably sized area businesses. A good agency can help you identify your real competitors to craft the right strategy.
Based upon what the agency's team members learn about your objectives, the meeting will conclude with an agreement of the information, materials and resources you will provide to the agency in order to begin work. You will be sent a recap of the discovery meeting, which will include the materials you need to provide, as well as the deliverables you'll receive – such as a website, SEO keywords, social media, etc.
Getting the most out of the client-agency relationship – optimize your opportunity for success
Time to face a moment of truth: Do you want an order-taker, or a partner? If your answer is the former, you may get what you think you want, but probably not what you really need. As a small-business owner, trusting someone else to take actions that will impact your revenue is a major step. But thinking of your agency as your partner in success is an outlook that can result in benefits on many levels. Partners want each other to thrive. A good digital marketing agency partner will take the initiative to look for opportunities to help you reach your goals.
You have the advantage of a team of industry pros working for you, so make the most of it!
What you may need to provide
You may be asked to provide certain information in order for the agency's team to create content for your website and/or social media posts. For example, if you're having a website developed, provide the information about your company necessary to write a Home page, About Us page, etc. If content writing services are included in your contract, don't worry about wordsmithing it yourself – the writers will take care of that!
You also may be asked to provide photos of your products, services, office, etc., for your website and/or social media posts. In the online world, content is king – and high-quality content includes photography, video and graphics. We recommend hiring a professional photographer to take product photos – especially if they are for use on your website. Out-of-focus, poorly composed photos will only work against your site by failing to engage potential customers. Keep in mind that even if your website isn't e-commerce, it is still the online face of your business, and your 24/7 salesperson.
This is a good place to bring up the quality of photos for your social media posts. Your agency may use high-quality stock photos from a professional service (most agencies subscribe to at least one premium plan) and add your logo, or create a graphic using online design tools. Depending upon your business and social media platform, photos of "office life" – such as birthday celebrations, a special lunch, awards ceremony, etc. –encourage engagement with your social page and your business. These photos don't need to be professional quality, but should be sharp and well-composed. You may be asked to send or upload photos for your social media posts on a regular basis, or to accompany a specific social post. If you are busy, designate an employee to do the honors.
What to keep in mind about the following:
Website design – You most likely will have chosen a design from a template. A template is a very general design and layout developed to be adapted to a wide variety of businesses. Your web designer will work with you to fine-tune the template to a distinctive website specific to your enterprise.
While you may share some links to websites you like, tell the web developer which qualities you find appealing, and why. Your web developer may try to incorporate some of these qualities into your site, but be sure you're comparing apples to apples. Features that work for some brand websites may not be suitable for yours, for a number of reasons.
If you have an idea for a feature that is not in your contract, discuss with the agency's owner or principal partner and ask if it will involve additional expense.
Social media – Decide which social media platforms are best for your business or organization. Don't feel that you need to be on every one, as each platform appeals to specific demographic groups. Our blog post – "How to Choose the Right Social Media Platforms for Your Business" – covers each major platform. For example, while Instagram is highly popular, its appeal is mainly to the under-35 demographic, who demand high-quality, visually engaging photos. If this doesn't apply to your business, a presence on Instagram will just be digital dead weight.
Your agency may create your professional social media accounts if you do not already have them. In the case of Facebook, a Business page is different from a personal page. You may be asked to provide passwords or profile links to additional accounts (if applicable) so the agency's social media team can schedule posts on your behalf. Of course, you can request that posts be submitted to you for review and approval before they are scheduled.
The golden rule – Just as your agency has a role in your success, so do your own actions. Blake Pappas – Digital Strategist for Vertical Measures – provided the following observation when asked to define an idea content marketing client:
"They … make consistent communication a priority. Not showing up to calls, not responding to emails, and failing to follow up on important questions and action items leads to ineffective content strategies."
Of course, Pappas' statement applies to ineffective strategies overall. Should something come up just before a scheduled phone call, let your agency contact know, and reschedule. If you aren't able to gather the resources or information needed for action items within the agreed-upon timeframe, send a quick email or IM to your contact explaining the situation. Any good agency will understand when plans change due to extenuating circumstances.
Basically, treat your agency as you would treat one of your own clients or customers. Open communication and mutual respect are essential to a successful client-agency relationship. We are all in business, doing our best to compete in a challenging world. We can do that better when we work together!
Virtual Stacks Systems is ready to be your digital marketing partner. We offer website design and redesign, SEO marketing,  social media marketing,  PPC advertising,  review management services, social media marketing, video production and much more! There's a place for you at our conference room table!
Contact us today to get started!