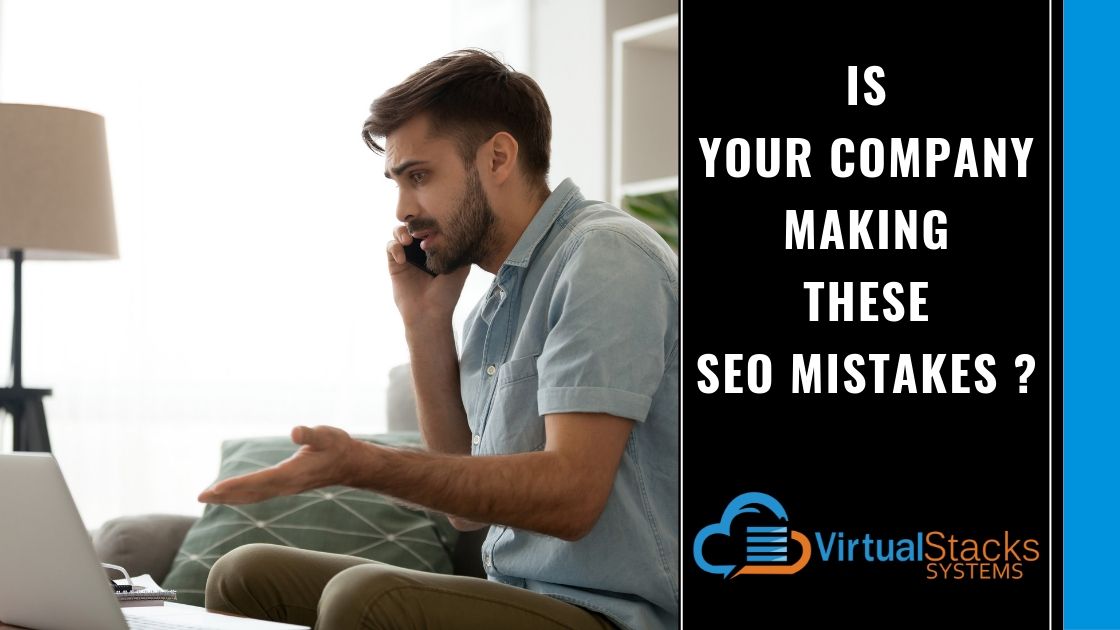 21 Jun

Is Your Company Making These SEO Mistakes?

SEO – Three little letters have so seldom caused so much anxiety for business owners and marketers. Search engine optimization is both art and science, the application of which has a significant impact on traffic to your website, leads and conversions – and, by extension – your bottom line. Such challenges as keeping up with Google's ever-changing algorithms and evolving SEO trends can cause businesses to make critical mistakes that hurt rather than help search rankings. Do any of these common worst practices apply to your website?
Choosing the wrong keywords
 This mistake is most frequently listed by SEO experts. As Alexander Kesler points out on Search Engine Journal, "Optimizing is all about the keywords that you want your website to rank for. But are you choosing the right ones?"
Kesler notes that neglecting the preference of search engines and users for long-tail keywords (search phrases with longer word counts) is a typical oversight. Long tail keywords are more specific, which means visitors who land on your website from a long tail search term are more qualified and more likely to convert.
Kesler's other recommendation: Do background research carefully before you start the optimization process. "Using tools like the Google AdWords KeywordPlanner, Google Trends, SEMrush and Moz Keyword Explorer can help immensely in putting your finger on the pulse of trending and adequate keywords."
Closely related to this mistake is optimizing content around one keyword. According to Caitlin Burgess, Senior Content Marketing Manager of TopRank Marketing, optimizing web pages with a specific keyword you wanted to rank for was common practice.
"Today, that practice not only provides a poor user experience for your audience, but it's simply ineffective since search engines are becoming increasingly better at determining search intent."
Keyword stuffing
You may be rolling your eyes at this mistake being listed, but enough businesses are still making it to bear mentioning. In the spirit of non-judgmental education, using your target keywords in almost every sentence of website content will harm your ranking, as Google (and other search engines) will register them as spammy.
In Google's own words: "Keyword stuffing" refers to the practice of loading a webpage with keywords or numbers in an attempt to manipulate a site's ranking in Google search results. Often these keywords appear in a list or group, or out of context (not as natural prose). Filling pages with keywords or numbers results in a negative user experience, and can harm your site's ranking. Focus on creating useful, information-rich content that uses keywords appropriately and in context."
Neglecting your Google My Business Listing
If your business is brick-and-mortar, you want people to know where it is, and get the most possible exposure. So if you haven't claimed a Google My Business listing or aren't optimizing it, you're missing the sales that local SEO can drive to your location(s).
Google My Business is a free, easy-to-use tool for businesses and organizations to manage their online presence across Google – including Search and Maps. By verifying and editing your business information, you can both help customers find you and tell them the story of your business.
As our October 26, 2018 blog post – "How to Improve Your Local SEO Ranking and Build Up Your Brick and Mortar Business" – covered, local SEO increases your business's visibility on location-based searches. Local SEO has a geographical element, which organic SEO might not necessarily have. You need to build signals of relevance around a particular location – a brick and mortar store. Organic SEO is a practice that more or less revolves around a website.
Your competitors probably have a complete, robust Google My Business listing. Do you? Take advantage of this free opportunity for local SEO and higher visibility!
Ignoring title tags and meta descriptions
Optimizing your website's content extends to tags and meta descriptions, which are essential elements of SEO that need to be incorporated. As Kesler notes, these optimizing factors are considered by search engines when crawling your website – thus improving the performance of your content when done properly.
Senior digital strategist Thomas Brodbeck writes the following for Forbes: "Too many times, I see websites with 'Home' as the page title. Fixing our page titles and adding meta descriptions are such an easy thing to correct and so important to SEO. Most website CMS systems have the ability to change this by default, but are normally overlooked when a small business owner is building their own website."
Not using image tags
Be sure to use alt tags for the visuals you include in your content. Search engine bots can't see pictures – they read alt tags and add the information in the way they index your pages. Image filenames and alt text should contain relevant keywords. Optimize image size for each screen size to ensure fast page loading.
Closely related is placing important text in images instead of on the page, and an over-reliance on PDFs to deliver information. Again, Google and other search engines are blind to images, and won't rank them. Also, most websites don't track PDF views in Google Analytics.
Not keeping up with SEO trends/not updating your SEO  
Google makes frequent algorithm changes that are inscrutable to outsiders. Adding to this challenge is the rise of other trends and advancements in search. As Ayra Bina – CEO of Kobe Digital states, "Being that the SEO world is ever-changing, the No. 1 error small businesses make is sticking to the same SEO marketing strategies. With trends, such as voice search, taking over the digital marketing game, it is important to continuously make sure your business is being found through every channel online."
Neglecting internal links
One of the largest factors that is often overlooked in SEO is the practice of internal linking. As covered in our March 12, 2018 blog post – "What is Internal Linking and How Does it Help SEO?" – internal linking is when you connect one page of your site to another page on the same site as a reference, like we just did. This confers the authority of what you are writing about upon your own site, rather than sending potential customers to a competitor.
By increasing the authority of your site, Google's algorithm will be able to index it better. The other part is that through implementing strong anchor text, you can hit keywords that people are looking for and create an index for Google to pull from. With a strong network of internal links, and keyword anchor texts connecting them, people searching for those keywords can find your site more easily through search engines.
Failing to include external links
As Burgess observes, external links to relevant information or authoritative sources on other websites not only provide your website's visitors with more helpful content, they can also signal credibility to search engines. Just make sure that external links open in new windows to allow them to easily go back to your site.
Keep in mind that we've just skimmed the surface in this selection of common SEO mistakes your business may be making. Hopefully, we've raised awareness about the ongoing work SEO requires on every level.
As you've expected, here is our blatant self-promotion. Our wheelhouse at Virtual Stacks Systems includes SEO services and all the elements that integrate to ensure seamless optimization – such as website design and website redesign, social media marketing and video creation.
Contact us to learn more and get started!