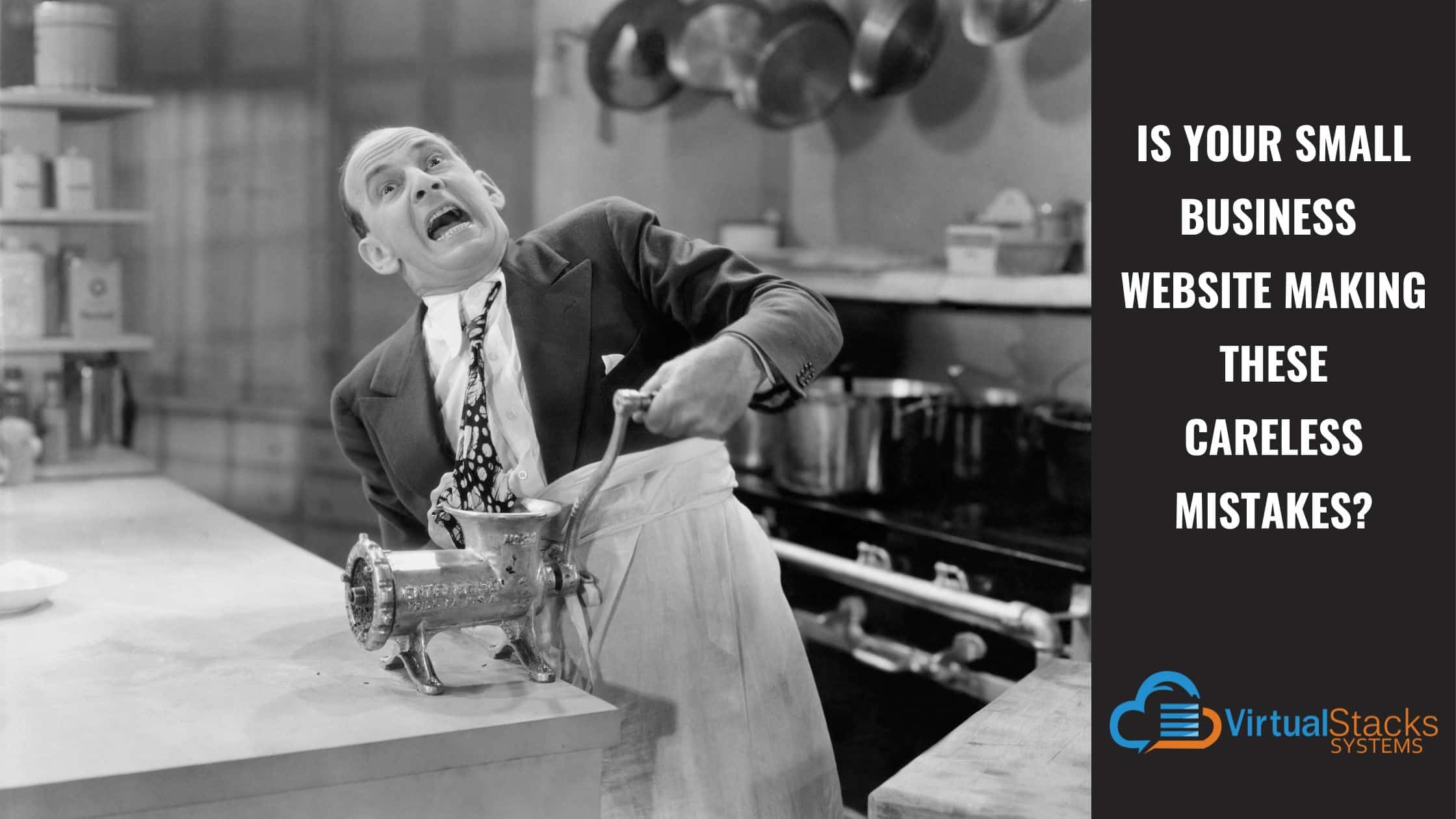 18 Sep

Is Your Small Business Website Making These Careless Mistakes?

Sometimes, it's the little things that can trip you up. Like parking your car in the airport's parking garage, then realizing you left your phone in the car after your flight's taken off. Fortunately, that hasn't happened to any member of our team, but it's probably happened to someone, somewhere.

Although this type of mistake is soon discovered, others are not as readily apparent – especially those involving your small business's website! However, they can result in lost opportunities – and, of course, lost income. Others could possibly get you in legal trouble! So take a good look at your website and check for the following "doh" mistakes:
Not Including Your Location
If your business is on Green Gardens Avenue, and the name of your business is Green Gardens Avenue Diner, you may believe that your location is obvious. Also, that its address will automatically pop up on your Google Business Profile (formerly Google My Business) in Google search results. However, as we always say, if you don't make things easy for your website's visitors, they won't stick around for long – and will most likely move on to the website of one of your competitors.
Feature your street address if your business has a physical location, or your service area if it doesn't. As our blog post – "5 Questions Your Small Business Website Should Answer for Visitors" – covers, "People searching for a specific type of service want to know if their home or office is within your service area. A lawn care service may serve customers within its own county and two or three others – or could have a wider territory. Let visitors know your service area on your home page so they can quickly tell if you're able to add them to your roster. Another big advantage is that listing every locale you serve is good for SEO, helping your website be found easier by potential customers!"
No Call-to-Action Buttons
You may also think it obvious that once you've provided information about your business, visitors will take the next logical step – be it calling you, scheduling an appointment, coming to your place of business, ordering online, etc. Include a call-to-action (CTA) button to take visitors to another page of your website – such as Contact, About Us, Products, Testimonials, etc. – or a landing page. Our blog post – "X Marks the Spot – Create Call-to-Action Buttons that Get Leads" – covers this important topic in detail. Think of them as direction signs that lead people where you want them to go!
A Bad Logo
There has been much written about the ability of a bad logo to damage a brand. Even major brands have suffered epic fails. Our humble blog post lacks the space to go into detail, but here are the basics of a logo that will do more harm than good:
Doesn't make the nature of the business clear.

Too "busy" – that is, too many design elements that conflict with each other instead of delivering a concise image to the viewer's eye.

Too detailed.

Not scalable. As

LinkedIn so succinctly describes it

, "A scalable logo is one that can be resized without losing quality, clarity, or legibility. A scalable logo can adapt to different media, such as print, web, mobile, and social. A scalable logo also allows you to create variations, such as icons, favicons, or badges, that are consistent with your brand identity."
Our blog post – "A Logo Speaks 1,000 Words About Your Company" – covers the elements of good logo design in greater detail. Spoiler alert: This is too important to attempt yourself – unless your business is graphic design! Fortunately, hiring a pro doesn't have to break the bank. A little searching should result in finding a designer who can deliver high quality within your budget.
A Lack of Basic Information About Your Products or Services
Based upon comments left on numerous website design websites, one mistake that frustrates and rankles visitors is the absence of basic information. For example, the dimensions of an item. Yes, people want to know the size of a product they're thinking about buying. As one person wrote, "I'd say most of my decisions not to buy something are because basic info is missing, and I'm not going to email you to ask."
Our blog post – "Is Your Website Telling People What They Want to Know?" – relates the story of a custom jewelry artisan whose website provides all kinds of information about her beautiful creations. Except the gold content. Presumably, potential customers considering such a purchase would like to know if the ring that caught their eye is 10, 14 or 18 karat gold!
A good website provides all relevant information, and removes barriers that delay the consumer in taking the desired action – be it making a purchase, or scheduling a consultation or appointment. Taking the time and effort to ask a question that should have been answered on the website is a needless inconvenience that the consumer may decide isn't worth it – as did the person who posted the comment above.
Leaving Out the Legal Language
This is the one careless mistake that could cost you more than lost business (as bad as that is)! Your website needs pages devoted to its terms of use (or service), privacy policy and accessibility statement. The links to these pages are typically in the footer.
Here, in a nutshell, is the information each type of page should contain:
Terms of Use – According to LegalZoom, these lay down the ground rules for users visiting your website and serve as a binding agreement between you and the user, or website visitor. The website terms and conditions protects you from legal liability should a dispute arise.
Privacy Policy – According to MailChimp, this is a statement that describes how a website collects, uses and manages the personal data of consumers. This type of policy must often include many explanations, including detailed descriptions of the who, what, where, when and why of your data collection processes.
Accessibility Statement – There is no specific law requiring a privately owned business to have an accessibility statement on its website. However, having a website that is compliant with the Americans with Disabilities Act (ADA) makes your site easier for those with certain disabilities to interact with – thereby widening your potential pool of customers. It's a win-win situation, so if your website currently isn't compatible, you may want to look into making the necessary changes! Our blog post – "Why Your Website Needs to Be ADA Compliant" – covers this topic in greater detail.
The Take-Home Message and Our Blatant Self-Promotion
You're busy running your small business, so it's understandable that some things about your website get overlooked. Although it's understandable, we hope that you now understand it isn't good! But don't worry about trying to do everything yourself! That's what we're here for! We welcome the opportunity to help you meet your marketing objectives and succeed. Every small business is unique, and so are our solutions! We offer experienced website design and redesign, SEO marketing,  social media marketing,  PPC advertising  and much more!
Contact us today to get started!