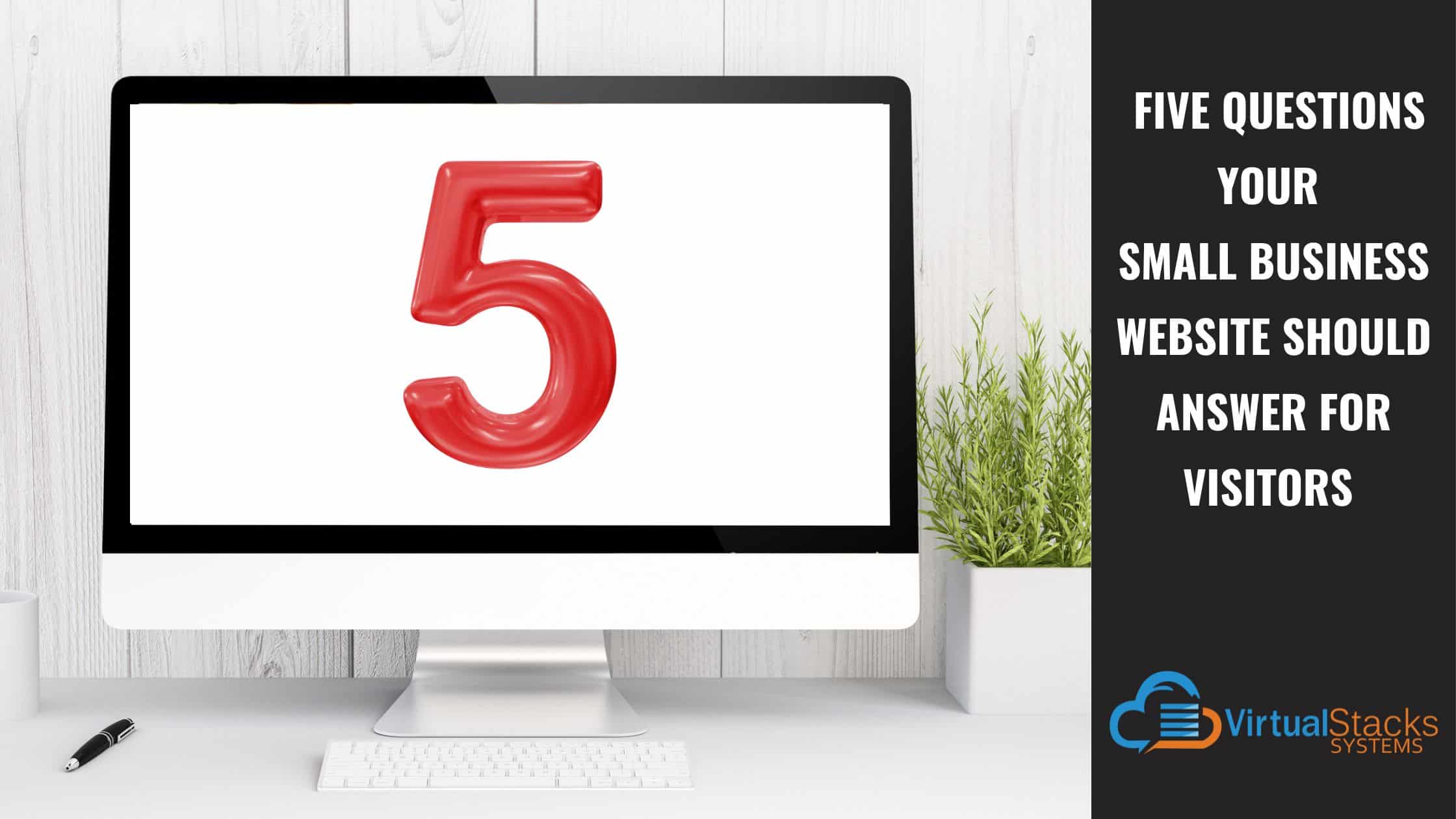 06 Mar

Five Questions Your Small Business Website Should Answer for Visitors

So you have a small business, and a website to drive traffic to your store, restaurant or e-commerce offerings! Congrats! You're already ahead of your competitors who don't think they need a website! While we'd like to think you took the advice in our blog post – "Why Your Small Business Needs a Website" – we will decline to flatter ourselves.

However, in order for your website to generate traffic, leads, etc., it needs to give visitors the information they're looking for to help them decide to do business with you. You may not have realized it, but there are five main questions that every visitor has in mind when they land on your site.
1. Who Are You?
While you may not think this would be a mystery – after all, your visitors probably found your website by conducting an online search using a keyphrase, such as "pool maintenance near me" – you need to explain who you are and what you offer. As Lauren Jefferson – co-founder and CEO of FocusCopy writes, "… Who You Are is different from your About Us … This just means that you don't need to explain the entire story behind your business right away on your home page. But you should let people know who you are on the home page. This section should explain who you are clearly and concisely. 
"For example, 'We're Moon Co., and we sell the softest eco-friendly 100% bamboo bedding to households everywhere.' Now, this is a made-up company, but you get the point. It's short, immediately tells you what their product or service is, and states who the company is. Your description doesn't have to follow the example above exactly, but it helps to have a solid idea of who you are and what you can offer."
River Cartie – content developer for Constant Contact – offers the following observation:
"You might think it's obvious what your business is about, but even if the name of your company is Jerry's Plumbing, there are still going to be questions from potential customers. Are you a commercial plumber, or residential, are you available 24/7 or only during normal business hours? The more clearly you can tell website visitors exactly what your business does, the more time you can spend convincing them you're the one they should work with."
In addition, if you've been in business for several years, clearly state that on your home page. It will help establish your legitimacy and trustworthiness to people who may be new in town, or looking for your category of product or service for the first time.
2. What Makes You the Best Choice?
Stating your competitive advantage is essential! As Cartie writes, "Explaining how you stand out from the competition and why customers should choose you can be the toughest part … Your homepage needs to predict any objection from your website visitors before they can vocalize it. If you're the third coffee shop to open up within walking distance from their apartment, your homepage has to prove yours is the one they want to visit.
"One way to show that you're the brand a customer can trust is by showing your experience. If you've been making customers happy and solving problems for 50 years, tell people that. If your coffee shop has live music or a unique variety of coffee beans, convey that so you can separate yourself from the competition."
As a real-life example, the website we designed for our client, NK Family Dental, places the competitive advantages of this Chicago practice on the home page, so visitors immediately know what sets it apart: its location in the heart of Chicago; spa-like environment that's conducive to putting patients at ease; a highly credentialed, experienced dental team; special pricing offers for new patients; and a list of insurance plans it accepts. Introductory copy emphasizes the practice's up-to-date equipment and technology, as well as the friendly, compassionate care patients can expect. Such information gives visitors an excellent introduction to NK Family Dental, with the navigation menu making it easy for them to virtually tour the office, learn about dental services and schedule an appointment.
3. Am I in Your Service Area?
This is a pertinent question for certain types of businesses. People searching for a specific type of service want to know if their home or office is within your service area. A lawn care service may serve customers within its own county and two or three others – or could have a wider territory. Let visitors know your service area on your home page so they can quickly tell if you're able to add them to your roster. Another big advantage is that listing every locale you serve is good for SEO, helping your website be found easier by potential customers!
4. How Much Does Your Product or Service Cost?
Even if you cater to millionaires, everyone is price-conscious. Your visitors have a budget in mind, and want to know if your offerings are within it. Jefferson writes, "Whether you offer one product, several, a single service, or packages, your company website is a place you should be transparent about regarding how much you charge. Now, there are always exceptions to this rule. But if a customer has to search for too long or jump through hoops to find out the answer for themselves, they may just turn to a competitor."
If your business is based upon services for which pricing varies depending upon such factors as square footage, place a button prominently on the home page that reads "Get a Free Quote Today" so that the visitor will be taken to your quote request form. Of course, reply to your prospect the same day, if possible. Replying quickly shows that your business is responsive, professional and dependable!
5. How Do I Contact You?
This question is so important that every business website – no matter how small – should have a dedicated Contact Us page (or a section of your website, if it's a single page site). Contact information is especially important to a small business website, as what's included – or not – can literally make or break the trust a visitor decides to place in your enterprise.
Foremost, many consumers are suspicious of a business website that has no contact information other than an email address – and rightfully so! People consider a business that has a physical address to be more trustworthy than one that doesn't. But not every type of business – such as e-commerce – has one, and independent contractors and those who run a service (such as housecleaning or vehicle detailing) from home are understandably reluctant to post their address for security reasons.
That said, however, potential customers need to feel they're dealing with a legitimate, stable business and can contact you should an issue come up. After all, an email can be easily ignored and unanswered. Providing a phone number offers some reassurance – and for most types of business is essential. But again, phone calls from a dissatisfied customer can go unreturned. This is an all-too-common scenario that has such customers contacting their local TV news "action reporter" to track down the unresponsive business owner who didn't deliver the item or service paid for, or make good on resolving an issue. We assume you run your business in an ethical manner, so you don't want to raise doubts among your potential customers!
In addition to a contact page, your contact information should be in the footer of every web page.
If you can't include a physical address, there are other ways to build trust with members of your target market. Customer testimonials – with links to online review websites, such as Angi and Yelp – can go a long way. If applicable, a "Meet the Team" page will help visitors learn about the experience and credentials of you and your employees. If your business is a sole proprietorship, provide a brief – yet informative – biography, with your photograph. A page showcasing your involvement in a local cause or charity will further serve to establish that your business is part of the community, and that you take your responsibility to your customers seriously.
The Take-Home Message and Our Blatant Self-Promotion
Thinking like a consumer searching for a business selling what you offer can help you anticipate questions they may have. Answering those questions on your website can help you convert them into customers! Of course, effective website content goes hand-in-hand with effective website design. Our Virtual Stacks Systems team is adept at both – as well as website redesign, SEO services, social media marketing, email marketing, PPC advertising, review management services and much more! Contact us to get started.