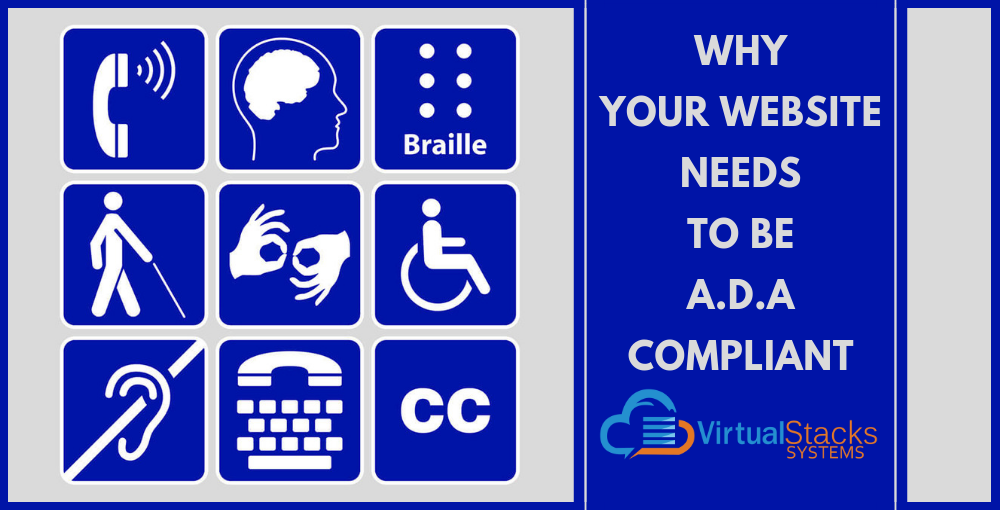 14 Mar

Why Your Website Needs to be ADA Compliant

Aside from the occasional Luddite, most people conduct many vital activities of daily life online. The ability to make full use of websites is essential – yet typically taken for granted except by those with physical or cognitive disabilities. For this reason, the Americans with Disabilities Act (ADA) requires that websites provide accessibility for all possible users. In addition to the number of people with permanent disabilities or impairments are those who have temporary limitations in mobility or use of a limb due to injury or illness.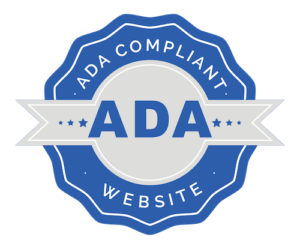 Achieving website accessibility compliance requires careful attention, but provides a better experience for all – on many levels. In addition to being able to exercise their civil right to complete access, challenged visitors may be more likely to become your customers. Giving people the tools they need and making them feel welcome is what the user experience (UX) is all about. As Kim Krause Berge, owner of Creative Vision Web Consulting, LLC, notes, accessibility improvements increase brand loyalty, which is valued by search engines. 
Accessible websites improve SEO in other more immediate ways. Websites and apps have to be properly coded, which helps search engines better index websites. The World Wide Web Consortium (W3C) makes the following observation.
"Accessibility overlaps with other best practices such as mobile web design, device independence, multi-modal interaction, usability, design for older users, and search engine optimization (SEO). Case studies show that accessible websites have better search results, reduced maintenance costs, and increased audience reach, among other benefits. Developing a Web Accessibility Business Case for Your Organization details the benefits of web accessibility."
While doing the right thing is a win-win situation, repercussions are being felt by those who don't.
"Access to web-based stores, banks, healthcare, travel and education is considered a civil right, but enforcement varies, if it even exists at all," writes Berge.
And this is where the compliance issue gets complicated. Berge's blog post provides the complete background on Title II and Title III of the ADA – including WCAG2.1 or Section 508 Refresh standards. While, according to Berge, there are no enforceable ADA legal standards to follow for website accessibility, organizations and companies are being sued anyway.
According to a report by international law firm Seyfarth Shaw, LLP, the number of website accessibility lawsuits filed in federal court under Title III of the ADA skyrocketed to 2,258 in 2018 – increasing by 177 percent from 814 such lawsuits in 2017. You shouldn't be surprised that this is an increasingly attractive practice area for law firms. Seyfarth Shaw reports that the 1,564 federal lawsuits filed in New York state were brought primarily by 15 law firms/lawyers.
So if someone literally decides to make a federal case of your website's non-compliance, they can take you to court – which, win or lose, will wind up being very expensive. Even if you avoid being sued, consider the possible lost revenue from potential customers who bought from a competitor whose website is accessible.
As you've by now gathered, an accessible website consists of many elements. The ADA provides a comprehensive best practices toolkit. Although geared toward state and local governments, the basic advice and instructions apply to all websites.
For a faster, more user-friendly breakdown, W3C offers an informative video on YouTube.
As outlined in the W3C video, the basics of accessible websites include the following:
Voice recognition – Many people with disabilities rely on voice recognition to use the computer and navigate online. As with all other accessibility features, websites and apps need to be properly coded to achieve accurate voice recognition capability. Our November 30, 2018, blog post, "What is Voice Search and How Will it Impact SEO?" covers the increasing prevalence of voice search among all users.
Video captions – Captioned videos allow people with hearing loss to read what's being said. They're also convenient for those in a quiet environment – such as a library or office – where the use of earbuds/headphones may not be permitted or practical.
Text-to-speech – Converting text to speech allows those who are blind or have low vision accessibility to your website. It also aids people with dyslexia, who are sighted but unable to decode words due to their cognitive disability.
Keyboard compatibility – Some people only use the keyboard. Websites and apps need to be operable entirely by keyboard, rather than by a mouse.
Colors with good contrast – Those with low-contrast sensitivity or low vision have difficulty distinguishing light-color text against a light-color background. One's ability to do so also diminishes with age. This also applies to buttons, icons and links, as well as text and images. Buttons, controls and links should be large on both desktop and mobile versions.
Clear layout and design – Clear headings, navigation bars and consistent styling are the elements of good overall web design, but especially important for those with certain visual, cognitive and learning disabilities.
Customizable text – Properly coded websites and apps allow the text to be customized by the user without loss of function or clarity.
While making your website accessible sounds like a major task, there are tools that can reduce some of the work. UserWay provides accessibility plugins that work without changes to your website's existing code, and will increase compliance with WCAG 2.1, ATAG 2.0, ADA and Section 508 requirements.
As Wikipedia so succinctly states, "When sites are correctly designed, developed and edited, generally all users have equal access to information and functionality."
Virtual Stacks Systems offers comprehensive web design services that allow you to reach your company's compliance goals.
Contact us to learn more.