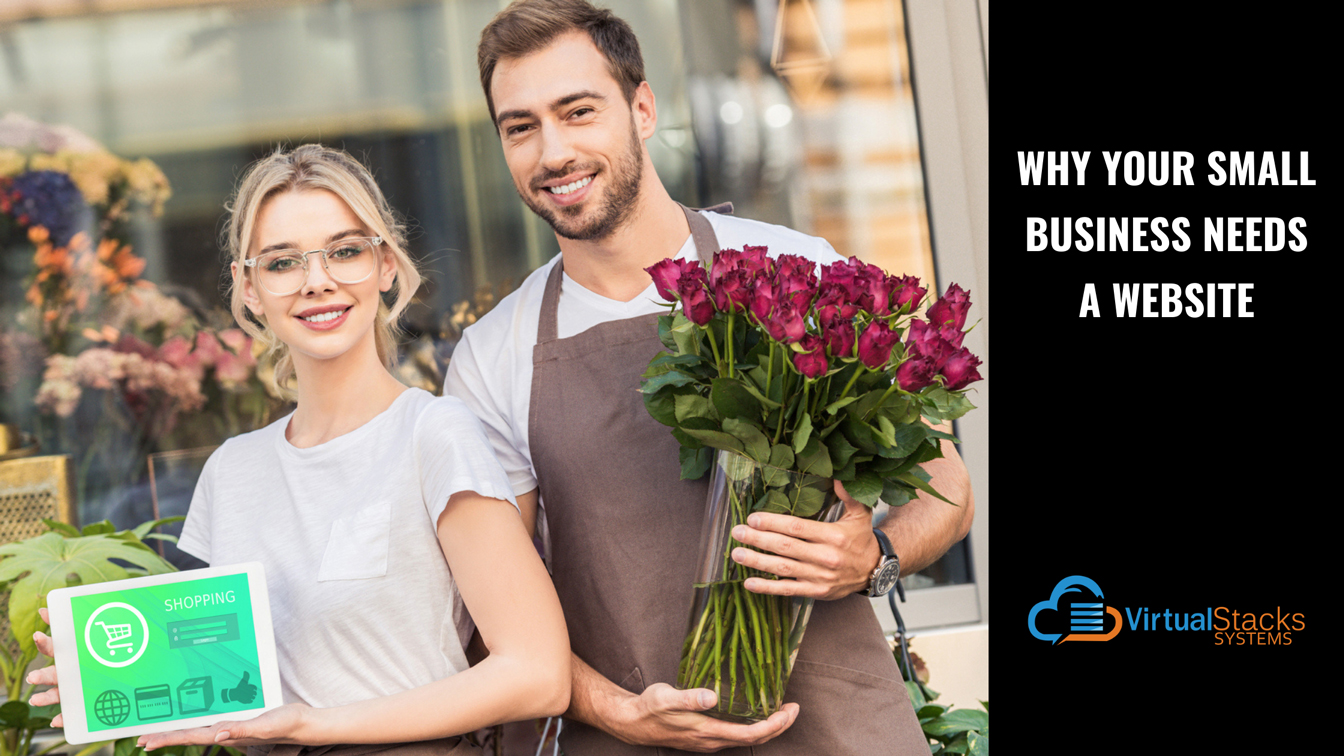 30 Mar

Why Your Small Business Needs a Website

Everything is online these days, and it's not only big businesses that can benefit from having a website. A website is the best way to connect with your audience anywhere, anytime through the internet. Your customers are online, and your small business should be, too! Without a website, it can be nearly impossible for your business to rise above your competitors — whether they be other local small businesses or national chains.

If your business is well-established, you might think you don't need a website because you've done well all these years without one. However, 2020 may have changed your mind with the all-bets-are-off way that COVID-19 impacted consumer buying habits. Many shops that depended on foot traffic found that in-store business dropped significantly. This trend isn't likely to reverse itself even as more people become vaccinated, simply because consumers have become accustomed to online shopping and enjoy the convenience.

Even so, consumers begin their search for products, services and restaurants on Google or other search engines. A business that doesn't have a website won't be found by potential customers – which means you lose, and your competitors win! Positive word-of-mouth goes only so far, and as your loyal customers dwindle as time passes, you'll have no way of obtaining new customers. Such traditional means of advertising as newspaper ads are increasingly going unseen as print media loses readership, giving you an ever-diminishing opportunity to attract new business. And we hope you aren't thinking about the yellow pages!

So without a doubt today, your small business needs a website in order to find success both online and offline. Let us take you through why you need a website, how a website can help you sell products online, and how you can connect with your local customers and on mobile devices.
A Website Helps Your Business Look Professional and Establishes Authority
There are many reasons your small business can benefit from a website — but two of the strongest are that having a website makes your business look more professional and establishes your authority in your industry. 
When it comes to looking professional, the physical appearance of your business matters, and your website is an extension of that appearance online. Not having a website is like not having a sign outside your business or anything to indicate that your business is what you say it is. Customers place their trust in businesses that make it easy to know they're legitimate. A website puts your business on the digital map and shows your customers that you are serious – even more so than social media profiles. 
While many small business owners believe that having a Facebook business page is good enough, it alone doesn't present the professional image that a website provides. Additionally, you can create a custom business email address associated with your website name, which also increases professionalism when emailing customers and potential business partners.
Not only does a website make your business look professional to your customers, but it also establishes the authority of your business in your industry. Many of your competitors likely already have a website, and those that don't may be quietly struggling. Comparing your competitors' websites can give you insight into the features that you could incorporate into your own – as well as what may be lacking that your website could include to provide a better user experience.
Sell Your Products Online
Consumers conduct research online before making purchases, whether those purchases end up being in-store or directly off company websites. Selling products online is known as e-commerce, and having a website for your small business allows you to incorporate e-commerce options to directly sell your products online.
Setting up an online shop for your products makes it easier for customers to support your local small business, even if they aren't able to make it to your store in person. Other benefits of creating an e-commerce website include:
Quicker buying and check-out processes.

Customers can make purchases 24/7, even when your physical store is closed

The possibility for cost-effective business expansion.

Customers from anywhere can make purchases if you are able to ship to them.

Easily include product information or terms and conditions with product listings.
There are many easy options for setting up an e-commerce website for small businesses or for integrating e-commerce functionality into your current website. Examples include Shopify, WooCommerce (which is built on WordPress) and our own eZnet Stores by Virtual Stacks Systems.
Connect with Local Customers
Creating a website for your small business makes it easier for local customers to find your business online, especially if they are looking for your address, your contact information or your products and services. Local SEO and mobile optimization methods will help make sure local customers can find your business online in the first place.  
Local SEO is a more specific form of search engine optimization, and it requires frequent updating of your on-page SEO to match local search queries and to make sure local customers are finding your website first in search engine results. This is especially important for Google and Google Maps, where customers search for business directly based on location.
So, what factors affect local SEO for small businesses?
Relevance — Google and other search engines strive to provide the best results to what users are searching for. Therefore, it's crucial to accurately provide all your business information on your website and your Google My Business listing – which you should (more on this soon). This will make Google's algorithm more likely to display your website higher up in search results.
Proximity — Often, customers will not directly include the location of interest in their search query. Google steps in to provide relevant local search results based on websites and businesses tagged as being in close proximity to the user's location. Your website should include local information alongside product/service information for this reason.
Reputation — Having a good-quality website improves your business's digital reputation, according to Google's algorithm. Once again, Google wants to provide the best results to users, and high-quality websites are one indicator of a business with a good reputation. Positive reviews and number of overall reviews also influence reputation.
In addition to the above, you need on-page optimization to rank higher on Google's local search results. Some of the most important on-page optimization methods for local SEO include the following.
Title tags and header optimization — Google's algorithm places special emphasis on the information obtained through title tags and headers on web pages. Therefore, it's important to include both your business name and your location in your title tag. On-page headings should also incorporate keywords and phrases relevant to your business, industry and location.
Clear NAP display —NAP stands for your business name, physical address and phone number. These crucial pieces of information should be clearly displayed on your website so that Google and users can easily find them. Your NAP should also be included in your Google My Business listing, and it should be exactly the same as on your website. Including business hours is another bonus to your NAP optimization.
Write clear CTAs — Another acronym, CTA, stands for "call to action." These are the words and phrases you use to encourage visitors to your website to make a conversion by clicking on a specific link or taking a specific action. Making your CTAs clear can improve your SEO and boost your website activity, thus improving your search ranking — not to mention improving your sales!
Include a map — Not just any map – what you need is to embed a Google map into your website. This makes your location easier to access for users who can view the map in your website, or click on the map and access your location listing on Google Maps. The more views your business gets on Google Maps, the better it is for your ranking. Popular options for map embedding include always having the map at the bottom of your website or including it on your contact page.
Encourage testimonials and reviews — Positive reviews are a key element to SEO, especially for local small businesses. Be sure to encourage customers to leave their review of your business, products and services on your website, Google and any other relevant review websites, such as Yelp. For local businesses, nothing stands out more against the competition of national chains like unparalleled customer service and dedication to quality to your local customers.
Don't Forget to Claim Your Google My Business Listing
Google My Business is a free tool for businesses to manage how they appear on Google Search and Maps. In the words of Google itself, "By verifying and editing your business information, you can both help customers find you and tell them the story of your business." When properly optimized, a Google My Business account helps you stand out, be found easily and be more likely to get chosen by customers. Our blog post – "How to Use Google to Boost Your Business" – covers this topic in greater detail.
Information on Google My Business includes:
Hours

Street address

Phone number

Website URL

Photos

Link to social media profile(s)
 In addition, a Google My Business listing allows customers to leave a review, or upload photos to your listing without leaving a review. You can read and respond to reviews, building relationships and having the opportunity to respond to negative reviews. (By the way, the correct response in such a situation is offering to make things right, not insulting the complainant.) 
Posting photos also encourages interaction. According to Google, businesses that add photos receive 42% more requests for driving directions on Google Maps and 35% more clicks through to their websites than those that don't.
As ThriveHive notes, a properly optimized Google My Business listing builds instant credibility with customers who interact with it. Businesses that verify their information with Google My Business are twice as likely to be considered reputable by consumers.
Be Sure to Optimize for Mobile
We want to emphasize one more area that an effective website can't go without — mobile optimization. Consumers use their mobile phone to search for businesses and products far more often than a desktop computer. If your website isn't optimized for mobile, your search engine ranking will decrease, and customers who do visit your website will not have a user-friendly experience. Optimizing your website for mobile devices is non-negotiable for modern SEO. Your website needs to be mobile responsive, which means the layout automatically adapts to a user's device, and it needs to be easy to navigate in mobile mode. Our blog post – "What You Need to Know About Mobile-First Web Design" – provides additional detail regarding the importance of a mobile responsive site in terms of driving traffic and business generation.
How to Create Your Small Business Website and Our Blatant Self Promotion
As a small business owner, running your business most likely demands most – if not all – of your time. Going it alone in building a website isn't recommended, as you may not have the resources or know-how. No matter what you may have heard about all-in-one website services that claim you can build a website with no knowledge about web development and get basic site hosting for free, don't believe the hype. Yes, we have a blog post about that, too!
A website that delivers all the features and functionality needed to raise consumer awareness and drive business is within reach and within your budget! Our experienced team at Virtual Stacks Systems provides comprehensive website design, website redesign, SEO services, content marketing and much more! Contact us today to learn what we can do for you, and get your competitive edge!