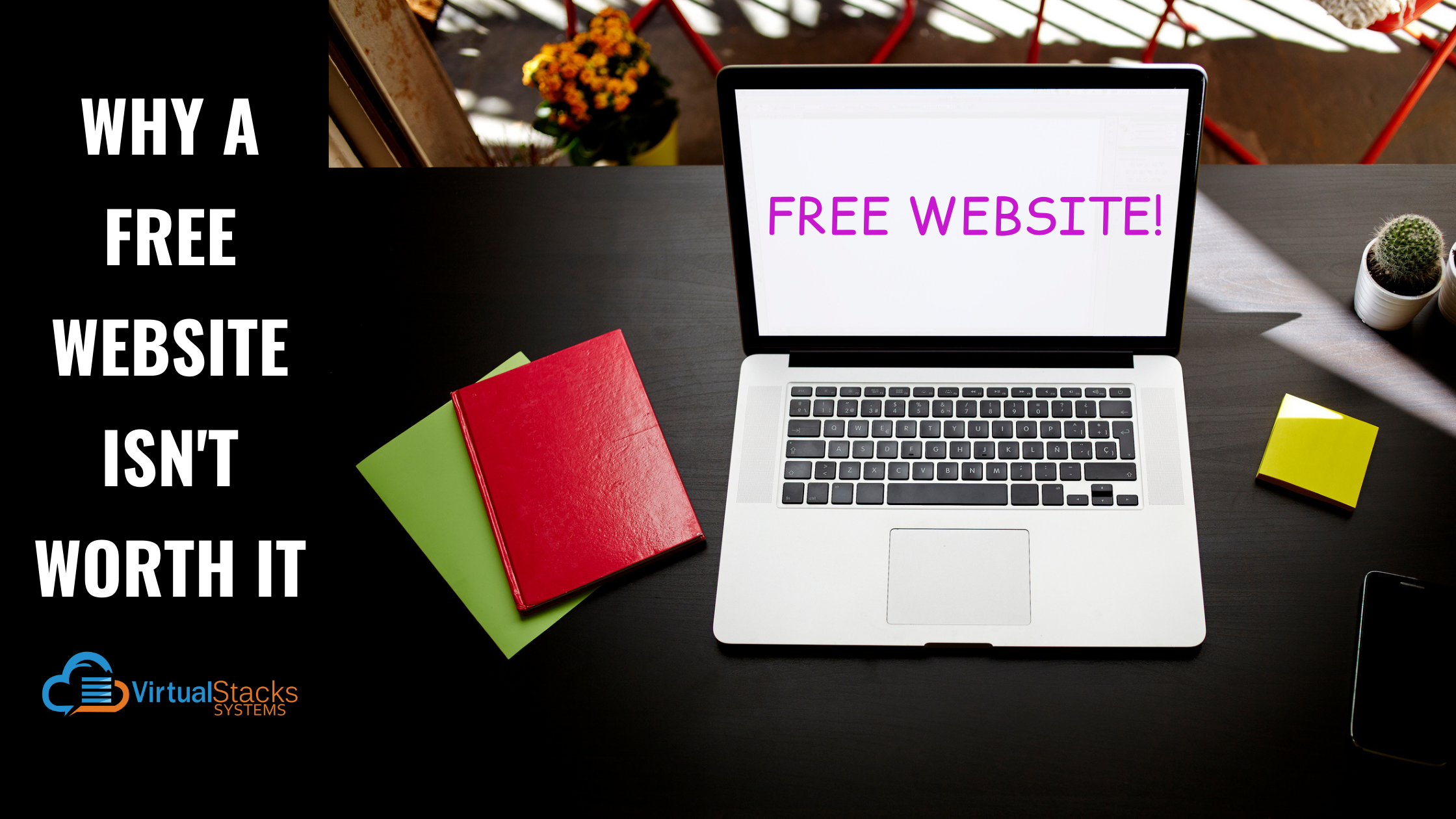 12 Nov

Why a Free Website Isn't Worth It

We all know that 2020 has been a hard year for small businesses and start-ups. Everyone is looking for ways to cut expenses wherever possible. Even as your doors reopen, many challenges remain. However, there is one area that you can't skimp on, even when you see an opportunity that seems too good to be true – and that's your website. If you've heard about all-in-one website services that claim you can build a website with no knowledge about web development and get basic site hosting for free, you may understandably be tempted to check it out.

Here's why you shouldn't – and not just because we're in the web development and hosting business. An in-the-box website can actually cost your enterprise money on several fronts – from its ability to generate leads and customer traffic, to the fact that "free" hosting may turn out to be not quite what it seems.
Looks Can be Deceiving – Why You Might Think a Free Website is a Good Idea
The best-known free website services are Wix, Weebly and Squarespace. All offer templates that give even those with no web design experience or skills an attractive, professional-looking website that seems the equal to that of a major brand or your main competitor. But looks can be deceiving. As we often note on our humble blog, you are busy running your business – you can't be expected to also be an expert on web development, social media marketing, etc. That's what we're here for!
The numerous reasons to not take the free website route can be listed under the following categories:
Unprofessional appearance

Poor SEO

Lack of analytics

Limited functionality

Lack of ownership rights – difficulty in migrating data to another web hosting company

Poor security

Really not free after all
Free Websites Have an Unprofessional Appearance
Ironically, a major part of the appeal of using a free website platform is the polished appearance of the templates that you can choose from. But a slightly closer look reveals big potential problems. If you're really committed to not paying for hosting, your site's domain name will include the name of the platform. As WPBeginner observes, "Having a website address like mysmallbusiness.Freewebsite.com does not look professional at all. Visitors to your website and potential customers would find it quite difficult to take your website seriously when you don't even have a proper domain name.
"When your site is hosted on a free service, your users will feel less inclined to trust it. If users are not comfortable sharing their information then it will kill the whole purpose of you creating a website."
Considering that establishing credibility for your business is part of the reason you want a website, this is a major drawback. While such platforms offer tiered pricing plans that would give your site its own domain name, the quality of service they provide is usually inferior – which we will cover soon.
Without a domain name, you won't be able to have a branded email account. Using your personal Gmail or Hotmail account doesn't look professional or inspire confidence in potential customers that they're dealing with a legitimate business. Our blog post – "Why Your Business Needs a Custom Email Address" – covers this issue in detail. 
In addition, most such services are supported by advertisements, which intrude on your website's pages and really look unprofessional. Even worse, your competitors can pay the hosting company to run their ads on your site – and there is nothing you can do to stop it! But what if you want to monetize your website by running ads or adding affiliate links or Google AdSense? Too bad! Read the fine print, and you'll find that most free website companies don't allow it.
Other drawbacks that have a negative visual (not to mention functional) impact include
Limited design choices.

A limited number of pages (you'll need to upgrade to a paid plan to add pages).

Poor asset management – such platforms make it difficult to find, edit and remove uploaded digital assets, such as images. Writes

Sarah Giometti

in her article for

Provaro Marketing

, "This means you'll have trouble removing old, outdated images and updating individual pages as your website continues to grow and expand over time."
Poor SEO
We are long past the days when a website was basically an online brochure. However, a free website is just that. The purpose of a website is to drive traffic – that is, potential customers – to your business. In order to do so, it must be "seen" and ranked by Google and other search engines so it will show up when people search for the goods or services you sell. This happens through search engine optimization (SEO).
You can do some very basic SEO on free platforms, but without access to the backend of your website, it's limited to including keywords in your titles and content. Your competitors who have a professionally developed website with up-to-date SEO tools and a solid strategy will come up in the search engine results pages (SERPs) way before you do – assuming your site is ranked at all.
Also, notes WPBeginner, "Most free website hosting providers put hundreds of websites sharing the same server. This makes all their websites load at very low speeds. Slow websites create bad user experience and are bad for SEO."
Our humble blog has many posts on the detrimental effect of slow loading speeds, and how you can improve performance. Click on the links in the previous sentence to learn more!
Another downside is that search engines give less priority to free domains. As Tom Ewer writes for Graph Paper Press, "Free websites are usually considered to be less important and come up lower in the listings. Whole domains may even be penalized if there are a lot of websites on them considered to be spam (which is a high probability for a free service)."
Lack of Analytics
You want to know about the visitors to your website. Google Analytics is Google's free web analytics service that allows you to analyze in-depth detail about who is visiting, how they're accessing your site, etc. It provides valuable data and insights that can help improve conversion rates and shape your business strategy. However, free website platforms don't allow you to use it – unless, of course, you upgrade to a premium plan.
Limited Functionality
Good websites provide strong functionality on the backend. Such behind-the-scenes functionalities that create a positive user experience include mobile responsiveness (the website displays well on smartphones and tablets and is easy to navigate) and the ability to add useful apps. Again, don't expect these functions – or much of anything else – on a free website.
Other drawbacks include limited disk space, limited bandwidth and page limits. A three-page website may suit your current needs, but you may soon think differently.
Lack of Ownership Rights – Difficulty in Migrating Data to Another Web Hosting Company
You don't own the content of your free website. As Ewer puts it, "Using a free website service is like renting instead of buying a house, except you're not even paying rent. While you can add lots of great content to your website and make it look beautiful, you never really own it – the provider does."
Ewer also points out that the service might even use your content. "Make sure you check the small print – once you've uploaded content to a site, it's possible that you've agreed to give up your ownership rights."
Plus, free services often make it difficult or impossible to move your site to another hosting company. "This is especially true when they're trying to get you to upgrade to a paid service – they hope that you'll find it so hard to move your site that you'll just stick with their service, and in many cases this is exactly what people do," says Ewer.
Poor Security
Security is typically not a priority to free website providers, which leaves free websites vulnerable to hackers. "Not only is it difficult to secure a website on free hosting," says Ewer, "but restoring it can be a huge pain and you may well lose data."
Really Not Free After All
As WPBeginner notes, many free website services turn out to be limited trials, after which you're asked to pay. "In most cases, this price is usually way higher than normal WordPress hosting services. If you added a credit card during signup, then they can charge you without giving you any warning."
Companies that offer free websites find other ways to make money – which can include selling your email address, personal information, etc., to other companies. Keep in mind the old saying, "If something is free, you are the product."
And as previously mentioned, any upgrade you want will require moving into a paid plan with a monthly fee. However, paying for additional services or storage space will not necessarily result in a better website for you or a better user experience for your visitors.
More importantly, the greatest cost of a free website is the hidden cost – the cost in business that your website could have generated but didn't because it wasn't professionally developed and hosted by a company specializing in providing high-quality services.
And Now for Our Blatant Self-Promotion
A free website isn't worth the limitations, risks and negative impact on your business. If you think a quality website and hosting company are beyond your budget, contact us! Virtual Stacks Systems has economical hosting plans, powerful data centers around the world and 24/7 technical support. We provide dynamic hosting solutions for both enterprise and e-commerce sites – and seamlessly support WordPress sites. And, of course, we develop new websites and redesign existing sites to be optimized for speed – as well as provide website maintenance.
We look forward to hearing from you and helping your business succeed!