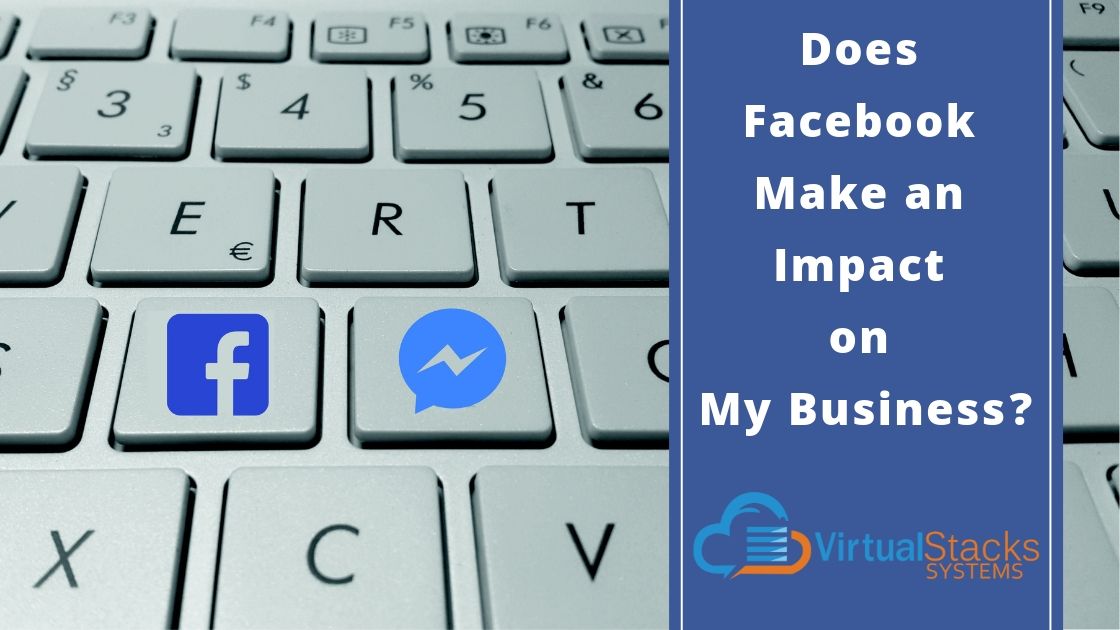 11 Jul

Does Facebook Make an Impact on My Business?

Social media platforms have been a popular topic on our humble blog, and with good reason. Their importance to business is well-established, yet many small business owners question the worth of putting time, money and resources into social media. If you're questioning the value of Facebook, that matter has definitely been settled.  Utilizing the right balance of social and paid advertising, Facebook can build a community for your business, boost your search engine optimization (SEO) and deliver a solid ROI.

Whether you're just considering starting a Facebook Business page, or already have one and are disappointed in the results, you've come to the right place! We'll show newbies how to get off to the proper start, and show those discouraged souls where you strayed from the path.
Why do I need a Facebook page for my small business?
First things first. Audience engagement is the leading reason for launching a Facebook Business page. Your website is pretty much static. It doesn't change often, and even if your blog allows for comments, few visitors are likely to leave their feedback. A Facebook Business page encourages commentary and those valuable Likes. People will also see what other visitors have to say, which – positive or negative – can provide good insight into their opinion of your business.
According to inbound marketing professional Kristi Hines, writing for Social Media Examiner, the traditional rule for audience engagement is 80/20. The breakdown: 80 percent of your content should be for your audience, and 20 percent should be for your business – sales, marketing, self-promotion, etc.
"This means that the majority of your posts should be aimed at getting your audience to engage with your page," Hines writes. "You can do this by encouraging audience participation and sharing content relevant to your niche or industry."
A personal Facebook page will not effectively serve double-duty as a business page. In order to get the desired results, you need a dedicated business page. E-commerce expert Mark Canty shares his insight in his article for drop-shipping company Avasam.
"For people to easily interact with and follow a personal page, they need to be friends – Yes you can 'follow' someone, but you won't see their attempts to chat with you if they aren't a friend unless you go looking for it. In addition, personal pages lack the analytical tools and insights a business page includes, as well as its content management and creation options."
As your audience engages more with your Facebook Business page, you'll also learn more about them – not only through their comments, but through Facebook's Page Insights.
Insights will help you understand how people are engaging with your page in the following ways:
View metrics about your page's performance.

Learn which posts have the most engagement and see when your audience is on Facebook.
As marketing expert Alyssa Gregory writes for The Balance, "Think of it as an ongoing focus group. Your fans are there because they are aware of your company and want to learn more. While they are certainly expecting to receive useful information from your Facebook page, you also can be collecting useful information from them through their participation."
How to encourage participation?
Businesses can use Facebook pages in a variety of ways, including:
Share newly posted information from your blog or website.

Announce sales and special events.

Give coupons and discounts.

Hold a contest.

Ask questions. Facebook allows you to post free surveys, which is a great way of learning more about the lifestyles, wants, needs, etc., of your target audience. Or use

Facebook's free polling app

.

Offer behind-the-scenes access.

Give first access to specials.

Collect testimonials and reviews. You can't offer incentives – which some would call "bribes" – to visitors in exchange for reviews, but they're an excellent way to get feedback and build trust. Keep in mind that bad reviews can have the opposite effect. Should you get them, reach out to the dissatisfied party with an offer to make things right.
The new rules of engagement for Facebook Business pages
The aftermath of the Cambridge Analytica data scandal resulted in Facebook making significant changes to its algorithm. If you've had your Facebook Business page for several years and never updated it, you may be experiencing diminishing results without knowing why. Digital marketing strategist Dia Vavruska provides an in-depth look at Facebook's new algorithm for IMPACT. The take-home message is that the algorithm now does the following:
Places greater emphasis and visibility into the content shared by – or engagements from – friends, family and groups.

Reduces the visibility of content published by businesses, brands and media that does not promote the connectivity between individuals.

Identifies and prioritizes "meaningful interactions" among friends – or active engagements, such as posting original content, commenting, sharing and reacting.
As a result of Facebook's current algorithm, businesses and brands are now finding it increasingly difficult to depend on organic results to reach their target audience. Spoiler alert: Keep reading to learn about utilizing Facebook Ads.
You get what you pay for – why you need Facebook Ads
Even before the scandal, business owners couldn't depend on organic social posts alone to do the heavy lifting in driving conversions and sales. As we noted in our June 17, 2019 blog post – "Why Does Your Small Business Need Social Media?" – organic and paid social media work best when implemented together. A solid organic strategy improves your online presence and reputation, and a paid strategy increases your brand's reach and awareness to targeted audiences.
And as noted by Brian Peters of Buffer in our January 4, 2019 blog post – "Social Media Marketing Trends for 2019" – marketers increased social ad budgets 32 percent in 2018 alone and produced more ads than ever before. In fact, one of every four Facebook Pages now use paid advertising as part of their strategy. And Facebook accounts for 23% of total U.S. digital ad spending.
Facebook Ads can target customers by such factors as age, location, education level, industry and even user behavior. Its Custom Audiences feature allows you to advertise so specifically that businesses have seen their new customer acquisition costs decline by as much as 73 percent.
"Facebook Ads are, in fact, the most sophisticated advertising platform available right now," writes Facebook strategist Ali Parmelee for IMPACT. "All in all, it seems pretty clear that Facebook has a great deal of potential when it comes to delivering an appreciable return on any business's marketing investment."
However, Parmelee cautions that not just any old ad can be expected to get the desired results. There's an art and science involved in crafting a Facebook Ads strategy, which she outlines as follows:
Track properly – Use Facebook Pixel. This is a piece of code for your website that allows you to measure, optimize and build audiences for your ad campaigns. It will track how your ads affect customer behavior, and retarget ads accordingly.
Build ads around your goals – You can create ads based on any of 12 specific objectives, including Awareness, Consideration and Conversion. "Knowing which is your priority will not only let you build your ads to the best possible effect, but accurately gauge your ROI as well," Parmelee writes.
Target audiences specifically and accurately – In addition to being able to target consumers by such metrics as age, gender, location, interests, occupation, income – and many more – Facebook Ads allow you to target based on behaviors. Examples include name brand preferences, historical shopping behaviors, etc.
Be creative – Ads need to be engaging to be effective – which hinges upon quality content. "That means amazing, succinct copy, striking visuals and engaging video content are key," Parmelee writes.
Always be monitoring – Constantly monitor your ads and review your progress. "Very rarely will you build a campaign and it instantly produces the results you set your goals on." However, Parmelee notes, knowing how to manage the campaign to drive down your cost per 1,000 impressions (CPM) can make the difference between "… wasting thousands of dollars or having a successful Facebook Ads campaign with stellar ROI."
Getting the most from your Facebook Business page
Unless your company has an in-house marketing department, successfully managing a Facebook Business page can be a demanding job in itself. Our social media marketing team at Virtual Stacks Systems is experienced in creating engaging social media posts and Facebook Ads that can move the needle for your business. Contact us to learn more and get started.