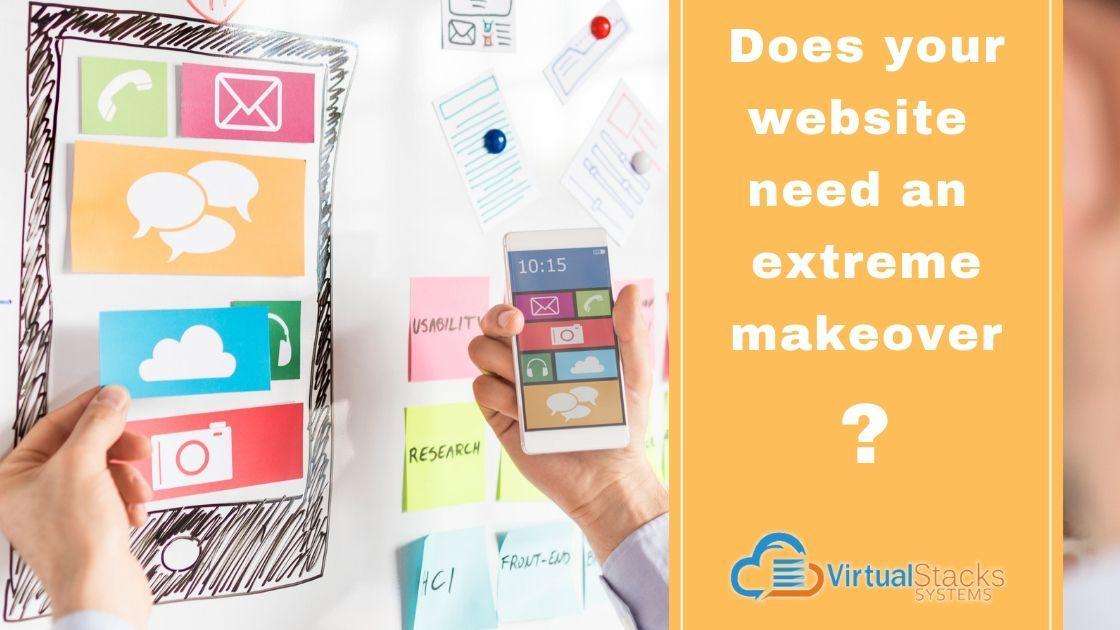 13 Sep

Does Your Website Need an Extreme Makeover?

Remember the ABC series, Extreme Makeover: Home Edition, which ran from 2003 to 2012? For those who missed it, the series selected a family whose domicile was in desperate need of repair and unleashed a small army of construction crews and tradespeople to transform it into a showpiece.

If you think about your website as the home of your business, you'll see what we're getting at. Like a brick-and-mortar house, there are some outward signs that your website is getting rundown – as well as insidious trouble areas hidden from view. Here's how to do a quick inspection to determine if – or how much – you need to renovate your website to keep it at its lead-generating best!
Does your website reflect your brand?
When your business was just getting started, you may have hired a freelance web designer, or a friend or relative who did websites as a side gig. Or you sought the services of a small agency, but it was a few years ago. As your business grows, your brand evolves. Maybe you've added new service lines, product lines or departments. If you've gone from mom-and-pop to mid-sized business (or larger), your website needs to convey that.
The same applies to rebranding. Investing in a new brand identity needs to include your website, as well as your logo, uniforms, fleet vehicle wraps, packaging, marketing materials and advertising.
According to UX designer Joe Rinaldi, Creative Manager of Impact, "If you've recently undergone a rebrand, you'll want to update your site to reflect these changes. When updating your site, keep in mind a rebrand isn't just about your logo or colors, it also includes the content and language used on your site. You don't want people to land on a page and think it doesn't look or sound like it came from the same company."
Throughout your website, be sure to present a unified, clear and consistent brand message. This means your slogans, tag lines, brand voice, value proposition and mission statement are all important factors when determining how well your website reflects your brand and business.
Your website looks out-of-date
Even if you initially invested in a top-of-the-line website, design elements become dated over time. As we'll soon discuss, other functional aspects suffer as the result of neglect. Whether your company is business-to-consumer (B2C) or business-to-business (B2B), your target audience can spot an outdated website – and will seriously question how up-to-date your enterprise is in all other aspects.
Our March 7, 2018 blog post – "How to Tell If Your Website Needs a Redesign" – notes the following:
"In extreme cases, the web design in-joke, '1998 called – it wants its website back,' applies. But if you think you're saving money by holding back on an update, consider the findings of Stanford University's The Web Credibility Project, which reported that approximately 75% of people judge the credibility of your business based solely on the design of your website. That's right – refusing to change with the times can actually cost your business in terms of lost customers, reduced sales/market share and an overall poor brand image."
Even worse, it uses outdated technology
Aside from looking outdated in design terms and sending a bad branding message to your target audience, a website that's overdue for an update simply doesn't function well – which can be costing you lead conversions, in addition to posing a serious security risk (more about that later).
For example, WordPress websites feature third-party tools (known as plugins) that allow web developers to add new functionalities – such as e-commerce plugins, scripts to embed social media feeds and exit-intent popups. As these tools themselves become outdated or replaced by even newer versions, they can have a negative effect on your website's loading speed and other functions. In addition, new plugins can have compatibility issues with existing plugins on your site.
Speaking of loading speed, our February 28, 2018 blog post – "Why Your Website Needs to be Up-to-Speed" – covers the detrimental effect slow-loading pages have on visitor behavior. Pages with a longer load time have higher bounce rates (the percentage of visitors who leave the site after viewing only one page), as well as a lower average time spent on the page.
So what's considered "slow" by the standards of online visitors? The average visitor will only tolerate a load time of up to two seconds. Google's engineers have found that potential customers will visit a site less often if it's slower than that of a close competitor's by more than 250 milliseconds. This obviously provides plenty of incentive to ensure all plugins and components are up-to-date to allow your website's pages to load as fast as possible!
As Rinaldi points out, other issues can include a layout that isn't optimized for a modern-day browser, links to pages that no longer exist on your site and outdated offers. Outdated functionality results in a poor user experience (UX) that will increase bounce rates – or at least drive visitors from your website before becoming leads, most likely never to return.
And don't even get us started on Adobe Flash. Once the only way to watch animations and videos online, Flash has a long history of security flaws, malware and bugs. In fact, users are encouraged to block sites that use Flash because of security issues. Is your site one?
Speaking of website security
While we're on the subject, malware and hacking attacks are increasing at an alarming rate. CommonPlaces Interactive recommends keeping all platforms or scripts you've installed up-to-date. Hackers aggressively target security flaws in popular web software, and the programs need to be updated to patch security holes. It is important to maintain and update every software product you use.
Are you considering mobile visitors?
By now, it should be no secret that more people search the web using their mobile device than their desktop computer – assuming they even own one, or have one at their workplace. If your website looks great on a desktop but not on a smartphone, it is definitely time for a redesign. Nothing sends a visitor to your site to a competitor's site faster than seeing your desktop-optimized website page in miniature on their phone's screen. According to Google, 61% of users are highly unlikely to return to a website that doesn't work well on mobile, with 40% moving on to visit a competitor's site.
As reported in our September 28, 2018 blog post – "What You Need to Know About Mobile-First Web Design" – since migrating to mobile-first indexing, Google penalizes websites that aren't optimized for smartphones and tablets with lower rankings in search engine results pages (SERPs). Mobile-responsive web design is essential to staying competitive, no matter what your industry. 
When Google can't find your website, you suffer
A common issue for older websites – or those built by developers with little or no search engine optimization (SEO) expertise – is poor SEO. Complicating the matter is Google's own ever-changing inscrutable algorithms, which provide few clues about how the world's preeminent search engine ranks websites. Using outdated and/or "black hat" SEO techniques – such as keyword stuffing – can consign your site to the outland of SERPs, or result in Google banning it.
Other SEO issues you may not have considered include the lack of alt tags on photos and other graphics. Images that lack an alt tag are invisible to search engines. Also known as "alt attribute" and "alt description," an alt tag is an HTML attribute applied to image tags to provide a text alternative for search engines. Applying alt tags to images such as product photos can positively impact an e-commerce store's search engine rankings.
Meta tags are likewise essential to SEO best practices. These are snippets of text that describe a page's content. The meta tags don't appear on the page itself, but only in the page's source code. Meta tags are essentially little content descriptors that help tell search engines what a web page is about.
In addition, Google constantly searches for fresh content, and rewards websites that provide it on a regular basis with higher rankings. An easy way to accomplish this is by adding a blog to your website. But be sure to publish a new post on a weekly – or at least monthly – basis to achieve the benefits, and be sure the content is relevant and high-quality. Our June 8, 2018 blog post – "What is Quality Content?" – covers this topic in detail.
The extreme take-home message
Remember our opening analogy? Whether you determine your website needs an extreme makeover or just some remodeling, you don't need a small army to do the job. Virtual Stacks Systems provides comprehensive services, ensuring that all components work together seamlessly and reliably to achieve your marketing goals. Learn about our web design, website redesign, social media marketing, SEO and logo design services. There's a place for you at our conference room table! Contact us today.