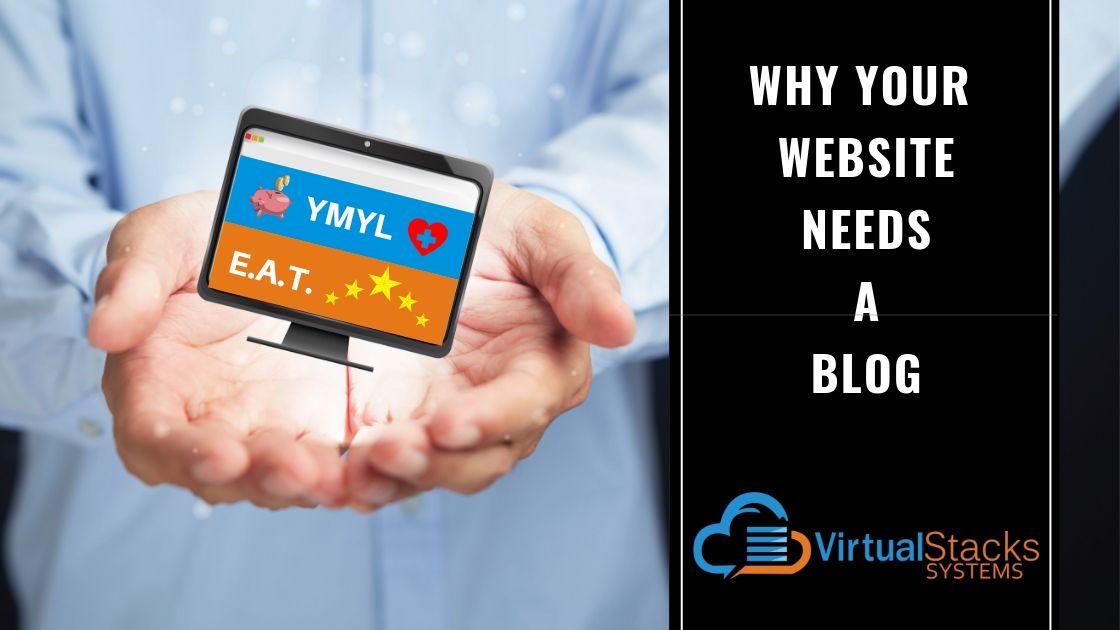 28 Jun

Why Are Blog Posts Important For Your Website?
"Why does my website need a blog?"
This is a question our Virtual Stacks Systems team is often asked by potential clients. Depending upon our field of expertise – web development, SEO or content writing – the answer may have a particular emphasis. However, this fundamental question is just the starting point. A blog only achieves results based upon the effort put into it. Business owners expecting the "Field of Dreams" effect are bound to be – or perhaps already have been – disappointed if they build it, then assume the increased website traffic and conversions will come on their own.
Blog posts are an important, effective means of moving the needle when they're done right. According to the inbound marketing experts at HubSpot, businesses using blogs as part of their content marketing mix get 67% more leads than those that don't. Writing for HubSpot, Wanda Coustas reports that 52% of respondents on a recent content marketing survey agreed that blogging is their most critical content marketing tactic. No matter the size of your company or industry, blogging is integral to your online marketing strategy.
The four main benefits of blogging are as follows:
Driving traffic to your website.

Increasing your search engine optimization (SEO) and search engine results page (SERP) ranking.

Positioning your brand as an industry leader.

Developing better customer relationships.
On the first point, your blog gives your target audience an additional reason to visit your website, and visit it more frequently. The way to do this effectively is to create engaging, informative and relevant content (which also ties in with positioning your brand as an industry leader and developing better customer relationships.
Then, promote your blog posts on your social media platforms. Your social media followers will click on the link to your blog post, increasing traffic and opportunities for them to share your blog post with their own followers. If they're really impressed with your insights, they may take a look around your website and start the conversion process.
Once you've built a stock of blog posts, you can use the social posts as "evergreen" content, reposting them at various intervals to drive new traffic. Freshening up the posts with new copy and/or graphics will keep them engaging to your faithful social followers.
Also, post internal links in your blog posts to drive traffic to specific pages of your website. This gives readers incentive to immediately access website pages for your services or products, company history, achievements, etc. This confers the authority of what you are writing about upon your own site, rather than sending potential customers to a competitor. Add links to your previous blog posts, as well. Speaking of, our March 2018 blog post – "The Importance of Internal Linking In SEO" – covers the advantages of this practice in detail.
Having a blog helps generate inbound links. These are hyperlinks that go back to your website. According to Coustas, companies that blog receive 97% more links to their website than those that don't. In his article for Forbes, Jayson DeMers – founder and CEO of AudienceBloom – writes about their importance, noting that without a blog, attracting authoritative links to your website can be extremely difficult.
"When you add new content that serves as a resource for other bloggers and media, you start to naturally accumulate inbound links as other authors, columnists, journalists, bloggers and contributors reference and cite that content in their own articles. These links are important for SEO, but can also generate significant referral traffic back to your site."
Like we just did for DeMers here. See how this works?
A fitness program for your SEO
To those current and prospective clients who ask us about the value of blogging, our short answer focuses on SEO, for the following reasons.
Google loves new content
Google rewards websites that add content on a regular basis with better visibility. Unless you have an e-commerce site with a constantly changing inventory, your business probably has little reason to update its home page or add web pages (although we do advocate for landing pages). A blog with posts published on a weekly basis lets Google know your website is a living, dynamic entity worthy of notice – giving it more reasons to index your website more often.
Blogging helps your website rank for long-tail search queries 
If you've noticed, Google now searches based on natural language or questions users enter, rather than single keywords. So if your site has a blog post titled, "How You Can Identify a Quality Widget," and someone asks Google how to identify a quality widget, your website has a better chance of ranking high in the SERPs. It's a well-known fact in the SEO world that 75% of users don't scroll beyond the first page of search results.
Use similar phrases throughout the post to address questions and highlight product attributes that members of your target market may be asking Google to find – such as "best widgets for a small business." By the way, any one that intent on learning about quality widgets is probably ready to buy some. Make it easier for them to buy yours, than your competitors'!
Blogging keeps visitors on your website longer
 As content marketing expert Kristen Hicks writes for HostGator, Google's number-one priority is giving searches the information they're looking for so they'll continue using Google as their search engine. When someone clicks on a result and spends some time on the website, it signals to Google that the website is helpful (and combats the dreaded "bounce rate").
"While Google hasn't said outright that dwell time, or the time that people spend on your website once they land on it, is definitely a ranking factor, they've made other statements that make it clear it's something they pay attention to and impart value to.
"Someone who comes to your website from a blog post that shows up in the search results is going to have more reason to stick around for a while and read the whole thing than someone who lands on a page with less text or information."
B2B companies need to blog, too
Blogging is just as important to business-to-business (B2B) companies as it is to business-to-consumer (B2C) companies. The common misconception is that business owners and C-suite decision-makers – your target audience members – don't have time to read blog posts, so why bother? The Daily Egg provides some myth-busting statistics.
In 2016, 78% of B2B businesses favored blogging as a content marketing method.

Executives regard blog posts as useful in evaluating business decisions and opportunities, and in understanding their businesses better. A full 75% use blog post content to research business ideas; 24% are interested in more discursive content that discusses new business problems or analyzes industry trends.

Executives prefer textural content over video or audio, with 71% finding blog posts useful in making a business decision.

More decision-makers than influencers read blog posts when they are evaluating tech purchases.
For B2B'ers who really want to geek out, Molly Clarke of ZoomInfo provides 33 B2B blogging statistics that are sure to impress and convince even the most skeptical about blogging's power as a lead conversion tool!
Other important considerations for your website's blog
Hosting is one important issue that is often overlooked. DeMers emphasizes that you should host your blog on your business website, as hosting it elsewhere won't achieve the objectives of blogging – such as increased SEO.
"Some businesses prefer, either because of cost or for simplicity's sake, to use a free blogging platform like WordPress.com or Weebly.com. This often results in blog domains such as [companyname].wordpress.com. While hosting a blog independent of your business site is better than not having one at all, you'll see that many of the benefits … can only be achieved if your blog is hosted on your primary domain (i.e., www.yoursite.com/blog)."
You may be wondering if our dedicated Virtual Stacks Systems team is always successful in showing the light to those who question the worth of blogging. Not to brag (nothing humble about it), but yes, we are. And because we're usually all at the conference room table with our prospective client and their team, we let them know that they need not worry about taking on the considerable work of blogging and social media themselves – that's what we're here for!
Are you considering the value that a robust blog and social media marketing can add to your business? There's a place for you at our conference room table! Just contact us! We look forward to learning about your marketing goals and helping you achieve them.