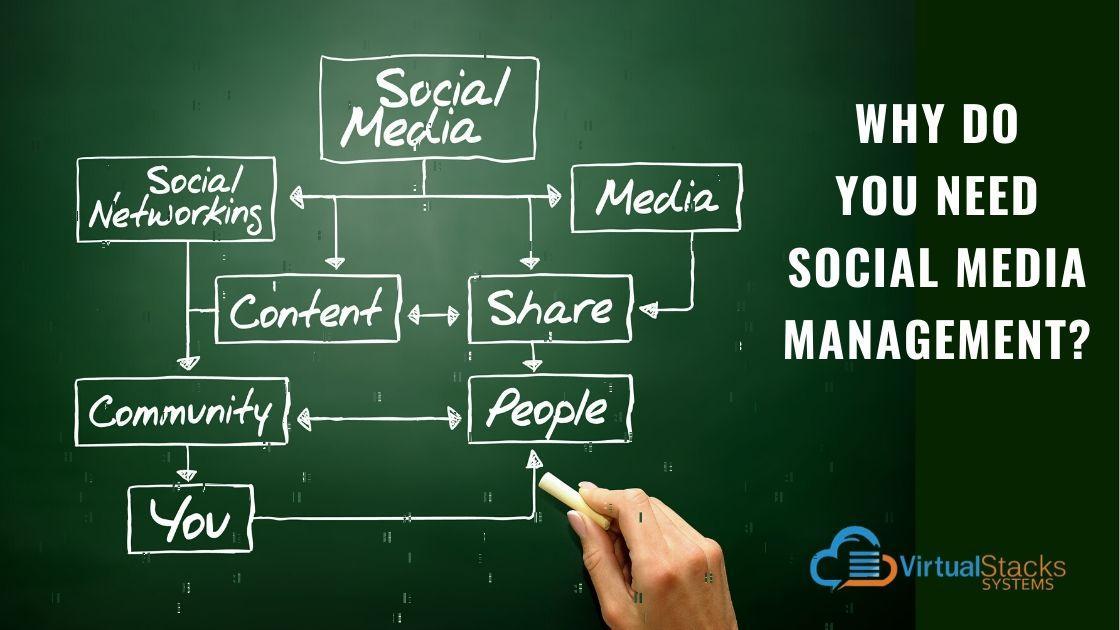 17 Jul

Why Do You Need Social Media Management?

Whether your business has an in-house marketing department, hires a digital marketing agency or wings it on its own, social media is an important component of your marketing strategy. However, there's much more to social media than just posting on your platforms of choice on a regular basis. You may be familiar with social media strategy – which is the ways in which social media platforms are used to build awareness of your business, with the objective of generating leads and sales. But social media management is the ingredient that's essential to supporting your digital marketing strategies. Here's what you need to know about this art and science – and why it's the "secret sauce" your digital marketing may be missing!
What is social media management?
This role covers responsibility for all of your company's social media activities – including social media planning, content creation, community building, automation, publishing and analytics. It also informs how your business participates on social media platforms to generate such results as increasing conversions and return on investments (ROI).
Depending upon the business or digital marketing agency, social media management may be the role of one employee, or the responsibilities could be spread out among members of the social media team.
Before we get ahead of ourselves, let's look at social media strategy. This is the first step, in which the objective is to set goals for social media marketing, as well as the metrics that define them. These should be the classic SMART goals: Simple, Measurable, Achievable, Rational and Time-bound. The social media manager or team will most likely also be in charge of establishing this strategy. When the goals and metrics are established, the manager or team will then plan the means of achieving the goals.
As digital marketing professional Madhura Gaikwad writes in her article for Toolbox, "Often known as the voice of your brand, a social media manager is responsible for communicating with your prospects and customers on social media networks on behalf of your company. This role is frequently compared to the role of a public relations manager, who has a similar set of responsibilities but on different channels … Social media managers are an integral part of your marketing team and should have a similar skill set as that of a marketer."
What are the key elements of social media management?
Skilled copywriting tops the list of the experts. According to HubSpot's Lindsay Kolowich, "Content is a key component in any marketing strategy, especially when social media is involved. Even if you have dedicated bloggers or ebook writers, text-based content still needs to be adapted to each social network. For example, a strong social media manager might write Instagram captions with a relaxed and relatable voice, but might write in a more business-oriented voice for LinkedIn.
"Writing generic posts for all platforms might make your brand seem out of touch, so it's important to have a social media manager who can maintain a brand voice while still adapting it to different platforms. A great caption or piece of written content that speaks directly to your audience could lead to more engagement."
Other elements include the following:
Creating an editorial calendar – Publishing social media posts at random times according to whim won't achieve results. Experienced social media managers recommend planning and scheduling posts for 30 days out, ensuring that specific posts will publish at the opportune time to align with a goal. For example, a post or campaign to promote your product for a holiday. It doesn't even have to be a major holiday. National Pecan Pie Day (July 12) will do just fine, if you own a bakery or market.
On the other hand, leave enough flexibility to respond to current events that may affect your target audience. Unfortunately, many plans for social media posts had to change dramatically during March as businesses were first impacted by COVID-19.
Using social media automation tools – Scheduling posts to publish automatically at specific dates and times on selected platforms frees up opportunities to focus on engaging with current followers and cultivating new ones. Automation software tools can also generate real-time analytics, report creation, trend analysis, competitor analysis and social listening. Our blog post – "Social Media Automation Tools" – looks at the market leaders and the particular advantages of each.
Conducting competitor and trend analysis – Monitoring the social media posts of competitors provides valuable insight on what type of content and messaging succeeds (or fails). As Gaikwad notes, "For example, a competitor's failed attempt at sharing graphic memes on LinkedIn helps you avoid making the same mistake, whereas a successful campaign on Twitter using influencer marketing can inspire you to try influencer marketing.
"A social media manager could also understand your competitors' engaging audience to build personas, understand audience behavior and targeting, and strategize social media marketing activities accordingly."
Trend analysis – as the name implies – involves tracking trends on social media that can give your business an opportunity to increase engagement through content creation, hashtags, strategies, etc. Our friends at Buffer provide a list of the top free and paid social media analytics tools for marketers.
Providing customer service and/or community management – While this won't apply to every business, those in which customers are expected to communicate through social media need to regularly monitor their social media accounts (typically Twitter and Facebook) for customers seeking help with specific issues – for example, a repair tech who didn't keep an appointment. Knowing the right way to address customer concerns on your social channels can build loyalty or send unhappy campers to your competitors. Our blog post – "Providing Quality Customer Service on Social Media" – covers this important area in detail.
Other businesses have a community of users who frequently communicate among each other. The social media manager is responsible for ensuring that users' posts follow community guidelines and removing those who spam or post inappropriate comments.
Social media advertising – As we've often noted, organic reach alone can't do all of the heavy lifting of social media marketing. Facebook and Google ads can amplify the reach of your content – so that by using ads, you'll actually get more organic reach for your content! As we noted in our blog post – "Why Does Your Small Business Need Social Media?" – organic and paid social media work best when implemented together. The social media manager may be in charge of such duties as ad copywriting, determining ad budgets, analyzing ad performance and measuring ROI.
How is success measured?
Utilizing social media analytics is necessary to measure the performance of your company's social media marketing efforts and compare them against the goals you've set – as well as to measure the ROI on your social media marketing investments. As Kolowich writes, a social media manager needs to dig into the data, analyze it and draw actionable insights – which includes macro data, such as overall reach and leads generated, and micro data – such as individual experiments around content positioning.
Gaikwad expands upon the need for analytics. "Social media managers are responsible for performing timely reviews of campaigns running on social media, which includes measuring the performance of content, targeting, resources, tools, campaigns, ads, and channels. They should also be able to make recommendations based on this data about necessary modifications required to the social media strategy."
What to look for in a social media management team
If you're hiring your own team or hiring a digital marketing agency, make your choice wisely. Social media is no longer an afterthought or something "nice to do just to be out there." Whether the social media manager is an individual or a team, the manager is responsible for the successful positioning of your business across social media platforms. This role should not be left to chance or convenience. Experience, skill and talent –as well as strong strategic and analytical abilities – are all necessary.
Which, of course, leads to our blatant self-promotion
Our social media marketing team at Virtual Stacks Systems is ready to work with you! Our target market is small- to medium-size businesses. That's why our blog posts address the challenges such enterprises face. Many digital marketing agency blogs feature posts with examples and advice more applicable to large businesses and corporations. We don't want our readers saying to themselves, "Yeah, I could do that too, if I had a million-dollar marketing budget!" We want you to say, "That sounds like an agency that can help my business!"
If this is what you're saying to yourself, take the next step and contact us! In addition to social media marketing, we offer PPC advertising, website design and redesign, SEO marketing, review management services and much more! We look forward to helping you achieve your digital marketing goals!