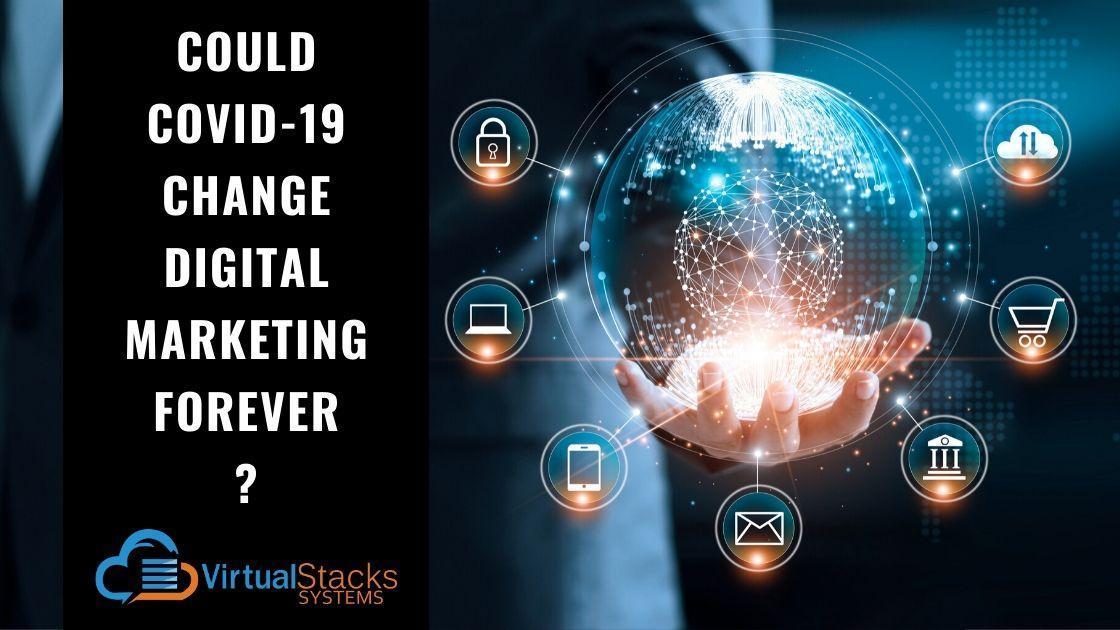 01 May

Could COVID-19 Change Marketing Forever?

As businesses in every industry continue to deal with the disruptive effects of COVID-19, there is the overwhelming desire for life to return to normal. But with that desire is the increasingly strong consensus that a "new normal" is emerging. Pre-pandemic business as usual may become just a memory. The question is now being asked if COVID-19 will change marketing forever – if the trends and adaptive measures currently taking place are a paradigm shift in how businesses reach and engage with consumers.

There is always opportunity in adversity, and marketing experts are quickly parsing data to project how emerging trends will ultimately affect consumer buying habits. No matter what size your enterprise, knowledge is power. Here's what we're learning so far.
Digital media consumption during quarantine
According to a recent whitepaper by international market research company Global Web Index, 80% of consumers in the United States and United Kingdom who responded to its survey report to have consumed more online content since the COVID-19 outbreak. Members of all generations were found to have turned to broadcast TV and online video streaming platforms such as YouTube and TikTok as primary mediums – with the most preferred media consumption being online videos, music streaming and online press.
Highlights from the survey include the following:
Online videos could have the greatest staying power after the outbreak ends in the U.S. – especially among Generation Z and millennials.

70% of U.S. online video watchers say they plan to consume just as much of this content when the outbreak is over.

69% of millennial podcast listeners say they intend to keep consuming just as much after the outbreak, indicating potential areas of revenue for digital content providers in the aftermath of the crisis.

Younger age groups are most enthusiastic about receiving updates, engaging with daily live chats and watching livestreams of virtual performances as live music venues and festivals have been shut down/canceled.

Many sports leagues have already been venturing into the world of esports and gaming, and this is now one of the most credible engagement channels that they should be focusing on in light of the disruption.

There is a lot that sports leagues and teams can be doing to engage their fans despite the disruptions. The most important of which is offering them exclusive content, redistributing old content and promoting live interaction with athletes.
These findings reinforce the observations of Advantix Digital, which notes that "… in-store traffic and demand are falling daily as users stay home in the US and abroad. As this trend grows, in-home online and TV activity will increase and advertisers can reach their target users during this time by investing more heavily in television (traditional or Connected TV), digital, and direct mail advertising over in-store, out-of-home, and physical advertising due to decreases in public foot-traffic."
Insights on what people are looking for, and what they want
The projection for consumer behavior is that even when stay-at-home orders are lifted, people aren't likely to resume their old habits. Having been forced out of their comfort zone, some – such as digital strategist Darrin Cheraso – discover that they actually prefer the new way. In his feature article for News 4 San Antonio, Cheraso relates his experience with a popular local grocery chain that has an app for ordering and curbside delivery. Although he was aware of the app and the convenience it offered, Cheraso preferred to shop in-store.
"I just preferred to go into the store, choose my groceries and buy them the old fashioned way! But when the coronavirus outbreak happened, it influenced me to break my 'comfort zone' and use the app to buy my groceries. After using it just once, I don't think I'll ever step foot into the store again. Yes, a permanent shift in my consumer habits!"
Cheraso says that he isn't alone, noting the Google Trends report that keyword searches for delivery of groceries and restaurant food take-out has started to grow drastically in the San Antonio market.
"In fact, Google Trends reports that searches for 'Grocery Delivery' has grown by 200% … over the past seven days and searches for 'Restaurant Take Out' has tripled on a nationwide basis. This data shows that consumers are changing now, but we are also creating a new norm after COVID-19 is long gone. Think about how your consumers will change post-COVID. Will more of your customers book your services online? Will more of them text you instead of calling?
"We recommend that you flex your company's model to go with consumer trends that will become the new norm. More electronic booking of your services, more electronic communications with your customers."
What could the future of digital marketing be?
According to Victoria Petrock, digital marketing analyst for eMarketer, virtual reality (VR) may play a big role.
"While the pandemic has caused a nearly complete drop-off in theme park- and mall-variety VR (which involves headset sharing with strangers), it is spurring interest in other areas. Not only are homebound people using VR headsets to play video games, explore virtual travel destinations and partake in online entertainment, they're seeking human interaction through social VR platforms such as Rec Room, AltspaceVR, Bigscreen and VRChat."
Petrock cites a press release from VR headset manufacturer HTC, projecting the expansion into daily life of extended reality (XR) – an umbrella term that encompasses VR, augmented reality (AR) and mixed reality (MR).
"Prior to this virus pandemic, the mindset of many people is that XR is a nice-to-have technology. Post-outbreak, the benefits of XR to overcome the physical barriers between people could make it a must-have technology over time. … Working-from-home, distance learning, home-based fitness, immersive entertainment and networked social interactivity will all be part of the new normal in our lives, and made more agreeable if more users could adopt XR technologies."
This future may be closer than you think. Inbound marketing platform HubSpot is conducting an ongoing weekly report on how COVID-19 is impacting sales and marketing performance.
According to HubSpot CMO Kipp Bodnar, "External factors like budgets and industry-specific impacts from COVID-19 will inevitably affect sales cycles, but the data suggests businesses have an opportunity to attract and engage interested customers."
Bodnar emphasizes the importance of your website right now, observing that customers are initiating more online interactions with businesses today than they were a year ago, and doing more online research.
"Average monthly website traffic increased by 13% in March, compared to February. Weekly chat volume via onsite chat and Facebook Messenger increased 5% after March 16, based on previous Q1 global weekly averages. Marketing and sales teams are both reaching out to their customers more, with varying levels of success. Marketing and sales teams sent a significantly higher volume of emails in March. However, only engagement with marketing emails increased, suggesting that opportunity exists to improve outreach and connect with the right buyers at the right time.
"The increase in website traffic, buyer-initiated conversations, and marketing email open rates suggest that customers are still looking to engage with companies."
Our blog post – "Should You Reduce Digital Marketing Spending During the Pandemic?" – covers the role of email campaigns, as well as other aspects of digital marketing, now and long-term.
The take-home message
As much as we all want life – and business – to get back to normal, we have a unique opportunity to shape what that looks like. And while there are currently only a few signs along the way, being creative and strategic could perhaps allow you to reach your target market in a virtual baseball game or music festival, through a helpful app or an online video. This may be the start of a brave new world – one that you get a chance to build!
Now for our blatant self-promotion
If you're ready to start building, we'll be your contractor! Virtual Stacks Systems offers website design and redesign, SEO marketing, social media marketing, PPC advertising, review management services and much more!
Contact us today to get started! And remember – we're all in this together!