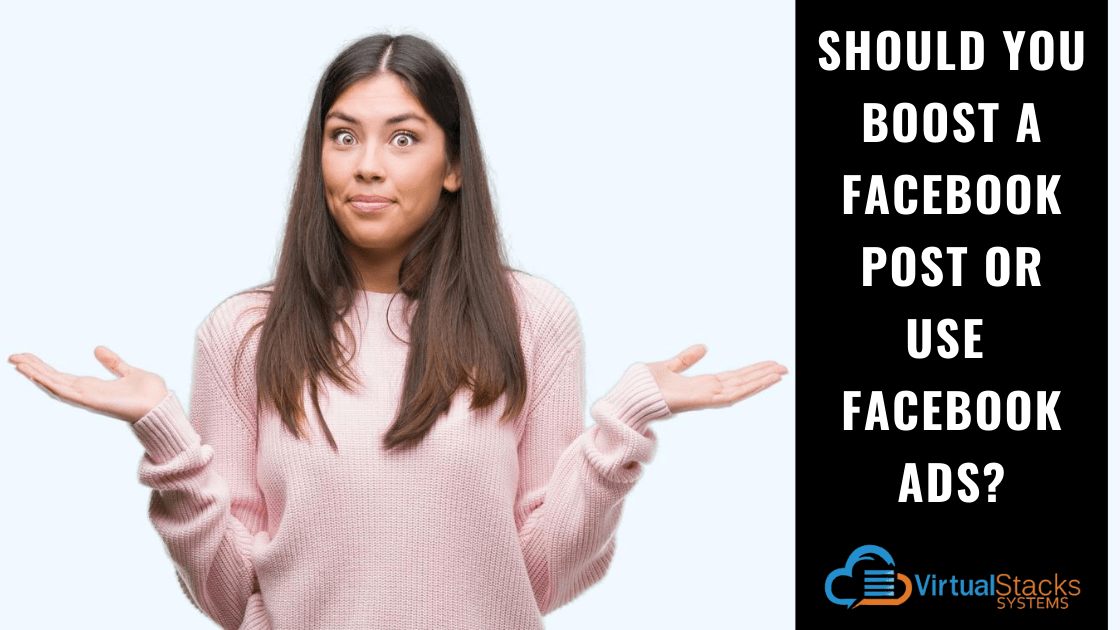 02 Sep

Facebook: Should you Boost a Post, or Use Facebook Ads?

Every member of the Virtual Stacks Systems' digital marketing team considers client education an important part of the service we provide. One question we were recently asked was about the difference between a Facebook business page boosted post and a Facebook ad. As this is a common matter of confusion, we're addressing it in our humble blog.
What are boosted posts?
Facebook explains this very well. "A boosted post is a post to your Page's timeline that you can apply money to in order to boost it to an audience of your choosing. This is the simplest way to advertise on Facebook. Boosted posts differ from Facebook ads because they are not created in Ads Manager and don't have all of the same customization features."
A boosted post will show up in your audience's Facebook News Feed as an ad. Because Facebook owns Instagram, you can also select Instagram as an ad placement. People typically choose to boost a post that is already on their Page's timeline. To start the process, Facebook will ask you to decide who you want to reach, your budget for the boosted post and how long you want it to run. Once your ad is approved, people in your target audience will see it in their News Feed for the length of time you've set.
So, this is where the distinction between boosted post and ad can get tricky.
"While boosting a post is still considered an ad, Facebook ads are created through Ad Manager and offer more advanced customization solutions. There are many advertising objectives to help you reach your specific business goals and the audiences you care about most.
"Where a boosted post may initially optimize for Page likes, comments, and shares or overall brand awareness, Facebook ads can optimize for app installs, website conversions, video views, shop orders and more."
For the small-to-medium-size business owner, this explanation sheds some light, but doesn't provide full illumination. If you're interested in getting more business – and who isn't – you boost a post in the hopes of increasing the attention it receives, thereby generating more visits to your website.
However, a boosted post has limitations. Just because more people may see your post in their News Feed doesn't mean they're all your potential customers. To reach an audience with significantly more targeted accuracy, you need Facebook ads.
Benefits of Facebook ads
You may be asking yourself why you need a boosted post or Facebook ad in the first place. After all, shouldn't your posts build awareness and engagement all on their own? As we noted in our blog post – "Why Should Your Business Invest in Facebook Ads?" organic reach is dead. As in not just merely dead, but really, most sincerely dead. Facebook changed its Newsfeed algorithm in early 2018, giving content from brands and publishers lesser priority than content from groups and friends. This has had the effect of reducing the organic reach of Facebook business pages to almost zero. Business pages can no longer expect to reach their audiences with new Facebook posts alone.
Ironically, Facebook ads can amplify the reach of your content – so that by using ads, you'll actually get more organic reach for your content! As we noted in our blog post – "Why Does Your Small Business Need Social Media?" – organic and paid social media work best when implemented together.
Larry Kim – CEO of MobileMonkey and founder of WordStream – elaborates on this advantage in his article for Medium. "… when influencers share our Facebook Ads (yes, people DO share ads), your content will become exposed to an even larger audience. Remember, engagement snowballs as you go on social media."
Specific benefits of Facebook ads over boosted posts include the following:
A range of analytics options that offer several different ways that you can track ad engagement and define campaign goals.

Highly specific targeting options that allow you to target ads to users by age, gender, location, interests and other criteria.

Richer formatting options, such as carousel ads, slideshow ads, canvas ads and more.
According to national marketing agency Qiigo, "Some of Facebook's ad formats are built with specific campaign goals in mind, with options for ads that collect leads, direct users to your website, and promote products. Ads can also include call to action buttons, making them a more dynamic choice for social media marketing professionals."
Back to Facebook itself, additional ad options include:
The ability to select different ad placements, allowing you to choose placements in Facebook News Feed side ads, Messenger ads, Instagram stories, instant articles and Audience Network.

Using specific ad objectives, which helps you focus on which campaign type best aligns with your current business goals – such as store traffic, conversions and lead generation.
Kim is an enthusiastic advocate of using Facebook ads for remarketing. If you're unfamiliar with this tactic, he explains it as follows.
"Essentially, remarketing is a type of technology that shows ads for your business to people after they have visited your website, used your mobile app, or given you their email address. People will see these ads when they visit or shop on other websites, use social media, watch videos, use other mobile apps, or search on Google … You'll want to use remarketing for your hard offers – your sign-ups, consultations, downloads, etc."
In other words, it's the type of ad that uncannily follows you on every website you visit.
In addition, Facebook ads eliminate the guesswork with measurable results. You will be able to see the number of impressions, clicks and conversions you receive. Install the Facebook pixel on your website to track activity. The pixel is a piece of HTML code for your website that allows you to measure, optimize and build audiences for your ad campaigns. It will track how your ads affect customer behavior, and retarget ads accordingly.
The pixel makes it possible for you to do the following:
Measure cross-device conversions (when a consumer clicks on an ad on one device – such as a smartphone – then completes a conversion on another device – such as a desktop).

Understand how your cross-device ads help influence conversions.

Optimize delivery to people likely to take action.

Ensure your ads are shown to the people most likely to take action.

Create custom audiences from website visitors –

Dynamic ads

help you automatically show website visitors the products they viewed on your website or related ones.
When to boost a post or run an ad
As you may have gathered by now, boosting a post or running an ad (especially running an ad) requires strategy to do so successfully. Again, you may also have gathered that you should be thinking in terms of a full campaign instead of a single, one-off ad. Before visiting the Facebook Business page to begin, determine the objectives you want to achieve.
Returning to Qiigo, "Each format [posts and ads] tends to encourage different outcomes. Facebook ads tend to have a bigger immediate impact and translate directly to campaign goals, like lead captures, app installations, and sales. On certain campaigns, the added functionality of Facebook ads might make them a better fit for your campaign. Meanwhile, boosted posts tend to improve your brand's social media engagement metrics and overall social presence.
"For specific campaigns, the decision between an ad and a boosted post will come down to long-term vs. short term outcomes. On a wider level, a mix of Facebook ads and boosted posts are usually the best way to break up your Facebook social media marketing budget. Boosted posts will allow you to build your brand's reach and fan base, while ads can help you translate your brand's presence into tangible outcomes. This one-two punch will allow you to build likes and fans, then turn your new followers into actual customers."
The take-home message and our blatant self-promotion
Depending upon the size of your enterprise, you may want to delve into this yourself, or hire a digital marketing agency. And if you're already working with one, don't decide to boost a post or buy an ad on a whim. You're paying for professional guidance, so consult with your agency contact person to discuss your objectives and best options for achieving them. It will pay off in the long run.
If you're looking for a digital ad agency, our Virtual Stacks Systems team has the experience and talent in all areas of digital marketing to create a winning campaign. Contact us to learn more and get started!