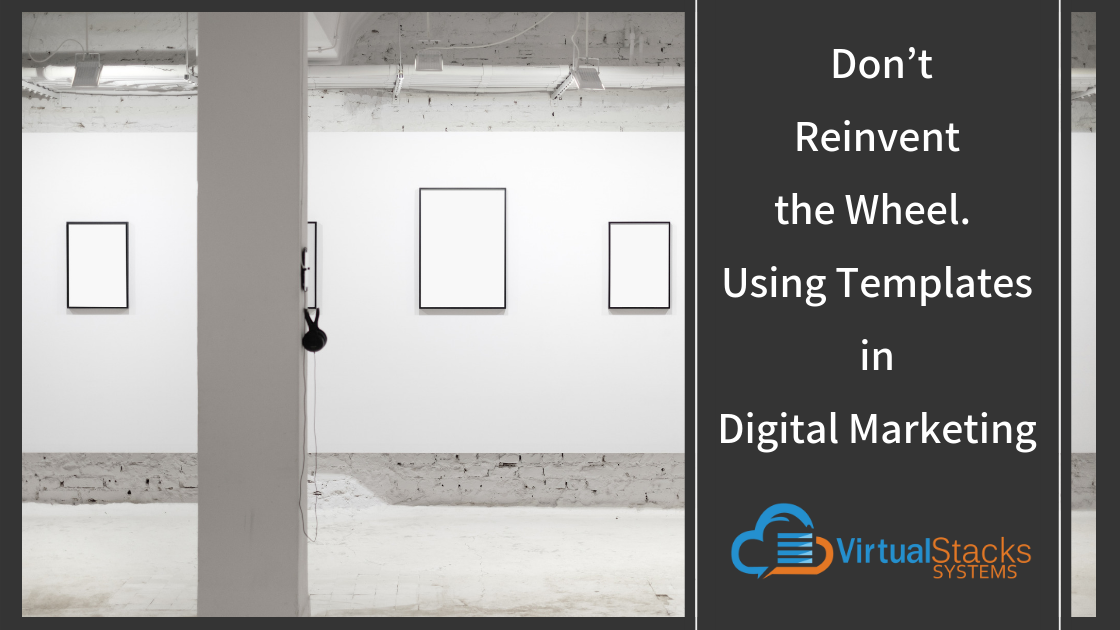 17 May

Don't Reinvent the Wheel – Using Templates in Digital Marketing

Does your company have a digital marketing department, or a small team that serves the purpose? If so, you've doubtlessly been challenged by the many demands of content creation, crafting high-performing emails, SEO marketing and workflow tasks – to name just a few!

This is where templates come to the rescue – saving time, repetition and mistakes – while giving your deliverables a great professional look that belies your budget limitations.

Another big advantage: because templates are designed by industry pros, they help increase the effectiveness of your social media posts and other marketing initiatives. You'll boost your chances of getting more clicks, likes and conversions than going it alone with an original design that – unbeknownst to you – works against your goal.

Knowing the right tools to achieve the desired result saves you from having to reinvent the wheel with every new project (not to mention inventing a square wheel that will get you nowhere). Numerous free resources are available from such digital marketing leaders as HubSpot and MailChimp. Access typically involves providing basic information about your company on a landing page to start downloading the templates you need.

If you don't mind receiving emails from their marketing department to schedule a free product demonstration, you'll expand your library and start impressing your target audience in the right way. Don't feel you're being deceitful if you have no intention of becoming a customer. HubSpot, specifically, lets everyone know they're welcome to whatever they find useful.
Here are some of our top template picks!
Content and blog outlines
HubSpot – The Boston-based inbound marketing and sales software platform generously shares its bounty in "The Ultimate Collection of Free Content Marketing Templates." And they're not kidding.
Writes HubSpot's Sophia Bernazzani, "Here in the HubSpot content shop, we want to take the work out of it for you. Instead of trying to master how to create every type of content in existence, cut down on the stress and inefficiency and read about our collection of nearly 400 free, customizable content creation templates."
The collection includes 100 social media templates in PowerPoint, so they're easy to edit (no Photoshop skills required) – just customize the text on an image, save it and post to social media. This download includes templates for Twitter, Facebook, LinkedIn, Instagram and Pinterest, with accurate and suggested sizes for each social network.
Kapost reports that HubSpot – using its own templates on Facebook – generated 53% more likes than their average post, and photos on Twitter drove a 55% increase in leads. Speaking of Kapost, the marketing platform offers its own helpful list of downloadable content marketing templates – with links, of course.
Piktochart – Do you avoid creating infographics because no one on your team is a graphic designer? With Piktochart, you no longer have to miss out on the clicks, likes and views your competitors get because of the high popularity of infographics among readers. According to the Nielsen Norman Group, infographics can increase web traffic by 12%. Piktochart offers one free account and two paid subscription options. Templates are accessible in the free account, as well as the subscription plans.
Ghost – Blogging should be exciting and fun, but coming up with outlines tends to be tedious. Fortunately, open source professional publishing platform Ghost offers help in its own blog post by Belle Beth Cooper, who provides three nifty templates for three different types of outline structures. Cooper and her team found that using an outline speeds up the writing process by 600% (according to their estimations).
While everyone can benefit from an outline, having one in template form is especially helpful to non-professional writers in structuring information to produce an informative, engaging post.
Landing pages
Landing pages are extremely important to your website's conversion rates, but confusion about their purpose and design can result in an ineffective landing page that costs you traffic to your website, which in turn results in lost leads and conversions – and the subsequent lost revenue.
As covered in our February 8, 2019 blog post – "Elements of a Great Landing Page" – mistakes are easy to make.
To ensure that you craft a successful landing page every time, Elementor – which bills itself as "The World's Leading WordPress Page Builder" – offers more than 100 professionally designed free templates suitable for businesses in every industry.
Elementor's templates eliminate the guesswork, giving you a powerful tool for maximizing conversions by prompting your target audience to take the desired action and click on the CTA button.
Emails
General emails – MailChimp supplies more than 100 templates and designs that fit any message. In MailChimp's own words, "With our customizable templates, there's no need to start your email from scratch. Choose a layout that fits the message you want to get across, then use our design tools to create eye-catching emails that look great on any device."
Cold emails – Of all the challenges your company's inbound marketing efforts face, composing cold emails probably tops the list. From composing subject lines that won't get your email sent directly to the recipient's spam folder to figuring out the secret sauce to maximize open and response rates, it's hard terrain to navigate on your own.
Conversion rate optimization software Sumo offers five free templates for creating effective emails. In fact, Sumo uses these proven templates itself, which the company credits with growing its business to $5 million. The entire bundle of nine templates is available through a free download.
Even templates aren't goof-proof – what to watch out for!
While templates are valuable marketing tools, watch out for common mistakes – such as leaving last month's date in the title or field, or otherwise not updating as necessary. Customize graphics when possible, as popular templates are easy to recognize – just like popular stock photos. The idea is to put across your own brand identity, rather than present a generic look.
The voice of experience from a marketing professional

Stacy Caprio – founder of Accelerated Growth Marketing, Chicago – is an advocate of templates who reinforces the importance of keeping your voice authentic and original.
"Content structure templates work well for me, and help the content stay on track in a way that we've found to be SEO-efficient and effective, as well as easy for users to digest and read. Make sure your content template fits your own brand and allows your voice and story-telling abilities to shine through. If you don't allow for at least some flexibility and creativity in your templates, then you're not giving yourself or your team permission to really make the content the best it can be, especially in terms of the reader experience."
No matter what the size of your digital marketing team, finding the right templates can significantly help you meet your objectives. Free resources from the pros are available for the taking, so get started!
Now for the blatant self-promotion:
Virtual Stacks Systems is a full-service digital marketing agency that handles all aspects of web design, email marketing, SEO, PPC campaigns, social media management, video creation and mobile app development so you can focus on your business.
Contact us to learn more.