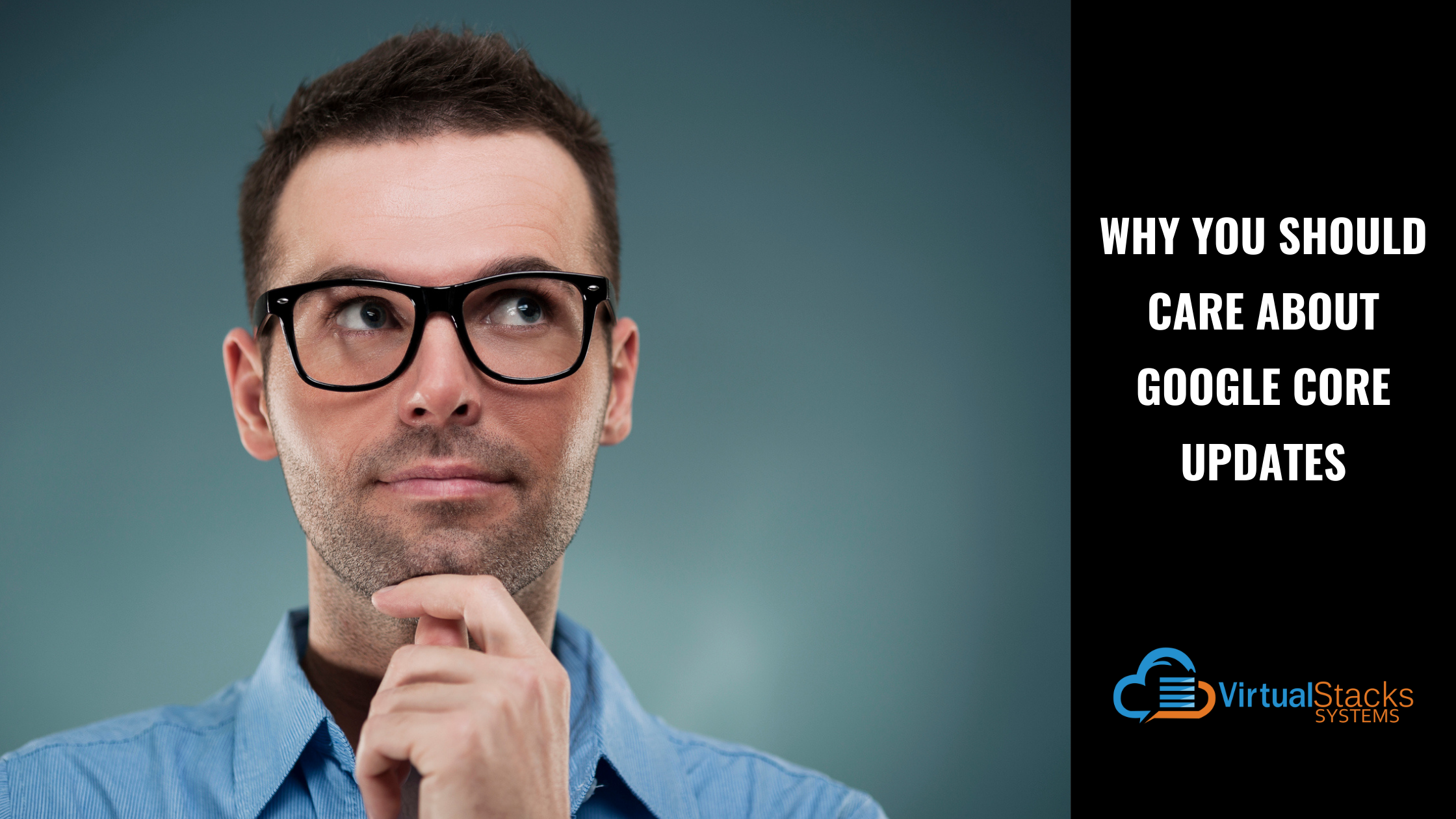 25 Jun

Why You Should Care About Google Core Updates

It's been said that a little knowledge can be dangerous. In the case of Google's core updates, having incomplete knowledge about them can cause panic among small-to-medium-size business owners who only know something about the possibility that their website's ranking can drop after such an update, pushing it down the search engine results pages (SERPs) and out of sight of people searching for a business like theirs. Others have the ignorance-is-bliss attitude and have never even heard of a core update, much less spend time stressing over it.

So which school of thought is right? Actually, neither. You should care about Google core updates – which are currently being rolled out in two phases, June and July 2021 – but for the right reasons. We'll explain those reasons in language intended for business owners, not SEO geeks.
What is a Core Update?
Google makes numerous incremental updates to improve the ability and accuracy of the search engine's results so that visitors can readily find what they're looking for online. Providing visitors with the most relevant results to their search is essential to Google's continued success. A core update is a core of broad improvement to Google's overall ranking process.
As Matt Southern writes for Search Engine Journal, "Rather than targeting specific categories of sites, core updates target search overall."
While the minor tweaks are made quietly, Google announces core updates in advance of implementation for the benefit of website developers and SEO specialists. This heads-up alerts them to be aware that changes in their website's rankings may occur – either positively or negatively, although the latter is more typical.
Danny Sullivan – Google's Public Liaison for Search – explains the need for periodic core updates as follows:
"One way to think of how a core update operates is to imagine that in 2015 you made a list of the top 100 movies. A few years later in 2019, you refresh the list. It's going to naturally change. Some new and wonderful movies that never existed before will now be candidates for inclusion. You might also reassess some films and realize they deserved a higher place on the list than they had before.
"The list will change, and films previously higher on the list that move down aren't bad. There are simply more deserving films that are coming before them."
How Core Updates Could Affect Your Website and Business
As we've said before, a website isn't a set-it-and-forget-it proposition. If your website and SEO strategies don't change to keep up with Google's ranking factors and other technologies, your site eventually becomes a marketing liability rather than an asset. Our blog post – "Does Your Website Need an Extreme Makeover?" – covers these related topics in greater detail.
Inc. columnist Jason Aten writes, "As Google's algorithm changes, it can mean changes in where your content ranks in comparison with other sites. In some cases, sites that rank highly can drop significantly, resulting in dramatic changes in traffic to the site. If you're a business owner who depends on traffic from Google, that can be confusing and frustrating. Often, it can also mean fewer customers and less revenue."
This, in the proverbial nutshell, is why you should care about Google core updates. To complicate matters, Google has made the rare move to roll out this update in two phases – which means that a drop in ranking now could be reversed after July's second phase rollout, or vice-versa.
If Your Ranking Drops, Did Your Website Do Something Wrong?
The cut-to-the-chase answer is "no." According to Sullivan – and by extension, Google – a drop in ranking (and by extension, website traffic) isn't "punishment" for doing something wrong. In his interview with Aten for Inc., Sullivan says, "… these changes aren't because of something they've done, but rather because of how our systems have been improved to better assess content overall and better address user expectations."
Notes Aten, "That means that even if your site suffered a loss of ranking, it wasn't necessarily that you were doing something wrong, or that you're being punished."
Admittedly, that's cold comfort if the core update algorithm passes up the ranking factors the previous algorithm recognized for your website. But as user needs evolve – as they did during the profound changes in consumer buying patterns in 2020 – Google is keeping up to make sure users find the most relevant results.
Google is Keeping Up with User Expectations – Are You?
Being proactive in keeping your website up-to-date is essential in staying on the side of the Google core update angels. If you work with a digital marketing agency for your website and SEO, your agency's team will (or should) make the necessary adjustments. In fact, this would be a good time to touch base with your agency to talk about updates to your website's content and SEO strategy to ensure you're taking every possible step to maintain your ranking – if not improve it!
Following Google-recommended best practices is a good way to be found by Google, so your potential customers can find you! Sullivan and Aten recommend these basics:
Make sure your website is mobile-friendly –

The majority of people use search on mobile devices. That means they're also visiting your website on a mobile device. If it isn't optimized for mobile, visitors will see your site in miniature, unreadable and unnavigable. They'll leave and go to the website of one of your competitors. As if that isn't bad enough, providing helpful information and a good user experience are ways in which Google evaluates your site. Using responsive design and making sure your site works well on mobile is one of the essentials that Sullivan emphasizes. 

Use accurate page titles –

The title of a page tells your readers – and Google – what a page is about. Provide a clear and concise description of the page rather than stuff keywords. Of course, titles should be unique for each page. 

Pay attention to load times –

If your

page takes too long to load

, visitors are more likely to leave than wait. Writes Aten, "Google considers this when providing search results, meaning you should be thinking about it. One of the biggest culprits is having images that aren't optimized for online viewing."

Use alt-tags for images –

Alt-tags are text descriptions of image content. Not only are they important for accessibility, but they also provide information to Google's crawler about the image. Make sure that information is included on a page in text, not only in an image, as Google can't "read" text on an image.

Create a sitemap –

This tells your users – and Google – which pages are important. Just be sure to update your sitemap as you update your website's pages – for example, if you add a new product or service category.

Make sure you have content and information your target audience wants –

Again, it all comes down to

quality content

. To provide it, evaluate the needs of your target audience, which may have changed in 2020. In addition, the customer base for some businesses age out or change with each new generation. If your website's content is geared toward millennials, you're probably not messaging for

Gen Z

successfully. Provide new website content accordingly.

Don't neglect your Google My Business listing –

It's free, and a highly effective means of driving traffic to your website! Writes Aten, "Creating a profile can help your business show up in search results, because you're giving Google more information about what you do and who your customers are. Providing information also makes it easier for customers to contact you."
The Take-Home Message and Our Blatant Self-Promotion
As we hope you've learned, keeping up with Google's core updates isn't a job for an employee you've designated to kinda-sorta handle SEO and additions to your business's website. This is a job better left to the pros than done on a DIY basis. Virtual Stacks Systems is a full-service digital marketing agency offering website design and redesign, SEO marketing, social media marketing, PPC advertising, review management services, social media marketing and much more! We do our job so you can do yours better!
Contact us today to get started!