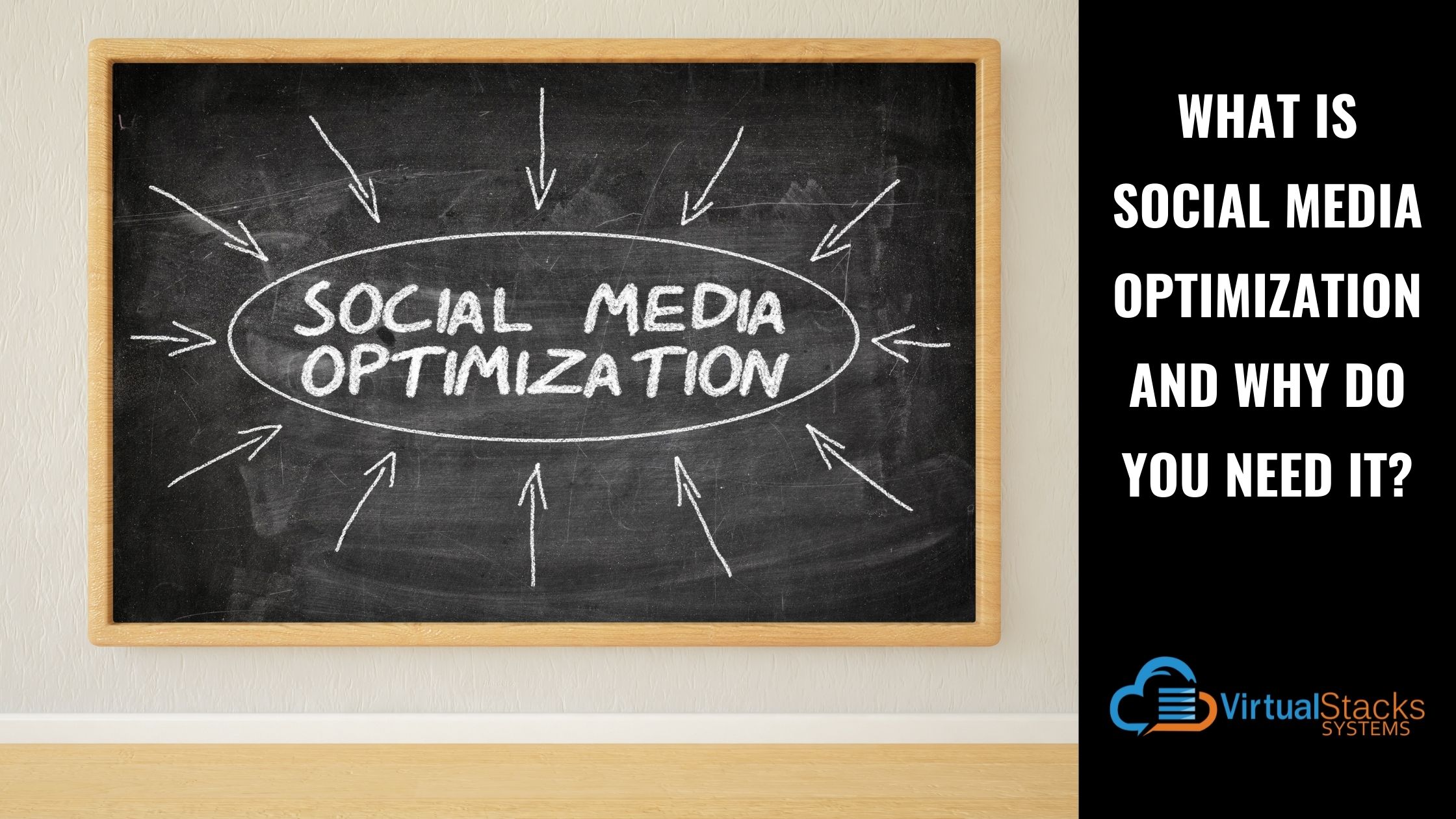 01 Mar

What is Social Media Optimization and Why Do You Need It?

If you're the owner of a small-to-medium-size business with a website, you've most likely heard of search engine optimization (SEO) and conversion rate optimization (CRO). But are you familiar with social media optimization (SMO)? If you've answered "yes" to the first two, but "no" to SMO, keep reading! SMO is an important component of your overall digital marketing strategy, and could be costing you potential customers and market share if neglected.

While SEO is relatively easy to grasp in both concept and practice – that is, taking certain actions in specific ways will help your website increase its ranking in search engine results pages (SERPs) – SMO is a little more tricky to figure out and implement. Incidentally, SMO can have a positive effect on search engine rankings!

According to Lydia Roth – Digital Marketing Manager for Alexa – "It's easy to think that all you need to perform well in search is a fast site with comprehensive content and relevant meta tags. However, Google's algorithms take many signals into account, and performance on social media is one such signal. Performance on social media and things like number of followers and level of engagement can be positive signals for Google. Basically, if your social media is optimized, you're likely to perform better in search as well. Not only that, but if you do a search for an individual or company, social media profiles can appear on the first results page."
Start at the Beginning for SMO
Assuming your business already has a social media presence, take a good look at the platforms you're on to see if they appeal to your target market and make sense for your enterprise. At the time you signed up for social media accounts, you may have thought you needed to be on every platform. Not true! Our blog post – "How to Choose the Right Social Media Platforms for Your Business" – takes a detailed look at the major platforms, and describes their demographics and the best type of content to engage them. Here is a brief summary of each:
Facebook – With 2.42 billion daily active users, Facebook is the undisputed king of social media platforms. According to Lyfe Marketing, almost anyone can find their target audience on this platform and get in front of them. Businesses in every industry have a presence here, and the potential to reach new customers.
Instagram – This platform is best suited for B2C brands targeting younger millennials and Generation Z. As reported by Hootsuite, users under age 35 make up more than 70 percent of Instagram's more than 800 million active accounts worldwide.
Twitter – This microblogging social media platform is best for brands that want to communicate with their audience in real time. There are numerous ways to use Twitter for business – such as growing an online following, customer relations, advertising and more. Many businesses use Twitter for customer support, providing real-time responses to issues and complaints.
LinkedIn – Perhaps the best social media site for B2B marketing, LinkedIn has the ideal demographics, with 92% of B2B marketers preferring to use it over all others. Also, an impressive 80% of B2B social media marketing leads come from LinkedIn. With 630 million active monthly users, more than 61 million hold senior positions in their company.
YouTube – Owned by Google, YouTube is a powerful search engine in its own right. It is often the first place your potential customers go to search for videos about brands, products and services. With 2 billion monthly active users and the strength of Google's advertising platform, YouTube can raise your company's profile, engage viewers and generate leads.
Pinterest – Like Google and YouTube, Pinterest is also frequently used as a search engine. Like Instagram, this platform is highly visual, and is popular as a source of ideas for interior decorating, fashion, beauty, bridal, cooking, gardening, parenting and other lifestyle-related topics. While it skewers female, 50% of new signups are men.
TikTok – One of the fastest-growing social media platforms in the world, TikTok allows users to create and share short videos with music, filters and other features. TikTok's main demographic remains Generation Z, however, so unless your business targets this group, proceed with caution.
Why is choosing the right social media platforms important? Choosing platforms that don't align with your target market and marketing goals ultimately wastes time, resources and budget dollars. Making the wrong choices can result in a failed social strategy that you may struggle to correct without knowing the exact cause. For example, some products or services don't lend themselves to being photographed or presented in a visually interesting way – which means that Instagram probably wouldn't be a good fit. 
Although an Instagram post supports a good amount of text, it's really a visual platform – and if your subject matter falls flat, your intended audience members won't bother to click to read the message.
If you find that some of your social media platforms aren't right for your business, there's no harm in deleting your account. In fact, it's more detrimental to your business's image to keep them up without posting any longer. Our blog post – "Why You Should Kill Your Zombie Social Media Accounts" – covers this issue in detail.
Why Going Behind the Scenes is Important for SMO
Whatever social media accounts you have – or decide to keep – take the next step of going "behind the scenes" to make sure they're optimized! Jena Kosinski of Patriot recommends doing the following to help search engines boost your social media pages:
Add the same contact information across all platforms (i.e., phone number, address, and business website).

Use the same username for each social media account.

Complete your company's bio or "About" section for each social platform.

Incorporate keywords from your website in your social posts and "About" sections.
Kosinski writes, "Be subtle with your keywords, and optimize when you use them. 'About' sections and bios are prime spots for highlighting what your brand is about without overwhelming your posts with the same words, phrases, or hashtags. Consider looking for the best hashtags to use for small business to add to these sections, too.
"Remember to also use links wherever possible. With the goal of driving traffic to your business and website, add links to the most relevant content on your social platforms. Consider creating specialized links (e.g., UTM codes in URLs) to help analyze where your traffic comes from …"
Other SMO Considerations
Consider the type of content you post on your social media accounts. Digital Marketing Institute advises setting a goal. For example, if you want to drive sales, the messaging and nature of your posts will be different than if your goal is to improve your customer service offering. Knowing what you want to accomplish is instrumental to developing the content of your social media posts.
After you know what to post, determine the best time to post it. Digital Marketing Institute recommends deciding on your posting frequency, and creating a content calendar so you don't miss days. As Kosinski notes, "Content is key for social media posts, so it can feel a little overwhelming to have to post on a schedule. But, the benefit of a schedule allows you to consistently stay in front of your audience and customers."
For a baseline, studies indicate that the prime time to post during the week is 11 a.m. to 2 p.m. However, analyze the results. Some posts that get the most "likes" may fall outside these hours. If so, adjust your posting time accordingly. Each social media platform provides analytics so you can consistently track the performance of your posts.
Of course, content is still king! You can have everything else perfect, but if you don't engage your target audience by giving them information they find useful, the needle won't move. Digital Marketing Institute provides the following example:
"For instance, if you're a coffee roastery, your target audience might be interested in recipes for fancy coffee drinks, brewing tips and techniques, and other Java-related articles. Some of the important things you should know about your audience include age, location, gender, goals, likes, needs, behaviors, challenges, and pain points.
"No matter who your audience is, the content you share should always be high quality and relevant. You should investigate the popular content types and prioritize video, images, and other types of visual content as often as possible because these are favored by all demographics and audiences."
The Take-Home Message and Our Blatant Self-Promotion
Our humble blog post has hit the highlights of social media optimization, but as you can tell, there's much more involved. Since it probably isn't practical for your business to add a social media department, why not hire ours?
Virtual Stacks Systems is a full-service digital marketing agency that does it all – including experienced website design, website redesign, SEO services, social media marketing, email marketing and much more! Contact us today to learn what we can do for you. We're ready to be your partner in success!