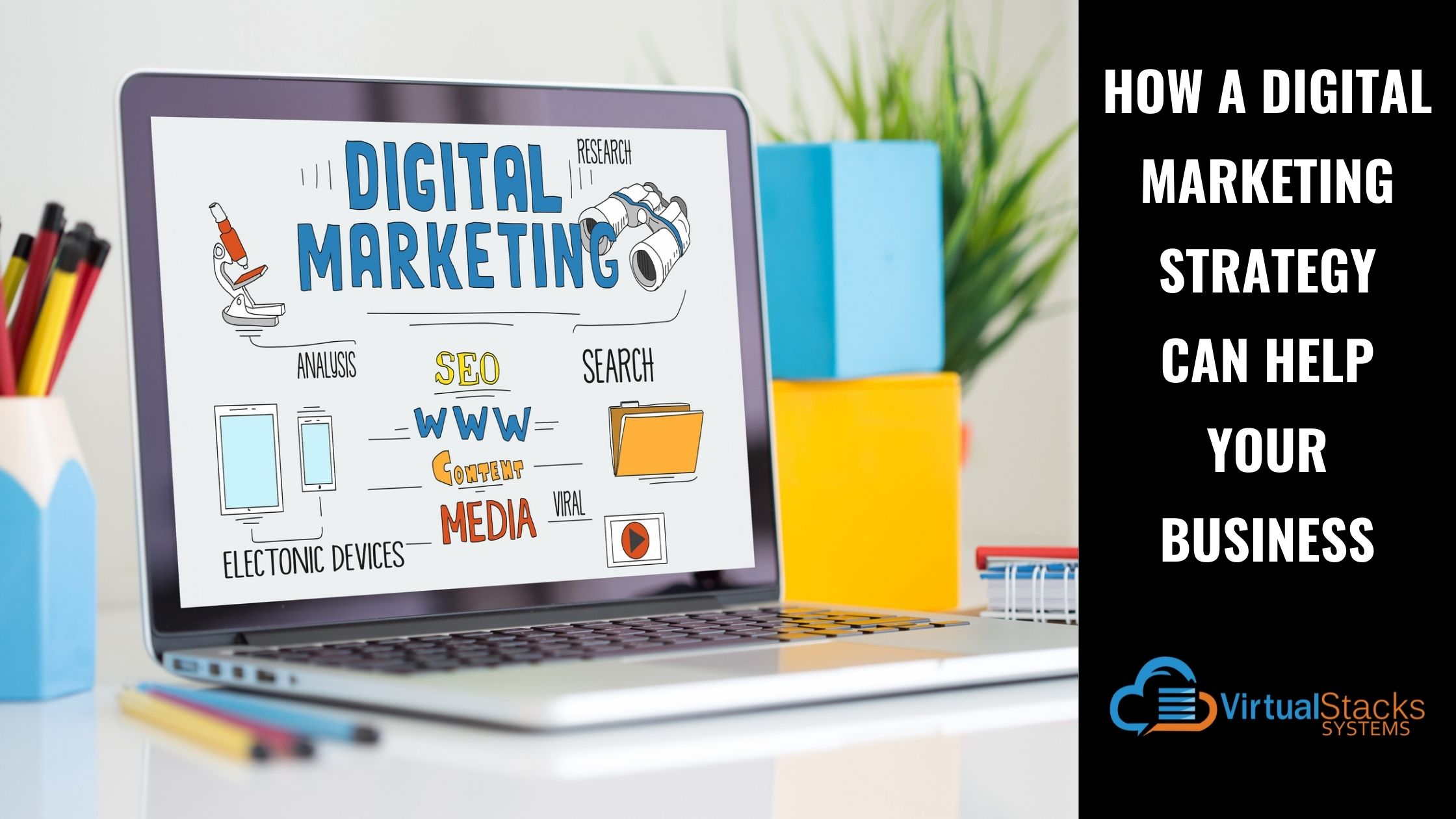 07 Mar

How A Digital Marketing Strategy Can Help Your Business

Whether your business is exclusively e-commerce, brick-and-mortar or a combination, you need a digital marketing strategy to stay competitive. If you're unfamiliar with the concept, Elissa Hudson of HubSpot explains it in user-friendly terms. "A digital marketing strategy helps your business achieve specific digital goals through carefully selected online marketing channels such as paid, earned, and owned media."

Although that sounds challenging, a smart strategy can make all the difference. A digital marketing strategy incorporates numerous factors – such as data analytics, digital marketing resources and industry trends. A successful digital marketing strategy will help you achieve a positive ROI in regards to website visitors, conversion rates and overall sales.

To have an effective digital marketing strategy in place, you'll need to know what your audience is looking for, understand analytic data and know how to add event tracking to your website.
Know What Members of Your Target Market Are Looking For
Knowing the members of your target market doesn't necessarily mean knowing them personally. Rather, you need to know your audience in terms of data. Writing for Forbes, digital marketing expert Nicole Martin emphasizes the necessity of collecting data on your target audience in order to guide you on marketing decisions, instead of relying on guesswork.
"You can use data to determine what things your audience interacts with on your site and in your campaigns such as emails and ads. When deciding on audiences to target, you need to determine their intent."
Audience data provides factual support for developing an informed digital marketing strategy. Think of it as the difference between piloting a plane with a sophisticated instrument panel and one with just a couple of gauges.
The first step in gathering target audience data is to know what they are looking for online, and this starts by collecting information on your audience demographics, interests, search queries, social media activity, technology use, website interactions and more. You also can collect data on how visitors interact with your website. Are they visiting the pages or interacting with the content that you want them to?
One way to improve your website marketing strategy is through keyword research, which is an important element of search engine optimization (SEO). Discovering the keywords your target audience uses to find your content or type of content online can help you optimize the current content on your website by strategically incorporating these keywords. This process will increase overall web traffic and increase traffic from your target audience. Tools such as Google Ads Keyword Planner can be a great asset to finding the right keywords to reach your audience. These keywords can be used for improving your on-page SEO strategy, online advertising strategy and social media strategy. Of course, it's important to remember that keyword research is an ongoing process as part of your complete digital marketing strategy.
Understanding Analytic Data
COVID-19 has affected business both at their physical locations and online. It has also impacted online user behaviors, including search queries and search engine results pages. Although many businesses have resumed normal operations, the effects of the pandemic on consumer buying patterns are likely to be permanent. Our blog post – "Could COVID-19 Change Digital Marketing Forever?" – covers this issue in detail. Because of such profound shifts, formulating or updating your digital marketing strategy is more crucial than ever to ensure your website, content and business information are reaching your customers and target audience.
This is where the importance of using analytic data to better understand your audience comes into full view. Data from Google Analytics about your website and Google Ads performance is extremely insightful for gathering every category of data you need to make informed decisions about your website and digital marketing. Social media analytics can also improve your data collection and insights. 
These analytics reports can help you specifically uncover what types of content your audience is or isn't engaging with when it comes to your website, ads and social media. You will also gain insight into specific audience user behaviors – such as what time of day they access your website, their locations by area/region, the type of devices they used to access your website (mobile, desktop, etc.) and more. All of this data can shed new light on your digital marketing strategy, both as to what is performing well and what needs to be improved.
In digital marketing, you can't rely on hunches, feelings or what you "think" about your audience and your business. While these can be helpful at times for influencing some decisions, the hard data always shows the reality. This is why knowing how to collect and properly analyze your online performance data is vital to the success of your digital marketing strategy.
Adding Event Tracking to Your Site
Event tracking gives you more options for tracking and measuring user interactions on your website, and can be added through your Google Analytics/Google Ads account. As mentioned earlier, tracking how users interact with every aspect of your website and online ads will provide an enormous resource of data to use when developing an effective digital marketing strategy. Event tracking works by monitoring specific user behaviors on a website or ad, triggering a record of an on-site conversion when the tracked action is completed. 
Examples of what event tracking can be applied to include:
Downloads

Filling out a form

Button clicks

Social sharing

Adding to a shopping cart

Logins
When you set up a custom event goal in Google Analytics and add the assigned code to your website, you can also track this data in your Google Ads. This will better inform you of the success of your current ad spending and how to adjust your budget accordingly. 
If you are setting up your event tracking on your own, there are a number of custom event tracking templates available online. Once you've filled out the required fields for your event tracking, you will receive a code that can be used in the events to be tracked, whether on your website or your Google Ads. We're getting a little ahead of our blatant self-promotion, but having a web developer embed this tracking code will ensure that it's done properly.
Making full use of event tracking will give you the full picture of how your website content and ads are performing online. Without it, your digital marketing strategy is more like wandering the internet blindfolded. Sure, you could luck out and successfully find your way around, but that's quite unlikely to happen. Instead, your business needs to rely on a roadmap to chart a course to success through conversion rates and sales.
The Take-Home Message and Our Blatant Self-Promotion
We often conclude by noting that you're probably too busy running your business to learn the intricacies of digital marketing. This time is no exception. Just as your customers depend upon your business to deliver a great experience, you can depend upon our experienced digital marketing team at Virtual Stacks Systems to make sure your messaging is always on point and reaching the right audience.
Our full-service digital marketing agency does it all – including experienced website design, website redesign, SEO services, social media marketing, email marketing and much more! Contact us today to learn what we can do for you. We're ready to be your partner in success!