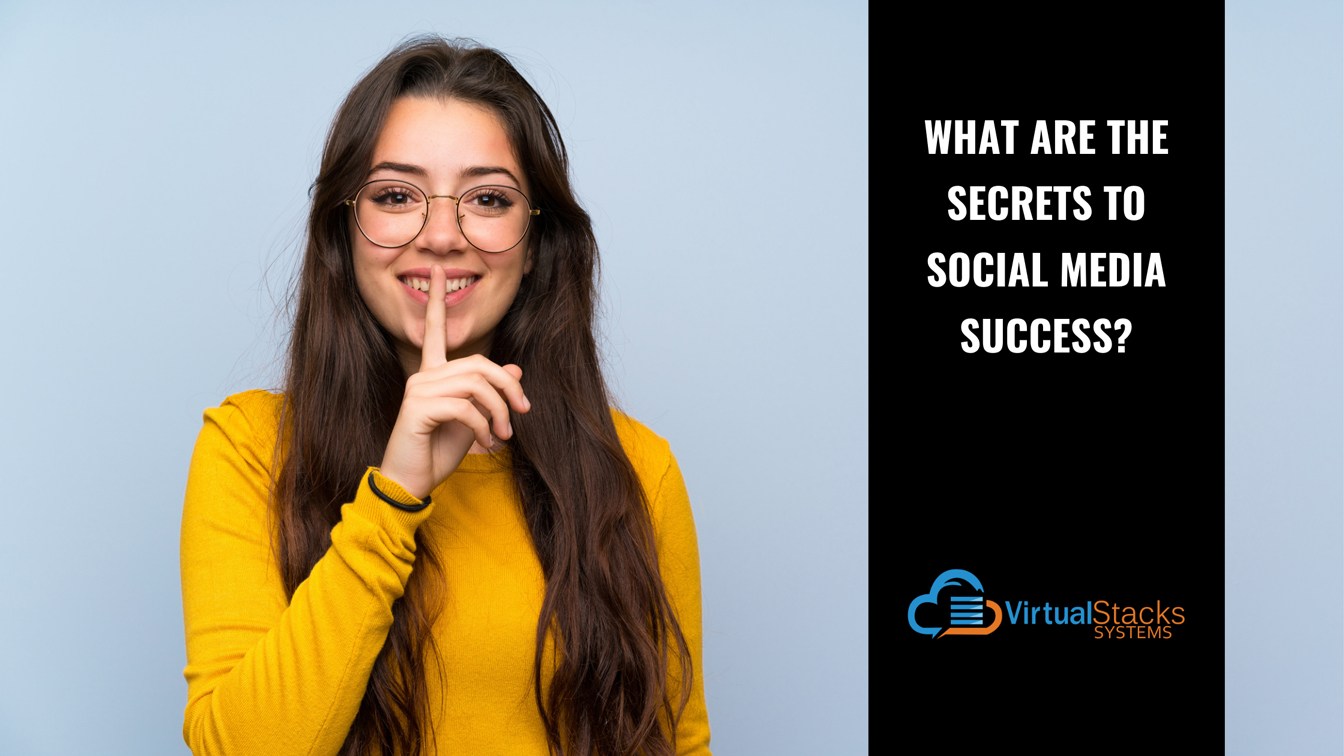 20 Apr

What are the Secrets to Social Media Success?

Effective marketing includes finding the right channels to deliver messages to your target audience. Not all platforms and channels are the same when it comes to the individuals who use them, how content is shared and engaged with on the platform, and whether or not the platform is simply a good fit for your business. This is especially true for social media.

Despite its popularity, social media marketing isn't magic. If you only set up social media accounts and ignore them, you can't expect to see great – or any – results. Social media marketing is hard strategic work, and each social media platform requires even more nuanced strategy and understanding.

There are countless ways to improve your social media strategy and achieve success, but there are three main secrets that any social media marketer can adapt for every platform. These secrets include defining what success actually means to your business, knowing your audience and prioritizing quality over quantity.
Define What Success Means to Your Business
As the often-misquoted quote by Lewis Carroll's Cheshire Cat states, "If you don't know where you're going, any road will take you there." This also holds true for your business's social media.
Our blog post — "Social Media Marketing Mistakes to Avoid" — explained how not measuring your success is one of the biggest social media mistakes you can make. Without a plan in place, your social media posts lack purpose and the ability to engage members of your target demographic.
Writing for Connext Digital, Rob FitzGerald observes, "Social media marketing will perform as good as the strategy behind it. More than just making a certain number of posts a day, your brand's strategy will be the foundation for everything that follows. Effective social media strategies include an action plan aligned with your company's specific goals. It also includes the type of posts and content for your chosen platforms, as well as the kind of tone and voice your brand will take on."
Also consider the primary goal of your social media marketing. Is it to increase leads/sales? Build brand awareness? Build brand loyalty and retain customers? To mash up quotes from Lewis Carroll and David Byrne, if you don't know where you're going, you're on a road to nowhere!
To create a useful guide, implement SMART (Specific, Measurable, Achievable, Realistic, Time-sensitive) goals. As a starting point, ask yourself what success means to your business. This will help you determine what kind of success you should be measuring when it comes to your social media performance.  This will be different for every business, brand and social media marketer.
Consider some of these common goals for defining success on social media:
Boost web traffic — Social media can boost your web traffic if you create content that directly directs or encourages users to visit your website for more information or to engage with your products and services. Increasing your website traffic with social media is accomplished by making your social media platforms and your website a resource that your target audience values and can visit again and again for more helpful, informative or entertaining content. This can lead to a strong brand authority and improved customer trust.
Grow sales — Along with increasing your web traffic, you can use social media to specifically drive up sales on your website by promoting your products or services. On social media, you need to do more than just post pictures and product information. You have to really sell the benefits and the lifestyle of what your brand offers. This is known as "social selling," and it can be very effective. You can track this success by comparing your social media campaigns directly against your sales data to see if there are any correlations.
Obtain new email subscribers — Social media can also help improve your other digital marketing efforts, including email newsletters. Use your social media platforms to discuss the exclusive content your email newsletters provide, while still giving them a sneak peek through your social media posts of the content they can expect in the newsletter. Email marketing is a great way to engage with your existing customers, while social media helps you both engage with those existing customers while attracting new ones.
Provide better customer service — Customer service has become more public, and social media is the perfect platform to highlight your commitment to providing the best! Engage with your customers' concerns, take the time to praise your employees who provided great customer service, share positive customer reviews and more! Results you can track from your customer service efforts include customer loyalty and positive feedback online.
After you've set some clear goals and ways you plan to measure your success on social media, you then need to really understand your customers.
Know Your Audience
Knowing your audience is the next important social media marketing secret. While this crucial step may initially seem obvious, it's often overlooked. If you don't truly know and understand your target audience, you won't be able to choose the right social media platforms or create engaging content.
When starting out on social media, you can get an early boost of followers by encouraging your friends, family and existing customers to follow your business accounts. At the start, you'll know who your audience is — but how do you grow? This requires doing research on your target audience and using social listening techniques to discover who they are in terms of demographics, what their interests and values are, how they prefer to use social media and what types of content they prefer to engage with.
Your target audience may also differ on each social media platform, depending on which members of your target audience use which platforms and how they use them. Just as you should create a buyer persona of the average or ideal customer who would purchase your products and services, you will also need to do the same for social media.
Once you know who your audience is and who you're presenting your social media content to, you can make more engaging content that will boost your business goals and objectives!
Quality Over Quantity
Finally, how do you create more engaging content? By prioritizing quality over quantity. While posting content often and on a consistent basis is helpful for gaining favor with social media algorithms and for staying relevant with your audience, simply posting more often doesn't automatically bring greater success. What matters more is posting high-quality content for your audience, even if it means posting on a less frequent basis. Our blog post – "What is Quality Content?" explains this important topic in detail.
Your business likely may not need to post multiple times per day or even every single day. Posting frequently but with content that doesn't meet your audience's needs, interests or expectations can actually harm your social media presence in the long run. Too many posts that seem random, irrelevant or offer no value can come across as spammy. When this happens, your audience won't engage with your content at all, and your posts will become excluded from being seen on social media due to social media algorithm preferences for content that users have engaged with. Engagement metrics indicate to social media platforms that your content provides value to your audience.
Use what you learned about your audience to create quality content that resonates with them, and consider creating a content calendar to help create varied content and a schedule for posting on a regular basis.
The Take-Home Message and Our Blatant Self-Promotion
Even though we broke down the secrets of social media success into three main categories, implementing the necessary strategies and steps requires a good deal of time and resources that your business may not have. That's what we're here for! Let our digital marketing team at Virtual Stacks Systems be your one-stop agency for your social media marketing, website design and redesign, SEO services, email marketing and pay-per-click (PPC) services. Contact us today to learn more and get started!