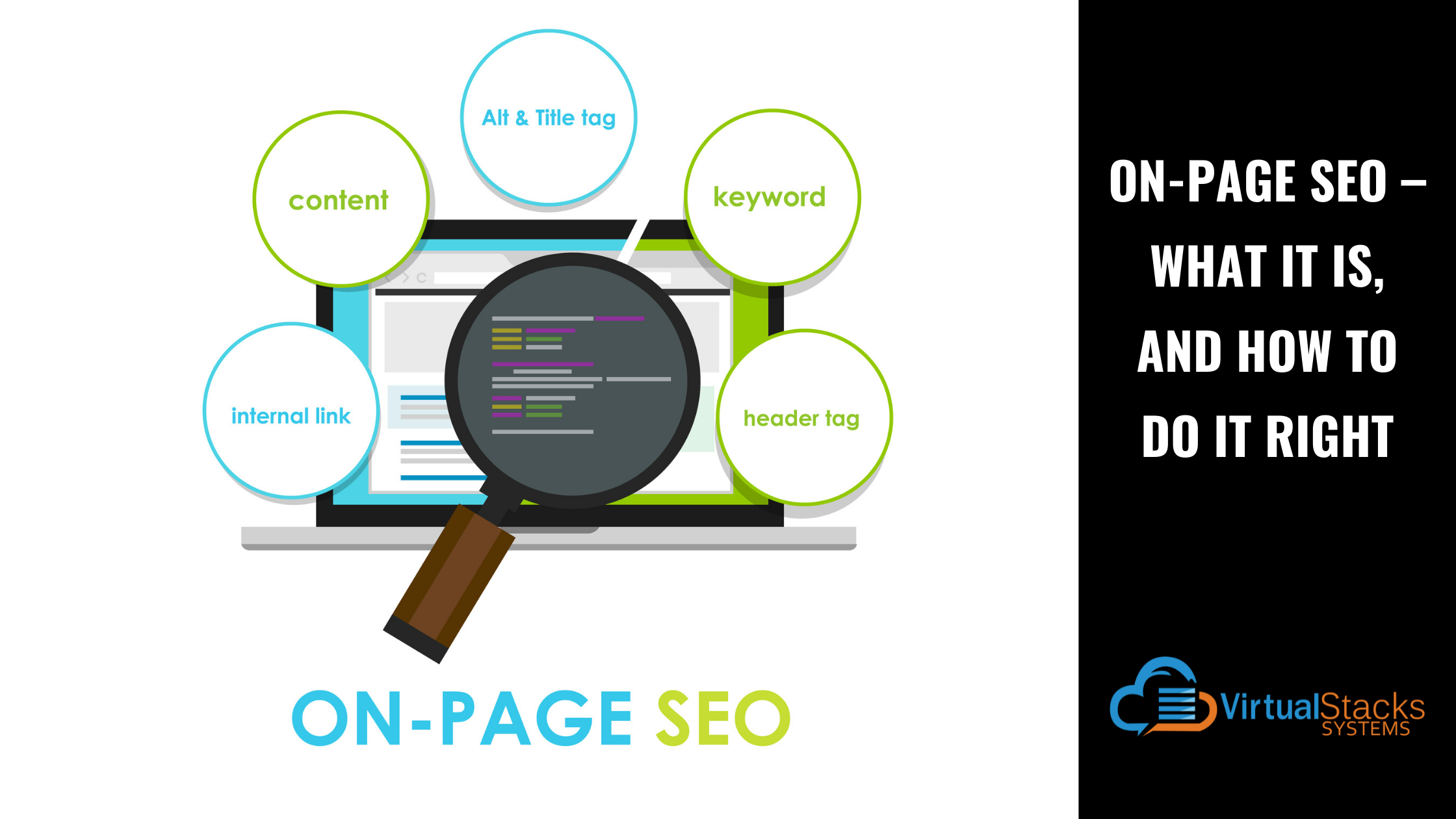 18 Oct

On-Page SEO – What It Is, And How To Do It Right

It seems that not enough can be said about the importance of search engine optimization (SEO) for business websites. Employing SEO best practices can help your website rank high in search engine results pages (SERPs) – which means that people searching for what you have to sell will find you faster (and assume your business is a leader). Ignoring SEO – or using methods that are outdated or piecemeal – will have you languishing much farther up the page count. Considering most people who search online for businesses don't go beyond the first page of search results, that practically relegates your website to oblivion!

Obviously, you want as much going in your favor as possible. On-page SEO is essential to give your website the competitive edge it needs to get noticed – and start generating leads and/or traffic for your business, be it brick-and-mortar, e-commerce or a bit of both.
On-Page SEO – A Brief Definition
If you're unfamiliar with this term, you may wonder how it differs from regular SEO. The distinction is small, yet significant. According to Search Engine Journal, "On-page SEO (also known as on-site SEO) refers to the practice of optimizing web pages to improve a website's search engine rankings and earn organic traffic.
"In addition to publishing relevant, high-quality content, on-page SEO includes optimizing your headlines, HTML tags (title, meta, and header), and images. It also means making sure your website has a high level of expertise, authoritativeness, and trustworthiness. It takes into account various aspects of the webpage that, when added together, will improve your website's visibility in the search results."
In case you're wondering, on-page SEO implies the existence of off-page SEO – which involves tactics that are outside your own website, yet impact its visibility across the web. As Semrush editor and SEO expert Connor Lahey explains, "For example, one of the most common off-page optimization strategies is link building. Having other reputable sites link back to your page helps demonstrate to search engines that this particular page is well regarded by others." Our blog post – "The Importance of Backlinks in SEO" – covers this topic in greater detail.
How to Optimize Your Website's On-Page SEO
Google's increasingly complex algorithms are now much better at understanding user intent when they type a query, writes Anna Crowe, Assistant Editor at Search Engine Journal. Knowing what Google "looks" for can give your website – and your business – a big advantage. "If you put effort into on-page strategies, you'll see a boost in traffic and a rise in your search presence."
Use your target keyword in the first paragraph or first 100 words – Google's algorithm (as well as that of other search engines) looks for keywords and terms that provide it with indications about your website's content and the type of information it contains. Using your keyword early lets you make your topic and the page's intent clear from the start.
Use LSI keywords – LSI stands for latent semantic indexing. LSI keywords are words that are related to your keyword. Their purpose is to help search engines better understand the content of the page by adding context and connecting the copy to the target keyword. While you are likely to use LSI keywords when you write longer content, it's easy to specifically search for them. Enter your keyword on Google and look to the bottom of the search page. Here, you will find "searches related to," which shows the related keywords users are searching for.
Use H1 and H2 tags for titles and subtitles – These tags help draw search engine spiders to your page title, as well as your page content's hierarchy. Taking this step serves to make the content outline clear so that the algorithm "understands" how you've organized the text.
URL optimization – The URL structure of your webpage can also be pressed into service to deliver SEO benefits. "Specifically, when you create a URL that includes important keywords, it becomes even more obvious the topic that this particular page will cover," Lahey writes. "Both search engines and users can look at the URL and feel confident knowing the topic of a particular page. This can encourage users to click from the SERP to this particular result, increasing your traffic."
Don't overlook title tags – The title tag is an HTML tag in the head section of every webpage. In SERPs, it appears within the result below the URL and above the meta description. A well-written title tag will give users relevant information about the page's content so they can determine if the page has the content they're looking for – which can prompt more clicks and traffic to your site.
However, Crowe cautions, "… missing, duplicate and poorly written title tags can all negatively impact your SEO results, so make sure you're optimizing for this element."
Make your meta description a "best seller" – The meta description – or meta tag – is the description that displays when your page shows up on the search engine results page. It provides more information about the page's content. When written effectively – using keywords that align well with user intent – the meta description can help improve the click-through rate (CTR) to your site.
Optimize images – You may have great photos and/or graphics on your website's pages, but need alt tags so Google can "see" each one as a piece of content. Alt tags also help visually impaired visitors experience your site more fully. Also make sure that images load quickly by reducing the file size and implementing lazy loading – which is a design pattern used in web design to defer initialization of an object (such as a page graphic) until the point at which it is needed. Visitors quickly leave when pages are slow to load!
Link externally – Linking to external sources is also known as outbound links, which are used to provide additional information about a topic covered in your website's content. This is common practice in blog posts, as our own posts include hyperlinks to the sources we reference. Doing so not only gives credit to sources, but adds authority to your site. However, make sure your outbound links link to credible sources, and not clickbait sites or those that lack credibility.
Link internally – Internal links are hyperlinks within your web pages that direct users to other relevant web pages in your website. This helps search engines build a map of your website and keeps users engaged with your content.
Content is still king – Hopefully, this is an SEO basic that everyone already knows. Search engines reward high-quality content, as do visitors when they convert to customers. Lahey provides the following advice for creating content that boosts engagement:
Use clear headlines that indicate the topic of each section of your content to boost readability.

Use bullets and lists to make the material easier to scan. 

Incorporate video into your content.

Create relevant calls-to-action (CTAs) that encourage users to click and access gated content.

Have a clean and crisp layout that doesn't distract users from your content.

Ensure the page speed is fast by

following load time best practices

.
The Take-Home Message and Our Blatant Self-Promotion
As a business owner or decision-maker who focuses on running your enterprise – regardless of its size – implementing best on-page SEO practices is probably out of your wheelhouse. That's what Virtual Stacks Systems is here for! Our full-service digital marketing agency does it all – including experienced website design, website redesign, SEO services, content marketing and much more! Contact us today to learn what we can do for you. We're ready to be your partner in success!