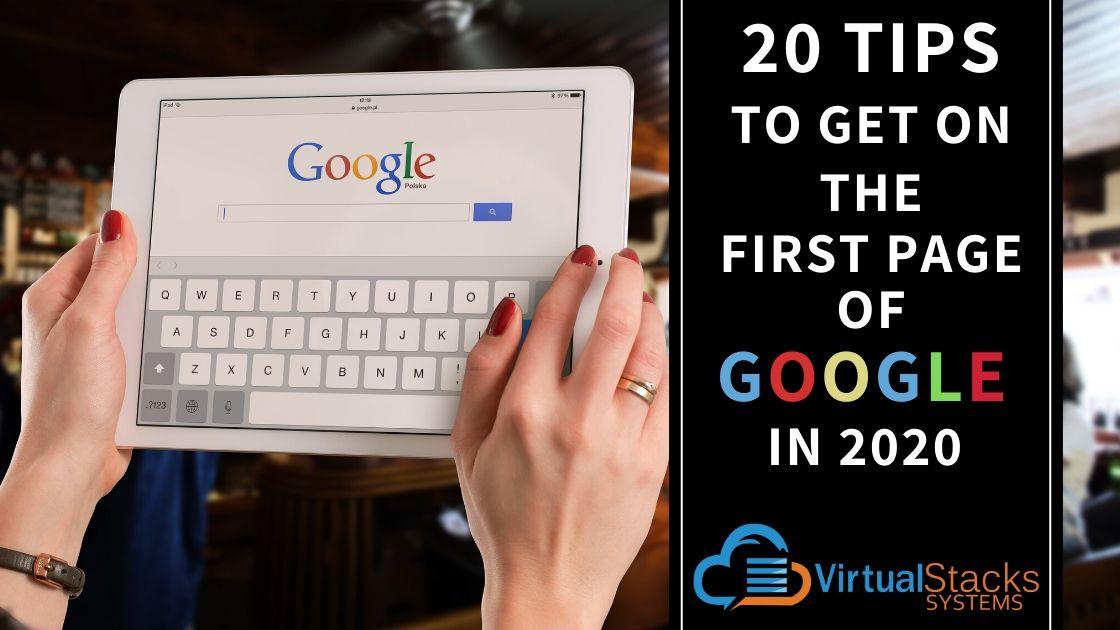 28 Feb

20 Tips to Get on the First Page of Google in 2020

Of all the questions that business owners ask their digital marketing agency, "How do I get my website on the first page of Google?" tops the list. The reason is obvious. Most people looking for businesses, products, services, answers to life's questions, etc., don't bother to go past the first page of Google search results. Most people also assume that the companies, products and services on the first page are the best, and therefore the most worthy of their time to visit – leaving the other websites in the dust with fewer leads and sales conversions.

So today, we will gladly answer that question! Here are 20 proven steps you can take to get your website on that coveted first page position.

1. E-A-T strengthens SEO – an acronym for Expertise – Authoritativeness – Trustworthiness, E-A-T is a component of Google's YMYL (Your Money or Your Life) content quality rating. In plain language, Google's 2018 major algorithm update was designed to ensure that websites that could potentially impact the future happiness, health, financial stability, or safety of users deliver correct information. Our blog post – "Stand and Deliver – How to Rank for Google's Your Money or Your Life Guidelines" – covers this topic in detail.

To cut to the chase, however, websites that establish their content as being fact-based, produced or reviewed by industry experts, and accurate will be favorably evaluated by Google's search quality raters – so optimizing for Google's search engine algorithm is now only part of the effort to achieve good SEO. Make sure your content is from credible, unbiased sources – for example, Mayo Clinic instead of CureForItchyFeet.com.

In Google's own words, "Keep in mind that there are high E-A-T pages and websites of all types, even gossip websites, fashion websites, humor websites, forum and Q&A pages, etc." In other words, if it's worth putting on your website, it needs to be of worth to your visitors – which, in turn, increases your value and your search ranking!

2. Make sure your website is secure – Google gives preferential treatment to websites with valid SSL certificates. SSL stands for Secure Sockets Layer, a global standard security technology that enables encrypted communication between a web browser and a web server. It authenticates the identity of the website (guaranteeing visitors that they're not on a bogus site), and encrypts the data that's being transmitted.

Besides, visitors to your website who use Chrome don't want to see the dreaded NOT SECURE warning in the URL bar. It makes them think your site isn't safe to even browse, much less fill out forms or enter any kind of information.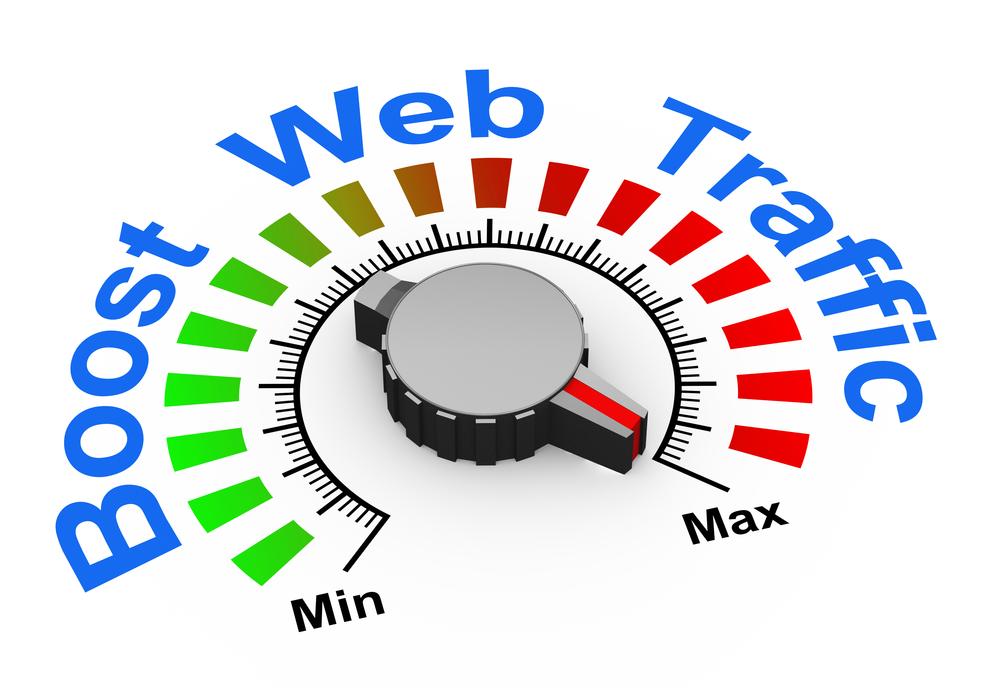 3. Improve your page speed – As we covered in our blog post – "Why Your Website Needs to be Up-to-Speed" – site speed is one of the signals that Google's algorithm uses to rank pages. Google thoughtfully provides its PageSpeed Insights, which analyzes the content of a web page, then generates suggestions to make that page faster. Cognitive SEO provides additional tips for improving page speed. All of the most advanced conversion rate optimization (CRO) analytics won't help your business if the website loads too slowly (approximately 400 milliseconds – the blink of an eye) on mobile or desktop.
4. Make sure your site is optimized for mobile users – According to the latest statistics from Statista, mobile devices account for approximately half of web traffic worldwide. As revealed in our blog post – "What You Need to Know About Mobile-First Web Design" – Google punishes websites that aren't optimized for smartphones and tablets. Also consider that your potential customers will punish you with high bounce rates when they see the desktop version of your website rendered in miniature (and unnavigable) on their mobile device. Backlinko provides a comprehensive guide to this important topic.
5. Get ready for BERT – No, we're not throwing back to our Sesame Street childhood. An acronym for Bidirectional Encoder Representations from Transformers, BERT uses machine learning to improve Google's understanding of user intent behind complicated or ambiguous queries. According to Google, BERT represents "the biggest leap forward in the past five years, and one of the biggest leaps forward in the history of Search."
As Mike Fantis of The Drum Network writes, "Going live in the US in October 2019 and expanding to other countries and languages throughout 2020, BERT will not only impact the type of ranking content featured but also the kind of rich snippets, excerpts, and other information displayed." Enough said!
6. SERPs and Page 1 of Google – We again turn to Fantis, who observes that search engine results pages (SERPs) are replacing website dwell time.
"Over the past 12 months, Google has moved to display an increasing volume of third-party content directly in SERPs. Search results now reveal snippets from the site, graphs, maps, answer boxes, video content playable at a click, and carousels of images. The net result? Fewer reasons for a user to click through to a brand's website.
"Although this trend could easily set off alarm bells, this needn't be the case for marketers whose objectives are conversions rather than website vanity metrics. If the SERPS present all the information needed for a user to convert, what does it really matter? Indeed, the development of organic carousels means brands could have three or four powerful touchpoints on one single results page."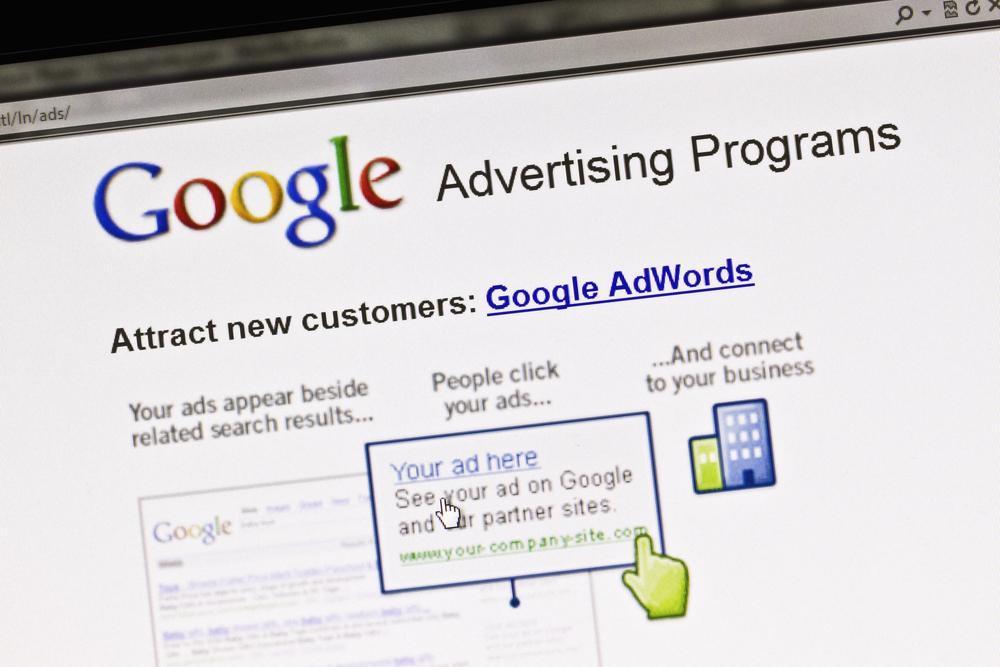 7. Build your Google My Business listing – Google My Business is a free tool for businesses to manage how they appear on Google Search and Maps. In the words of Google itself, "By verifying and editing your business information, you can both help customers find you and tell them the story of your business." When properly optimized, a Google My Business account helps you stand out, be found easily and be more likely to get chosen by customers. Our blog post – "How to Use Google to Boost Your Business" – provides an in-depth look at its many benefits.
8. List your business on other directories – ThriveHive recommends creating and optimizing listings on other popular directories, like Yelp. "First, because Yelp has high traffic and is widely trusted by Google, so your business's Yelp page can very well show up on the first page of Google for relevant searches. Second, because a solid listing with positive reviews improves your online presence in general. Online review and links from other trusted sites send signals to Google that figure into its ranking algorithm."
9. Pay-to-play: The power of Google Ads – Google Ads is online advertising that lets you target the type of customers you want, reaching them right when they're searching for your products or services.
These pay-per-click (PPC) ads that appear in Google's search results pages can be an ideal way to generate traffic that converts into customers. Because Google Ads are paid advertising, your company's ranking in Google's organic search results don't affect the ad's placement. This is a great solution to get higher visibility and more traffic to your site if your site isn't on the first page of results. Google Ads quickly get attention and prompt clicks – as long as you get them in front of the right people, using the right tactics! Our blog post – "Why Does My Business Need to Use Google Ads?" – provides a comprehensive look.
10. Keep producing original content – High-quality original content, that is! Google rewards websites that produce fresh content with higher rankings. This tells Google that the website is active, and providing content relevant to what users are looking for. This second part is key, however. Our blog post – "What is Quality Content?" – emphasizes the importance of well-written, high-quality content that's useful to visitors.
For most websites, publishing a blog post on a regular basis fills this requirement. A good blog post should incorporate SEO keywords as an organic part of the post (as opposed to the old practice of keyword stuffing, which now gets you penalized by Google), and address questions and concerns that members of your target audience want answered – or provide useful information that helps guide them through the customer journey.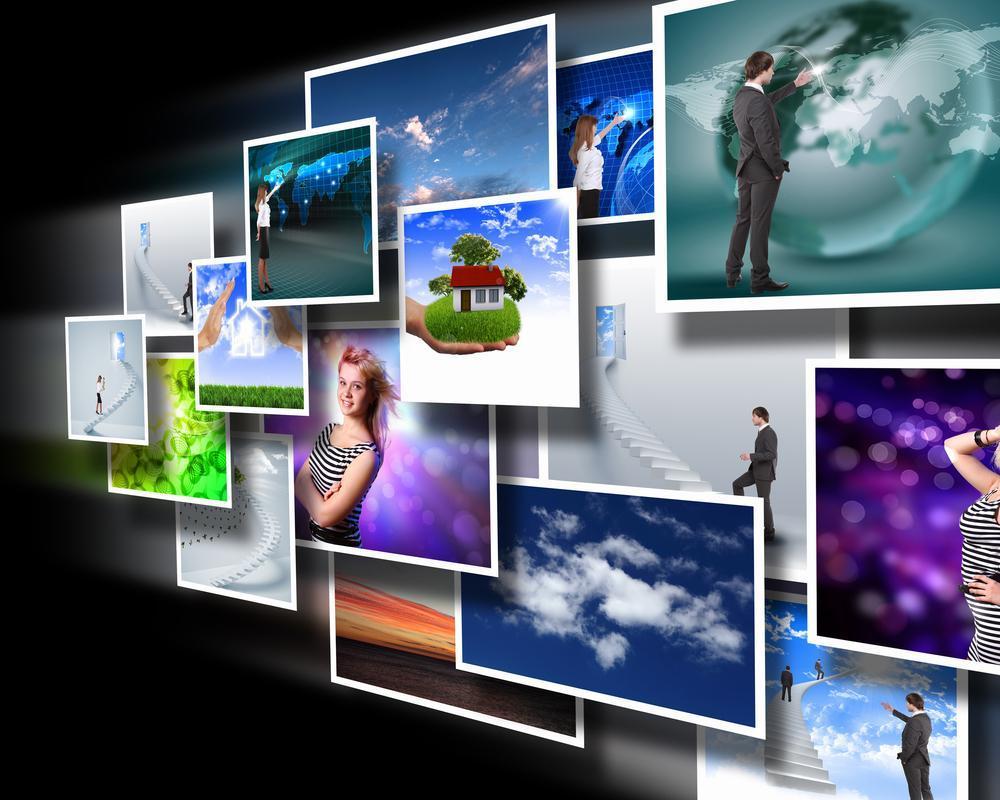 11. Images are everything – Yes, images are content, too! According to Jeff Bullas, 60% of consumers are more likely to consider or contact a business when an image shows up in local search results. Accordingly:
12. Use original images – Utilize stock photography, if necessary, but avoid clichéd subject matter (such as the ubiquitous handshake).
13. Make sure they're optimized – Large images slow down web pages, which creates a poor user experience (UX). Optimizing images is the process of decreasing their file size, using either a plugin or script, which in turn speeds up the load time of the page.
14. Make sure there isn't a copyright issue – Grabbing an image off of Google Images could get you in trouble if you use an image protected by copyright. SEO Mechanic provides a list of safe sources.
15. Focus on the user experience – Keep navigation simple and logical, so visitors can find what they want (and take the actions you want) as quickly and easily as possible. If they can't, delays or confusion due to poor UX can increase your bounce rate (bad for SEO) and decrease conversions (bad for business).
16. Leave breadcrumbs for your website visitors – Making it easy for visitors to backtrack to a previously visited page (or pages) is also part of providing a good UX. A visual back button also helps search engines effectively group your related content together, thereby boosting SEO.
17. Include a Search box on your website – For larger websites with deep content, a Search box helps visitors find what they're looking for faster.
18. Make sure your website is accessible to everyone – The Americans with Disabilities Act (ADA) requires that websites provide accessibility for all possible users. Accessibility overlaps with other best practices – such as mobile web design, device independence, multi-modal interaction, usability, design for older users and search engine optimization (SEO). Case studies show that accessible websites have better search results and increased audience reach.
For example, adding alternative text (alt text) to website images not only identifies the subject matter of an image to visually impaired users using screen readers, but allows Google and other search engines to "see" the image, thereby helping SEO.
19. Use quality keywords on your website – If you don't know how to use keywords, your business will suffer. Our blog post – "How to Get Found With SEO Keywords" – covers this topic in depth. Optimonster provides additional step-by-step details. Keep in mind that Google's algorithm isn't set in stone, and changes over time. What may have worked in the past may be working against you now!
Google's current algorithm encourages users to ask questions, which favors long-tail keywords. A long-tail keyword is a keyword phrase that aims to capture search traffic from a specific search query consisting of three or more words. They're used to target niche demographics rather than mass audiences.
The "long-tail" refers to the search demand curve. As keyword terms become more specific and detailed, search volume becomes less competitive, but searcher intent becomes higher. Since they're very specific, they allow you to rank highly in search results for specific topics relatively quickly – and also tend to attract highly qualified traffic that's more likely to convert to leads and customers. For example, someone searching for "shoes" is most likely just browsing, while someone searching for black basketball shoes is ready to buy.
20. Analyze how your site is doing – You don't know if your SEO efforts are having the desired results unless you conduct an analysis. Virtual Stacks Systems provides a free page audit that includes the following:
Your website's

SEO

score to discover where organic reach can be improved.

If any of your pages are broken, or cannot be accessed by search engines.

Security vulnerabilities that could make you a target to malicious hackers.

Other problems that are blocking your SEO progress.
As you've now learned, reaching and maintaining that desirable Google page one ranking takes a good amount of sustained hard work! Yet, it's counterproductive to spend so many of your resources on SEO that it takes attention from running your business. That's what Virtual Stacks Systems is here for! Our SEO team can help you achieve your marketing goals. We also provide experienced web content writing, along with our web design, website redesign and pay-per-click services. 
Contact us to learn more and leave it to our pros! We're ready to be your partner in success!