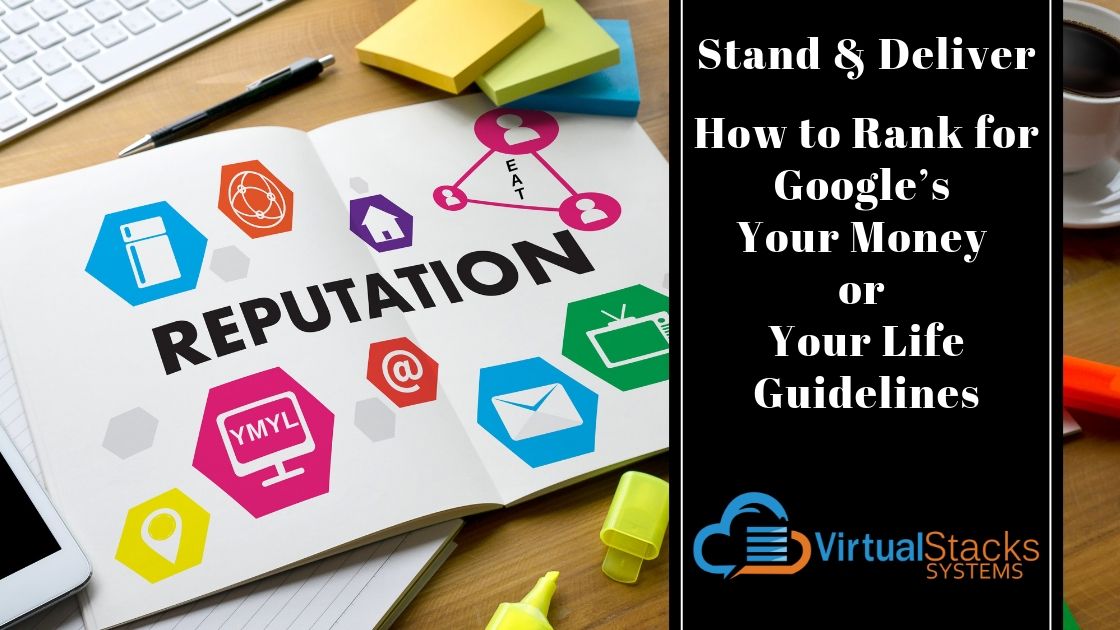 25 Jul

Stand and Deliver – How to Rank for Google's Your Money or Your Life Guidelines

On August 1, 2018, Google rolled out a broad core algorithm update that was soon dubbed the "Medic update" by Barry Schwartz, Search Engine Land's news editor. The reason? While such updates typically cause a drop in search engine page rankings (SERPs) for many websites, this particular update hit health and wellness-oriented sites the hardest – with other niches – such as e-commerce, insurance, finance, business-to-business, entertainment and deal sites also affected. The message from Google was clear: The time had come to for sites that want consumers to trust them with their money or their life to stand and deliver improved credibility.

Whether or not your business's website was negatively affected, knowing more about how Google's "Your Money or Your Life" (YMYL) pages work can help you regain lost ranking – or improve your ranking even if it didn't initially suffer.
What are YMYL pages?
Google identifies YMYL pages as the types of web pages that could potentially impact the future happiness, health, financial stability, or safety of users. The following are examples of YMYL pages, taken directly from the Google Quality Rater Guidelines:
Shopping or financial transaction pages: webpages that allow users to make purchases, transfer money, pay bills, etc. online (such as online stores and online banking pages).
Financial information pages: webpages that provide advice or information about investments, taxes, retirement planning, home purchase, paying for college, buying insurance, etc.
Medical information pages: webpages that provide advice or information about health, drugs, specific diseases or conditions, mental health, nutrition, etc.
Legal information pages: webpages that provide legal advice or information on topics such as divorce, child custody, creating a will, becoming a citizen, etc.
News articles or public/official information pages important for having an informed citizenry: webpages that include information about local/state/national government processes, policies, people, and laws; disaster response services; government programs and social services; news about important topics such as international events, business, politics, science, and technology; etc. Please use your judgment and knowledge of your locale. Keep in mind that not all news articles are necessarily considered YMYL.
Other: there are many other topics that you may consider YMYL, such as child adoption, car safety information, etc. Please use your judgment.
Your website may have pages that fall into the YMYL category without your knowledge. As John Lincoln, CEO of Ignite Visibility points out, "If you run a mommy blog that dispenses parenting advice, it's filled with YMYL pages." Obviously, those who seek such advice want to improve their happiness through a good relationship with their child. Dispensing poor-quality advice could have a negative impact on the emotional well-being of the child and overall family dynamic, as well.
While this perhaps seems an extreme scenario, you get the idea. Any YMYL page carries with it responsibility for the welfare of your visitors. As most people consider websites to be trusted sources of information, your YMYL pages need to be deserving of that trust. Fortunately, there are proven methods to establish trust according to the standards set by Google's algorithm. But let's meet the people you need to convince first: Google's quality raters.
Who are Google search quality raters and what do they do?
Google contracts with over 10,000 search quality raters worldwide to evaluate its search results. Raters are given actual searches to conduct, drawn from real searches that occur on Google. They then rate the quality of pages that appear in the top results. However, quality raters cannot alter Google's results directly. A rater marking a particular listing as low quality will not cause that page to be banned or lose ranking.
Instead, Google uses the data generated by quality raters to improve its search algorithms (an automated system of ranking pages). Over time, that data might have an impact on low-quality pages that are spotted by raters, but the algorithm will also impact pages that weren't reviewed.
Quality raters use a set of guidelines instructing them on how to assess website quality and whether the results they review meet the needs of those who perform searches. We provided an excerpt in the earlier bullet points pertaining to YMYL guidelines. The entire document is 200 pages long.
In other words, writes Lincoln, quality raters evaluate a YMYL page against a stricter set of standards than they'd use for other pages because of the potential impact on the users' well-being.
"So if you've got a TMYL page that you want to rank, you'll need to do more than optimize it for the Google search algorithm. You'll need to make sure that Google's quality raters really like the content as well."
You are what you EAT
The foundation of shoring up your YMYL content is meeting Google's requirements for expertise, authoritativeness and trustworthiness – known in the industry by the acronym EAT.
In Google's own words, "For these YMYL pages, we assume that users expect us to operate with our strictest standards of trustworthiness and safety. As such, where our algorithms detect that a user's query relates to a YMYL topic, we will give more weight in our ranking systems to factors like our understanding of the authoritativeness, expertise, or trustworthiness of the pages we present in response."
In order to establish these attributes, content is king. As VONT Digital Marketing notes, "High quality pages must be completely accurate, clearly well written and filled with comprehensive information. If the website has commerce functionality, the shopping process (from finding a product to checkout) must be seamless."

Lincoln breaks it down as follows:
Expertise – Is the author of the piece an expert on the subject?
Authority – Is the author a well-recognized authority on the subject?
Trustworthiness – Is the content accurate?
As Julia Spence-McCoy writes for SEMrush, Google makes it clear that the following types of sites must be written by accredited, qualified experts:
Medical information
Financial advice
Advice or information pages on any topic than can have a potential negative impact on a person's health, happiness or wealth
High-quality hobby pages
"When it comes to E-A-T, the takeaway is this: some pages require higher levels of formal expertise while some require 'Everyday expertise,'" Spence-McCoy writes. "To determine which is which, content creators and marketers need to think about how much expertise is needed in order for the page to achieve its purpose and to provide useful, helpful, detailed content."
How to improve your YMYL ranking
Lincoln advises the following, based upon the EAT rules:
Expertise – Establish yourself as an expert in your field by producing high-quality content that is well-researched, well-written, attributes reliable resources (not Wikipedia or clickbait websites) and is free of typos. Link to other expert pages – including peer-reviewed articles or relevant news articles.
Authority – It is possible to be an expert, but not an authority. Establish yourself (or a key person in your organization) as an industry authority by putting social proof on your website's home page and YMYL page(s). This would include professional accreditations, TED talks, elected or committee positions held in professional/industry organizations, speaking engagements at industry-relevant conferences, peer-reviewed published papers, etc.
Trustworthiness – Again, be sure your website and YMYL page(s) feature accurate content consisting of industry best practices. Provide case studies, if applicable. List your business's credentials, company principals and other credential-establishing information on your site's About Us page. Also include Better Business Bureau accreditation, area chamber of commerce membership, etc. And don't forget including high-quality backlinks. Need we mention that your website itself needs to be up-to-date and mobile-responsive?

The take-home message
Successfully making the most of ranking for YMYL requires following solid EAT best practices, then going the extra mile. Remember, both acronyms add up to SEO, which help you get higher on the SERPs!
Wondering how to write all that necessary high-quality content and apply the best practices that keep Google and its quality raters well-pleased? Virtual Stacks Systems is a full-service digital marketing agency with a team of content writers, SEO specialists, website designers – and many more digital industry pros – ready to help your business achieve its goals.

Contact us today to learn more and get started!