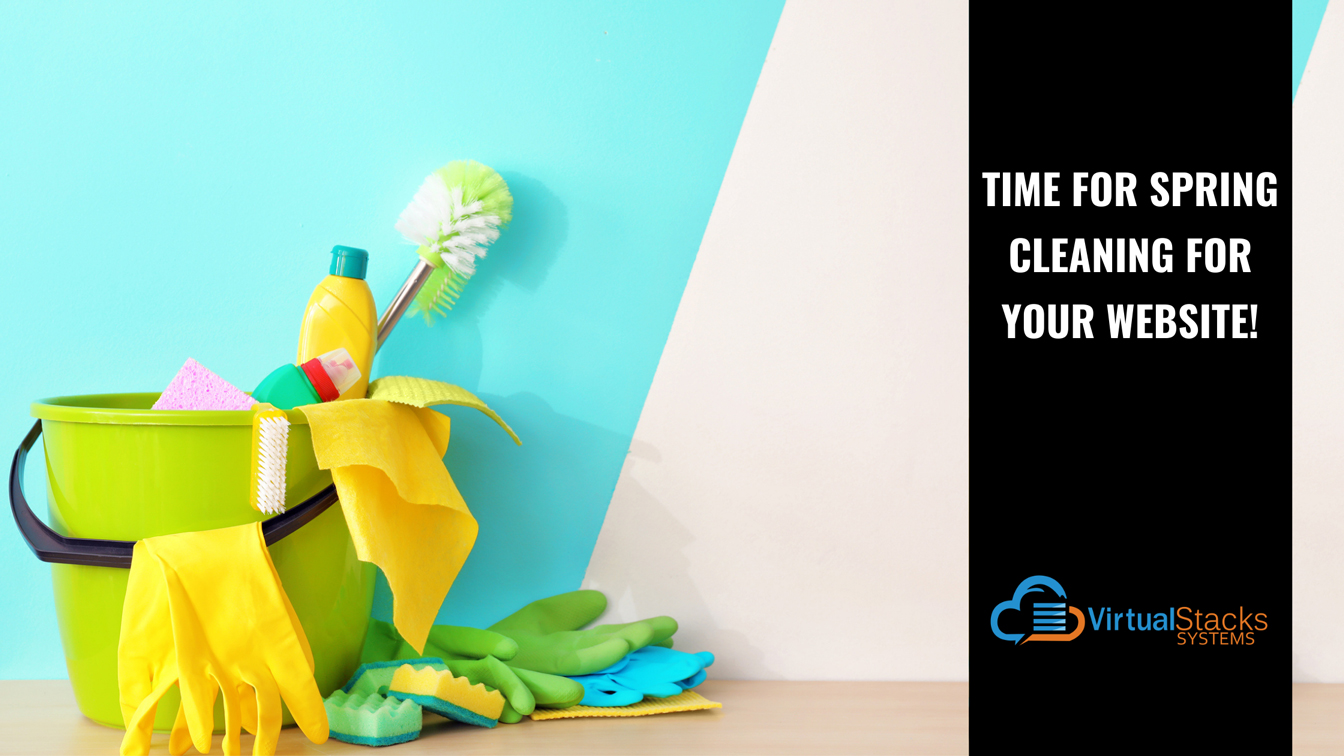 15 Mar

Time for Spring Cleaning for Your Website!

You may be familiar with the annual ritual known as spring cleaning – the time of year to rid your home of clutter and scrub the areas that have been long overlooked. However, waiting for a date on the calendar isn't necessary – especially since the same principle applies to your website. In fact, waiting for a particular season will just prolong the potential losses in customers and revenue you'll suffer because you haven't cleaned house.

What do we mean by this? In the day-to-day focus on doing business, there are aspects of your website that are easy to forget about – especially if you're going it alone or strictly in-house. But the telltale signs of neglect eventually become apparent to visitors, damaging the professional image of your business and perhaps prompting potential customers toward your competitors. Herewith is a spring cleaning checklist to make sure your online presence is presenting your enterprise at its shining best!
Delete Obsolete Social Sharing Icons
Remember Google+? Google's answer to Facebook never quite took off, and was officially discontinued in 2019. But its icon remains on far too many websites. Is it still on yours? Visitors who see it in your lineup of social sharing icons may well assume that you don't pay attention to details – which is a very bad message to unintentionally send!
The same applies to icons for social media platforms your business has abandoned. Our blog post – "Why You Should Kill Your Zombie Social Media Accounts" – covers the importance of deleting social media accounts that you no longer use. For example, visitors who click on your website's Instagram icon and see the last post was made in 2018 will also question your business's attention to detail – as well as assume that following through on commitments is a low priority.
Let's give some attention to YouTube while we're here. Many businesses started a YouTube channel because they thought they needed to. However, making videos takes time, even with today's super-genius smartphones and user-friendly editing software. As a result, abandoned or neglected YouTube accounts abound. You may have started with good intentions, but if you're not posting to YouTube on a regular basis, there's no shame in calling it quits and deleting your account – and its social sharing icon on your website.
Update Copyright, Contact Information and Policy – Again, paying attention to detail is important in making a positive impression about your business in the eyes of visitors (that is, potential customers). Information that's buried in a footer is easy to overlook, but hard to ignore when the copyright year is past, department phone numbers and/or email addresses have changed, etc. Also, if your company's policy has been modified– as can well be expected, given the events of 2020 – people don't want to find out the hard way.
DreamHost writer Megan Hendrickson sums up the situation as follows: "There's little more frustrating than returned or unanswered email. Make sure your customers' queries are going to the right inbox by double checking and, if necessary, updating your email address and other contact information: phone, fax, addresses, social media accounts, etc. Make sure the info for all your brick-and-mortar locations (if you have them) is present and accounted for. While you're at it, delete any superfluous or unused email accounts, and don't forget to remove every reference to them from your website."
Test Functionality of All Clickable Actions – That means fill out every form, sign up for every email list your website offers and confirm that comments work on your blog. Visitors who are unable to do so for whatever glitch has occurred are not likely to tell you – they'll just go to another website, presumably that of your competitor. For ecommerce sites, go through your entire checkout process; fix any issues and take the opportunity to see if the process can be further streamlined to improve the customer experience.
Update Company Biographies – Company bios are a great way to show members of your target audience that real people are behind your business, and are dedicated to providing the best possible product and/or service. But bios of those who are no longer with the company need to be removed. Even worse is leaving up the company bio of a former employee whose position is now filled by someone else. If a prospective customer expects to contact Bob in Sales but learns he was replaced by Bill two years ago, it doesn't reflect well upon your organization.
Check for Broken Links – "Broken links are the ultimate dead end for user experience," writes Shayla Frederick for Denverdata Web. "When a user encounters a broken link on your website, their experience is interrupted. This interruption can lead to heightened levels of frustration as users try to figure out where to find the answers they were looking for."
You should check your website for broken links on a monthly – or at least quarterly – basis. The Online Broken Link Checker is a great free resource that allows you to find broken internal and external links across your website.
Build Internal Links – Speaking of links, building new internal linking structures can help users navigate from one page of your website to other important pages, which helps in the conversion process. It also helps inform Google about your website's structure and what certain pages are about. As Frederick explains, "Do you mention a product on an important page of your website but don't link to the product page itself? Add a link! Do your blogs include links for users to learn more from other blogs or service pages on your website? If not, add a link!"
Pay Attention to Your Calls-to-Action – The purpose of CTAs is to drive visitors to take a specific action on your website toward converting them to leads. Our blog post – "X Marks the Spot: Create Call-to-Action Buttons that Get Leads" – provides CTA best practices in detail.
Examples include the following:
There should be only one CTA on a page, and that CTA should have only one message.

Using clear action verbs – such as Start, Join, Build, Learn and Discover – is the basis for strong CTA button copy. Attempts to be clever or creative will likely fall short of visitors clicking the button. For example, if your landing page is for a resort timeshare and your goal is to get people to sign up for an introductory tour, the CTA button shouldn't read "You should be here!" The copy more likely to get a response is "Take a FREE tour!"
Be Sure Your Software and Plugins are Up-to-Date – As marketing writer Kristin Hicks notes in her article for Constant Contact, "You might feel like you see an alert of a new software or plugin update every other day. It's easy to ignore them when they seem so constant, but oftentimes those updates specifically address security vulnerabilities and sometimes they provide additional improvements and features as well … Often, these updates don't take too long and they can make a big difference to how secure your website is."
Polish Your Content, Proofread and Update Your SEO – When was the last time you updated your website's copy? If the only signals you send to Google that your website is alive are regular blog posts, you're still ahead of many other websites, but could be doing better! Frederick recommends reading through the content on your website and identify opportunities where you can align it better with your company's branding and messaging.
"If you have a lot of content, a good place to start is by focusing on the most popular or valuable services pages first. Then, start identifying opportunities for blog and article writing. You'll also want to review existing content for grammar, spelling, jargon, and punctuation errors."
One resource Frederick recommends is SEMRush's Writing Assistant that can help you identify specific areas to make your content more SEO-friendly. It's available on the SEMRush website, and at the Google Docs Add-on Store.
Speaking of updating your SEO, the profound changes in living, shopping and socializing we've undergone has also affected the terms that people search Google (and other search engines) for. Has your website taken this into account? Using Google Trends can help you identify how search trends have changed in your industry in the last year (or even the last few months), and adjust accordingly to the New Normal.
Freshen Up Your Website's Visuals – Are the photos and graphics on your website inspired, or tired? Just like everyone enjoys a new spring outfit, this can be the time to add some pizazz! As Frederick says, "If your website has old or outdated imagery, you might be unknowingly sending the message to our customers that not only do you neglect certain areas of your business, but you might also neglect them over time."
The Take-Home Message and Our Blatant Self-Promotion
Sometimes, a good spring cleaning necessitates calling the pros! If your task seems overwhelming, consider our team at Virtual Stacks Systems to be your Marie Kondo – or for those in more extreme circumstances, your 1-800-GOT-JUNK! Big or small, we can handle it all! We provide experienced website design, website redesign, content marketing and so much more! Contact us today to get started!