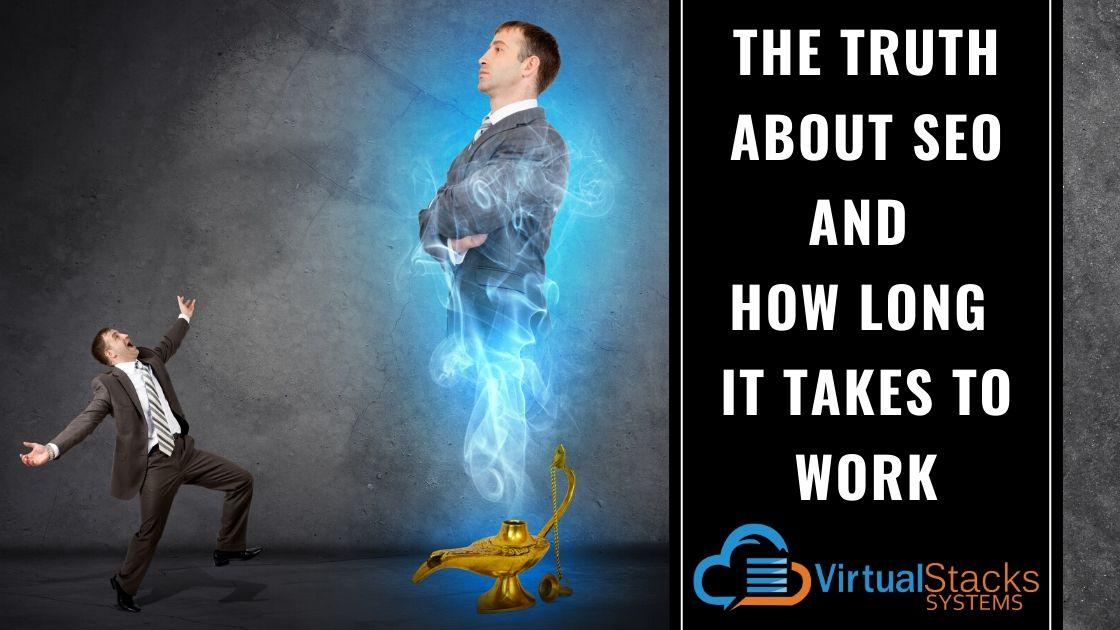 06 Mar

The Truth About SEO and How Long It Takes to Work

Today's highly competitive business environment has placed increased emphasis on getting whatever advantage possible, as fast as possible. In particular, everybody wants the secret sauce of search engine optimization (SEO) to work its magic for their website to drive the traffic that results in more leads and sales conversions. But assuming you're not in the digital marketing biz, you may be exposed to claims by unscrupulous SEO "experts" and even some digital marketing agencies promising a rapid ascent to Page 1 of Google, or more leads than you can shake the proverbial stick at in just seven days.

Regular visitors of our humble blog know that we always stress the importance of transparency in the marketing solutions our Virtual Stacks Systems team create for our valued clients. We invite you to spend the next few minutes with us to learn the truth about SEO.
Get to the front page of Google in 24 hours?
If you encounter this claim, don't bother to be polite. Hang up the phone, or flag the email as spam. The promise may not be for 24 hours, but it will be for a timeframe that's equally unrealistic. Here's why:
You can't guarantee results within a particular timeframe – Anyone who promises an increase in leads and conversions – or Page 1 of Google – in less than three months (or any such range) is lying. Even if they don't blatantly make this claim, but strongly imply it, they're still being dishonest.
Make no mistake – SEO scammers are out there, and they want your money. Our blog post – "Beware of SEO and Google Scams – What Every Business Need to Know" – details their modus operandi and how to recognize their bogus claims. Two of the most common pitches promise such results as "Guaranteed #1 ranking on Google." No one can guarantee a first-page ranking on Google – which Google itself makes clear. A similar phony claim is the promise of top organic ranking within a short time period, such as 48 hours
In addition, firms that reference "SEO trade secrets" to get your ranking to the top of the search engine results pages (SERPS) are planning to use black hat SEO techniques that will get you banned by all major search engines. An ethical agency will tell you their strategy.
How long does SEO take?
Our blog post – "20 Tips to Get on the First Page of Google in 2020" – provides a guide of SEO best practices that, when implemented together and followed consistently – can boost your ranking. If you've read this post already, you learned that taking these measures isn't a quick fix. It's involved work that requires dedication.
Our white hat SEO industry colleagues are in agreement. Proximity Marketing notes that an ongoing SEO program can achieve an increase in search engine rankings and website traffic in six months, although it can take 12 to 18 months to realize ROI. Charlie Rose of SEO Mechanic says that websites can expect to see results in four to six months, with greater traction being achieved at 12 months.
"There are a lot of variables that play into how quickly you see results after you start doing SEO," Rose writes. "Baseline traffic, website design, domain age, meta descriptions, geographic location, competition, and target market all play into how quickly you can gain search engine traffic from SEO."
Writing for Search Engine Journal, SEO and digital marketing expert Winston Burton weighs in with the following observation. The time period he has seen for a site to get to Page 1 is generally nine to 12 months for a new site using competitive keywords, with one to four months using non-competitive keywords. For the website of a "household name" brand, the breakdown is three to six months for competitive keywords; one month or less for non-competitive keywords.
And by the way, every method described here refers to organic SEO. In addition to a solid keyword strategy, many other factors contribute to successful organic SEO – including high-quality website content and claiming your free Google My Business listing, among many others. Again, scammers and unscrupulous agencies will make organic SEO seem mysterious and (of course) fast-acting.
You may have heard the term "paid search." This refers to Google Ads and other pay-per-click (PPC) advertising, which is also known as search engine marketing (SEM). The advantage to paid search is that it allows a business (large or small) to build its brand and scale its online presence quickly. Over time, when paired with an effective SEO campaign, PPC can be managed to scale your business long-term.
In fact, paid search is now increasingly prominent in Google search results. Christina Perricone for HubSpot notes that even if your business is ranking organically for a search term, "…your results are being pushed down the page, beneath your competitors" if you're not in the game. Those who promise the moon through organic SEO alone are not being upfront with you, and will probably sell you on the need for paid search after you've signed the contract.
In short, there are no Harry Potters in the legitimate SEO industry.
Is SEO worth the wait?
Rose offers these words of wisdom. "Think of SEO as a 401k approach versus a roulette approach. Your efforts will begin to compound over time and gradually deliver greater returns the longer you do it."
And as Burton observes, "Rankings are important, but a true measure of SEO is to get qualified traffic that results in conversions." That is the true take-home message!
A final word of warning
Tracking back to SEO scammers and unethical agencies, taking note of how they contact you should send up a red flag. Unsolicited emails are the preferred method of outright scam artists, while an agency may try to connect on social media.
There is, however, a difference between an agency contacting you via LinkedIn, where you know the name of the company or company representative interested in establishing a professional relationship with you – and a comment on Facebook or Instagram that gives no indication of the poster's intent. If you're already working with a digital marketing agency, the intent may be to poach you. Even if you're not, just ask yourself if you're willing to work with an agency that isn't upfront in its approach to client acquisition. How would they deal with your business if you signed with them?
Work with an agency you can trust!
As we always say, knowledge is power! The more you know about such areas of digital marketing as SEO, PPC, website design, website redesign and social media marketing, the better equipped you are to determine which digital marketing agency is the best to help you achieve your goals.
In the interest of providing information that can benefit your business, click here for your free SEO audit to learn if your website could be performing better. Our audit will let you know the following:
Your website's

SEO

score to discover where organic reach can be improved.

If any of your pages are broken, or cannot be accessed by search engines.

Security vulnerabilities that could make you a target to malicious hackers.

Other problems that are blocking your SEO progress.
 Contact us to learn more and schedule an in-office meeting or conference call. We're ready to be your partner in success!