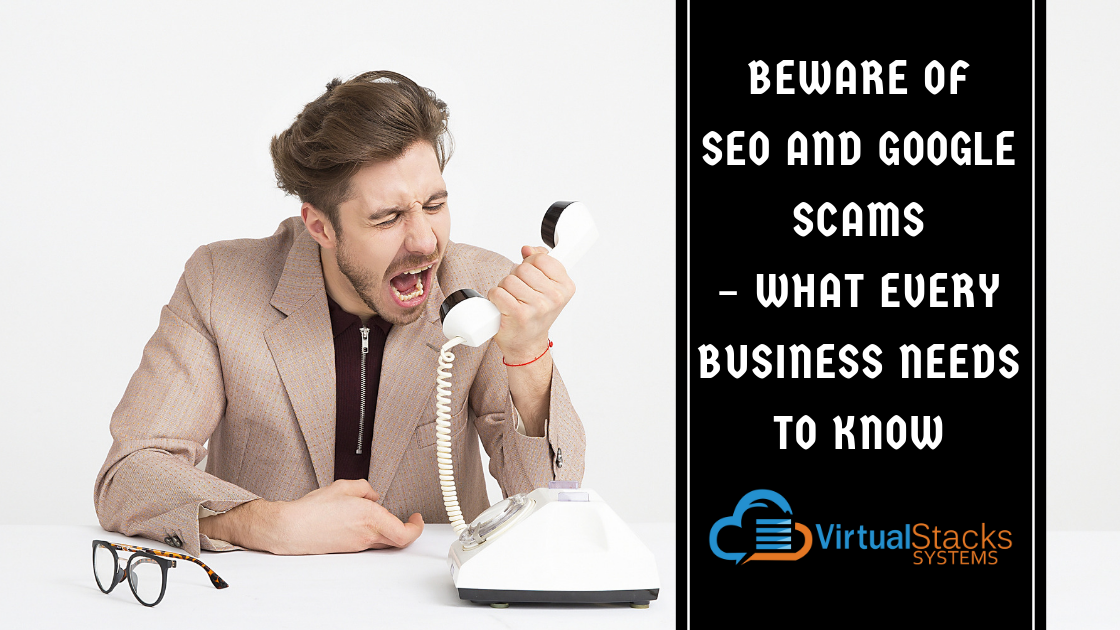 03 May

Beware of SEO and Google Scams – What Every Business Needs to Know

Are you a business owner whose inbox is blowing up with unsolicited email from self-proclaimed SEO specialists who – out of the goodness of their heart – did a quick "analysis" of your website and found that its SEO can be greatly improved to get into the "top 10 rank" of Google's Search Engine Results Pages? Or have you received a call from a friendly Google Ads representative offering to fix your underperforming account – or asking to confirm payment details?

Businesses beware!

We offer this week's humble blog post as a public service announcement. SEO and Google scams are more active than ever!

Knowledge about these scams is your best defense. Because you're busy building your own business, we understand that you may not have heard about them. But since SEO and all things Google are in our wheelhouse, we're here to tip you off and wise you up so you don't become a victim.

Scams fall into two categories: SEO and Google Ads. In addition to the monetary loss you'll experience, there is one other insidious effect that scammers have on their targets – even if you don't buy their pitch – which we'll discuss a little later on.
On the SEO side
Should you receive an email claiming the sender can achieve too-good-to-be-true results, it's a scam. Tony Wright is CEO of WrightIMC, and an SEO expert since 1997. To say he knows his stuff would be an understatement. His insightful article for Search Engine Journal lays out the situation in no uncertain terms.
Wright describes the scammers' modus operandi. Easily available cheap (or free) online tools have enabled scammers to "… provide surface level 'analysis' of on-page SEO factors …" with the next step being to email targets with a list of the alleged shortcomings and offering his services to fix the situation.
"I have said on multiple occasions – I don't care how good your SEO is, I can find something wrong with it. SEO is not an exact science – and there are hundreds of mitigating factors that go into a campaign. Many times, one person will do something different than another – and both SEO tactics will work. Other times, site limitations will prevent implementation of a known SEO best practice. And sometimes SEO items are prioritized based on the number of resources available to get things done. Budgets are real."
Guaranteed rankings – Most SEO scams promise such results as "Guaranteed #1 ranking on Google." No one can guarantee a first-page ranking on Google – which Google itself makes clear. A similar phony claim is the promise of top organic ranking within a short time period, such as 48 hours.
Secret SEO strategies – Legitimate SEO agencies practice transparency. Ethical SEO specialists will explain how they'll drive organic traffic to your website. "Firms who reference 'SEO trade secrets' are planning to use black hat SEO techniques that will get you banned by all major search engines at some point," says Purely Branded.
Submission to numerous search engines – While Google is the Western hemisphere's omnipresent search engine, there's good reason to submit your website to alternative search engines. Our May 18, 2018 blog post – "Search Beyond Google: 7 Alternative Search Engines" – covers the more popular, and the advantages that each offers. 
However, as our February 15, 2019 blog post – "Why Your Website Needs to Rank on Every Search Engine" – points out, it's easy enough to do yourself for free with just one visit to Entireweb. If you're working with an SEO agency, this has most likely already been done, included in the overall cost of its services.
The lowest-priced SEO/free SEO trial – Doing SEO right requires experience, hard work and continually studying Google to keep up with its ever-changing algorithms. To put this in plain language, Google changes the rules so frequently that SEO specialists who don't pay attention won't apply best-in-practice SEO tactics for your website. And Google never explains what's changed – meaning there's also a good amount of detective work done by legitimate SEO specialists. In short, you get what you pay for.
We know Google's algorithm; work with someone at Google; are partners with Google – These are all pants-on-fire claims. As mentioned above, only Google knows Google's algorithm. Also, Google has no such partnerships in the SEO industry, other than certified third-party Google Partners. Anyone who sends you an email of this kind can be safely assumed to not be one. Don't fall for this appeal to your desire to have an insider's advantage. It doesn't exist.
On to Google Scammers
There's a whole world of scammers who claim to work for Google. To complicate matters, some of those who claim to work for Google actually kinda, sorta work for Google.
Rather than making contact via email, Google scammers tend to call their targets.
In the case of outright scam calls, Post Modern Marketing's blog post on the topic offers these red flags:
• Callers claiming to be Google My Business reps who are offering paid business listings. These are clearly fake, as Google doesn't charge for their My Business services.
• Calls from individuals claiming to be from Google offering to help improve your business's search rankings for a fee. Google doesn't charge for SEO support. The reason for this is that Google doesn't offer SEO support. Instead, they certify third-party companies as Google Partner marketing agencies. You can confirm whether or not a company is a Google Partner by asking for a link to their Google Partner profile.
• Robocalls. Google does not use robocalls. If you receive a robocall from someone claiming to work for Google, you can immediately assume it's fake.
• Calls in which the caller asks for payment information, or sensitive details such as your Google account password. They will never ask you for this information over the phone.
Speaking of robocalls …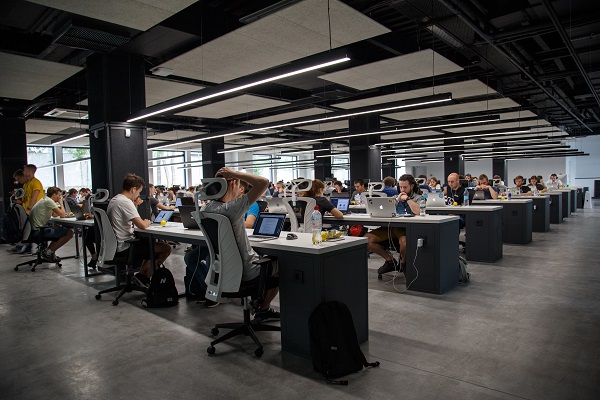 The Federal Trade Commission (FTC) announced its crackdown on operations responsible for "billions" of unsolicited robocalls. Among the offenders: Pointbreak Media – a Florida-based company the FTC alleged deceived small business owners by falsely claiming to represent Google, falsely threatening businesses with removal from Google search results, falsely claiming that they could associate keywords with these businesses, and falsely promising first-place or first-page placement in Google search results.
In May 2018, Google also took legal action against the entity, and announced new measures to identify and report scam activity.
The situation, like life, is complicated
In his article for KAYAK, online marketing expert Randy Milanovic covers the issue of sales calls from Google reps. Because this informative article deserves to be read in its entirety, we encourage you to take a few extra minutes to do so – the education will be well worth it!
Nevertheless, here are the take-home messages:
When Google calls you, it's almost always a sales call – "A lot of business owners don't realize this, but Google makes a lot of outbound sales calls, so you're likely to get one eventually. This is particularly true if you use AdWords [now Google Ads], or if you have in the past.
"Typically, the rep will say (to you or your voicemail) that they are calling to help you optimize your account, or help you get more from it." However, Milanovic continues, the calls are about sales prospecting, not optimization.
To muddy the waters even more, the calls may be coming from third-party firms that are Google certified partners "… who have seen you online and decided you were an opportunity."
As Rob Bettis elaborates in his article for Medium, these calls typically come from "Google Offices" in Tempe, Arizona and Ann Arbor, Michigan. "The rep claims to work at Google, and they even have Google email addresses. But they do not work at Google or in a Google office. They work for an independent agency with whom Google has a contract. The agency has Google employees on site, providing oversight. The agency was previously named Direct Alliance. But they have rebranded to Revana."
Confusing enough for you?
The bottom line when dealing with calls from Google or claiming to be from Google is to confirm the caller's identity and actual relationship (if any) with Google. And, of course, never give out sensitive information over the phone.
Whether you're contacted via email about your SEO, or by phone call regarding Google services, Tony Wright hits home with an observation that should give your business pause for thought if you're working with an SEO or digital marketing agency.
Remember that insidious effect mentioned at the beginning of this post? It's the element of doubt and suspicion the scammer casts into the client-agency relationship. As in every professional relationship, trust is essential. If you receive an unsolicited pitch of this nature and wonder if your agency is really doing all it can to get the best possible results for your business, the damage is done.
Keep in mind that there is no magic formula for improving SEO or getting more out of Google's services. Anyone who contacts you out of the blue claiming otherwise has their own motive – which is definitely not your best interest.
Our SEO and pay-per-click specialists at Virtual Stacks Systems are always available to answer our clients' questions and talk about their needs and goals – and provide strategies to help achieve them. If you're working with any digital marketing agency, their specialists certainly feel the same way. Keep the lines of communication open, and keep away from spammers!
Contact us to learn more.