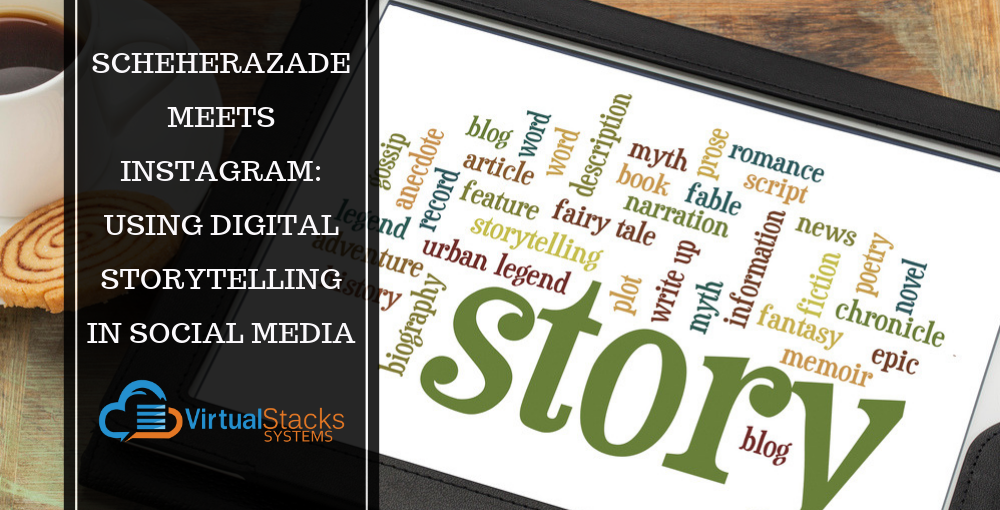 06 Sep

Scheherazade Meets Instagram – Using Digital Storytelling in Social Media

"Storytelling" has been the major buzzword in branding for the past several years. While advertising and marketing's take on this fundamental form of communication envelopes all platforms, its spread to social media is perhaps the most natural fit – which makes perfect sense. When you think about it, Instagram isn't so far removed from prehistoric cave paintings. In both, people visually share their stories about their life and accomplishments – like the dinner they enjoyed with friends or the antelope the village hunters speared (and then, presumably, enjoyed for dinner).

Of course, businesses are now exploring this ancient art form in their social media strategies. And, of course, some are doing it more successfully than others. But becoming a digital-era Scheherazade first requires knowing the fundamentals of brand storytelling through social media.

Business-to-business social media expert Adam Houlahan wrote the book on social media. Actually, he's the author of three books on the subject: Social Media Secret Sauce, The LinkedIn Playbook and Storytelling: The Story Making Machine and Formatting Minds. The following definition of social media storytelling is from the third book:

"Social media is the ideal platform for storytelling: brand narration and induction of conversation, as well as sharing for lead generation, is the key to why social storytelling is so effective. So what is social storytelling? It is both an art and a science: that of shaping and giving meaning to information that would otherwise be uninteresting. It allows a brand to speak directly to consumers, combining their marketing idea with emotion, and captivating their audience to persuade positive consumer action."

In his article for Forbes, brand consultant Steve Olenski writes that brands "have been so ingrained in marketing language, sales pitches, and benefit bullet points that they don't know how to step back and just be real." The resulting lack of authenticity carries over to social media. It's common knowledge that a brand or business focused on delivering the message it wants to deliver instead of a message meaningful to its target audience will always miss the mark. However, it's also true that an inauthentic voice is just as bad. Think of parents who try to be "cool," and you get the idea.
As with our opening parallel between Instagram and cave paintings, original photos and videos are excellent ways to be authentic on social media. Visual storytelling is essential to all aspects of digital marketing, as discussed in our June 29 2018 blog post, "Get a Sharper Image for Your Brand Through Sharper Images." After all, humans are hard-wired to respond to images faster than the written word, and have an ever-shortening attention span. Upping your image game in the right way can boost SEO, as well as build your brand.

No brand, product or service is too pedestrian to benefit from social media based on storytelling. As featured in our August 17 2018 blog post, "Why Content Marketing is Important for Your Ecommerce Business," outdoor lifestyle brand YETI leads its field by telling compelling stories about how its products figure into the life stories of its customers. Making generous use of original video content, YETI's social media posts know how to get visitors involved enough with the brand to become not only customers, but members of YETI Nation.
In fact, the Tundra cooler that started the brand celebrates its 10th anniversary this fall with an 11-city tour featuring never-before-seen videos, appearances by YETI ambassadors and contests. (The tour will be in Orlando on October 18 at The Plaza Live, starting at 7:30 p.m.) Now a well-seasoned world traveler, YETI's Tundra continues its saga, continually chronicled on social media
Social media platforms themselves are making it easier for businesses to tell stories. Writing for Buffer, Alfred Lua explores 20 actionable ways to use social media for storytelling. The ideas are grouped according to platform. For Facebook, Lua suggests the following:
Write your entire story in a Facebook post

Create a Facebook photo album

Produce a long Facebook video

Go live on Facebook

Sequence your Facebook ads

As an important part of a brand's social presence, blogs offer the ideal opportunity for storytelling to captivate reader interest. One example is our client, Tempus Hair Restoration. Founded by Dr. Marco Barusco – an internationally renowned hair transplant surgeon and researcher – Tempus Hair Restoration has 14 locations throughout Florida. All transplantation procedures are performed by Dr. Barusco at the practice's Port Orange surgical center.
Tempus Hair Restoration's blog posts had been oriented toward describing hair transplantation procedures and other treatments for hair loss. However, the Tempus team wanted to explore a highly personal approach by letting Dr. Barusco's patients share their stories. Rather than a typical testimonial, the new blog post format now takes the reader on the patient's journey through the circumstances and emotions that led him or her to seek restoration of their hair.
For example, Tempus Hair Restoration's August 2018 blog post introduces readers to "K.J." – a husband and father who almost lost his life in a motorcycle accident. The post follows him through serious setbacks to complete recovery, when K.J. is ready for the final step in the healing process – hair transplant surgery to conceal the scar resulting from his head injury. But that was a journey, as well, as K.J. had been turned away by other hair transplant surgeons before consulting with Dr. Barusco. With the surgery a success, K.J. now feels that people don't see his scar before seeing him, and is making the most of his second chance at life.
Bringing such involving stories to its blog allows Tempus Hair Restoration to connect with potential patients on a more personal level. It helps reinforce the brand's competitive advantage of one uniquely qualified surgeon dealing with patients on a one-on-one basis, rather than a production line approach, and his role in helping people enjoy their best life.
Virtual Stacks Systems has years of experience telling our clients' stories through social media marketing, as well as all aspects of digital media and branding – including video marketing. Contact us to get the full story for yourself!