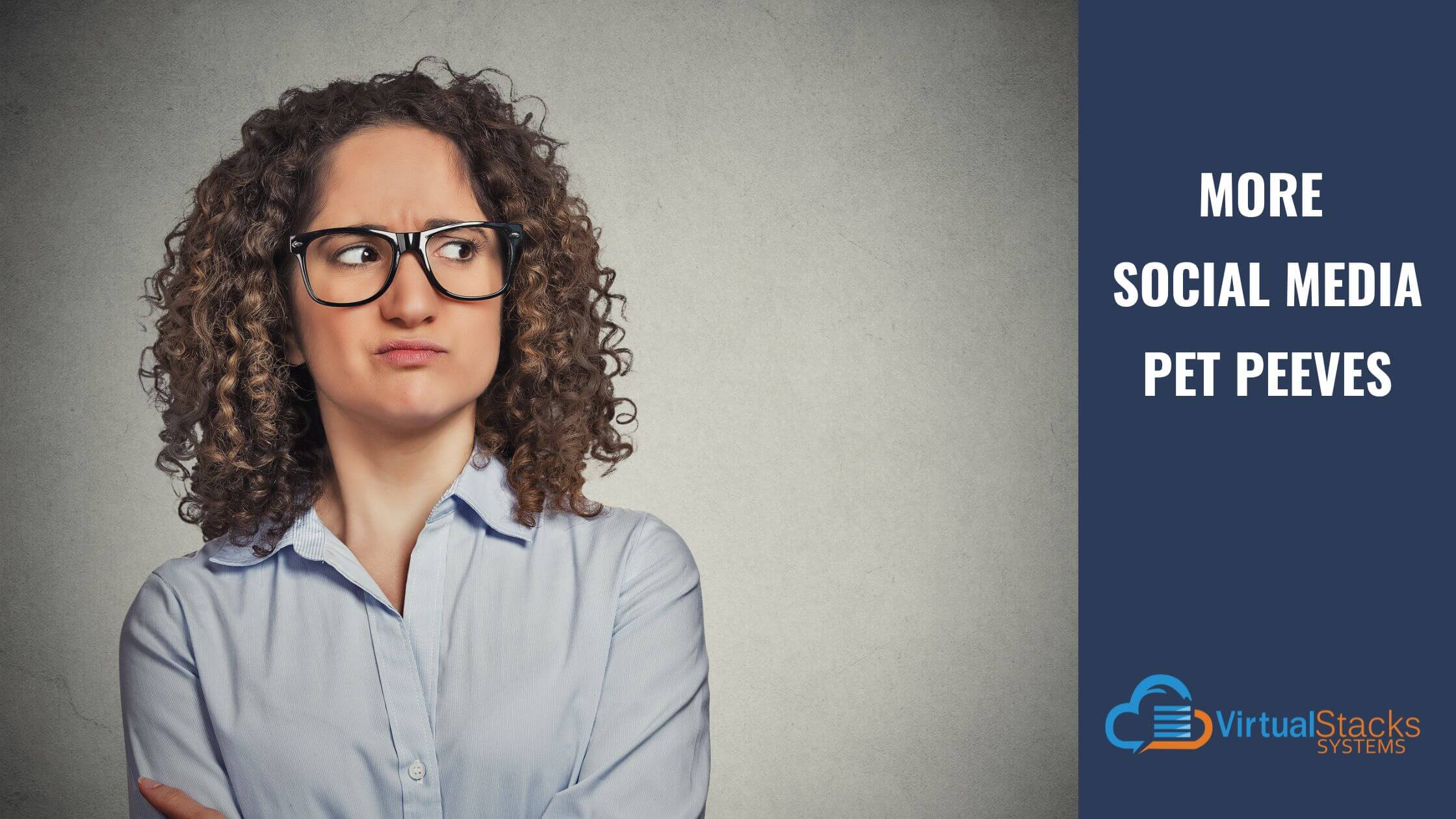 16 Jun

More Social Media Pet Peeves

Some time ago, we published a blog post – "Social Media Pet Peeves" – covering the most common blunders that small-to-medium size business owners make when they take the DIY approach to social media. Continuing In the interest of tough love, we now present a few more social media practices that you need to avoid – as well as one that you may have encountered on your business's Instagram account!
Insulting Your Target Audience
We know of a local business that manufactures a home product for which women typically make the purchasing decision. Unfortunately, its social media posts tend to consist of jokes and asides at their expense. How inclined would you be to buy from a business that insults you?
The business owner is writing social media posts for himself and his bros, not for his target audience. Big mistake! Digital marketing experts recommend creating a buyer persona – a fictional "ideal customer" – for your product or service. We've always thought this is an overly complicated way of determining who your customers are, which you can do in a much easier manner. When you started your business, you already knew who you wanted to reach according to gender, age, stage-of-life, income level, etc. All you need to do is remind yourself, and keep your focus on your prospective customers – their needs and expectations – when writing social media posts, blog posts and ads. Ultimately, your business is about your customers, not you!
Vague Inspirational Quotations
Given the non-stop negativity that seems prevalent throughout social media – as well as society in general – we need uplifting messages! However, the inspirational quote – with text over a photo of a person in silhouette with arms raised to the sun or some similar scene – is now a groan-worthy cliché. If you're posting these on your business social media accounts, ask yourself why. Is it because you've decided you need to post every day, and this is an easy solution? It brings to mind the movie classic "8 ½" in which the troubled main character says, "I have nothing to say, but I want to say it anyway."
Instead of reflexively posting inspirational quotations that just inspire boredom, determine how often you really need to be posting to each of your accounts. As "Social Media Pet Peeves" notes, figure out when members of your target audience are likely to be checking their feed on each social media platform you're posting to, and schedule for that time.
In order for you to do so, Sprout Social provides a comprehensive posting recommendations guide listing the optimum times for posting to each major social media platform. Please note that all time frames are for Central Standard Time (CST). Even better, the Sprout Social guide breaks down the best times to post by industry! Chances are, you won't need to post as frequently as you might think, and you can post quality content to reach members of your target audience with relevant messages.
Sharing Photos and Other Content Without Crediting the Owner
So you post a photo from Google Images or download a picture from someone else's social media account without giving proper attribution to the owner. What's the harm in that? Plenty, considering you could be fined for copyright violation by the owner of the photo! In many cases, you're expected to pay for the right to republish the content – a simple, "Thanks to (source of photo)" won't be enough.
Don't make the mistake of thinking that your social media account is too small to attract notice by the copyright police. It's unethical anyway, which isn't the message you want to send to potential customers. As Germono Advertising Company points out, "Not only is this illegal and you could get in some BIG trouble for it, it's also just not a good look. If you love something that someone has posted, make sure that you give them credit for it and tag them, you'd want the same courtesy, right?"
Several services offer royalty-free stock photos, including Unsplash, Pixabay and Pexels. Our blog post – "Get a Sharper Image for Your Brand Through Sharper Images" – covers how to select and use stock photos without coming off as generic, as well as how to compose and take your own photos like a pro!
Zombie Social Media Accounts
If this sounds terrifying, it is – but not in the way you'd expect! As our blog post – "Why You Should Kill Your Zombie Social Media Accounts" – explains, they're accounts that have been abandoned for any number of reasons. Zombie social media accounts may be forgotten by you, but they're definitely not gone. And they can scare off your potential customers. This is bad because social media accounts that haven't had a post since 2018 raise the wrong type of questions to visitors. Is this company still in business? Is this company struggling? Why aren't there new posts? Do the owners just not care?
Whatever the case, take a good look at your inactive accounts and decide whether to start posting on a regular basis again, or delete them. Should you do the latter, be sure to also remove the corresponding social media icon from your website.
Outdated Social Media Icons on Your Website
This pet peeve is closely related to the one above. Visitors to your website who want to check out your Facebook, Instagram, Twitter and/or LinkedIn accounts – and/or your YouTube page – expect to see a recent post, not one from a year or two ago! YouTube accounts tend to be especially vulnerable to this, as many business owners start one with good intentions, but find they lack the time, resources or both to follow through with new videos on a regular basis.
Again, delete social media accounts you don't use, then delete their corresponding icon on your website, as well. If your website still has the G+ icon for the long-defunct Google Plus platform, remove it now. You don't want visitors to your website to get the impression that you don't keep up with it and make changes as necessary. They'll naturally wonder what else you're not keeping up with!
Sporadic Postings to Your Social Media Accounts
Infrequent, irregular postings to your social media accounts may be steps on the road to zombification. One day, you or the person you put in charge of social media may simply stop, not seeing any appreciable results. However, in order to get followers who engage with your social posts – and eventually your business – you need to post on a regular basis. Determine how frequently you should post (see Sprout Social posting guide), then create a content calendar – and post on the days marked.
This would be a good time to examine why your posts aren't getting the engagement you want. First, consider the type of content you post. Digital Marketing Institute advises setting a goal. For example, if you want to drive sales, the messaging and nature of your posts will be different than if your goal is to improve your customer service offering. Knowing what you want to accomplish is instrumental to developing the content of your social media posts. Our blog post – "What is Social Media Optimization and Why Do You Need It?" – covers this topic in greater detail.
"Promote it on …" Instagram Spam Postings – Something for YOU to be Peeved About!
This is a pet peeve that you're more likely to be peeved about than commit (we hope). You've posted a great photo of your bakery's latest beautiful birthday cake on Instagram, and among the likes and positive comments is the inevitable "invitation" to "Promote it on …" or "Send pic to …" As our blog post – "What Not to Do on Your Instagram Business Account" – explains, they're spammers who want you to pay them to repost your content on their large accounts so that you gain some of their followers.
Sounds good? It really isn't. They will repost your content and promote your account in the caption, but the handful of followers you gain will be low quality, low engagement accounts from India and the Middle East (nothing wrong with that, but they're probably not your target demographic) who already follow thousands of accounts, so in the long run it'll just hurt your engagement. Some believe that Instagram penalizes accounts that don't delete spam comments, but we recommend you do whether it's true or not. Don't reply to these invitations, and don't leave them in your comments!
If you do happen to be a spammer, you're not likely to stop. Just know that you're considered Instagram's version of littering.
The Take-Home Message and Our Blatant Self-Promotion
Doing social media right demands a good investment of time and resources. If your business can benefit from the advice given here, we feel that we've helped make the digital marketing world a better place! But if you decide you'd rather leave it to the pros, that's what we're here for! Virtual Stacks Systems provides comprehensive social media marketing services, as well as PPC advertising, website design and redesign, SEO marketing, review management services and much more! Contact us to get started.