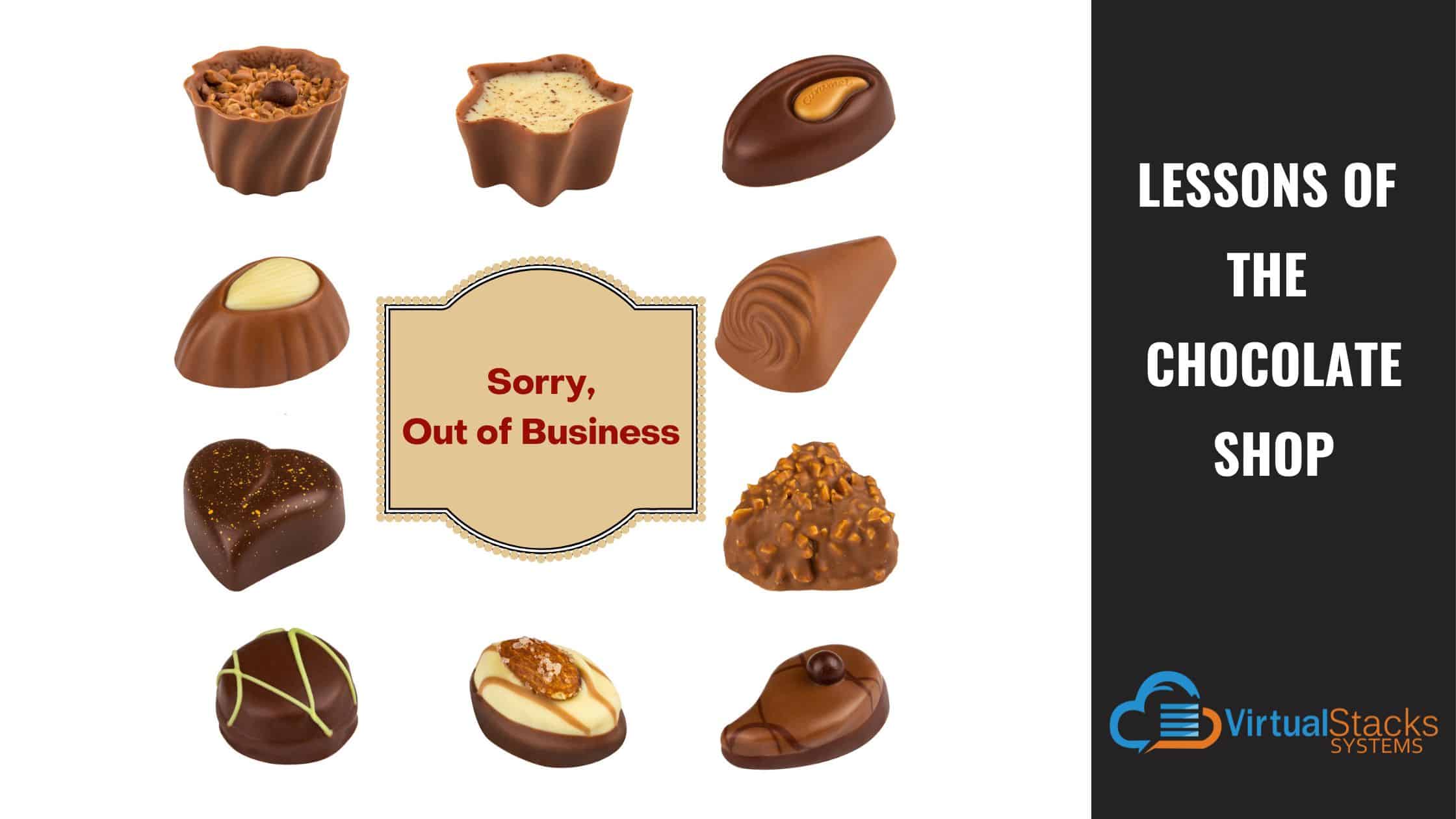 23 May

Lessons of the Chocolate Shop

This humble blog post is a departure from our usual pointers about digital marketing tactics and strategies for small businesses. Instead, it's a true story and cautionary tale about a small business in our town. Because for all the talk about how you need a website, a social media presence and so much more, it's all for naught if the way you run your business has serious flaws.

Several years ago, a store opened in an upscale shopping plaza. Artisan-made chocolates were its specialty. A wine shop was a few doors down, which would have seemed to provide a bit of a boost. The chocolate shop's location was ideal for the market demographic. Gated communities and professional business centers were nearby. Yet not even a year after opening, it closed its door for good.

So what went wrong? Several factors combined to create the perfect storm for this failed small business. Unfortunately, they were all self-inflicted, as this story played out before COVID-19 had its devastating effect on so many businesses.

The shop décor didn't set the right atmosphere – You would think that a business offering luxury goods of any type would set the proper tone. Even a small enterprise on a budget could invest in paint colors, light fixtures, display cases and a few décor touches that elevated the environment and created the impression that customers could expect something special. A little imagination and maybe even some DIY elbow grease can go a long way in making the ordinary look extraordinary.

Instead, the space itself was very bare-bones, with plain white walls, basic shelving and industrial-looking display cases. It did nothing to establish the brand, or build a sense of customer anticipation about the specialty chocolates.

Lessons: Every business – no matter how small – is a brand, and needs a strong brand identity to resonate with members of its target market. Also, retail psychology is real. If a shop sells upscale merchandise, the surroundings should establish the appropriate vibe. Customers walking into such a shop would expect to pay more, assuming the merchandise was worth it – and not mind doing so!

The product mix was unbalanced and didn't make sense – A great amount of space on a side wall was given to upscale candy for children. This raised the question of how much market research the owner conducted prior to opening. Our guess: not much. Being boutique candy brands, they were considerably more expensive than mass-market brands sold everywhere. Considering that kids aren't known for having a gourmet palate – and can't afford to buy their own candy, anyway – who was expected to purchase it? Parents? Indulgent grandparents? The surrounding neighborhoods were affluent, but not super-rich. The homeowners probably bought candy at the nearby Target, like everyone else. And their kids probably happily gobbled it up!

Even more puzzling was a display for a brand of clam chowder. There was a large four-color hardboard cut-out of a sea captain – the type of display you'd see in a supermarket – surrounded by cans of chowder. Why was this in a shop that supposedly specialized in selling artisanal chocolates? It made no sense. Did the owner think this would provide an additional revenue stream? It only confused potential customers, putting them less in the mood for making a purchase of any kind.

Lesson: Research your target market to know who you're selling to and what they want to buy! Investing some time in creating a buyer persona can help you identify your customers and their purchasing habits. Then stick to it! Perhaps the clam chowder vendor offered the shop owner a special deal if she carried the brand. But a product that's way off-base is no bargain, and will only hurt your business.

The main products were few in number and poorly displayed – Finally, the chocolates were found at the back of the shop, in a nondescript display case lit by the same indifferent overhead lighting illuminating the rest of the interior space. The selection was sparse. When done right, showcasing only a few items can give customers the impression of exclusiveness and luxury. However, this tactic tends to work better for fine jewelry and other high-ticket merchandise. After all, you would probably be expected to buy only one diamond necklace, but at least a dozen pieces of chocolate!

The business owner lacked people skills – Even with their unimpressive display, all would not necessarily be lost if the owner or employee running the shop had good sales skills. Unfortunately, the owner lacked basic people skills. When talking about the sources of the chocolates – which were impressive – the owner disparaged a popular brand of premium chocolate. Hint: it's named for a famous long-haired lady who went on a memorable horse ride! The owner's take was that the brand is actually mass-produced and owned by a global corporation, so it can't possibly be any good.

So here's the thing. Most people like that brand. They consider it a treat, and a big deal when they purchase it, or receive it as a gift.

Lesson: You don't win customers by insulting their taste. It's Salesmanship 101, Lesson One – always make the customer feel smart! The shop owner instead could have phrased her pitch as follows:

"Yes, (name of long-haired lady brand) is very popular, and introduced many people to the world of luxury chocolates. It really opened the door for smaller, hand-crafted artisanal chocolates to enter the market and find their audience. It's great that lovers of fine chocolate now have more choices for them to explore and enjoy! Would you like to try this delicacy from our collection?"

A much better approach, agreed?

Employees weren't knowledgeable about the products, and did not engage potential customers – When the owner wasn't minding the store, a person who was perhaps the sole employee was in charge. If a customer pointed to a piece of chocolate in the display case to buy, the employee took it out, put it in a small box, and took the customer's money. That was pretty much the extent of her engagement with customers. Every piece of chocolate had a story, the opportunity for telling it missed. Not to mention the opportunity to talk about the other offerings, thereby doing some subtle upselling. Or chatting with customers about their reason for shopping for chocolate, what kind of chocolate they like, etc. Basically, all of the social interactions required for creating customer relationships.

Lesson: We suspect the owner hired the person who would do the job for the amount the owner was willing or able to pay – which probably wasn't much. Yes, we know that paying employees is demanding for a small business. But it is possible to hire motivated, enthusiastic employees even if wages are low. Some people see a job as a valuable opportunity to learn skills and build their resume if they're just starting out – or as a way to apply the knowledge they've acquired over the years and interact with people if they're older workers. Hire the people for whom a job is more than a paycheck! They will add value to your business!

The owner didn't pursue opportunities to promote her business within the community – Now, back to that nearby wine shop. Doesn't wine and chocolate sound like a deliciously indulgent combination? The chocolate shop owner could have introduced herself to the wine shop owners – a married couple from France – and suggested a wine and chocolate tasting event, as the wine shop held weekly wine tastings. The chocolate shop owner could have earned new customers from the wine shop's well-established clientele.

Lesson: Don't be an island. Be neighborly and get acquainted with the owners of businesses near yours. There may even be an opportunity for you to partner together for some kind of special event. In any case, small businesses can help support each other in many ways. Look for them!
The Conclusion, Take-Home Message and Our Blatant Self-Promotion
Sadly, the chocolate shop went out of business quickly. Although the owner did almost everything wrong, the end of a small business represents the end of a dream, and diminishes the local business community and economy.
As for the nearby wine shop? It flourished and moved to another upscale shopping location, where it remains, as popular as ever. Why? Its owners shared their knowledge and love of wine with everyone who walked in. They hosted – and continue to do so – weekly wine tastings, accompanied by light hors d'oeuvres. The atmosphere is that of being welcomed into their home for a gathering of friends. The shop itself is well-organized and also sells wine-related gift items. In short, it's the polar opposite of the chocolate shop. It's the extension of the owners' gracious, people-positive personalities, informed by their extensive knowledge of their products.
Whatever its nature, a small business isn't just the sum of the items it sells – or its menu, in the case of eateries – but the personality of the owner. This is true for big businesses, as well. Our blog post – "Is Your Brand Connecting With Your Target Market?" – examines why the online pet supply company Pets.com spectacularly failed, while Chewy.com has succeeded. Branding, messaging and knowing their audience played a major role!
Our team at Virtual Stacks Systems welcomes the opportunity to help you meet your marketing objectives and succeed. Every small business is unique, and so are our solutions! We offer experienced website design and redesign, SEO marketing,  social media marketing,  PPC advertising  and much more!
Contact us today to get started!