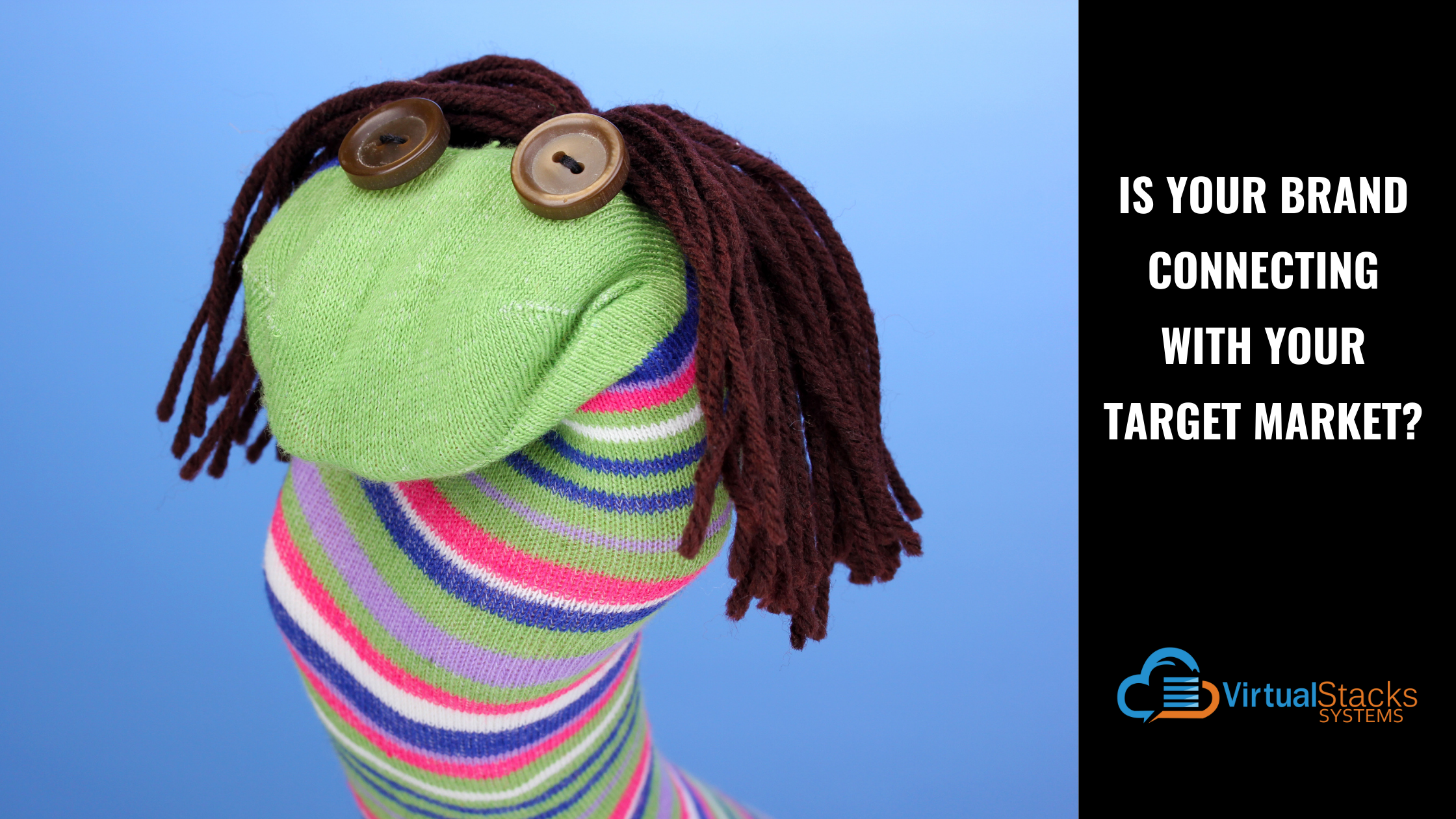 27 Jul

Is Your Brand Connecting With Your Target Market?

Okay, okay! We know that we say our humble blog focuses only on digital marketing topics of interest to small-to-medium-size business owners – that talk about what the big brands do doesn't apply. But sometimes, it does. Even national or global brands make mistakes that prove fatal, and these errors tend to be at the fundamental level. All the venture funding available couldn't overcome their inability to connect with their target market.

Cautionary case in point: Pets.com.

For those who remember – as well as those who don't – Pets.com was a pioneer in selling pet supplies and food online. Founded in 1998 during the infamous so-called "dot-com bubble," it went bust just two years later. There are complex reasons why – including the facts that the logistics for quickly shipping bulky items like bags of pet food were poor at the time, and people still preferred shopping in person – but a good part of its ultimate downfall was perhaps the very reason Pets.com enjoyed so much initial fame: The Pets.com sock puppet.

The sock puppet was the company's hip dog character mascot, starring in every commercial and making no attempt to look like anything other than a cheesy, homemade hand puppet. The unnamed puppet "interviewed" people with a microphone made out of cardboard, a Pets.com logo stuck on the side. Commercials typically featured the puppet riding in a van, making loopy conversation with the driver.

Although so popular at the time that the sock puppet touched down at the Super Bowl and was a balloon in the Macy's Thanksgiving Day Parade – and even made into a toy – it ultimately didn't save the company.
Why Has Chewy.com Succeeded While Pets.com Failed?
Now consider the ultra-successful Chewy.com, which performed so well it was bought by PetSmart, then split off as a separate entity in 2020 (although both are owned by the same corporate parent, BC Partners). Aside from enjoying better timing – having started when consumers were shifting their buying patterns from in-store to online – another factor could have made the difference. Watch any Chewy.com commercial and what do you see? People interacting with their pets! From dogs on a family picnic to a city cat in a covered baby stroller, all of the special moments that pet parents spend with their fur babies are featured front and center.
The Pets.com ads were too clever for their own good. The ad agency creatives were so focused on being witty, they lost sight of the human-pet bond that runs deep. Chewy.com commercials show its target audience that the company "gets" the connection that people have with their pets, and how it gives them the products, convenience and support they need to enjoy their life together to the fullest. Pet owners just didn't feel the love from a wisecracking sock puppet.
So What Does All This Have To Do With Your Business?
As we've said before, your business is a brand even if it's a sole proprietorship. No matter how big or how small, every business needs to connect with its target market. Our blog post – "I Second That Emotion- The Role Emotion Plays in Branding" – covers the importance of reaching your target market at an emotional level. Known as emotional branding, its principles can be applied to business-to-consumer (B2C) or business-to-business (B2B) companies. Simply put, emotional branding refers to the practice of building brands that appeal directly to a consumer's emotional state, needs and aspirations. It's successful when it triggers an emotional response that cannot fully be rationalized.
Even more simply put, if you own a bakery, you know – or should know – that you sell more than delicious treats. Cakes aren't only a favorite indulgence, they're part of celebrations that have meaning to people. The birthday cakes you create will be photographed, posted on social media and happily remembered for years to come – if not a lifetime! The same for wedding, quinceañera, sweet 16 and graduation cakes. Bakeries that connect with their target audience on this basis will position themselves to enjoy growth and repeat business.
Notice that this is all about your customers, not about your business. Or, returning to the bad example of Pets.com, not about showing off how clever or ironic you are. All of your communications should serve to show your target audience that your business is – or should be – part of their life. The best way to achieve that is through storytelling. But we're not talking about a work of fiction. Quite the opposite. Members of your target audience want honesty and transparency, as well as a compelling narrative.
Our blog post – "How to Make Your Story Connect With Your Customer Base" – covers the value of storytelling to form an emotional connection between your brand and your customers. The approach was described by Begon᷉a González-Cuesta – Dean of Communication and Media at IE University and Professor of Visual Narratives and Representation & Ethics. We quote directly from her article for Insights.
In a world that is oversaturated with information and messages, we have to be aware that we live in an "attention economy." Attention is the most valuable thing consumers can give a brand. Stories that achieve this effect possess the following attributes:
They deal with issues that matter to the audience.

They focus on the audience's interests or make them aware of their needs.

They encourage audiences to collaborate in their stories.

They create emotional connections with the brand.

They produce memorable experiences.

They infuse mere information with meaning.

They are designed to be shared and to generate conversations and communities.
Emotional Branding and Your Small Business
You may not be able to afford TV commercials, but you can create your own content for YouTube, Instagram and/or TikTok. Keeping messages authentic will go a long way in getting an audience. Your website's content definitely needs to engage your target market members, and be consistent with your brand voice. It will work against you if your YouTube videos are getting views and driving organic traffic to your website, but your website offers up dry, generic content once they reach it. Ditto for the rest of your social media and marketing! Consistency is essential to making and maintaining the connection with your target audience.
Following Up On Making the Emotional Connection
Even commercials featuring adorable pups and cute kitties frisking with their owners aren't enough on their own to build brand loyalty. Sustaining the emotional connection that earns real estate in consumers' hearts and minds requires much more.
According to Judd Marcello, EVP of Global Marketing at Cheetah Digital, businesses should focus on creating personalized brand experiences "… that offer a unique value exchange for the customer. Every time the customer engages with the brand, it has to drive affinity and attachment that keeps them coming back and will lead to greater trust over time … if marketers continuously deliver value, it will establish a lasting relationship."
The Take-Home Message and Our Blatant Self-Promotion
If you know why you started your business (other than to make money, that is), you should know what members of your target market are looking for in what you have to sell. People have intangible needs as well as tangible, and the business – no matter what its size – that best addresses both will succeed.
Our digital marketing experts at Virtual Stacks Systems know how to help your business connect with your target market through social media marketing, email marketing, website design and redesign, PPC advertising, SMS text marketing and much more! Contact us today to learn more and get started!