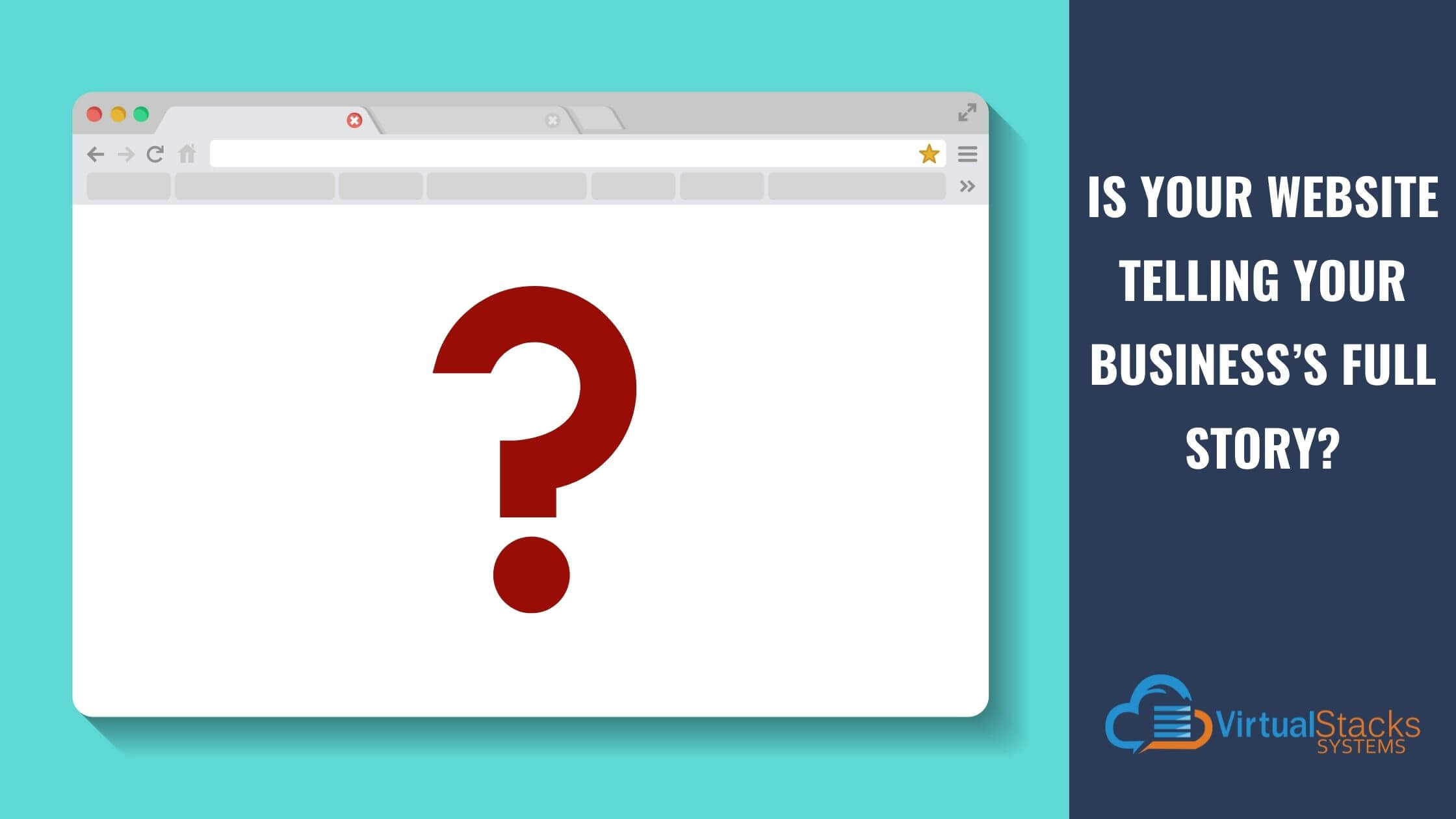 08 Jul

Is Your Website Telling Your Business's Full Story?

You may think that your website is doing a good job of converting visitors into customers. It may be well-designed, incorporate SEO best practices and be up-to-speed – but if your website doesn't tell the full story of your business, you're losing customers without even knowing.

This isn't exactly the same as storytelling, which was a popular buzzword in content marketing circles not long ago. In that context, the business – or brand – needed to craft a compelling story about itself to engage members of the target audience. The situation here is much more fundamental and practical for a small-to-medium-size business. We're talking about the important information that you may be leaving off of your website.

We're not refuting the importance of storytelling. Your brand – which every business is, even if it's a sole proprietorship – still needs to convey the structure of a hero (the customer, not your brand), a problem to be solved and a helpful guide (now, your brand) who can lead them to the solution. But all of this will be for naught if your website doesn't spell out everything your business does or can do for them. If visitors to your site don't find what they're looking for, Scheherazade herself couldn't tell a captivating enough story to keep them there. Of course, it's all the more a pity if your business does offer what they're looking for, yet your website neglects to tell them – so they bounce over to the website of one of your competitors, which does spell it out!
Important Information Your Website May Not Include
If you're a wedding photographer and work statewide but don't include that fact on your website, a potential client across state will assume you're out of range for their big day and not bother to contact you. If you own a bakery and welcome special orders for corporate events or other major celebrations but don't mention it, you'll lose potential business. Do you have a cleaning service that deep-cleans homes before they're put up for sale? Real estate agents might want to know that, but they won't if you don't tell them!
As the owner of a small-to-medium-size business, you may believe you've thought of everything worth mentioning. However, making sure you've covered the essentials is tough if you're going it alone and writing your own website copy – which we don't recommend. Our blog post – "Are You Losing Money Writing Your Own Website Copy?" – covers the many reasons you need to leave this important task to a professional web content writer.
"The reality is if you aren't paying serious attention to the copy on your site, you're probably leaving a lot of money on the table," writes marketing expert and copywriter Andy Duchow for Tweak Your Biz. "People are clicking away that otherwise would convert. Buyers are buying from your competitors because they were able to clearly communicate and you weren't. It could be that people aren't even finding your site in the first place because your headlines don't contain the relevant keywords that your prospects are searching for."
Even if you are working with a professional web developer or digital marketing agency, they can only include the information you give them. In this situation – as mentioned at the beginning of our humble blog post – the design, navigation, SEO, loading speed, etc. – may be great, but it's what's missing that can cost you customers. Yet, missing information goes beyond the extras that slipped your mind. Other examples include the following:
A clear description of your business – While this may seem insultingly obvious, visitors to your site need to know exactly what you do within the first two to three seconds of landing on your home page. Creating a sense of ambiguity or providing a rambling explanation will quickly send potential customers away.
In her article for Snapshot, Anna Glenn Grove writes, "From the moment a client or customer visits your website, they should not have to do any investigative work to find out who the company is. By simply stating your name and summing up your products on the home page you can save confusion on both ends. You want to attract the attention of your viewer within 2-3 seconds of them entering your site so that they stay to learn more!"
Complete contact information – Your phone number, email address and physical address needs to be complete and easy to find.  
"Many suggest placing it in the top left or top right corner of the home page," Grove writes. "Best practices also include keeping your contact on every page throughout the site. You want to make sure you provide several ways to get in touch! These could include an email, phone number, business hours or even an address which can be added through a Google Maps link."
Ways That a Digital Marketing Agency Can Help
We're getting ahead of our blatant self-promotion here, but hiring a full-service digital marketing agency provides several advantages over hiring a web development-specific company or freelancer. Virtual Stacks Systems takes a comprehensive approach, providing the right website content with the right design and optimization. Our blog post – "What Clients Need to Know About Working with a Digital Marketing Agency" – covers this topic in detail.
For example, during our discovery meeting, we'll ask the in-depth questions designed to learn all about your business, its value proposition, products/services, target demographic, etc. And we'll also ask about those all-important details you might not otherwise have mentioned – like the ability to accommodate diners with special dietary needs, if you own a restaurant that does so. It could be you assumed potential customers would already know, but featuring this information on your website will assure such people that they're welcome at your establishment. It may even prompt them to choose your restaurant over a competitor's because they'll feel valued, rather than an inconvenience to the servers and cooks.
Having become familiar with your target market, we can think like them and provide the information we know they're looking for when they visit your website. Including the right SEO keywords helps your website in the search engine results pages (SERPs), so potential customers find it in the first place. Social media marketing drives additional traffic to your website, as people who engage with your business's social posts click through. All of these components work together when a website is developed by one team as a comprehensive entity, rather than a piecemeal project in which one contractor or agency develops the website, another does SEO and still another writes content. You may think you'd be saving money by doing so, but ultimately it's false economy. Our blog post – "Why Web Design and SEO Need to Work Together" – covers the reasons in greater detail.
The Take-Home Message and Our Blatant Self-Promotion, Part Two
If your website is going to be a lean, mean, lead-generating machine – or a drive-traffic-to-your-door machine – it needs to have all of the parts to run smoothly and efficiently. Don't take chances on leaving anything out! Our experienced Virtual Stacks Systems team offers website design and redesign, SEO services, social media marketing, email marketing, PPC advertising, review management services and much more! Contact us to get started.