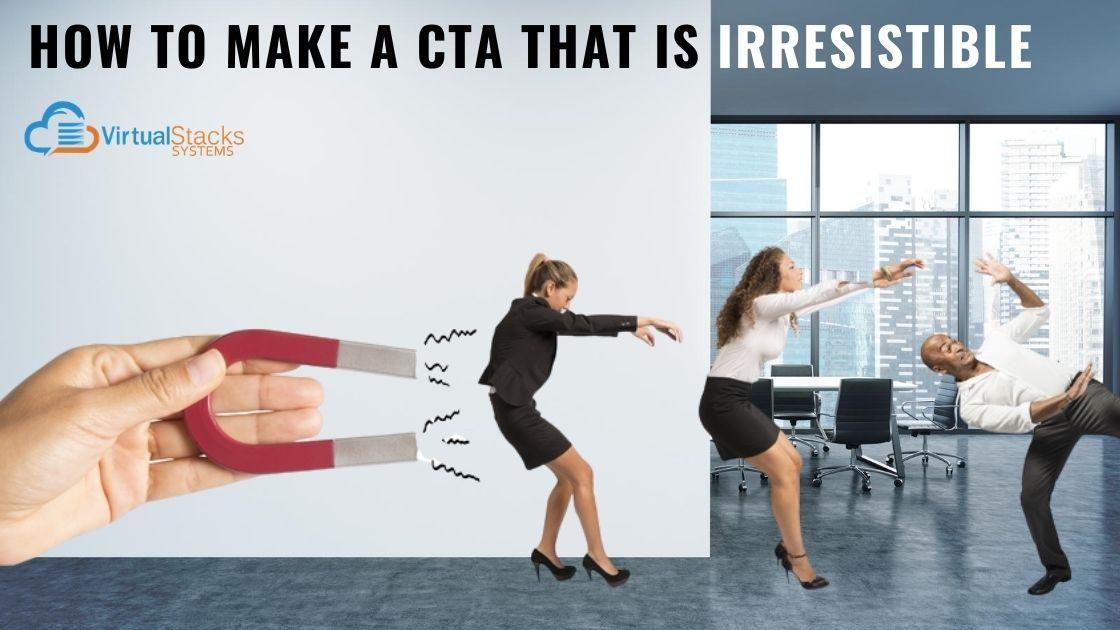 27 Aug

How to Make a CTA That is Irresistible

The customer's journey is lengthy and challenging – both for the potential customer and your business. Directional signs are helpful along the way. Your valued lead needs to know the next step to take, and what reward to expect. But since this expedition is in the digital world rather than the physical, these signs need to be prominent in your marketing campaigns – from landing pages to blog posts to emails. Case in point: the call-to-action (CTA).
What is a CTA?
As the name implies, a CTA calls upon the reader to take a specific action to reach the next level of the conversion process. Of course, you don't put it in those terms. A CTA typically takes the reader to a landing page where they do something that continues their buyer's journey – for example, download a whitepaper or other resources, sign up for an offer, register to receive a newsletter, etc. As Samantha Kramer writing for Thomas reports, "CTAs should drive to other related content, such as an eBook, or link to your 'contact us' page. This will help keep your brand top-of-mind while encouraging users to seek other content that may be useful to them."
The CTA itself is a graphic – typically a rectangle – with text that tells the reader what to do. We offer the following best practices in copy, color and layout to help make it irresistible!
As our blog post – "X Marks the Spot: Create Call-to-Action Buttons that Get Leads" – states, CTA buttons have a few basic characteristics:
They have a defined shape or border.

They have a different color from their surroundings.

They have text on them.
By the way, that defined shape needs to be rectangular, as we're conditioned to recognize a rectangle (or rectangle with curved sides) as the shape of a CTA button. Trying to be creative will only result in your CTA button being overlooked. Which leads to our next section.
Make sure the CTA can be seen
The following elements affect a CTA button's visibility:
Location on the page – The CTA button should be at the end of the so-called "read path" – that is, in the direct visual path of your visitor. The button should be placed so that clicking it is the next logical step after your visitor reads the last line of text. That is, place the CTA button at the end of text – not on the side, parallel to the body text. However, this is fairly common practice, as some marketers (and graphic designers) follow the "best practice" of placing the CTA where users will see it as soon as they land on the page. However, a study revealed that an A/B test in which the CTA was placed at the bottom of the page resulted in a 304% increase in conversions over the page with the CTA at the top.
Color and whitespace – The color of the CTA button should contrast with that of the background. Also, as a blog post on email platform Emma points out, the color of your CTA button plays a significant role in engagement. Keep color psychology in mind by noting the associations people make with the following:
Orange encourages immediate action

Lighter blues build trust and security

Green promotes relaxation and growth

Yellow grabs attention while creating a lower level of anxiety

Red increases energy and a sense of urgency
Also, be sure to have an adequate amount of white space around the CTA button to maximize visibility. If text is too close by, it won't stand out.
Add some emotion to those buttons
Now you have a nice, visually pleasing CTA button. But what's missing? Copy! Yes, having the right words inside that button has a major impact on its effectiveness. Returning to our original sign analogy, the message can be clear, vague or confusing. You want your journeying potential customers to find their way to your business in a straight line! Tell them exactly what they can expect if they take action.
As with the importance of sticking with the expected button design, attempts to be clever or creative with copy will likely fall short of visitors clicking the button. For example, if your landing page is for a resort timeshare and your goal is to get people to sign up for an introductory tour, the CTA button shouldn't read "You should be here!" The copy more likely to get a response is "Take a FREE tour!"
Use action words – such as Start, Join, Build, Learn and Discover. However, Emma cautions against using "friction" words – such as Download, Submit, Order and Buy.
"These are friction words because they imply your reader needs to do something they don't necessarily want to do. Think about it: You don't necessarily want to 'buy now' if you're simply browsing for ideas."
HubSpot's Brittany Leaning recommends the following additional CTA button copy that's proven to be successful:
Sign up – "In this type of CTA, the audience might be invited to sign up for a free trial, an online course, a future event, or even a software product. It all depends on the CTA's context on an ad or website."
Subscribe – "This CTA doesn't commit a person to a purchase. Rather, it invites them to receive updates from the company. 'Subscribe' CTAs are common to company blogs, for which the business wants to develop a readership."
Try for free – "Nearly every company website has a free trial offer today. Each of them are CTAs of this variety, and they allow people to demo a product before deciding if it's worth the cost to them."
The take-home message and our blatant self-promotion
As you've seen, a CTA is important, although the CTA button itself may initially seem humble and unassuming. Paying attention to your CTAs and utilizing these fundamental best practices should pay off with buyers reaching the end of their long journey with your business as their destination!
Of course, fine-tuning your CTA buttons is just part of overall website best practices – which include fast loading speed, up-to-date design and functionality that helps boost your conversion rate. Virtual Stacks Systems offers comprehensive web design services that allow you to reach your company's goals. Contact us to learn more.