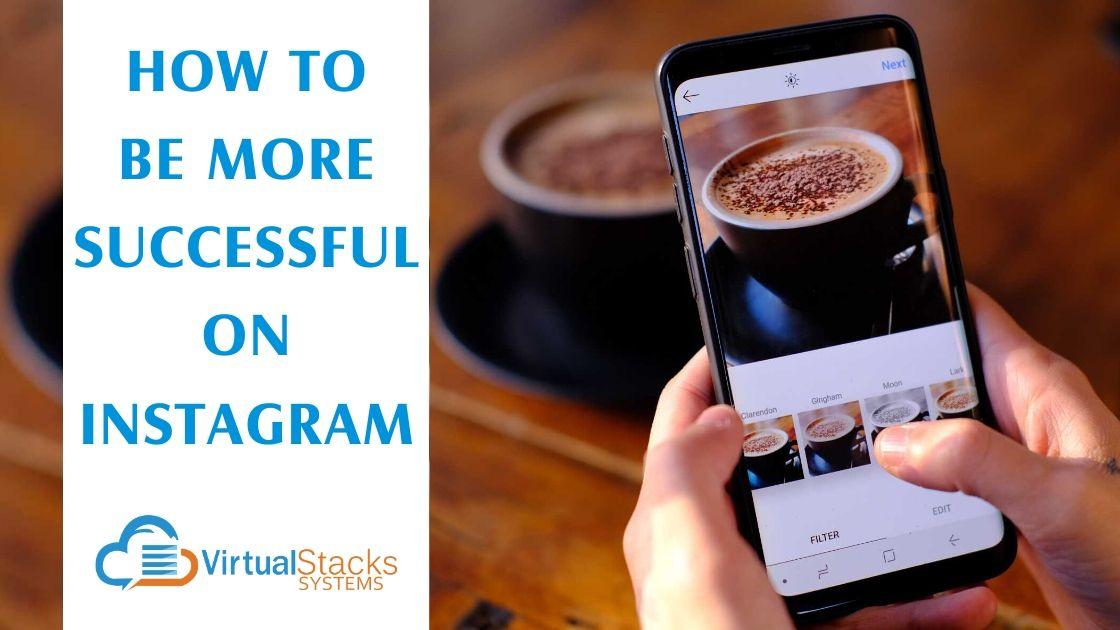 15 May

How to Be More Successful on Instagram

If your business has a nice, steady following on Instagram, congratulations! However, there's always room for improvement. And if your followers are few and engagement low, you're looking for ways to make your company's Instagram account the effective marketing tool you had originally intended. According to HubSpot's Caroline Forsey, there are now over 25 million businesses on Instagram – most of which are small businesses. This step-by-step guide provides advice on using Instagram successfully to achieve your marketing goals.
Define your goals
The logical first step in this process is to define your goals. Do you want to build brand awareness, create a community or drive sales – or a combination – or all? As Christina Newberry writes for Hootsuite, "Understanding your goals keeps you on track and allows you to focus all of your efforts on achieving real business objectives."
Toward that end, she recommends following the fundamental SMART framework, ensuring that your goals are Specific, Measurable, Attainable, Relevant and Timely.
"As you build your Instagram presence, it's okay to have goals based on vanity metrics like likes, follows, and comments. But make sure you also set goals that relate to real business objectives."
In this observation, Newberry points out an all-too-common pitfall of small-to-medium-size businesses on Instagram. As our blog post – "Seven Deadly Sins of Social Media for Business" – covers, posting content just to get as many "likes" as possible is ultimately counterproductive. Posts that don't convey your brand, brand voice or business pillars won't achieve tangible results. We'll discuss the importance of posting the right kind of content soon, but this occurs so frequently that it bears bringing up now.
For example, our Virtual Stacks Systems team could post cat videos and memes on our company's own Instagram account every day, and they'd probably get plenty of likes. But how many of those who click on that heart icon would really be seeking digital marketing services? Ask yourself if you just want to entertain people, or attract leads to your website and start building relationships that convert to sales. Without having concrete goals and objectives for your Instagram presence, you could actually be damaging your brand image.
To measure your results, Newberry recommends using metrics that relate to each stage of the customer journey. Awareness includes such metrics as follower growth rate and post reach. Engagement includes likes and shares. Conversion can include such metrics as click-through rate and bounce rate. For paid Instagram ads, conversion metrics would also include cost-per-click and cost per thousand (CPM).
Have a strategy
Knowing your target market is essential to crafting a successful Instagram strategy. This is the time where it may be necessary to rip the bandage off quickly. As we covered in our blog post – "Is Instagram Right for Your Business?" – this is a platform for the young. Users under age 35 make up more than 70 percent of Instagram's more than 800 million active accounts worldwide. If this isn't the target demographic of your business, you may not gain enough followers to justify your investment in time and resources. Not every business needs to be on every platform (the topic of another blog post). There's no shame in dropping Instagram and focusing more attention and ad dollars on those that are performing well for you.
If millennials and members of Generation Z are your audience, carry on! Hopefully, you already possess valuable information about your customers and potential customers – such as their lifestyle, values, aspirations, purchasing habits, etc. In short, their buyer persona (fictional, generalized representations of your ideal customers). Visit Instagram accounts of other businesses that your target market supports – and, of course, your competitors' Instagram accounts. Take note of how your competitors' audience members interact with them.
Once you've identified your audience and better understand who they are, you can hone a clear value statement for your business and start posting the kind of content they'll want to engage with. But before putting your new strategy in action, make sure you're taking full advantage of the tools available in your Instagram account.
How to get the right professional polish
Optimizing your Instagram profile will show visitors that your business is on point and professional! Newberry recommends the following:
Create an informative, engaging bio – This can be challenging, considering Instagram provides only 150 characters. It should convey who you are, what your business is all about, and why visitors should care. Include hashtags (they're clickable), spacing and line breaks for easier readability. Remember your brand voice. If your business sells an upscale product or service, a casual or slangy tone is all wrong, and will read like it was written by the summer intern.
Complete your profile – Be sure to include the name of your business, and your username – which should be the same on all of your social networks. Include a link to your website or current campaign. Also include all contact information, complete Category (which appears under your name), and call-to-action buttons (if applicable to your business).
Use the features – An Instagram Business Profile gives you access to metrics on how your posts and Stories (more about them soon) perform, the ability to track how your followers engage with your posts, access to features to run ad campaigns and the ability to add URLs to Stories so you can drive traffic to your website. Ignoring these tools is the same as leaving money on the table!
Post the right content
Outside of video sharing platforms, Instagram is the most visually oriented of the major social media platforms. Create a consistent, recognizable visual identity for your posts. Look at print ad campaigns, and you'll see that each brand has a distinctive visual style. "That means consistent colors and filters and an overall aesthetic that is easy to spot as your fans scroll through their Instagram feed," writes Newberry.
You don't need a big budget to accomplish this, but you do need proficiency in basic photography and graphic design techniques. Our blog post – "Get a Sharper Image for Your Brand Through Sharper Images" – offers easy, economical tips for businesses to improve the quality of their photos for use on websites and social media.
Again, the harsh truth is that Instagram users "like" attractive photos and graphics. Copy – no matter how well-written – is secondary. Blurry photos, crowd shots featuring the back of heads, heavy use of stock photography and poor-quality, out-of-ratio graphics won't compel any clicks.
About Instagram Stories
Did you know that more than 400 million people use Instagram Stories every day – and that 39 percent of people surveyed indicated they became more interested in a brand or product after seeing in on Stories? According to Instagram, one-third of the most-viewed Instagram Stories are posted by businesses. Although Stories have only a 24-hour lifespan, they attract viewers and give you a great opportunity to tell new, interesting stories about your brand. End with a strong CTA to generate leads and sales!
Are Shoppable Posts right for your business?
If your business sells merchandise, Shoppable Posts allow visitors to make purchases directly on Instagram. So why wouldn't you take advantage of this powerful feature? The conventional wisdom of driving traffic to your website is so that visitors can convert to customers – yet it's all the better if they can buy what you're selling while they're looking at it on Instagram!
Know what type of hashtag you need
Instagram allows a maximum of 30 hashtags per post and 10 on a Story. However, you probably shouldn't use that many. Fewer, but well-chosen hashtags will be more effective than more hashtags thrown out there to see if anything sticks.
Writing for Later, content marketing strategist Benjamin Chacon notes, "Using relevant, targeted hashtags on your posts and stories is still one of the best ways to get discovered by new audiences on Instagram. And this can translate into more engagement, more followers, and more customers for your business."
Chacon identifies three main categories of hashtags:
Community hashtags – These connect like-minded users around a specific subject – such as your business category, industry specialty, Instagram communities in your industry, special days/events/seasons, daily hashtags (#throwbackthursday), and hashtags incorporating your location (#chowdownorlando).
Branded hashtags – This is a hashtag unique to your business. It can be your company name, tagline or the name of a product or campaign. However, this type is typically more successful for major brands.
Campaign hashtags – This type is used for specific campaigns – such as for a new product launch, special event or partnership. For example, the Tezza app (@tezzaapp) used the hashtag #12daysofthezzaapp to promote a holiday campaign. As with branded hashtags, these are more effective if you already enjoy high brand recognition.
To find the optimum hashtags for your business, go back to the information about your target audience and competitors you discovered during the goal-defining and strategic stages of the process. See which hashtags your audience, competitors and industry leaders are using. Your hashtags should be relevant and contain keywords that your audience is actually searching for.
Also, Chacon writes that the more of a niche category your hashtag addresses, the higher the engagement you're likely to get.
"For example, let's say you're posting a photo of a French Bulldog. Instead of just tagging #dogstagram (over 15 million posts), you could also tag #frenchie (over 5 million posts) and #squishyfacecrew (over 1.3 million posts) to reach a more targeted audience of people who really love French Bulldogs. This is the best way to get a lot of targeted engagement on your posts!"
Diving deeper into effective hashtags for a small business
Small business owners can get big results from using the right hashtags. Alexz Miller – director of marketing of Kicksta – provides an example of how a local merchant can expand its Instagram followers. We quote Miller's words verbatim from her informative article:
Bark It Up, a Brooklyn-based dog salon and daycare has a loyal and supportive clientele within their community. With a following on Instagram of 800 users, Bark It Up should tap into the incredibly popular Instagram dog niche to attract new followers. The following hashtags would best reach out to dog lovers and dog owners within their community:
Brand-specific and long-tail hashtags: #Letsbarkitup, #doggosdoingthings
Trending and local hashtags: #dogspa, #brooklyndogs, #newyorkdogs
Industry hashtags: #rescuesaveslives #adoptnotshop
As a small business, Bark It Up needs to make reaching out to their local audience a priority. With the local hashtags, they will be able to catch the attention of dog lovers living in New York, as well as other Instagrammers that just love dogs.
Beware of banned hashtags!
Instagram has a list of naughty-naughty, no-no hashtags that will immediately get your post flagged and disabled. Reading through the list can be a perplexing experience. While some are obvious, many others appear to be perfectly innocent – so be sure to refer to the list frequently, lest you run afoul of Instagram's arbiters. Yes, Instagram will clutch its pearls over #happythanksgiving.
Increase brand awareness with an Instagram Ad campaign
If you want to increase brand awareness or sales, an Instagram Ad campaign can help do both quickly. Focus on one goal, and create a high-quality image. Forsey recommends running A/B tests for multiple versions of the same ad to see which performs better. Ads are created in Facebook Ads Manager (Facebook owns Instagram), which allows you to target your audience according to location, age and various interests.
The take-home message and our blatant self-promotion
Instagram's icon may be a camera, but achieving success on this popular platform isn't exactly a snap! While it is possible to take the DIY approach, the time and resources for a small-to-medium-size business to invest may be too much. Of course, that's where Virtual Stacks Systems comes in! We provide comprehensive social media marketing services, as well as PPC advertising, website design and redesign, SEO marketing, review management services, social media marketing, video production and much more! Contact us to get started.