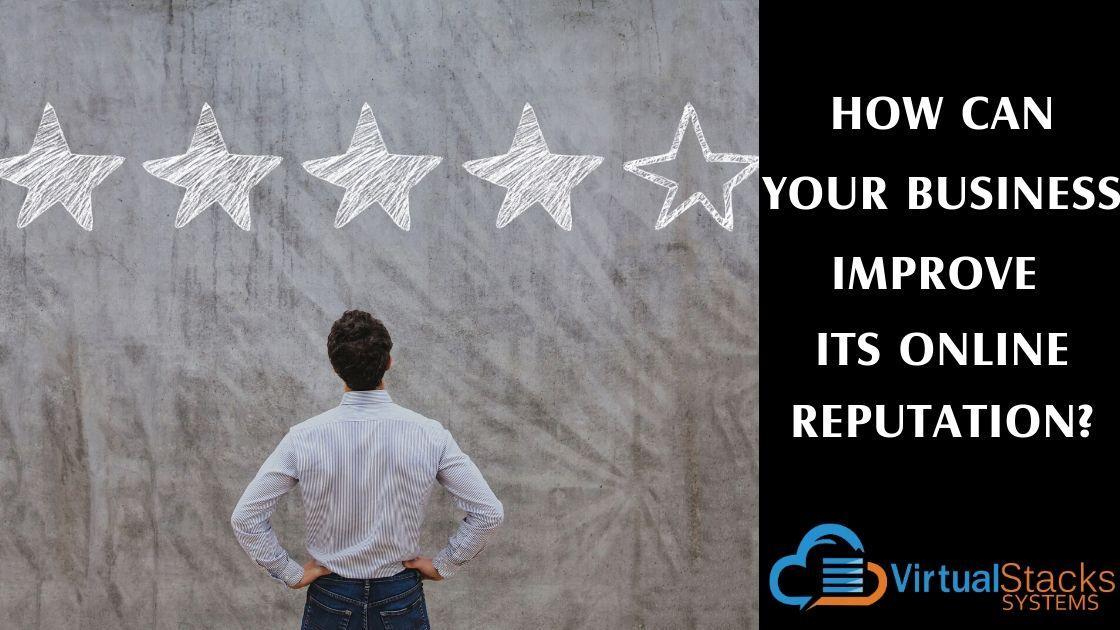 06 Feb

How Can Your Business Improve its Online Reputation?

"Anyone with a smartphone can impact your brand." – Claudia Gerbasi, Managing Director, Retail, Reputation.com

Your business may have been on the receiving end of bad online reviews or social media posts. As you've undoubtedly noticed by now, those negative comments don't go away. They live online forever, dragging down your company's reputation to all who Google your name. But even if your enterprise isn't being publicly dissed, a lack of reviews in general can still put you at a big disadvantage against competitors that attract scads of glowing testimonials and stars on Yelp, Google, Facebook, etc.

In such a case, a lackluster online reputation can be compared to being in heck – you haven't done anything bad enough to be in h-e-double-hockey-sticks, but not good enough to earn heavenly status. When potential customers search online for businesses in your industry, and find your competitor with plenty of rave reviews, and your business with few-to-no recent reviews, which do you think they're more likely to call? According to Retail Dive, 87% of shoppers conduct online research before buying – and part of that research involves evaluating the online reputation of the retailer or service provider. On top of that, 92% of consumers trust peer reviews over advertising.

So what can you do to help your small-to-medium-size business boost its online reputation? Plenty! First, keep our opening quote from Ms. Gerbasi in mind. Consumers can quickly share their experiences with your brand – positive or negative – with the world in numerous ways.
What is reputation management?
Simply put, reputation management involves monitoring and influencing the online reputation of a business or brand, as well as addressing negative mentions or reviews. As noted by content strategist Dan Virgillito, "Calling it 'online reputation' really is redundant. Your online reputation simply is your reputation. In the digital era, nothing is protecting you from criticism anymore."
The tricky part is knowing which sites to monitor on a regular basis. Comments and reviews can be made on the following:
Social media networks

Consumer review sites

Websites that allow individuals to post reviews

Independent discussion forums

User-generated content

Blogs/blogging communities
For most businesses, keeping track of your Google and Facebook reviews is the most fundamental. Vendesta offers the top 10 review websites, some of which will be more relevant than others to your particular business.
As mentioned earlier, negative reviews and comments linger indefinitely. Even if your business has taken the criticism to heart and remedied the situation, the toxic tweet or review can be picked up by lazy bloggers and reporters and repeated without conducting follow-up research. Case in point: Dark Horse Espresso Bar.
Back in 2010, market startup strategist April Dunford tweeted a complaint about the lack of electrical outlets available for customers working on laptops – as café customers often do. The establishment's snippy reply:
"@aprildunford that's awesome… we are in the coffee business, not the office business. We have plenty of outlets to do what we need…"
The Toronto-based café has six locations, all of which seem to have a loyal following. Maybe good coffee and customer service outweighed a single ill-considered social media response. Still, Dark Horse Espresso Bar is always trotted out as the ultimate example of how to not handle online criticism.
While Dark Horse Espresso Bar hasn't seen a reason to address this persistent black eye, a business in a similar situation could search online for its name and look for results that repeat the incident. If the business has made the source of the complaint right, the owner could contact the blogger or other individual who repeated it and provide an update – then ask for that updated information to be posted.
The business could also post the update on its own social media platforms, acknowledging the poor judgement and what has been done to both correct the situation that was the source of the customer's complaint, and the original dismissive response to the complaint.
How to improve your reputation
We'll look at two main areas: damage control and encouraging satisfied customers to post positive reviews.
On the damage control front, know the right way to respond to a bad review or criticism. We coach our clients with the following advice, which we shared in our March 8, 2019 blog post – The Bottom Line About Online Reputation Management.
Even if a customer's criticism is rude, acknowledge the complaint in a professional manner. Don't get defensive or snarky.

Offer to make the situation right. Whether the issue is miscommunication, non-response to a phone call or email, etc., let the customer know you will reach the appropriate person to resolve the issue.

Follow up to confirm that the action was taken, and the customer is now satisfied.
It is important to reach out to unhappy customers when you become aware of the negative feedback. Even if you can't provide an answer or solution immediately, acknowledge their complaint, let them know you're working on it, and will get back with them as soon as possible.
If you're sincere in your offer to correct the situation or otherwise make a good-faith effort to do so (and you should be), the customer may take down the review. If this does not or cannot happen, follow-up posts should chronicle the exchange until the customer acknowledges the situation has been resolved to their satisfaction.
However, sometimes, the customer isn't always right. Some people are combative and look for opportunities to berate a business, even after every sincere, reasonable step has been taken. In such a case, carefully phrase your online public exchanges to clearly show that your business is doing the right thing. Others who read the review site or social media platform will be inclined to understand.
Be proactive to avoid complaints
Can you identify the main reason(s) for complaints about your business? Poor-quality service or merchandise, poor customer service, miscommunication, receiving the wrong order and missed delivery or service call times are common causes. Examine your quality control process and identify areas for improvement – then take the necessary actions. Mistakes occur occasionally, but if the same type of complaint is being made on a consistent basis, it's time for serious soul-searching.
How to encourage satisfied customers to write reviews
It's a well-known fact that unhappy customers are more likely to write bad reviews than happy customers are to write positive reviews. HubSpot's Sophia Bernazzani provides some solid strategies, including the following.
Claim your business's pages on

Google My Business

,

Facebook

,

Yelp

,

BBB

and

Amazon

(if applicable).

Optimize your website, blog posts, social profiles and emails to provide quick and easy avenues through which to write reviews.

Offer incentives – such as discount or coupon codes, entrance into a contest for an even bigger prize, or gift cards for coffee, online shopping or cash.

Ask your customers for reviews at the right time – for example, after they've had the opportunity to use the product, when they reorder, tag your brand on social media, etc.

Make sure they're happy with their purchase before asking for a review.

Share positive customer reviews you've already received.
The take-home message
Improving your online reputation not only involves effectively addressing negative feedback (as well as preventing the reasons for complaints, when possible), but accentuating the positive through encouraging happy customers to write good reviews.
For business and brands that don't have the resources or time to perform their own online reputation management, Virtual Stacks Systems provides an industry-leading review management system.
Our solution helps you tactfully ask and remind customers for feedback, guides them through the online review process and gives you a chance to reach dissatisfied customers before they write a negative review.
Other features include:
Managing all customer reviews in one location, including responding to an unhappy customer.

Streaming your best reviews to your website.

Providing an easily accessible way for customers to leave a review from your website or automate an email, text or MMS drip campaign for more reviews.

Providing detailed user demographic data.

Creating alerts and reports regarding your current online reputation.
Virtual Stacks Systems is ready to be your partner in digital marketing success. In addition to review management services, we offer website design and redesign, SEO marketing, social media marketing, PPC advertising and much more!
Contact us to get started!