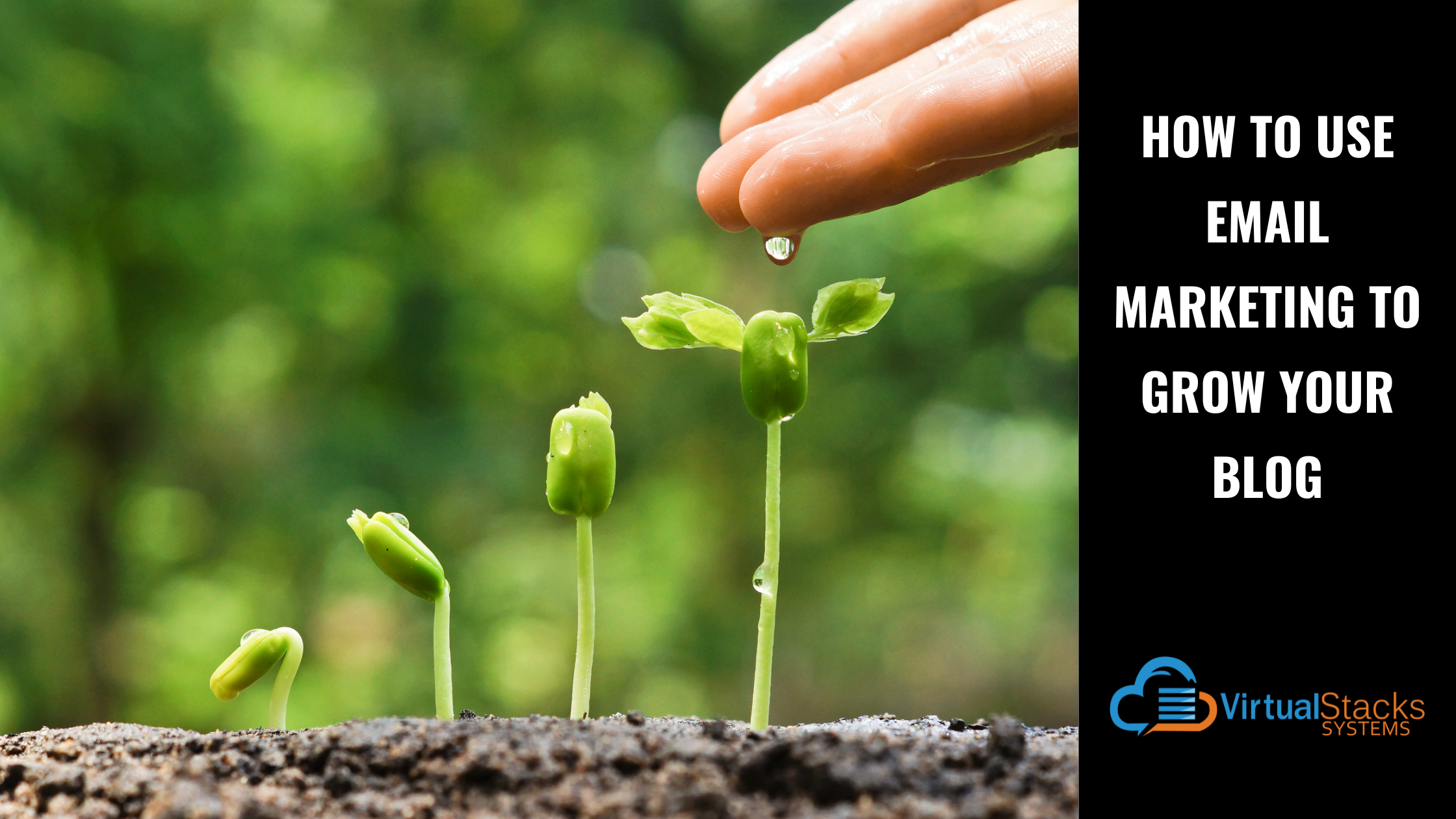 12 Nov

How to Use Email Marketing to Grow Your Blog

So you've taken our advice and started a blog for your business! Or perhaps we're just flattering ourselves too much. Whatever the case, you've been turning out insightful, quality content to drive traffic to your website, boost your SEO, position your brand as an industry leader and build better customer engagement. The problem is, few potential customers seem to be reading it. Why? Because you have more work to do!

The situation is that your blog isn't reaching the people who should be reading it. Promoting your blog with email marketing can be an effective way of getting their attention and keep them coming back for more.

If you're new to the realm of digital marketing, email marketing is a type of direct marketing that uses email to promote your business's products or services. It can help make your customers aware of your latest products, services or offers – as well as increase lead generation and brand awareness while building customer relationships.
The Overall Benefits of Email Marketing
Promoting your blog should be just one aspect of email marketing. As our blog post – "Are Email Campaigns Dead?" – covers, email marketing is more vital than ever, giving brands a direct way to segment, engage, nurture and convert leads. HubSpot staff writer Caroline Forsey provides an extensive list of email marketing facts and statistics. Here is a brief selection:
59% of respondents say marketing emails influence their purchase decisions.

73% of millennials prefer communications from businesses to come via email.

78% of marketers

have seen an increase in email engagement over the last 12 months.

81% of B2B marketers

say their most used form of content marketing is email newsletters.

80% of business professionals

believe that email marketing increases customer retention.
In order to promote your blog, we're really talking about starting an email newsletter, if you don't already have one. Our blog post – "How to Write a Compelling Email Newsletter" – covers this topic in detail. Featuring your latest blog post can be the centerpiece of your newsletter, providing your subscribers with a reason to visit your website on a regular basis.
What Your Business's Blog Brings to the Table
With your newsletter's subscribers clicking through to your blog post, you have the opportunity to further engage them. If your business is business-to-consumer (B2C), your recipients may be interested in learning how to better use your product or utilize your service – or learn that they really need it! Or you can write about related topics of interest – for example, blog posts about food, nutrition and entertaining if you sell small kitchen appliances. If your enterprise is business-to-business (B2B), your blog can provide the opportunity to position you as a thought leader who offers relevant industry insights.
Keep it Legal – What You Need to Know
One very important fact to keep in mind is that anyone on an email list must give permission for your company to use their information for that specific purpose. Email addresses of clients, customers, people you've met at trade shows/conventions, your LinkedIn connections, etc., cannot be compiled for an email list unless you have asked their permission (and they've clearly given it).
In addition, the CAN-SPAM Act, The European Union (EU) General Data Protection Regulation (GDPR) and the California Consumer Privacy Act (CCPA) all exist to protect consumer privacy, data and rights.
The CAN-SPAM Act establishes requirements for commercial messages, gives recipients the right to have you stop emailing them and spells out tough penalties for violations.

The GDPR was enacted to protect the personal data of EU residents and affects any business that has customers located in the EU. There is no restriction based on location, company size or scope of business, meaning any entity with an internet presence could be affected.

The CCPA went into effect on January 1, 2020. While it may not be applicable to most small-to-medium-size businesses, all email campaigns go back to your website, which should be compliant to be on the safe side.
How to Build an Email List
Hopefully, we don't have to tell you to not buy an email list. It's a sure-fire way for your newsletter to wind up in the spam folder, and the names on such a list will never be your customers. Wishpond offers the following tips on how to grow your email list with those who want to receive communications from your business.
Conduct social marketing campaigns – "You probably already host social campaigns like contests and sweepstakes … Social contests not only spread the reach of your brand, but they're also a very cool way to collect emails. Host a sweepstakes on your Facebook, Twitter, or even your blog. Ask for an email as a simple way to enter. You can even generate more motivation to spread the word about your offer by running a referral campaign – giving people deals for getting their friends to give you their emails too!"
Include a link to your blog in all social media profiles – "You can post email-gated content like webinars, ebooks and coupons. You can make a Facebook tab for email signups, and incentivize it with exclusive offers."
Use your social media sites – Offer exclusive deals to newsletter subscribers through your social media posts – and give non-subscribers the opportunity to sign up!
Other Related Tips for Driving Traffic to Your Blog
In addition to building a strong mailing list to improve the reach of your newsletter and drive traffic to your blog, here are a few additional strategies.
Use your email signature – Your outgoing email has a signature with your name, title, company name and contact information. Add a brief, friendly call-to-action inviting recipients to visit your blog, with an easy-to-click link.
Segment your email – If you use an email marketing platform, segment your email list into targeted groups based on your business needs. As Wishpond writes, "For example, if you're sending emails to your business suppliers, you'll likely want to make them different than emails you are sending to your active customers."
Utilize opt-in pop-ups – As controversial as opt-in pop-ups are, they're effective in prompting visitors to subscribe to your newsletter. Just follow good practices, which include the following:
Time pop-ups so only those who are on your site for a longer time get the offer, instead of having them launch immediately.

Don't hide the "close" button.

Don't have the window occupy most of the page.

Don't have the window move around the page.
How to Get Subscribers to Open Your Newsletter
You can have a highly informative newsletter, but if the subject line is bad – or worse, spammy – it will go unread or straight into the spam folder. Visible Links Pro founder Michael Usiagwu recommends thinking of the subject line as a headline, and writing it accordingly to grab attention.
"Your newsletter's subject line needs to be interesting, eye-catching, and able to raise the curiosity of your subscribers so much so that they click your newsletter and start to read. Remember that there are limits on the characters subscribers can see before their mail app truncates the text. So make sure that you front-load the part of your subject line that will grab their interest."
As for those spam trigger words to avoid, here is a list, courtesy of Autopilot. There are far too many to list here, but the top offenders include "act now," "deal" and "special promotion." You get the idea.
The Take-Home Message and Our Blatant Self-Promotion
As you've learned, there are many approaches to boost readership for your blog! Implementing them to achieve optimum results takes time and experience in the digital marketing realm. That's what Virtual Stacks Systems is here for! Our dedicated digital marketing team provides experienced email marketing, social media marketing, website design, website redesign, SEO services, PPC marketing, reputation management and much more! Contact us today! We are ready to be your partner in success!