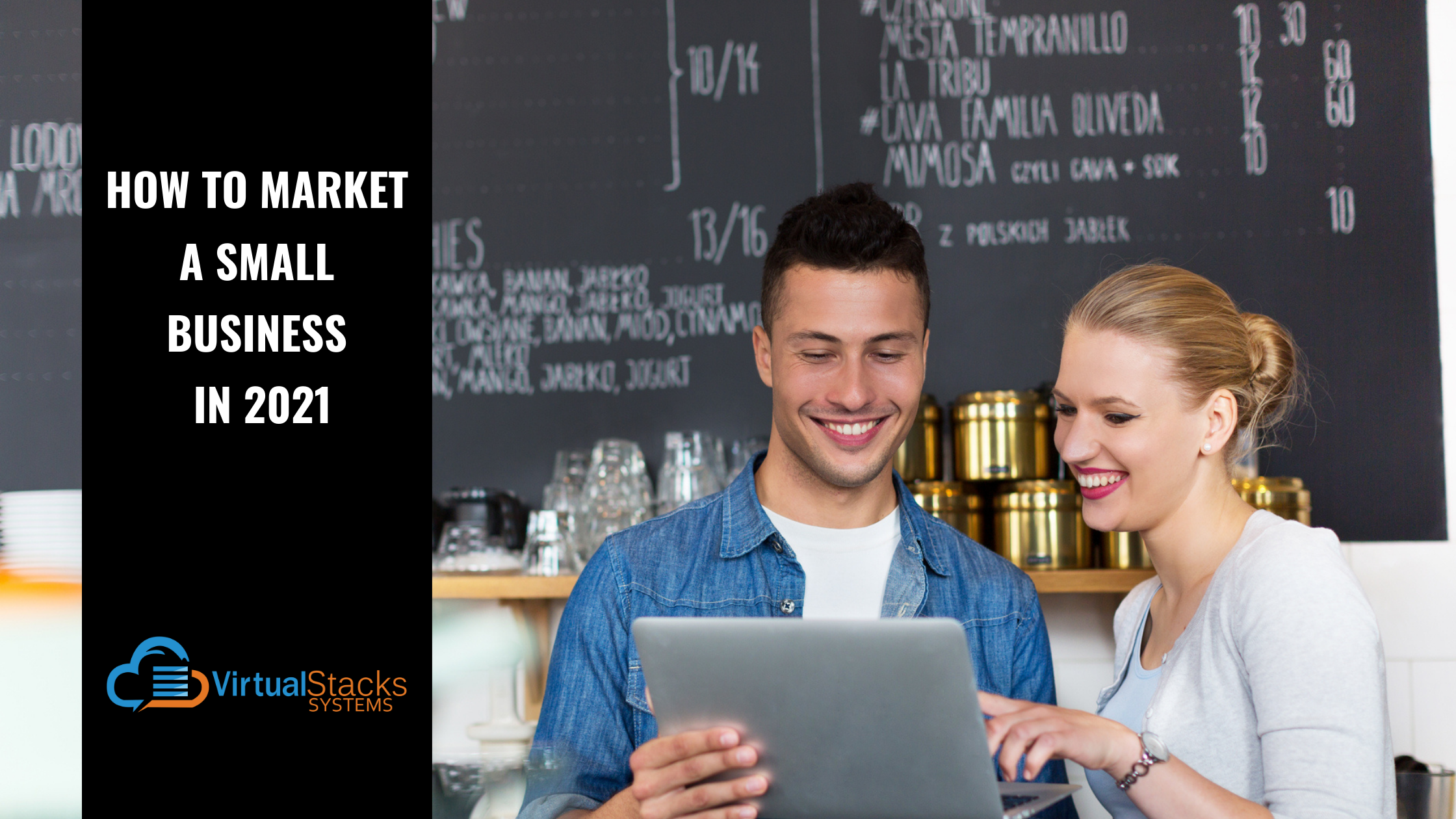 26 Feb

How to Market a Small Business in 2021

2020 was perhaps the most devastating year in modern history for business of all sizes. With their limited resources and budgets, small businesses took an especially hard hit. For those that have survived the immense challenges dealt by COVID-19 and are determined to persevere, you have our great respect! Although the road ahead isn't yet smooth, there are ways to give yourself a big advantage. Improving your marketing strategy can allow your business to overcome continuing or new challenges while aiming for a clear shot at success.

Today, we're providing you with all the information you need as a small business owner — including marketing strategy development, the latest marketing trends and how to do your social media right.

Keep reading to learn more!
Develop a Strategy
Time is valuable and resources are stretched especially tight. Therefore, your marketing efforts need to be specific and intentional to achieve the best results. Developing a strategy moving forward requires looking at last year's marketing strategy and determining the specific ways your business could improve.
Salesforce offers four key steps to creating an effective small business marketing strategy on a budget:
Do your research —

Not only should you be researching your competitors and how they approach their marketing, but you should also research the current state of the market itself. Consider how consumers are expected to interact with businesses this year and the effects of external factors such as lockdowns. E-commerce, for example, is a huge growing opportunity for small businesses to stay afloat and connect with customers in 2021. Also study the effect that the pandemic has had on your competitors for any opportunities that could give your business a stronger position in the local market.



Understand your customers —

To make your marketing efforts successful, they need to resonate well with your customers. Find out their expectations of your business this year by using social listening strategies or even digital surveys! There's no use wasting time on campaigns that your customers aren't going to care about.

Set priorities —

Your business likely won't be able to achieve everything you want through your marketing and general business operations this year, but you can set priorities and goals to make the most out of limited time, budget and resources. Get as specific and clear as possible when setting your goals. SMART (Specific, Measurable, Achievable, Relevant, Time-bound) goals are a great start!

Check your ROI —

Audit last year's marketing efforts to determine your return on investment before making final decisions about future marketing. See what worked, what didn't and what has room for improvement. Keep evaluating your ROI throughout the year to identify both successful and unsuccessful strategies!
What's Trending in 2021
Once you have a good foundation for strategy development, you can then start looking at the latest marketing trends that could benefit your business. Marketing — especially digital marketing — goes far beyond just paid advertising. A more comprehensive strategy is the way to go! Dhiraj Nallapaneni — product marketing manager for Birdeye — covers the trends he expects to become popular as small business marketing strategies for 2021.
Local Search — Customers can take advantage of Google's location features by adding "near me" to any search. From there, Google will display the most relevant results based on location and SEO. One of the most important things you can do to boost your appearance in local search is to create a free Google My Business account, which includes a Business Profile that lets you easily connect with customers across Google Search and Maps.
Customer Reviews — Customer reviews also play a huge part in your ranking on Google. For small businesses, a few honest glowing reviews can make all the difference. Be sure to encourage reviews from your customers through in-person, text or email campaigns. It's also important to respond to every review to help build customer loyalty, resolve any customer concerns and develop a strong brand image. Review management services can help you keep track of it all, too!
PPC Advertising — Pay-per-click advertising, also known as PPC, is most effective when paired with organic marketing methods. Customer ratings of your business can be featured as part of your PPC campaigns, with an effective clickthrough rate of up to 17% on average. However, it is important to note that you need at least 100 reviews in the past year in the country you're running the ad and a minimum 3.5 star average rating.
Email Marketing — With customers now interacting with brands virtually, email marketing has become more influential than ever. Email marketing campaigns can build strong customer relationships as you connect with them throughout the buyer's journey. Keep your email campaigns regular and consistent to help your business stay fresh in the minds of your customers.
Search Engine Optimization — Search engine optimization (SEO), is an avenue of digital marketing you can't go without. SEO 2021 strategies help keep your business ranking high in search engine pages results (SERPs) for both new and old customers. Some easy ways to get started with SEO are to post at least one new piece of content to your website every month — such as a blog post — and to use relevant keywords for your business, services, industry or region. In fact, our blog post — "Why Your Website Needs a Blog" — covers the SEO (and numerous other) benefits of a business blog in detail.
Doing Social Media Right
Social media is possibly the most valuable marketing tool for small businesses, especially in 2021. However, social media can easily be a vacuum of time and money if not executed strategically. Small businesses can use social media to increase sales, offer stellar customer service and create brand awareness.
Be sure to follow these social media for small business tips this year, courtesy of Buffer:
Decide which metrics matter to you — Vanity metrics such as likes, followers, etc., can be important to track, but it's also important not to get too hung up on them. The social media metrics that matter the most to your brand should be the ones that have the most engagement and lead to customer actions with your brand, such as visiting your website, making a purchase, downloading an online product or simply contacting you. Make sure the metrics you focus on are directly tied to your business goals and other efforts.
Review your analytics — It isn't enough to just generate monthly social media reports. You have to also review them to see what social media strategies are working and which ones aren't. Keep your most important metrics in mind when evaluating these analytic reports, and compare the social media reports to other business reports. See how they might correlate or fall short. You can then adjust your strategy accordingly.
Find your niche — Your brand voice is more than just a set of guidelines, although setting those guidelines are helpful. Through developing your brand voice on social media, your business takes on a unique personality of its own with clear purpose and values. With a strong brand voice and a unique niche that offers valuable content to consumers, your brand will see loyalty and engagement rates improve.
Offer customer service — More and more consumers are expecting brands to provide customer service via social media. This is a great way to address customer concerns on a more personalized level while also showing others how much your business values customer service. Make sure your responses are timely, carry the right tone and produce real results for your customers.
Be consistent — Finally, it's all about consistency, consistency and consistency. Your social media accounts won't have a chance to stay relevant if you aren't posting a minimum consistent amount at regular intervals. How often you should post depends on your business goals and available resources, but even a few posts a week can make all the difference. Creating a content calendar and social media content planning (especially with the help of a digital media marketing agency) will help you keep up that consistency for both your business and your followers.
Now, the Elephant That's Still in the Room
Unfortunately, COVID-19 continues its negative impact on businesses and society in general. Getting the message out that yours is open and taking all recommended safety measures is the subject of our blog post — "How to Reassure Your Customers That It's Safe to Return to Your Business" — which provides detailed information about communicating your message to customers through your website, social media accounts and email campaigns. We also have good advice for businesses that serve customers at their home or workplace.
The Take-Home Message and Our Blatant Self-Promotion
As we've said before, opportunities often arise from adversities, and this could be the start of a brave new world – one that we get the chance to build! If you're ready to start building, we'll be your contractor! Virtual Stacks Systems offers website design and redesign, SEO marketing, social media marketing, PPC advertising, review management services and much more! Contact us today to get started!