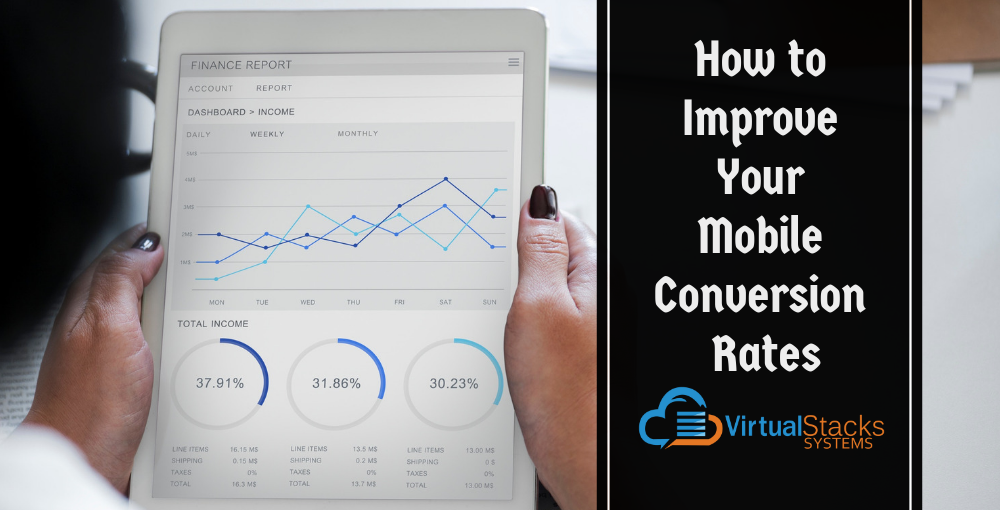 21 Dec

How to Improve Your Mobile Conversion Rates

Regular readers of this blog know that it's a mobile-first world. Yet, as digital marketing consultant Shane Barker relates on Medium, ". . . most ecommerce businesses are still plagued with low mobile conversion rates. As of Q1, 2017, global conversion rates for desktops hovered at 3.63%, and that of smartphones was lower, at 1.25%." Obviously, there's a big disconnect between the fact that online searches on mobile devices surpass those conducted on a desktop, and the subsequent puny mobile conversion rates.

So whose fault is it? This is one time you can't blame Google, which rolled out mobile-first indexing earlier this year. The situation requires soul-searching and an honest evaluation of your own website's practices. This should be conducted on two fronts: web design and optimization, and your mobile ads.
Mobile conversion rate – a brief definition
But first, let's be clear on what we're talking about – starting with the term "mobile conversion rate" itself. Writing for OptinMonster, Sharon Hurley Hall provides a succinct definition:
"Mobile conversion rate is the percentage of people who opted in to your mobile marketing campaign, out of the total number of people who saw the campaign. The higher that percentage, the more successful your mobile marketing strategy is. Mobile conversion rate optimization is simply using strategies to increase the percentage of people who convert."
Why desktop conversion rates still surpass mobile
Easy enough when written, but more challenging when actually trying to increase that percentage.
Barker offers reasons why desktop conversion rates still surpass those of mobile:
Desktop users enjoy faster page loading speeds.

Desktop users find it easier to access the main menu.

The search bars are more prominent on desktop.

Product categories, images, and descriptions are clearer on desktop versions.
The main issue contributing to this situation is considering mobile web design as an afterthought. As our September 28, 2018 blog post, "What You Need to Know About Mobile-First Web Design" covered, websites that aren't mobile responsive not only frustrate visitors and drive them away, they also reflect badly on your organization.
To reverse the situation and pave the way for increased mobile conversions, Barker recommends the following steps:
Optimize the performance of your mobile website – "Painfully slow loading speeds can frustrate any user," Barker writes. "A study found that 53% of users leave if a mobile site takes more than three seconds to load. However, the same study also found that three out of four mobile sites have load times of over 10 seconds. Mobile sites that load in 5 seconds or less generate 2X the revenue from mobile ads than those which take longer."
To accomplish this, he recommends reducing the number of server requests, run diagnostics to see which files are using up the most bytes of your pages and prioritize the elements that need to be displayed above the fold.
For more on the importance of speed in the mobile user experience, read our February 28, 2018 blog post, "Why Your Website Needs to be Up-to-Speed."
Closely related: adopt a responsive design, improve navigation and get rid of pop-ups and autoplay videos. Although we've previously covered all of these points, the detrimental effect that pop-ups and autoplay videos have on conversions bears repeating. The more your web pages have, the more likely that visitors are to become frustrated (that word, again) and leave.
Allow the use of digital wallets – Entering payment information is difficult on a mobile screen. Allowing the use of digital wallets provides customers a way to conveniently pay without going through the cumbersome process that prompts many to abandon their shopping cart. A digital wallet is a service that lets consumers save their payment details online, protected by multiple layers of encryption for complete security.
Closely related: provide an easy and seamless checkout process.
Check your PPC marketing
To be truly successful in improving mobile conversions, pay attention to your advertising campaigns. Writing for WordStream, Brad Smith – founder of Codeless – observes that many advertisers are still treating their campaigns with a desktop approach by optimizing campaigns, ad groups and landing pages for desktop first, then bringing in mobile traffic on the side. In short, the deadly mobile-as-an-afterthought mentality.
As Smith bluntly states: "That doesn't work anymore. Mobile users have vastly different behavior than desktop searchers. Using the same strategy across devices isn't viable."
Smith offers five tips for improving mobile conversions based on PPC marketing. Because his advice is highly detailed, we'll just hit the general topics.
1- Diversify your ad extensions – The recently launched Google Ad Mentions Extensions give users the opportunity to click to text a business directly from the search engine results pages (SERPs), greatly increasing the likelihood of conversion.
2- Rethink your forms and landing pages – Even inbound marketing CRM software leader HubSpot was guilty of displaying desktop-optimized landing pages on mobile devices. HubSpot saw the error of its way, redesigned and saw significant increases in conversions and deep decreases in bounce rates.
3- Optimize for "micro-moments" – According to Google, "Micro-moments occur when people reflexively turn to a device – increasingly a smartphone – to act on a need to learn something, do something, discover something, watch something, or buy something." Building a brand awareness campaign on these micro-moments can make members of your target market familiar with your brand during all stages of the customer journey – not just the last step.
4- Speed, speed and more speed –Enough said already! Read it, learn it, live it!
5- Optimize your call-only campaigns – Smith provides valuable Google Ads bidding strategies, and advises tracking results with a good call-tracking tool rather than Google Ads' default reporting, which can be skimpy in the details department.
Now that you've gotten an introduction to these essential steps and actions in improving your website's mobile conversion rates, you can take on the task yourself, or contact Virtual Stacks Systems. We provide comprehensive solutions, as well as the specific service that will help you meet your marketing goals. We offer website design and redesign, SEO marketing, review management services, social media marketing, Google Ads (PPC advertising) and much more – including our new mobile wallet!
Contact us today to learn what we can do for you.