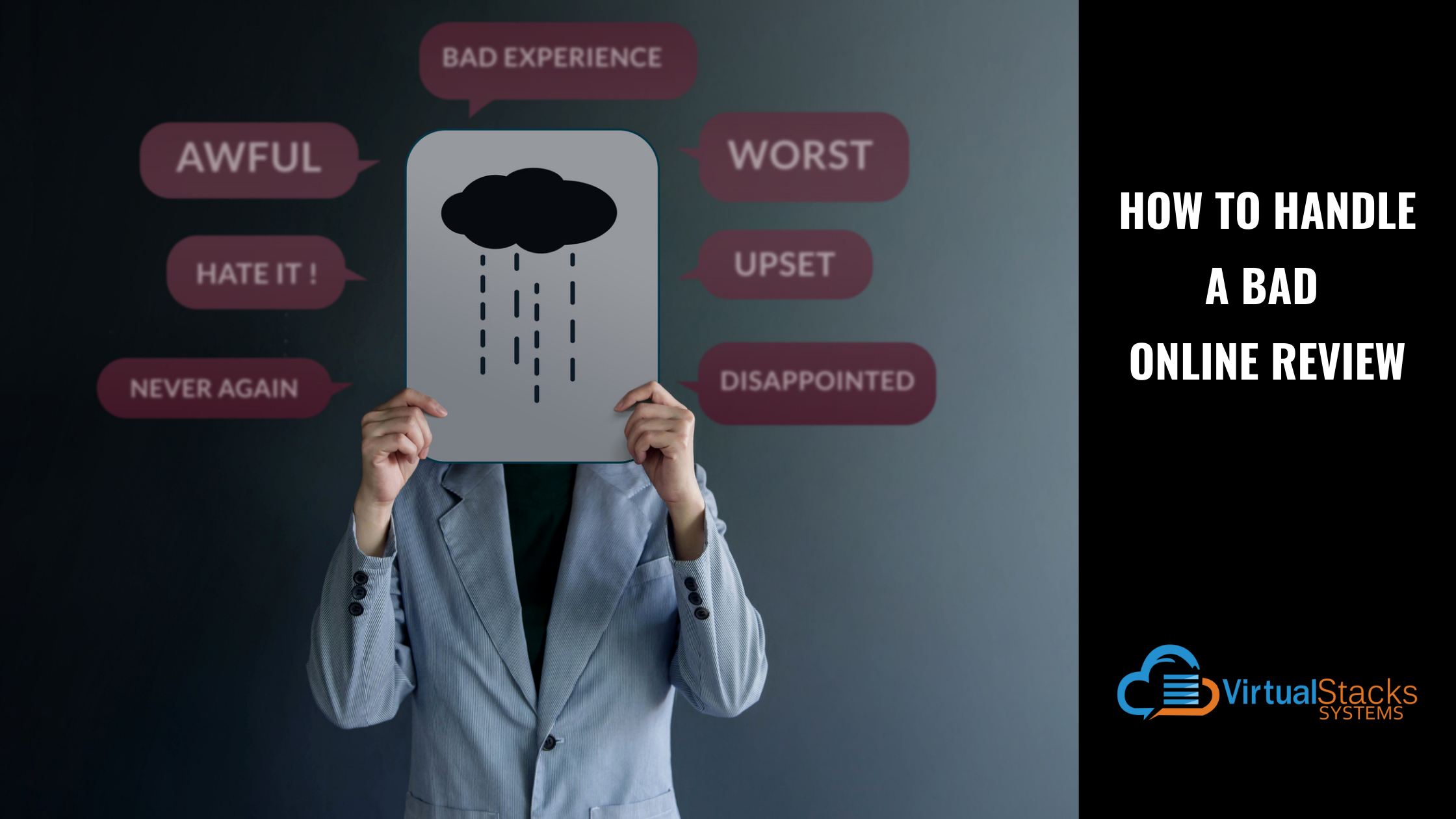 09 Aug

How to Handle a Bad Online Review

There comes a time in the life of every business that a dissatisfied customer posts a bad review on Google My Business, Yelp, Facebook, Amazon or another highly visible forum. While it is often said that how you respond to criticism speaks volumes about your enterprise, this issue is somewhat more complex than it may first appear. Being able to tell the difference between a truly unhappy customer and a troll who posts malicious false reviews is the first step toward managing your reputation. In the first case, an apology, an offer to make things right and a promise to do better in the future should be just the start. In the second case, there are specific remedies that major review sites provide – but they take effort on your part to flag and/or remove the offending post.
Customer Reviews in Context – The Good, The Bad and The Ugly
Hopefully, most of your business's reviews are positive. If you're diligent about prompting customers to post reviews, you'll have a good assortment of recent feedback. Our blog post – "How to Get More Online Reviews for Your Business" – covers the importance of encouraging customers to share their praise. Potential customers looking for a business like yours are reading all those glowing reviews of your competitors. According to BrightLocal, 85% of consumers trust online reviews as much as recommendations from friends and family members – resulting in 57% of them being moved to visit a company's website after reading positive reviews.
However, most small-to-medium-size businesses lack a consistent review (or reputation) management plan. If your online reviews are not only few and far between, but the last one posted was several months or a year ago, a negative review will stick out even more. Having a steady stream of fresh positive reviews shows potential customers that your business is popular, and your existing customers are engaged and enthusiastic – obviously the kind of place they're looking for! Sparse reviews send the message that your business isn't thriving – which is why a bad review can have an even more detrimental effect.
Be the review good or bad, did you know you may not even be aware of every review posted? If you only pay attention to your reviews on Google My Business and Facebook, there may be others on Yelp or industry-specific websites that you've missed. That's a lot of valuable feedback to be oblivious to – as well as a lot of missed opportunities to build upon good reviews and address the issues brought up in the negative ones.
Vendasta offers the top 10 review websites, some of which will be more relevant than others to your particular business.
Now, about those negative reviews. Kevin Fouche – Director of Pixel Fish – provides the following advice.
Act quickly – Replying to a disgruntled customer within 24 hours is crucial, but don't rush ahead without considering these next important steps:
Take stock of the situation – Find out what happened during the customer's experience with your business. If a customer left a bad review based on their interaction with a server at your restaurant, a faulty product, poor workmanship, a missed service appointment, etc., knowing the situation is essential to addressing the nature of the negative review and offering to make amends – as well as to prevent similar situations in the future.
Respond promptly – At Virtual Stacks Systems, we coach our clients with the following advice, which we shared in our blog post, "The Bottom Line About Online Reputation Management":
Even if a customer's criticism is rude, acknowledge the complaint in a professional manner. Don't get defensive or snarky – or respond in a similar hostile tone. You may be aware of such exchanges on social media, where both parties wind up looking bad.

Do not

use bland, generic language in your response. Social media platforms for companies that regularly deliver poor service are infamous for repeating the same tired, insincere reply to consumers who complain. Be genuine, and acknowledge the specific incident that prompted the negative review.

Offer to make the situation right. Whether the issue is miscommunication, non-response to a phone call or email, etc., let the customer know you will reach the appropriate person to resolve the issue. Word to the wise – there could well be a deeper, systemic issue within your business, which we will address a little later in this blog post.

Depending upon the reason for the negative review, you may want to invite the customer to provide more details offline (typically done by direct messaging). This shows the customer that you're sincere about wanting to make the situation right, while keeping further details off your reviews feed.

Follow up to confirm that the action was taken, and that the customer is now satisfied.
Again, depending upon the nature and number of bad reviews, some soul-searching may be in order. If your business is getting negative reviews about a specific aspect – for example, indifferent or rude service at your restaurant – take stock of your business practices. In the case of poor service, get to the source of the problem. Do your servers need better training? Do you even have a training program in place? What is your criteria for hiring – should you be looking for better-qualified servers, or at least those with a positive attitude who are willing to learn? Fix the issue at the source, and you should eliminate or greatly reduce the reason for bad reviews.
What to Do About Fake Bad Reviews
Unfortunately, a business may be targeted by someone with malicious intent who posts a false bad review. Such "reviews" may be posted by (or at the direction of) a competitor, disgruntled former employee or impossible-to-please customer who may have been at fault for the situation in question (after your company made every good-faith effort to resolve the issue). These examples – called "online reputation bombs" by Dan Virgillito, content strategist for Massive PR – can severely damage a business.
"They are very powerful because, unlike social network content, they are prominent in search engine results," he writes. "What if someone Googles your brand name and finds defamatory content?"
Even if a review likely appears fake to you, it's still recommended to respond the same as you would any other negative review, as outlined above. This shows your customers and potential customers that your business values all customer concerns, and is an opportunity to show that your business will make the effort to right any potential wrongs. 
Fouche recommends the following steps for responding to fake reviews, and actions to take if the review is on your Google My Business listing:
Apologize for their dissatisfaction/inconvenience.

Clearly state you have no record of their transaction or of them being a customer of yours.

Offer to fix their problem.
Report/flag the review as fraudulent for removal by following these steps:
Search for your business in

Google Maps

.

Click to view your reviews and find the one you want to flag.

Click on the three dots in the top right corner of the review.

Select "Flag as inappropriate" and click on it.
Follow up on your flagged review status by getting in touch with Google Support, which is listed at the bottom of the menu on your Google My Business home page.
For a false or libelous review, you have the added option of filling out a Google form for a legal removal request. You may find it is well worth the time and energy to rectify matters this way, should you find yourself in this situation.
Make sure you check back to ensure your fraudulent review was flagged and removed.
The Take-Home Message and Our Blatant Self-Promotion
Your business is to provide a great customer experience – our business is to help you make sure everyone knows about it! As you've learned, keeping on top of managing your online reputation isn't a part-time task. For businesses that don't have the resources or time to perform their own online reputation management, Virtual Stacks Systems provides an industry-leading review management service.
Our solution helps you tactfully ask and remind customers for feedback, guides them through the online review process and gives you a chance to reach dissatisfied customers before they write a negative review.
Other features include:
Managing all customer reviews in one location, including responding to an unhappy customer.

Streaming your best reviews to your website.

Providing an easily accessible way for customers to leave a review from your website or automate an email, text or MMS drip campaign for more reviews.

Providing detailed user demographic data.

Creating alerts and reports regarding your current online reputation.
Virtual Stacks Systems is ready to be your partner in digital marketing success. In addition to review management services, we offer website design and redesign, SEO marketing, social media marketing, PPC advertising and much more!
Contact us to get started!