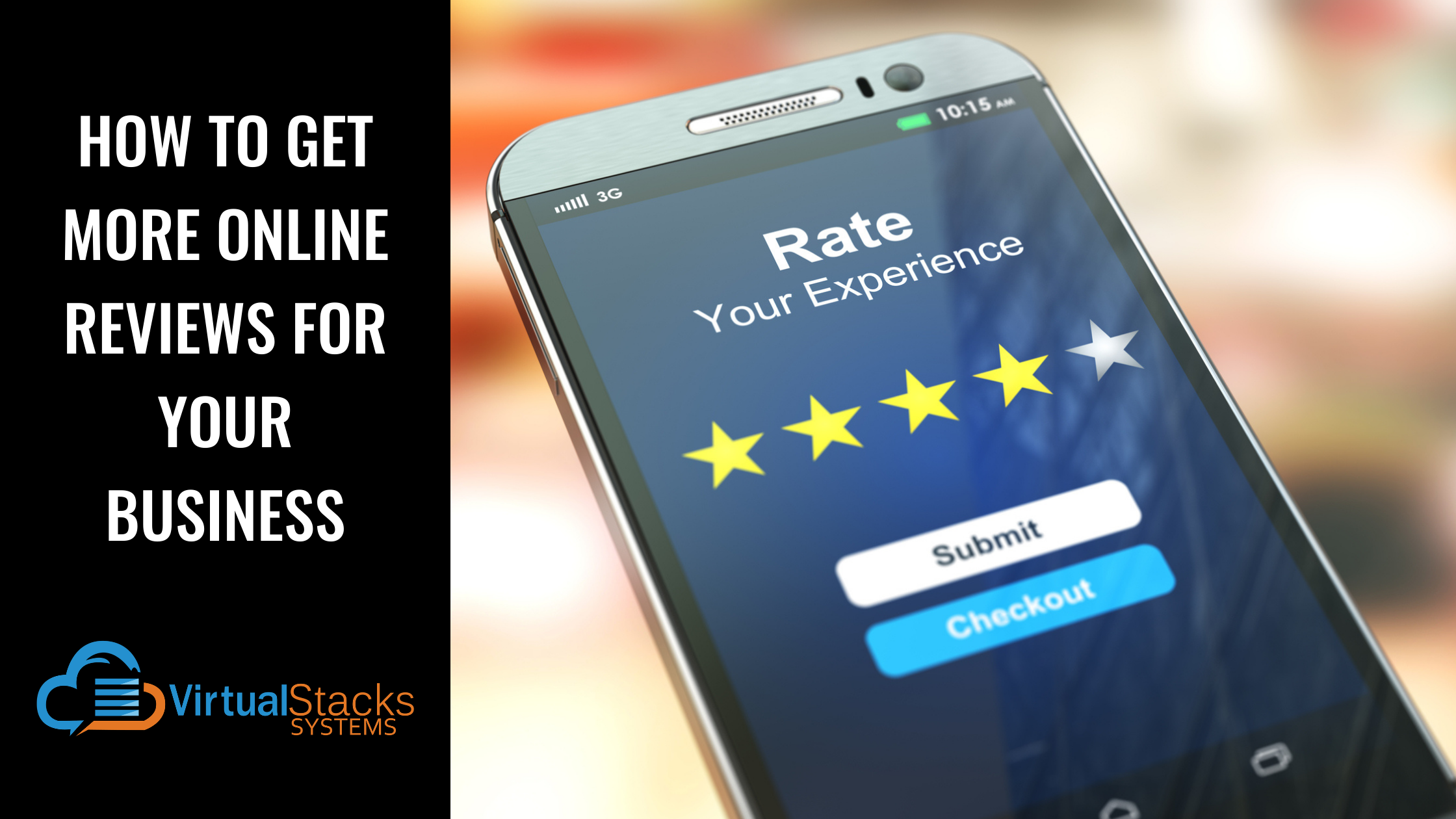 19 Oct

How to Get More Online Reviews for Your Business

Are you a business owner or manager who checks out your competitors online? You better be! If you're doing your due vigilance, have you noticed that some of your rivals get plenty of positive reviews on Google My Business, Yelp, Facebook, Amazon, etc. – while your enterprise is mostly absent? Are you doing something wrong?

The answer may be yes – but not because your customers aren't pleased with their experience. If that were so, you'd be seeing plenty of negative reviews! The reason: You're not asking them to share a review! It's true – no matter how delighted your customers are, they often need some prompting and encouragement to spread positive word-of-mouth about your business throughout the online landscape.

Why is this important? Your own experience tells you that potential customers looking for a business like yours are reading all those glowing reviews of your competitors. According to BrightLocal, 85% of consumers trust online reviews as much as recommendations from friends and family members – resulting in 57% of them being moved to visit a company's website after reading positive reviews.

If you want to get more online reviews for your business – and potential leads to your website – here are some valuable and (mostly) easy tips to implement.

Ask at the right time – Writing for HubSpot, Sophia Bernazzani recommends asking for reviews at the right time in the customer journey, such as the following, which we list verbatim:
After they experience or demonstrate success with your product or service.

When they re-purchase or re-order.

After they tag your brand in a post on social media.

If they are spending time on your website browsing other products or services.

If they refer another customer to you.
But don't be too eager. If you sell a product, for example, wait until the customer has had enough time to use it before asking for a review. Sending a request the day after purchase is way too soon.
Have a presence on third-party review sites – You customers need places to share their great reviews. Be sure that you claim your free Google My Business listing and keep your profile up-to-date. According to BrightLocal, Yelp and Facebook are consumers' most trusted sources of customer reviews. Visit Yelp for Business Owners to claim or add your business, and claim your Facebook business page. This provides the additional advantage of potential customers being able to learn more about your business without having to leave their social network. Of course, Amazon sellers need to claim and customize their Amazon page. Don't forget to register with the Better Business Bureau (BBB), which is another highly trusted source of reviews. Becoming accredited on the site lends even greater credibility to your business.
Bernazzani writes, "There are also industry-specific review sites you should claim if they're popular within your business's vertical — such as TripAdvisor and Oyster in the travel and hospitality industries, G2Crowd and Finances Online in the software industries, and OpenTable and HappyCow in the restaurant industries. Make sure your contact information, website, hours, and key offerings are available on these more niche sites, too."
Optimize your website and social media profiles – Make it easy for customers to leave reviews on your website. Set up website badges to direct visitors to your Yelp, Facebook and Amazon pages, and provide easy avenues through your blog posts, social profiles and emails.
Share positive reviews you've already received – Positive reviews are what's known as "social proof" that shows potential customers your business is reputable and committed to quality. Posting them on your social media channels will help boost your reputation and draw more traffic to your site.
Include a request for reviews in your email marketing campaigns – This could be part of your email's boilerplate, or placed more prominently after your main message. Include a link to the site(s) on which you want the review shared.
Make it easy for customers to comply – As Pratik Dholakiya – founder of Growfusely – writes for Search Engine Journal, "The easier you make it for your customers to leave a review, the better the odds you have of landing more reviews. It sounds super obvious and yet so many businesses aren't making any effort to simplify the review writing process for their customers. You see, a big reason why most people don't leave a review is that they don't want to make an effort to "learn" how to do so. Even if they do know how to, it's just viewed as an unnecessary tedious process which they can't be bothered with. So, make it as straightforward as you can for your customers to leave their valuable feedback."
Respond to every review – Don't worry if you're inundated with positive reviews (although this is a good problem to have) and think a simple "Thank you – we're glad you had a great experience!" doesn't seem enough. Customers will appreciate a simple, sincere acknowledgement of their time and effort.
As for responding to negative reviews, take a professional tone – even if the reviewer's tone is rude. Depending on the nature of the complaint, you may ask for the circumstances that led to the unsatisfactory experience and address the situation appropriately. If you believe the complaint is without basis, it could be an abusive false review left by a competitor, disgruntled former employee or an individual out to ruin your reputation for another reason. Our blog post – "How Can Your Business Improve Its Online Reputation?" – covers such situations in detail, including how to deal with combative impossible-to-please customers. In every case, taking the high road will position your business in a positive light.
Should you offer an incentive to customers for writing an online review?
There are two schools of thought on this important question. One is, why not? If you have a small local business and want to reward reviewers with a 20% discount on their next purchase or a BOGO on selected items, it could be considered a nice gesture. Many businesses offer incentives, and some of the marketing experts quoted in this very blog post recommend it. However, Google's policy on incentives for reviews reads as follows:
"Reviews are only valuable when they are honest and unbiased. (For example, business owners shouldn't offer incentives to customers in exchange for reviews.) Read more in our review posting guidelines."
Yelp goes even further, telling businesses not to solicit customer reviews at all – even with no incentives attached.
"Yelp does not want businesses to ask their customers to write reviews and our recommendation software actively targets reviews that have been solicited."
As we always emphasize on our humble blog, you don't want to incur Google's wrath, and Yelp's software has eyes in the back of its head. In addition, offering incentives opens the door for highly questionable-to-illegal practices – and can even be used against your business by customers deliberately out to blackmail or scam you. We recommend you take a few minutes to read this eye-opening article by Grade.us, which covers the risks and legal issues in detail. This is one slippery slope you want to avoid.
The take-home message and our blatant self-promotion
Encouraging happy customers to write good reviews can boost your reputation and your revenue. For businesses that need help in managing their online reputation, Virtual Stacks Systems provides an industry-leading review management system.
Our solution helps you tactfully ask and remind customers for feedback, guides them through the online review process and gives you a chance to reach dissatisfied customers before they write a negative review.
Other features include:
Managing all customer reviews in one location, including responding to an unhappy customer.

Streaming your best reviews to your website.

Providing an easily accessible way for customers to leave a review from your website or automate an email, text or MMS drip campaign for more reviews.

Providing detailed user demographic data.

Creating alerts and reports regarding your current online reputation.
Virtual Stacks Systems is ready to be your partner in digital marketing success. In addition to review management services, we offer website design and redesign, SEO marketing, social media marketing, PPC advertising and much more!
Contact us to get started!