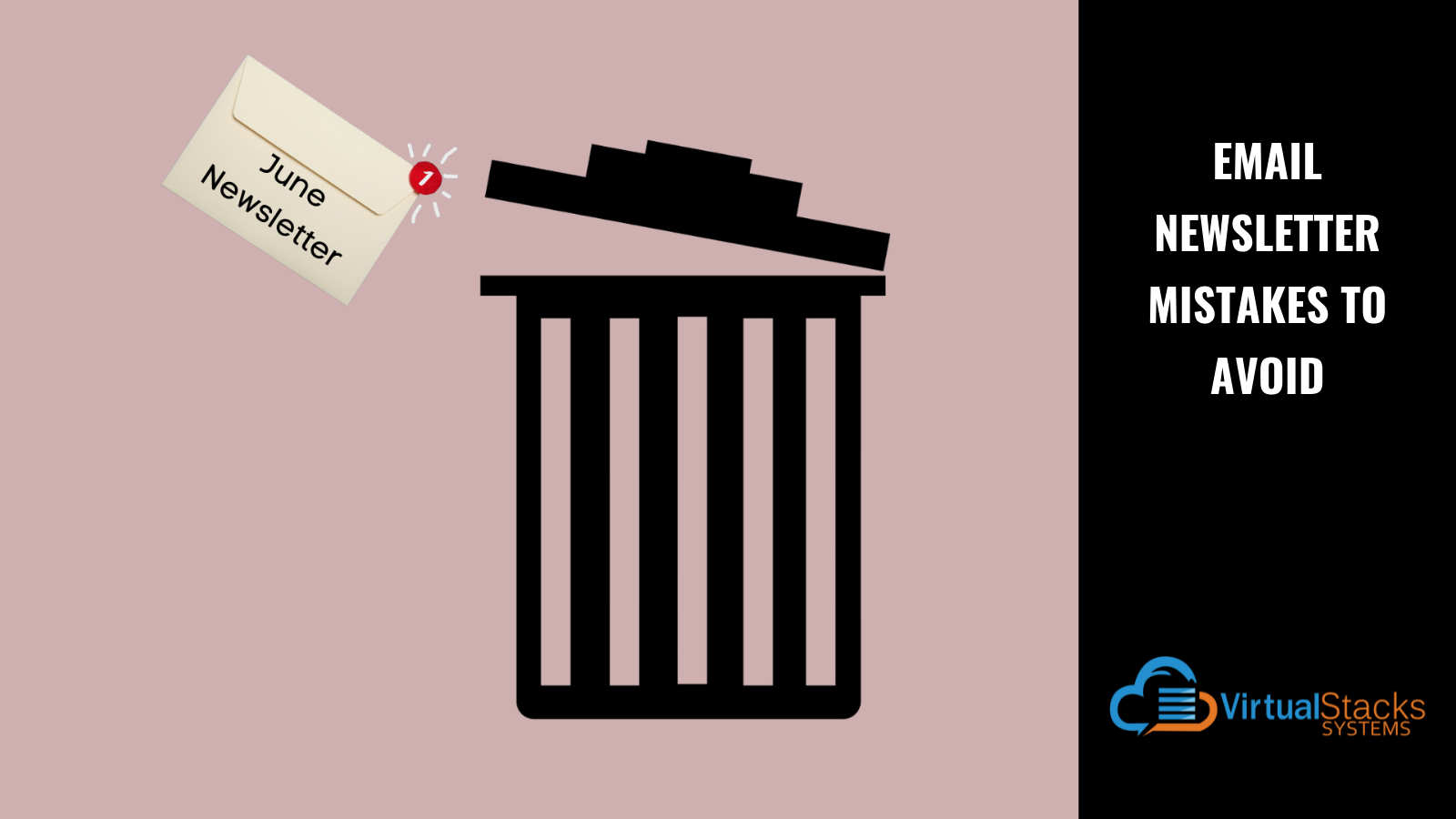 24 Jan

Email Newsletter Mistakes to Avoid

So you took our advice and started an email newsletter. Or maybe we flatter ourselves a bit much. You hoped to benefit from the advantages an email newsletter can provide – such as a way to strengthen your relationship with current customers, as well as attract new subscribers (who become customers). But instead, its open rates are bad and its click-through rates are even worse.

What happened?

As with all other marketing methods, there are right ways and wrong ways to produce an email newsletter. If you've been going it alone, here are some of the mistakes you may be making.
Email Newsletter Content That Falls Short
Too much hard-sell; not enough useful information – As noted in our blog post – "How to Write a Compelling Email Newsletter" – a newsletter isn't the place for hard-sell copy or bragging about how great your business is. A newsletter should be all about your customers and information they'll find useful. Experts recommend balancing your newsletter content to be 90% educational and 10% promotional, focusing on sending your subscribers educational, relevant, timely information.
You may not think your newsletter is doing a hard-sell, but read it objectively – as a member of your target market would. If it's all about your business – your products, services, etc. – your recipients probably don't see why they should continue reading, much less subscribing. If they want more specifics about your business, they can visit your website – which is one of the purposes of an email newsletter!
As HubSpot's Brittany Leaning writes, "Think about it. What types of branded content do you like to read on the internet? Chances are, it's helpful, educational, entertaining, or relevant to your life in some way. It's probably not overly promotional or self-serving, screaming 'Me! Me! Me!' So don't let your … content be that way – it's simply not worth risking the unsubscribes."
Lack of value to readers – This is closely related to the previously listed mistake. As Goodbits describes it, "Why do people open emails? They expect to find something valuable inside, like a piece of useful content or discount code. If your newsletters do not add any value to the readers, you have zero chances to build trust and loyalty. Before you start writing your next newsletter, think about your customers. What wants and needs do they have? What content/rewards should you offer them to attract their attention?"
Topics that don't interest readers – It isn't only aggressive sales pitches that readers reject. We've seen newsletters from small business owners that include topics of interest mainly (or only) to the owner. Nothing controversial – just subject matter that the owner evidently feels strongly about or feels the need to educate people about, but doesn't necessarily strike a chord with readers. In short, don't think of your newsletter as a personal blog or public service forum. Subscribers are not a captive audience – a fact they won't hesitate to prove when they start unsubscribing!
Topic overload – Including too many topics in your newsletter is also a big turn-off. People aren't willing to spend a great deal of time reading, as it is – being confronted with a long list of articles can be overwhelming. As Leaning writes, "Yes, email newsletters are designed to include several links and calls-to-action. But that doesn't mean your content should be a jumbled mess of unrelated topics. If you include links to every topic under the sun, readers are likely to get confused or annoyed by your newsletter and unsubscribe."
TL;DR – If you're unfamiliar with this internet acronym, it means "too long; didn't read." Newsletter articles the length of blog posts are likely to go unread. If your website does have a blog, summarize your latest blog post in one brief paragraph and provide a link to it. Again, the purpose of linking is to get readers to visit your website. Brevity isn't only the soul of wit – it's also the soul of a successful email newsletter! Whenever possible, break up text into bullet points or a numbered list to make information easier to scan.
Typos and grammatical errors – Such errors are not only distracting, they cause readers to wonder about how much attention your business pays to quality control in every other area. In addition, typos and poor grammar are more likely to make your newsletter look like a scam message – which prompts recipients to mark it as spam, sending it and all of your future newsletters directly to oblivion. Hire a professional proofreader if you aren't working with a digital marketing agency to review your newsletter before clicking the "send" button.
Not Using an Email Automation Platform – DIY Newsletters Don't Win Subscribers
Budget-minded business owners may be tempted to create a plain-text newsletter, but not using an email automation platform – such as Constant Contact, Emma or Mailchimp – can cost you subscribers.
Keep in mind that people are constantly bombarded with slick, professionally produced marketing materials – including email newsletters – which means their expectations are high. A quality newsletter improves your brand image and credibility. Email newsletters that look homemade and amateurish won't drive traffic to your website or attract new subscribers – and, in fact, could very well have people choose to opt out and unsubscribe. In short, trying to save money by taking the DIY route could wind up costing you opportunities and business!
Email automation platforms have tiered pricing plans, so they aren't free, but they allow you to create an attractive, professional-looking newsletter that's more likely to be read by your subscribers – and more likely to get new people to sign up. The newsletter templates of each platform are intuitive, which means that even those with no layout or editing experience can quickly catch on.
Such platforms also allow you to preview newsletters as both desktop and mobile versions. This is important because you want to be sure your newsletter is mobile-friendly. As most people now access web-based material on their smartphone rather than desktop computer, a newsletter that doesn't display well on mobile devices is counterproductive.
Another advantage of signing up with an automation platform is that each platform provides such valuable metrics as open rates and click rates – which can help you measure the success of each mailing. This allows you to make adjustments in order to improve performance. For example, you may find that a greater percentage of recipients clicked on one article or offer than another, thereby indicating that you should provide similar content in your next newsletter.
Poor Newsletter Formatting and Design
People expect online content to look good, and won't be favorably impressed with an unbroken wall of text. Even if you do use an email automation platform, your newsletter can still run the risk of not engaging readers on a visual level. Goodbits offers the following advice:
Use bullet points.

Make sure all items in the list are related to each other.

Make all bullet points approximately the same length.

Write headings and subheadings.

Use up to three different fonts in one newsletter.

Add emojis or other visuals if that appeals to your target audience.
Let's not forget images! The newsletter template of every major email automation platform makes it easy to insert photographs and graphics, which add visual interest. Just be sure photos are high-resolution, high-quality if you use your own. Our blog post – "Get a Sharper Image for Your Brand Through Sharper Images" – provides helpful tips for taking original photos, as well as using stock photography without looking clichéd.
A Non-existent or Weak Call-to-Action
Goodbits has a good deal to say about the importance of having a strong call-to-action (CTA), as well. Remember, the point of an email newsletter is to drive click-throughs to your website. Yet all too often, there's no compelling message at the end of an article telling readers the next action to take. You can't assume they'll just figure out that they need to click on the link to visit your blog post, or take advantage of your great offer. Tell readers why taking the action you want them to take is beneficial to them, then be direct in telling them to do it!
Here is the art of the CTA, according to Goodbits:
Choose the words that resonate with the recipients of your emails.

Make sure that chosen CTA phrases are understandable to your audience.

Each call to action can include up to three words.

Don't use more than three CTA buttons in one newsletter – it will confuse the recipient.

Use a readable font.
Bad Subject Line
Unfortunately, you can do everything right, but if your subject line is weak, vague or – even worse – spammy, you won't be better off than before. HubSpot's Leaning gives the example of receiving an email with the subject line "June Newsletter" and promptly sending it to the trash. "I have no idea what the topic of the newsletter is, what content I'll find inside, or why I should even care," she writes.
As for our take, your newsletter's subject line needs to be interesting, eye-catching and able to spark the curiosity of your subscribers so that they click your newsletter and start reading. Be aware that there are limits on the characters subscribers can see before their mail app truncates the text, so make sure that you front-load the part of your subject line that will grab their interest.
Also be aware of the spam trigger words to avoid. Autopilot provides this valuable list. There are far too many to feature here, but the leading offenders include "call now," "click here" and "special promotion."
The Take-Home Message and Our Blatant Self-Promotion
If your business has an email newsletter and you recognize some – or all – of the above mistakes, you don't need to keep going it alone in a cold, unforgiving digital marketing world! Virtual Stacks Systems can help! We provide experienced email newsletter production – from content writing to formatting in any email automation template to distribution! We're ready to be your one-stop resource and your partner in success! Contact us today!