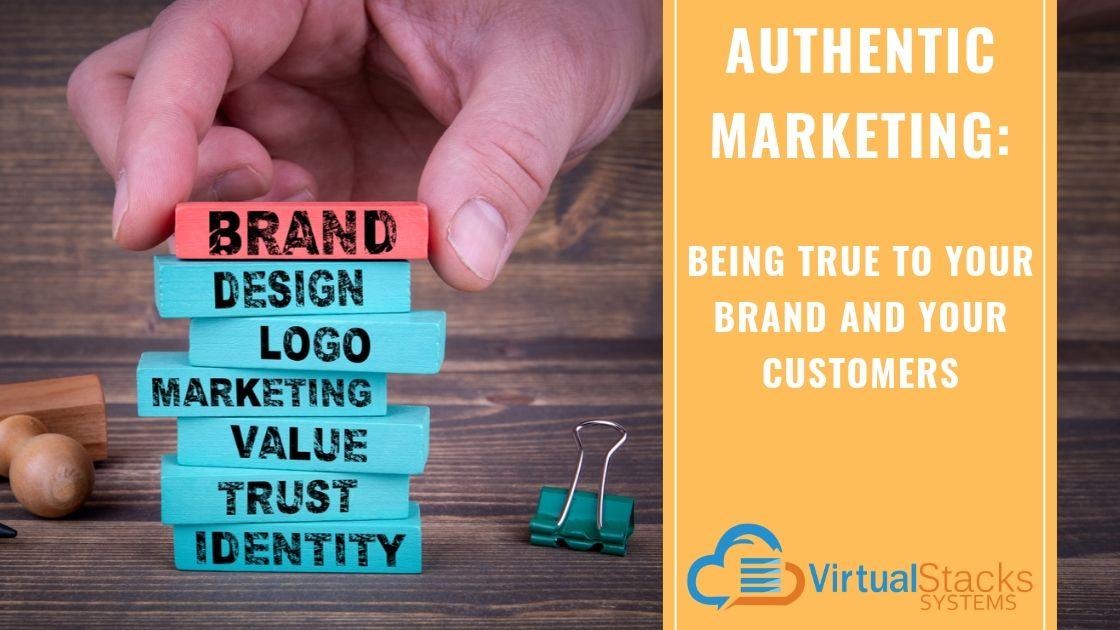 17 Oct

Authentic Marketing: Being True to Your Brand and Your Customers

Authentic marketing is a worthy goal, yet ironically risks becoming just another buzzword that gets bandied about in meetings. Taking a close look at what it takes to achieve authenticity in your brand or business marketing can help you separate the buzz from the substance to help you better reach and serve your customers. In the words of marketing expert Francesca Nicasio writing for Power Reviews, "When you market your brand in ways that feel relatable and real to your target audience, you not only win more sales, you gain loyal patrons who are proud to align themselves with your company."

Consumers – especially millennials and members of the emerging Generation Z – are more discerning than ever before, and more likely to tune out messages that don't ring true. As noted in our September 6, 2018 blog post – "Scheherazade Meets Instagram – Using Digital Storytelling in Social Media" – brands have been so ingrained in marketing language, sales pitches and benefit bullet points that they don't know how to step back and just be real. A brand or business focused on delivering the message it wants to deliver instead of a message meaningful to its target audience will always miss the mark.
What is authentic marketing?
Like an onion, authentic marketing seems simple, until you start peeling the layers. Yet peeling is the first thing you need to do.
"At its core, authenticity doesn't try to be something it's not," writes Brittni Kinney, Vice President of Influence & Co. "In fact, it needs to be stripped down to essentials, which removes the need for new and now and better and more, and just be. You don't have to completely overhaul your company to figure out how to be genuine; you need to remove all of the excess. That's where authentic messaging gets its start – not by inventing a new concept, but by revisiting an existing one."
So if you have a small- to medium-size business, you're likely well-positioned to succeed at authentic marketing. Just be yourself, but be yourself on purpose! First, think about why you started your business, and why it matters. People enjoy learning the story behind businesses and brands. Did you start your business because you were frustrated at your old job and thought you could offer a better service or product? Because you had a great idea for a product or service that you knew others would want? Don't be afraid to play up positive drama!
That being said, for authentic marketing to succeed, your story needs a hero. But guess what? It isn't you or your business. It's your customer. You succeed by helping your customer on his or her hero's journey.
What are examples of authentic marketing?
Speaking of the hero's journey, one of the best examples of authentic marketing is the Dove Self-Esteem Project. Begun in 2004 as the Campaign for Real Beauty, Dove moved from merely marketing soap to inspiring women of all ages by putting into practice their new mission statement, "Beauty should be a source of confidence and not anxiety."
Writing for Instapage, Ann Hodge notes, "By consistently aligning its marketing efforts with its mission statement, Dove has been able to change its public perception to a brand that authentically champions women's empowerment and wants to change the conversation around beauty. The longevity and resources Dove has put into changing the advertising industry's narrow view of beauty have also made Dove appear more credible with its marketing messages."
So while fashion models and actresses buy soap, the vast majority of women don't fall into these categories. By celebrating women from all walks of life as the heroines of their own journeys, Dove is building strong brand loyalty for generations to come.
Shifting gears somewhat, the approach that YETI took to authentic marketing was informed by its target demographic of lovers of the great outdoors. The company produces remarkable videos that depict people living the lifestyle of the brand. Product placement is discreet, and the videos feature non-trendy people living lives of quiet integrity. As Manish Dudharejia – president and co-founder of E2M Solutions Inc. – observes in his article for Content Marketing Institute:
"There's no shortage of brands selling coolers, travel bags, and related accessories on the market, so YETI differentiated itself by producing high-quality stories, documentary-like videos of people living the outdoor lifestyle that sell the emotional appeal of the brand. Its YouTube videos regularly receive tens or hundreds of thousands of views, with high like-to-dislike ratios."
Authentic marketing for the rest of us
Dove is to be commended for its inclusive spirit, and YETI for speaking to the adventurous spirit within us. But truth be told, most readers of our humble blog are not marketing heads for global corporations with millions of dollars to spend. Fortunately, you can apply the basic principles that the big brands employ.
Earlier, we mentioned the importance of establishing your business's purpose, story and values. Once this is done, look at your marketing channels and other assets, then use them to promote your brand's ideas and narrative. The following are all essential elements.
Know who your customers are and speak to their needs and wants – If you own an independent hardware store, you know your customers are looking for more than just nails, hammers and drills. They're improving their home – their place of comfort and security in the world. Own a doughnut shop? From the standpoint of cold logic, people may not "need" doughnuts, yet we know that they really do! Think about the fundamental needs your customers are seeking to fulfill, and meet them with the authenticity they deserve.
Hire the right people to represent your brand – Nicasio brings up an essential step too often neglected. Your employees – customer-facing and back-of-house – are an important part of delivering a positive customer experience. Do you want upbeat and knowledgeable employees serving customers, or disengaged, uninformed employees?
"The people who work for you play a huge role in promoting your brand, so strive to hire employees who possess the right attitudes … A good tip to follow is to hire for attitude and train for skill … Trader Joe's, which is famous for its quirky and friendly brand, hires people who are naturally outgoing and who like to talk to others."
Avoid pitfalls that could alienate the core members of your target market – Being authentic means taking a stand that sometimes goes beyond your basic commitment. If your business is committed to using only responsibly sourced materials and this value is fundamental to your marketing, you may put off those who don't consider this important in their decision-making process – and therefore don't want to pay the somewhat higher cost of your goods. You'll get the support and business of customers who also value your commitment, but risk losing them should you compromise in an attempt to appeal to those who don't care.
In Kinney's words, "… without committing and tailoring your message, you're left with one that only half-resonates with your intended audience but keeps the door open for others in a way that leaves both feeling like your brand doesn't really know either of them."
Admit your mistakes and do your best to make things right – No matter how careful or conscientious a business may be, things sometimes go wrong. If the error was high-profile, go public and commit to correct the issue, learn from it and vow to do better moving forward. Then do it.
The ethical foundation of authentic marketing
Before moving to our blatant self-promotion, we leave you with the Golden Rule-inspired philosophy behind authentic marketing, eloquently expressed by marketing coach George Kao:
"… I see marketing as building a friendship. To treat my audience like I would want to be treated: as a friend who understands and cares about you. If someone treats me in a friendly and genuine way, I naturally want to return that kindness and care. Persuasion is assumed to be an important part of marketing and selling. I respectfully disagree. Instead of persuasion, I think in terms of alignment. If people who are aligned with me in heart (and mind) discover me, there is no persuasion needed. There's only education, service, and friendship."
Definitely good words to live and conduct business by! Virtual Stacks Systems is proud to be the digital marketing partner of great local, national and international businesses in a wide range of industries. We're ready to talk with you about your wants and needs for your business, and help you be the hero! Our services include website design, website redesign, social media services, SEO services, PPC services, review management services, email marketing, SMS text marketing, video creation and more! Contact us today. There's a place for you at our conference room table!