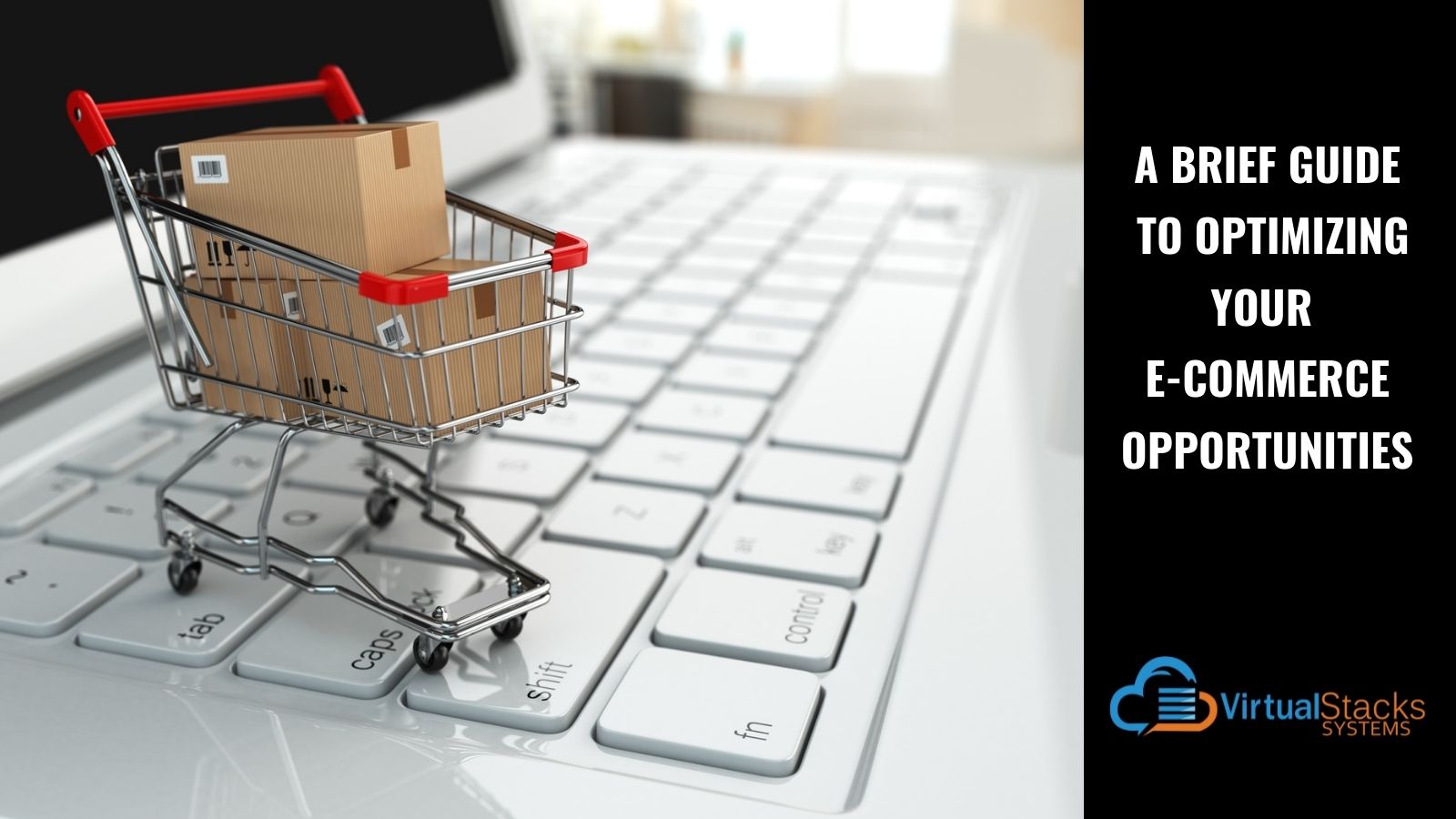 18 Jan

A Brief Guide to Optimizing Your E-commerce Opportunities

There are tremendous opportunities for e-commerce, yet also much competition – especially now, when more consumers than ever before are shopping online. The profound shift in purchasing habits from in-person to online had been trending before COVID-19, but accelerated during lockdowns and shutdowns during the height of the pandemic. Once consumers experienced the convenience of online shopping, however, they're continuing to prefer clicks over bricks. So whether your business is e-commerce exclusively, or has a physical storefront but offers some products/services online, making the most of your ability to optimize your online store is essential to success. Our blog post – "Should You Start an Online Store?" – covers questions to ask yourself if you're considering taking this step, as well as how to get started.
Starting Out With the Basics – The Importance of Conversion Rates
When someone saves an item to buy later, adds an item to their shopping cart or makes a purchase, it means you have made a conversion. To be more precise, among those who visit your website, the percentage of users who took some form of action on your e-commerce page is your conversion rate.
According to Growcode, the global average e-commerce conversion rate is 2.27% – which indicates that conversion isn't as easy as it may seem.
However, not all e-commerce stores experience the same conversion rates. For example, a store that sells expensive items will have a greatly different conversion rate than one selling low-to-moderately priced goods.
So, what factors affect conversion rates?
Some conversion rate influences include product types, costs, how visitors access your website, operating systems and device types. You can find your site's e-commerce conversion rate on Google Analytics, where you can set tangible goals to improve it.
How to Optimize Your E-Commerce Opportunities
Optimization should always be an ongoing priority for your e-commerce business. Optinmonster provides the following strategies for improving your e-commerce opportunities: 
Product pages — Your products are the purpose for your e-commerce store. Therefore, they need to look appealing to potential customers. Make sure your product images show the full detail of your products – especially in use – along with helpful descriptions. If possible, consider adding videos of products in addition to images. Most importantly, however, product pages need search engine optimization (SEO) in order to rank high on search engine results pages (SERPs).
Writing for Search Engine Journal, SEO and digital marketing expert Winston Burton recommends optimizing titles and meta descriptions to include such details as the product brand, name and model number, as well as other important information. If you're not familiar with meta descriptions, this is the HTML tag used to describe the content of a web page. This description shows up below the title and URL of your page as it appears in the SERPs.
Personalized Content — Personalization in terms of the e-commerce industry refers to providing your visitors with content and offers catered to their specific interests. The data collected by search engine histories and social analytics can provide insight into the demographics, locations and interests of visitors, along with data on how they interacted with your site. Ways to provide the content users want to see include featuring related products to those they have viewed, automatically tailoring website navigation to user data, sending email marketing reminders and providing relevant offers.
Product Pricing — Buyers will not be interested if your price listings aren't comparable to other sellers. Additionally, placing two items of a similar type next to each other is also likely to encourage shoppers to purchase the lower-cost item. Use actionable phrases to encourage users to make the purchase, such as "buy now," and limit the number of options so as not to overwhelm customers.
Abandoned Carts — Visitors leaving your website without purchasing items they saved to their shopping cart is known as cart abandonment – and it is an ongoing challenge for e-commerce businesses. There are a number of strategies available to help avoid abandoned carts. These include providing all costs upfront (no hidden costs that show up only at check-out), allowing for multiple payment options, providing easy cart access at all times, not requiring a site account to make a purchase, sending email reminders and offering coupons.
However, our blog post – "The Ecommerce Toolbox – What You Need to Take Your Business Online" – makes an important point regarding shopping carts. "Just as in physical stores, not all shopping carts are of equal quality. Some have wobbly wheels or are rusty and past their replacement date. Any shopper pushing such a cart through the store won't have a pleasant experience. The same goes for an e-commerce shopping cart. Choose one that both fits your needs and is easy for your customers to use. A confusing or unnecessarily complicated checkout process on your website can lead to customers changing their mind about purchases, leading to the dreaded abandoned shopping cart phenomenon."
Mobile Optimization — According to Google, 61% of users are highly unlikely to return to a website that doesn't work well on mobile, with 40% moving on to visit a competitor's site. Making a purchase is impossible when your website is rendered in miniature on a smartphone. Having a responsive design allows your e-commerce website to automatically adapt to any type of device screen or operating system. "Just make sure your image sizes, CTAs and form fields work on all different platforms," Lyfe Marketing writes. "The bottom line is that when testing your site, always be sure to view it from several different devices and operating systems, just to be sure."
Email Marketing — As mentioned earlier, email marketing remains a very successful and direct method of reaching your customers. Be sure that your subject lines are attention-getting without being spammy, add personalization (name, relevant content, products based on purchases, etc.) for recipients, include seasonal promotions and send emails to users when they complete transactions on your e-commerce site. As for those spam trigger words to avoid, here is a list, courtesy of Autopilot. There are far too many to list here, but the top offenders include "act now," "deal" and "special promotion." You get the idea.
Customer Feedback — The best way to know what's working and what isn't is through customer feedback. Survey forms—especially through popups or emails—are the easiest way to collect responses. Our blog post – "How to Get More Online Reviews for Your Business" – offers helpful tips applicable to both brick-and-mortar and e-commerce enterprises.
The Take-Home Message and Our Blatant Self-Promotion
Whether your e-commerce business already exists, or you're just getting started, Virtual Stacks Systems can deliver a comprehensive solution with seamless integrated performance. From website development to our eZnet software line to social media marketing, we provide a turnkey ecommerce store designed to fit your needs. Contact us today to learn more and get started!